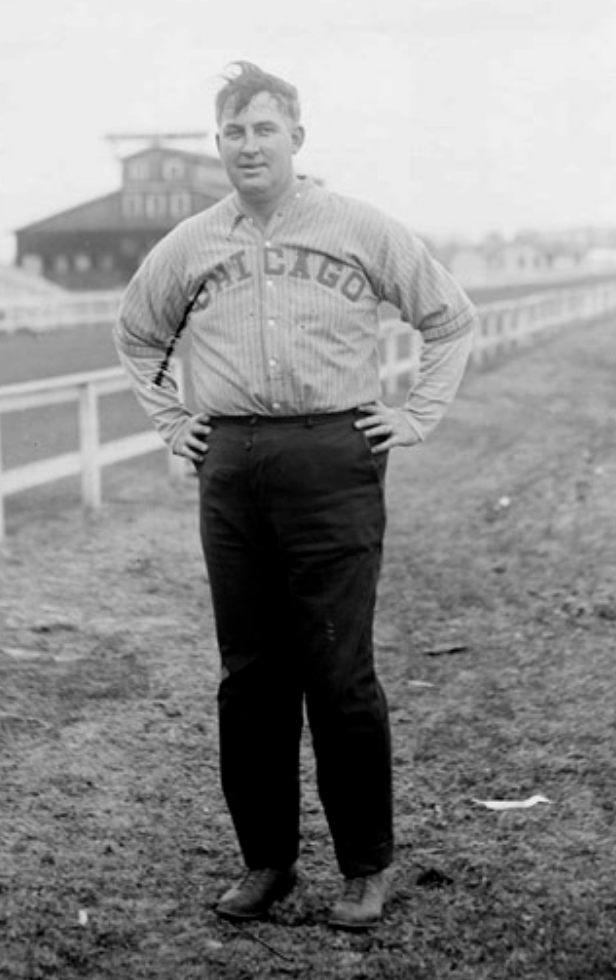 August 20, 1912: Umpires Brick and Brennan leave game bashed and bruised
---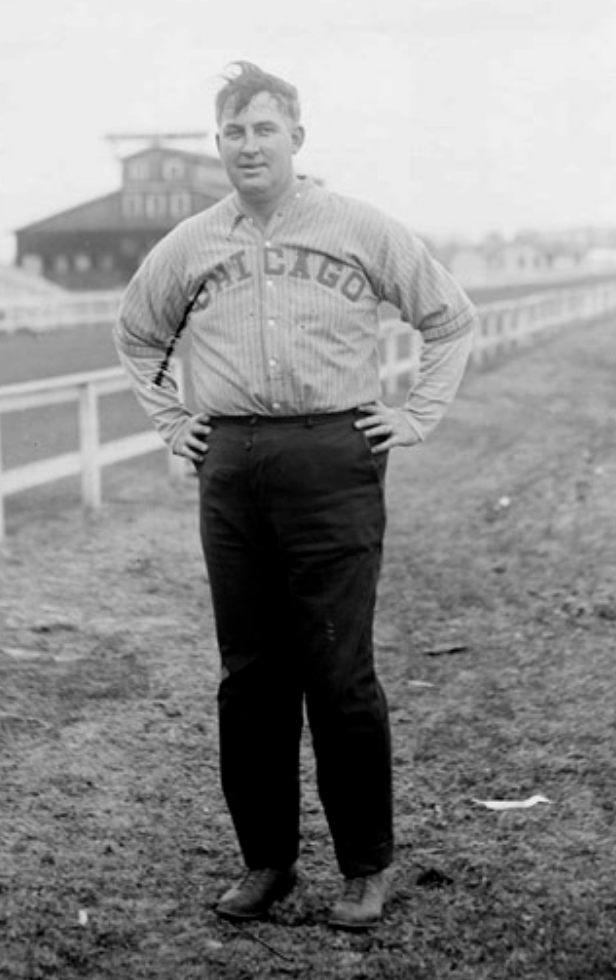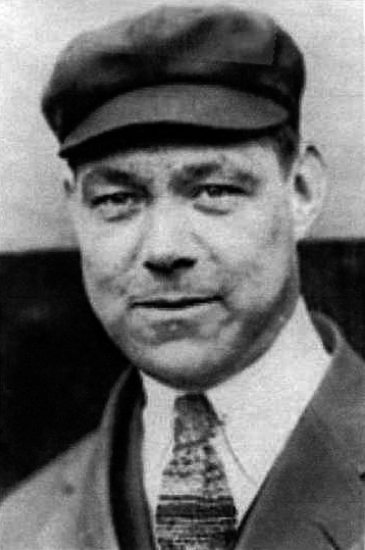 Helen Owens thought her husband might be dead.
After all, word from a Kansas City newspaper where she lived said he had been hit in the chest, just above his heart, by a screaming foul ball off the bat of a Brooklyn ballplayer.
There were rumors the impact had been fatal.1 Less dire reports claimed Helen's husband – a tough-as-nails character nicknamed Brick – had been knocked unconscious and could remain in the hospital for weeks.2
Clarence "Brick" Owens was in Pittsburgh that Tuesday to umpire a doubleheader at Forbes Field between the Pirates and Brooklyn Superbas3. He was behind the plate in the top of the second inning when Pirates first baseman Dots Miller came to bat.
As Miller settled into his stance, Brooklyn pitcher Eddie Stack zipped in his first pitch. Miller took a big hack and fouled the ball straight back into Owens' chest.
The umpire staggered, but fought to go on. After all, the two-man crew was already down a man.
Twenty-one minutes earlier,4 in the bottom of the first, base umpire William Brennan twisted his right knee5 running to make a call at second base as Pirate Max Carey bolted from first base attempting to steal. Brennan slipped on wet grass between short and second and crumpled to the ground, wrenching his knee.
A brief rain shower had soaked Forbes Field just before the 2 P.M. first pitch.6
Since Brennan missed the call, Owens ordered Carey back to first. Players carried the umpire into the Pittsburgh clubhouse. There was worry that Brennan, a large fellow at 6-feet-2½ and 235 pounds,7 had snapped a bone.
Soon after he was hit, Owens realized he couldn't continue. He felt sick and wrapped his arms around Brooklyn catcher Otto Miller to keep from collapsing.8 Miller and few players walked Owens to the umpires' room, where the Pirates' physician, Dr. G.S. Berg, and Brooklyn trainer Dan Comerford looked him over.9
Owens and Brennen were in extreme pain and soon an ambulance drove them to St. John's Hospital at Dr. Berg's orders.10 It was the first time in baseball's recorded history that injury forced both umpires to exit the game.11
The fear was that Brennan would be lost for the season, and some newspapers reported that Owens had a broken breastbone.
Owens was no stranger to ballfield mishaps. Three months earlier, while umpiring a game in St. Louis, third baseman Wally Smith had thrown toward first and hit Owens behind his ear, knocking the ump "senseless," the Pittsburgh Post-Gazette wrote. Helen was in the stands and fainted when she saw Brick tumble to the dirt.12
This Tuesday afternoon's games couldn't go on without umpires, so the teams permitted a player from each squad to serve as arbiters. Pirates manager Fred Clarke selected Ham Hyatt to umpire the bases, and Brooklyn skipper Bill Dahlen nominated reserve catcher Eddie Phelps to take on the daunting task behind the plate.13
"Both worked fairly and earnestly and gave decisions conscientiously," the Pittsburgh Post-Gazette reported.14
Working behind the plate had proved to be a dangerous task over the last couple of days. Owens was hit in almost the exact spot on his chest by a foul tip in a rain-shortened contest on Monday,15 and a foul ball hit Miller in his mask and trickled down between his gray jersey and chest protector.
Pitchers had the game zipping along, keeping the scoreboard clear through the first four innings. Brooklyn had its chances, loading the bases in the top of the third. However, Pittsburgh lefty Hank Robinson marvelously pitched his way out of the jam.
The Dodgers tallied the game's first run in the top of the fifth. Herbie Moran, leading off for Brooklyn, bounced a pitch back to the mound, but Robinson slipped and fell.16 Moran was safe on what was scored a single. Hummel walked, Red Smith sacrificed and then Jake Daubert walked, putting Moran at third. Three batters later, Zack Wheat grounded to second to send Moran home, giving Brooklyn a 1-0 lead.
Pittsburgh rallied in the bottom of the inning. The wet field bit the Dodgers this time, as Stack took a spill fielding a grounder. The mishap allowed the speedy Chief Wilson to arrive safely at first. Butler bunted for an infield hit.17 Gibson then hit sharply to first where Daubert made a sensational one-handed play and quickly threw to third to retire Wilson.
Mike Donlin, pinch-hitting for Robinson, grounded to second where Gibson was forced out. Butler went to third. Minutes later, Donlin went to second on a passed ball, and Bobby Byrne walked to load the bases.18
Carey delivered the go-ahead hit, hitting a single to right to score Butler and Donlin. Pittsburgh had a 2-1 advantage after five. Robinson exited the game having allowed an earned run on six hits and four walks. The southpaw struck out two Dodgers.
Claude Hendrix took the mound for the Pirates in the top of the sixth and glided through his first couple of innings.
Brooklyn, however, tied the game in the eighth when Bob Fisher slapped a pitch to left. Carey, normally a good fielder, picked up the ball and inexplicably rolled it back to the infield. Fisher hustled around first and slid safely into second.19 It was his second double of the game.
Fisher had not been hitting well as of late. Brooklyn was said to be bringing in Enos Kirkpatrick when the team arrived in St. Louis, to give him a tryout at short.20 Perhaps word of Kirkpatrick's arrival sparked Fisher's bat.
As Fisher stood off second base, Miller came to the plate and jolted a single to left. Fisher scored to tie the contest at 2-2.
The late run likely upset the Pittsburgh crowd of about 5,000,21 but it set up the Bucs for a fanciful ending.
Stack, after being pulled for a pinch hitter, left the game after seven, giving way to relief pitcher Cliff Curtis. Stack had a solid outing, allowing two runs – one earned – on six hits. He did, however, walk five.
Curtis faced right-handed hitter Dots Miller, who was 0-for-2 and had knocked out an umpire. He also had seen his batting average drop 22 points in the last month. However, he had a chance against Curtis, who had given up five runs to the Pirates 10 days earlier in Brooklyn. One of those hits was a Miller home run.
Dots dug in at the plate. Curtis looked him over and delivered a pitch. Miller swung, connected and sent the ball deep. It took a tricky bounce, slipped by Moran in center field and rolled to the Forbes Field flagpole, about 457 feet from home. The elusive ball gave Miller enough time to speed around the bases for a go-ahead home run. The Pirates jumped ahead, 3-2.
Pittsburgh nearly tacked on another run in the inning when Hendrix slapped a pitch down the first-base line that got lost behind the rolled-up rain cover. George Gibson galloped home on the play and Hendrix settled at third. However, Clarke, the perhaps too-honest Pittsburgh manager, reminded the makeshift umpire crew that ground rules permitted only two bases on such a play. His runners went back to second and third and Byrne stranded them there.
Energized by Miller's blast, Hendrix retired the Dodgers in order in the top of the ninth to secure the win.22
Brooklyn spoiled the mood later in the evening, winning the second game of the doubleheader, 9-1, with Hyatt and Phelps continuing to umpire.
The doubleheader split had little bearing on the National League standings. Pittsburgh had a healthy 66-43 record, but trailed the dominant New York Giants by 11½ games. Meanwhile, the Dodgers found themselves 39 games out on a day in which Charles Ebbets was denying rumors that he planned to sell the team23 just as concrete tiers were being poured to support the grandstand of a new ballpark that would bear his name.24
As night fell in the Steel City, Brennan and Owens received treatment and rested in their hospital rooms. Their injuries were not as serious as first appeared. X-rays of Brennan's knee revealed he had torn ligaments – but no broken kneecap – and he was expected to leave the hospital shortly.25
Owen's injury was reported to be more serious, but there were no broken bones in his chest, as many had worried. X-rays showed ligaments torn from his ribs on his left side.26 He was expecting to be released from the hospital within days when Helen called long distance from Kansas City.27
Owens talked on the phone, in softer tones, presumably, than his normal foghorn voice.28 He assured his anxious wife that her worries about him were for naught.
Brick Owens, bruised and battered, was very much alive.
Notes
1 "Owens and Brennan Hurt; Carried Off Ball Field," Pittsburgh Post-Gazette, August 20, 1912: 10.
2 "Two Umpires Injured but Not by the Fans," Kane (Pennsylvania) Republican, August 21, 1912: 7.
3 Some newspapers, such as the Brooklyn Eagle, referred to the Brooklyn team as the "Superbas." However, in reporting the Aug. 20, 1912 game, The Pittsburgh Daily Post and Pittsburgh Post-Gazette called the team "Dodgers."
4 "Both Umpires Are Badly Injured by Accidents During Ball Game," Pittsburgh Daily Post, August 21, 1912: 13.
5 "Giants Play Cubs Today," Oshkosh (Wisconsin) Northwestern, August 21, 1912: 7.
6 Ed F. Balinger, "Pirates and Dodgers Divide Double Header on Forbes Field," Pittsburgh Daily Post, August 21, 1912: 13. In addition to the pregame rain, a deluge the day before in third inning had nixed the series opener and set up Tuesday's doubleheader.
7 David W. Anderson, "Bill Brennan," SABR Biography Project. Accessed January 18, 2019.
8 "Both Umpires Are Badly Injured by Accidents During Ball Game."
9 "Both Umpires Hurt, Carried Off Field," Brooklyn Daily Eagle, August 20, 1912: 1.
10 W.B. McVicker, "Injured Umpires Leave Hospital," Pittsburgh Press, August 21, 1912: 15.
11 "Both Umpires Badly Injured," Boston Globe, August 21, 1912: 6.
12 Ralph Davis, "Ralph Davis' Column," Pittsburgh Press, August 21, 1912: 14.
13 "Owens and Brennan Hurt; Carried Off Ball Field."
14 Ibid.
15 Ibid.
16 Balinger, "Pirates and Dodgers Divide Double Header on Forbes Field."
17 Ibid.
18 Ed F. Balinger, "Pirates and Dodgers Divide Double Header on Forbes Field," Pittsburgh Daily Post, August 21, 1912: 13.
19 "Baseball Notes," Pittsburgh Press, August 21, 1912: 14.
20 Thomas Rice, "Pat Ragan Does All Any Man Could Ask," Brooklyn Daily Eagle, August 21, 1912: 18.
21 Balinger, "Pirates and Dodgers Divide Double Header on Forbes Field."
22 The game finished in a brisk 1 hour and 55 minutes, counting the delays to care for the injured umpires.
23 "Boss Ebbets Denies Rumors of a Sale," Brooklyn Daily Eagle, August 20, 1912: 18.
24 "Running Work on Brooklyn's New Base Ball Field," Brooklyn Daily Eagle, August 22, 1912: 19 (Picture and Sporting Section).
25 "Can't Hurt an Umpire," Milwaukee Journal, August 22, 1912: 11. The article included a quotation credited to both Owens and Brennan about their hospital stay. The article claimed the men left the hospital, against medical advice, the day after their injuries, saying, "We're not sick enough to be cooped up."
26 W.B. McVicker, "Injured Umpires Leave Hospital." The Pittsburgh Press reported that Owens and Brennan shook hands and left the hospital the day after their injuries occurred. Brennan was on crutches. According to the August 23, 1912, Pittsburgh Daily Post, Brennan, using "a strong walking stick," attended a doubleheader the day before at Forbes Field. And, according to the newspaper, Owens watched a doubleheader at Forbes the next day.
27 "Injured Umpires Resting Easy," New York Times, August 22, 1912: 7.
28 "Owens, 33 Years Umpire in A.L., Dies Suddenly," The Sporting News, November 23, 1929: 16.
Additional Stats
Pittsburgh Pirates 3
Brooklyn Superbas 2
Game 1, DH
---
Forbes Field
Pittsburgh, PA
Box Score + PBP:
Corrections? Additions?
If you can help us improve this game story, contact us.
Tags
https://sabr.org/sites/default/files/Brennan-Bill-CDN-SDN-009989.png
600
800
admin
/wp-content/uploads/2020/02/sabr_logo.png
admin
2019-03-20 09:03:08
2022-03-08 15:07:51
August 20, 1912: Umpires Brick and Brennan leave game bashed and bruised