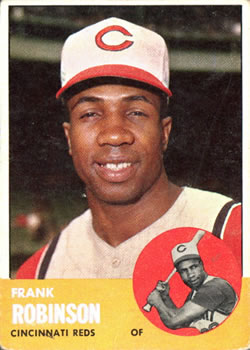 August 22, 1959: Frank Robinson blasts three consecutive homers as Reds bomb the Cardinals
---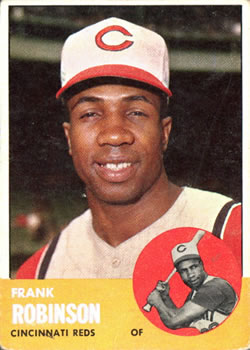 On August 22, 1959, Cincinnati manager Fred Hutchinson finished writing out his lineup card for the Saturday afternoon tilt versus St. Louis. Hutch was familiar with the Cardinals' personnel since he had piloted them for nearly all of the previous three seasons. Now, as the relatively new skipper of the Redlegs, he felt that his squad was much better on paper than the standings indicated.1 Three stalwarts for the home team were second baseman Johnny Temple, center fielder Vada Pinson, and first baseman Frank Robinson. Depending on the opposing hurler, Hutchinson generally platooned in left field, right field, third base, and catcher. Because Roy McMillan was injured, the starting shortstop spot was manned by Eddie Kasko, who had shifted over from third.2
Early in July, when Cincinnati was in seventh place and 10 games under .500, Hutchinson replaced Mayo Smith as manager. Hutch had since directed the Redlegs to a 24-19 mark, edging them up slightly to sixth, although they came into play today a distant 11½ games behind the league-leading San Francisco Giants. St. Louis, under first-year manager Solly Hemus, had lost 10 of its last 13 and was in seventh place, three games behind Cincinnati, as the squads prepped for the late-summer competition in 90-degree weather and high humidity.3 Hemus was already in "hot water"; the day before he had been summoned to the National League office in downtown Cincinnati for a meeting with NL President Warren Giles to explain his six ejections so far this season, regularly supplemented with disparaging remarks about the umpires.4
Redlegs closer Brooks Lawrence was sporting a badly bruised lip after he lost a tooth during batting practice the previous evening courtesy of an errant foul tip off the bat of rookie infielder Bobby Henrich.5 The Cardinals brass were asked about a report in The Sporting News that first baseman Stan Musial would be traded after the season to the New York Yankees for catcher Yogi Berra.6 "It's so silly that I don't even want to comment," said Musial. Cardinals general manager Bing Devine, in town for the weekend series, used a one-word description of the rumor: "Ridiculous."7 Musial was hitting just .257, and had not been part of the Cardinals' starting lineup for over a week as Hemus wanted to look at some of his younger players.
Today a pair of southpaws would oppose each other at Crosley Field, St. Louis veteran Wilmer "Vinegar Bend" Mizell versus Cincinnati rookie Jim O'Toole. Mizell at 12-7, had been cruising a month ago at 11-4 with a 3.49 ERA before dropping three of four starts. The 29-year-old had a 15-15 career mark against the Redlegs, but had been hit hard in just 6⅓ innings the only two times he had faced Cincinnati (both losses) this season. O'Toole, who showed a career 1-2 ledger against St. Louis, came in at 2-7 with a 5.48 ERA. Despite the uninspiring numbers, Hutchinson had been impressed enough with O'Toole to keep the 22-year-old in the rotation.
Frank Robinson's batting average had dropped from .334 to .316 as he dealt with the effects of a thumb injury suffered in early July.8 He had been thrown out of the game the night before after being called out attempting to score. Robinson jumped up irate and protested, and home-plate umpire Shag Crawford thumbed him.9 Earlier in the season, Robinson had been tossed by Crawford for the first time in his career, for arguing balls and strikes.
A paid crowd of 6,915 merged with a ladies day promotion to enlarge the gathering to 12,817.10 Despite an extremely muggy day pairing two second-division teams, a large number of children were present in the stands. This could be explained by the contest giveaway after the game. A Sardinian donkey would be going to the youngster under 12 who guessed closest to the weight of the animal.11
O'Toole walked Don Blasingame to begin, but Temple stabbed Gino Cimoli's hard grounder to start a 4-6-3 double play. Joe Cunningham singled, but was stranded when Ken Boyer flied to Pete Whisenant in right. Except for Pinson, Hutchinson had all right-handed batters in the Redlegs lineup. Mizell walked the first two batters he faced, but dispatched the next three on fly balls.
The Cardinals were retired in order in the second, and Mizell seemed settled when the first two Redlegs went down. However, former Cardinal Kasko drove a pitch over the center-field wall for his second home run of the season, and a 1-0 Cincinnati lead. O'Toole got into a jam in the fourth after he walked the first two batters and gave up Dick Gray's tying single. Temple gloved Curt Flood's hot shot to start another 4-6-3 twin killing and end the inning. With two out in the fifth, and a pair of Cincinnati runners on, Robinson blasted Mizell's first offering deep and over the wall in center for a 4-1 Redlegs' advantage.12 It was Robinson's 29th homer of the season to go with 109 RBIs.
St. Louis loaded the bases in the top of the sixth, but got just one run to make it 4-2. A close game was turned completely on its head in the bottom half as Cincinnati sent 10 men to the plate. Dutch Dotterer parked a one-out double off the scoreboard in left and scored on Kasko's single to center. O'Toole reached when he pushed a bunt past the mound, and Hemus went out to replace Mizell with left-hander Dean Stone. Hutchinson then chose, due to the stifling heat, to remove O'Toole for pinch-runner Jay Hook. Temple hit Stone's first pitch, and measured it just right as his high fly down the left-field line landed barely fair over the wall for a three-run homer. It was Temple's sixth home run of the year and upped the lead to 8-2.13 Pinson walked and swiped second before Stone fanned Whisenant to bring Robinson to the plate with two outs and first base open. Stone fired an outside offering and Robinson powered the pitch into the right-center-field bleachers for his fourth multi-homer game of the year to create an authoritative 10-2 difference.14
Orlando Peña came on for the Redlegs to start the seventh and allowed a run on three hits, as Cincinnati remained comfortably on top. The Cardinals countered on the mound with rookie right-hander Bob Duliba, who had made his major-league debut less than two weeks earlier. After issuing a leadoff walk, Duliba retired the next five batters and did not allow a ball to leave the infield. That streak ended when Robinson came up with two away in the bottom of the eighth. As he moved from the on-deck circle, fans cheered for him to hit one out again. Hitting three homers in a game was something the 23-year-old All-Star slugger had not yet accomplished in his four-season career. Robinson did not disappoint the Crosley Field faithful as he launched a tape-measure blast to left-center, estimated later at 460 feet after the ball flew majestically over the 55-foot-high scoreboard.15 Duliba watched dejectedly as the first major-league home run he had allowed disappeared deep into the afternoon sky.
The Cardinals finally vacated their "singles-only" parade when ex-Redleg George Crowe pinch-hit a home run deep into the Sun Deck16 in right with one out in the ninth. Crowe's solo shot had little effect on the eventual outcome, but his blast tied former Redleg Smoky Burgess (now with Pittsburgh) for the lead in career pinch-homers with 10.17 Peña retired the next two Cardinals to finish the 11-4 thrashing in 2 hours 46 minutes, so the kids could finally learn who won the donkey.
Cincinnati got its 11 runs on 12 hits, while St. Louis managed 4 runs on 10 hits. Eight of the Redlegs' safeties went for extra bases, and neither team made an error. O'Toole (3-7) was the winner, while Mizell (12-8) suffered the loss. Cincinnati moved to 60-64 and fifth place, just ahead of the Chicago Cubs. St. Louis fell to 57-69 to stay looking up at six teams ahead of them. Robinson now had 31 homers, and his six RBIs increased his season total to 112. He was fourth in the NL home run race, and second in RBIs behind Chicago's Ernie Banks.18
The Redlegs are now tied in their season's series against the Cardinals at nine games each, and will go for the three-game weekend sweep tomorrow. A bigger crowd was expected, because a new Pontiac automobile would be awarded to the fan who came closest to guessing the paid attendance.19
This article was published in "Cincinnati's Crosley Field: A Gem in the Queen City" (SABR, 2018), edited by Gregory H. Wolf. To read more articles from this book at the SABR Games Project, click here.
Sources
In addition to the sources cited in the Notes, the author also accessed Retrosheet.org, Baseball-Reference.com, Newspapers.com, SABR.org/bioproj, and The Sporting News archive via Paper of Record.
Notes
1 Jim Brosnan, The Long Season (New York: Dell Publishing, 1960), 234.
2 Earl Lawson, "McMillan Lost for Season, Suffers Broken Collarbone," The Sporting News, August 19, 1959: 19.
3 Neal Russo, "Robinson Cracks 3 Homers as Reds Swamp Cards, 11-4," St. Louis Post-Dispatch, August 23, 1959: 1B.
4 Jack Herman, "Solly Hits 'Sawdust' Trail After Lengthy Visit to Giles 'Woodshed,'" The Sporting News, September 2, 1959: 8.
5 Lou Smith, "O'Toole Faces Cardinals Today," Cincinnati Enquirer, August 22, 1959: 1-C.
6 J.G. Taylor Spink, "Musial to Yanks – Berra a Redbird," The Sporting News, August 26, 1959: 1.
7 Lou Smith, "Musial Scoffs at Trade Report," Cincinnati Enquirer, August 23, 1959: 1-H.
8 Earl Lawson, "Classy Red Hurlers Stymied by Swatters With Puny Averages," The Sporting News, August 19, 1959: 19.
9 Lou Smith, "Hook Pitches Reds to 2-1 Win Over Cardinals," Cincinnati Enquirer, August 22, 1959: 1-C.
10 Lou Smith, "Robby Hits 3 Homers, Reds Roll, 11-4," Cincinnati Enquirer, August 23, 1959: 1-H.
11 Smith, "O'Toole Faces."
12 Smith, "Robby Hits 3 Homers."
13 Ibid.
14 Russo.
15 Smith, "Robby Hits 3 Homers."
16 Philip J. Lowry, Green Cathedrals (New York: Walker & Company, 2006), 66. The right-field bleachers were called the Sun Deck for day games and the Moon Deck for night games.
17 Russo
18 Associated Press, "Leading Hitters," Cincinnati Enquirer, August 24, 1959: 24.
19 Smith, "O'Toole Faces."
Additional Stats
Cincinnati Reds 11
St. Louis Cardinals 4
---
Crosley Field
Cincinnati, OH
Box Score + PBP:
Corrections? Additions?
If you can help us improve this game story, contact us.
Tags
https://sabr.org/sites/default/files/RobinsonFrank-CIN.jpg
600
800
admin
/wp-content/uploads/2020/02/sabr_logo.png
admin
2019-10-02 14:42:10
2020-04-17 10:22:30
August 22, 1959: Frank Robinson blasts three consecutive homers as Reds bomb the Cardinals