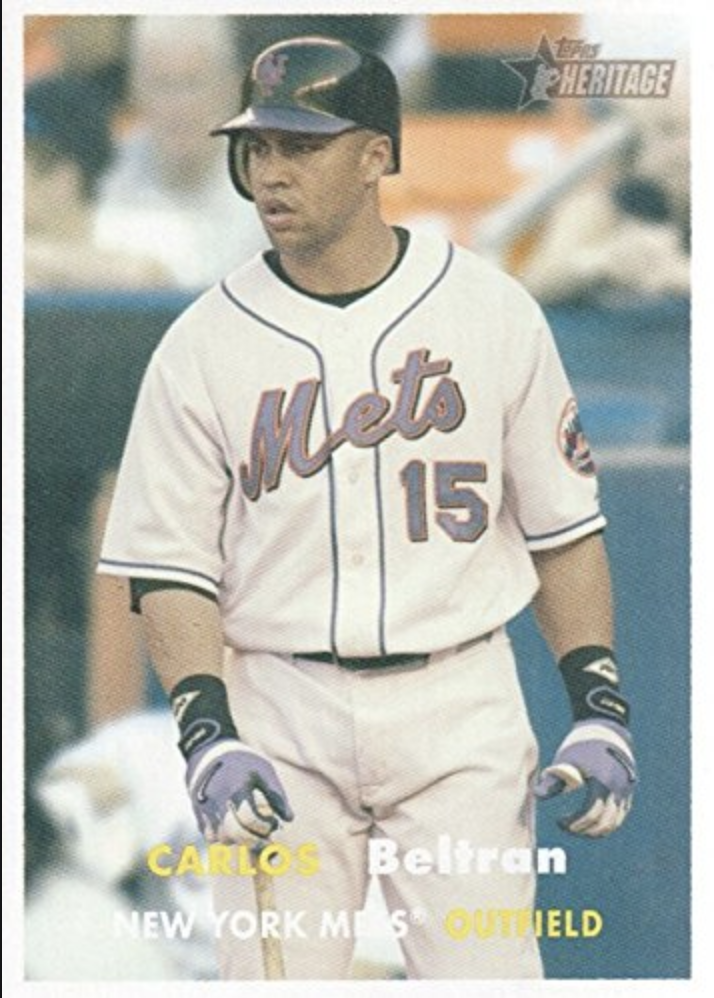 August 22, 2006: Beltran's walk-off eclipses Delgado's 400th career homer
---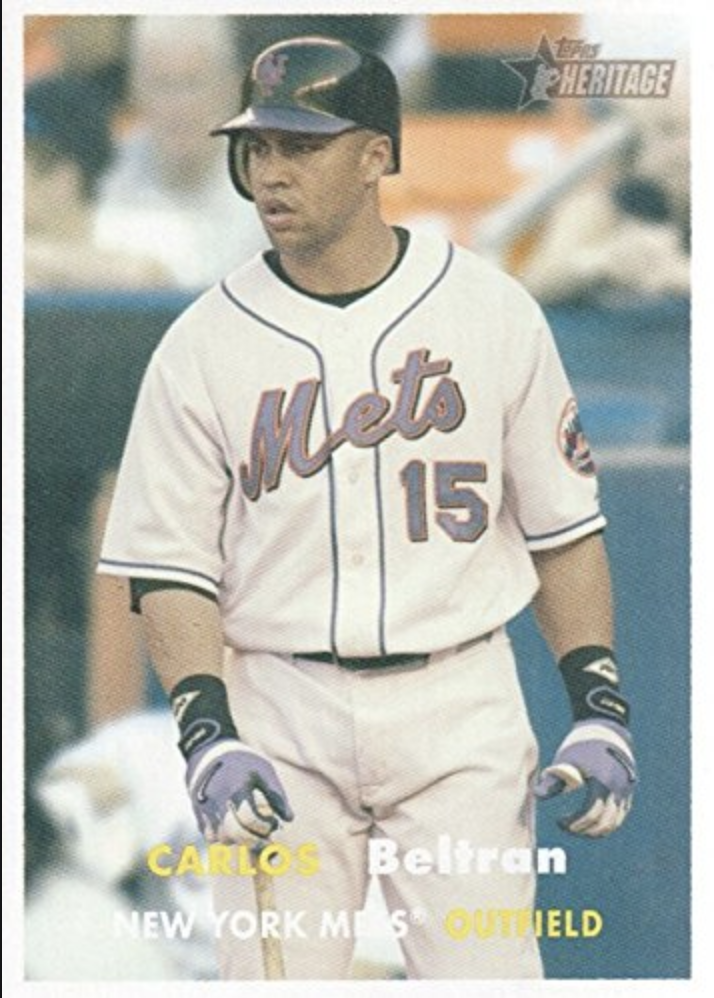 The New York Mets outslugged the St. Louis Cardinals to win their 76th game of the season by a score of 8-7 in front of just under 50,000 fans at home in Shea Stadium. The win pushed the Mets' lead in the National League East to 13½ games, ahead of the second-place Philadelphia Phillies. The Cardinals, meanwhile, saw their lead over the Cincinnati Reds in the National League Central drop to just one game.
The victory gave the Mets (76-48) the best record in the National League. The Cardinals (66-58), at 66 wins, sat second overall in the NL, 10 games behind the Mets.
Mets starter John Maine came into the game feeling good about his chances to walk away with a win, seeing as how earlier in the season he had pitched four straight outings without allowing a run, including a shutout. This game started well for Maine, too; he retired the first nine batters he faced. Another shutout was not to be, however, as he saw his earned-run average jump almost a full run, from 2.68 to 3.58, after allowing seven runs to the Cardinals in the next two innings. Maine struck out five and walked two during his five innings of work for the Mets.
All seven of the runs charged to Maine came off the bat of All-Star slugger Albert Pujols, who hit two home runs against Maine – a three-run shot in the fourth inning, and a grand slam one inning later. The pair of round-trippers gave Pujols 38 homers and 105 runs batted in. After the game he was characteristically laconic about his fantastic day at the plate (2-for-4, 2 homers, 7 RBIs): "It doesn't matter. It's not about me."1
Cardinals starter Jeff Weaver fared little better. Making his eighth start for the Cardinals after being traded from the Los Angeles Angels of Anaheim, Weaver gave up four earned runs in five innings. The first run came on Carlos Delgado's 399th career home run, a line drive in the bottom of the second inning. In the bottom of the fifth, Weaver put Mets hitter Ricky Ledee aboard with a six-pitch walk, Jose Reyes reached on an error by left fielder Chris Duncan and Paul Lo Duca singled to load the bases. Ledee was out at the plate on Carlos Beltran's grounder to Weaver, but Delgado took a 3-and-1 pitch deep to plate four runs, his second home run of the game and the 400th of his career. The grand slam gave the Mets a 7-5 lead. Delgado finished the day 2-for-4 with two home runs and five runs batted in. Asked after the game to compare his day to that of Pujols, Delgado responded, "This isn't a man-to-man matchup."2
Reliever Guillermo Mota came on for the Mets in the top of the sixth. After giving up a single to Cardinals center fielder Juan Encarnacion, who stole second on Mota's first pitch to Preston Wilson, Mota struck out Wilson and Ronnie Belliard, and got Cardinals catcher Yadier Molina to ground out.
The bottom of the sixth went slightly worse for Cardinals reliever Adam Wainwright. He gave up a leadoff single to the Mets' Endy Chavez and walked Chris Woodward. The runners advanced on pinch-hitter Jose Valentin's sacrifice, and Chavez scored on speedy shortstop Jose Reyes' grounder to second. Lo Duca's grounder to shortstop ended the sixth with the Cardinals clinging to a 7-6 lead.
In the seventh, reliever Pedro Feliciano replaced Mota. So Taguchi grounded out, but back-to-back walks to Aaron Miles and Chris Duncan chased Feliciano with Pujols coming up. Chad Bradford got Pujols to ground into an inning-ending 6-4-3 double play, however, and kept the Mets deficit at one run.
In the Mets's seventh, reliever Randy Flores retired three fearsome Mets hitters, Beltran (groundball to shortstop), Delgado (fly ball to left), and third baseman David Wright (liner to deep right) in order. The top of the eighth was also scoreless. Bradford got Scott Rolen to fly out, gave up a double to Encarnacion, walked pinch-hitter Timo Perez intentionally, then got Ronnie Belliard to hit into an 5-4-3 double play.
In the bottom of the eighth, the Mets threatened to tie the game. Reliever Tyler Johnson hit Michael Tucker with his first pitch. Endy Chavez bunted Tucker to second, and Johnson was pulled for Braden Looper. Chris Woodward's grounder in front of the plate moved Tucker to third. Mets manager Willie Randolph sent up ageless wonder Julio Franco to pinch-hit for pitcher Bradford. But Franco, playing in his 22nd major-league season, struck out looking.
The top of the ninth inning went as well as it could for Mets reliever Aaron Heilman, who struck out Yadier Molina and So Toguchi and got Aaron Miles to ground out to first. Now the Mets had three outs to try to win the game or send it to extra innings. As it turned out, they needed just one out.
Cardinals closer Jason Isringhausen retired Reyes on a grounder to second, but gave up a single to Paul Lo Duca. Beltran, who signed a $119 million contract with the Mets before the 2005 season3 precisely for moments like these, was next up in the batter's box and he took Isringhausen's first pitch to him over the right-field wall for a two-run walk-off homer that extended the Mets' winning streak to five games.
Said Beltran after the game, "Walk-off is a great feeling."4 Willie Randolph agreed, and added, "Beltran is my MVP, that's for sure."5
This article was published in "Met-rospectives: A Collection of the Greatest Games in New York Mets History" (SABR, 2018), edited by Brian Wright and Bill Nowlin. To read more articles from this book at the SABR Games Project, click here.

Sources
In addition to the sources cited in the Notes, the author also consulted Baseball-Reference.com and Retrosheet.
https://www.baseball-reference.com/boxes/NYN/NYN200608220.shtml
http://www.retrosheet.org/boxesetc/2006/B08220NYN2006.htm
Notes
1 Associated Press, "Cardinals vs. Mets – Recap – August 22 2006," ESPN.com espn.com/mlb/recap?gameId=260822121. Accessed December 3, 2017.
2 Ibid.
3 Associated Press, "With $119 Million Deal Comes Stadium Tour – January 12, 2005," ESPN.com. espn.com/mlb/news/story?id=1964440. Accessed December 3, 2017.
4 Associated Press, "Cardinals vs. Mets – Recap – August 22, 2006."
5 Brian Lewis, "Good times – Beltran Walkoff, Delgado Slam Cap Amazin' Day," New York Post, August 23, 2006, nypost.com/2006/08/23/good-times-beltran-walkoff-delgado-slam-cap-amazin-day/. Accessed December 3. 2017.
Additional Stats
New York Mets 8
St. Louis Cardinals 7
---
Shea Stadium
New York, NY
Box Score + PBP:
Corrections? Additions?
If you can help us improve this game story, contact us.
Tags
https://sabr.org/sites/default/files/Screen%20Shot%202019-10-17%20at%201.08.32%20PM.png
600
800
admin
/wp-content/uploads/2020/02/sabr_logo.png
admin
2019-10-17 13:05:55
2020-04-17 10:22:27
August 22, 2006: Beltran's walk-off eclipses Delgado's 400th career homer