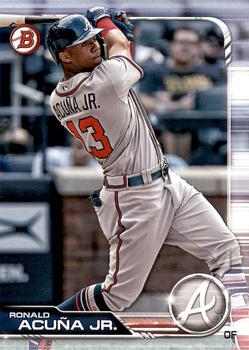 August 23, 2019: Braves beat Mets despite deGrom's pitching and hitting
---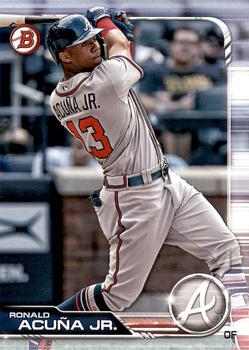 Atlanta arrived in New York on a five-game winning streak and ready to take on the Mets during the major leagues' third annual Players Weekend, when every player was allowed to have some fun and choose a nickname to go on his uniform.
After sweeping the Marlins at home, Atlanta led the National League East Division by six games. The Mets were also on a roll. After sweeping the Cleveland Indians at home, they were on a five-game winning streak. After winning eight in a row early in August, their recent play kept them in contention for a wild-card spot.
Jacob deGrom started for New York. The 2018 Cy Young Award winner was in the middle of another stellar year. He led the National League with 194 strikeouts. As in 2018, deGrom's 8-7 record did not reflect his prowess on the mound; the Mets rarely provided him with any offensive help when he pitched.
After retiring the side in order in the first, deGrom gave up two hits in the second. Josh Donaldson singled through the hole on the left side of the infield. With two outs, Rafael Ortega singled. But deGrom got Alex Jackson to line out to center field for the third out.
Mike Foltynewicz, who took the mound wearing "High Foltage" as his nickname, was the Braves starter. Foltynewicz had started the season with the Braves but spent July in the minors after he was injured. Since returning, Foltynewicz had won two of his three starts.
Foltynewicz matched deGrom through the first six innings. He surrendered a double to Luis Guillorme in the second before shutting down the Mets bats for three innings. The only other baserunner was J.D. Davis, who led off with a walk in the sixth.
The Braves managed to get another baserunner in the third, when Ronald Acuna walked with one out. Acuna reached second on a groundout to second but didn't advance any farther when deGrom struck out Freddie Freeman.
DeGrom struck out the next seven batters he faced. The eight strikeouts were the longest streak in the majors all season. They also tied a career high for deGrom as he pushed his total strikeouts over 200 for the season. "I just felt like I was able to locate whatever pitch I was throwing at the time," deGrom said.1
After deGrom struck out Acuna to start the sixth, Ozzie Albies stroked a line-drive single to center field. With deGrom focused on the dangerous Freeman at the plate, Albies stole second. DeGrom worked Freeman to a full count before the Braves first baseman lined a single up the middle to score Albies and give the Braves a 1-0 lead.
DeGrom said afterward that his battles with Freeman were "pretty aggravating." He noted that "Freeman might take a couple of free swings early in the count but when it gets to two strikes, he can just put the bat on the ball."2
The Braves did not hold their lead for long. After deGrom struck out the next two batters, he led off the Mets' half of the sixth inning. On the first pitch he saw from Foltynewicz, deGrom went deep for a home run. It was his second home run of the season.
"That was satisfying," deGrom said. "I came to the dugout, knew I was close to 100 pitches. [Mets manager] Mickey [Callaway] asked if I was OK. I said I was good to go, and I went up there thinking, try to get something over the middle of the plate that I can hit. I was fortunate enough to hit it over the wall."3
DeGrom pitched one more inning, retiring the Braves in order and finishing by striking out Jackson on a 93-mph slider. The Elias Sports Bureau reported that he became the first pitcher since the 60-foor 6-inch mound distance was established in 1893 to strike out 13 and hit a home run in the same game twice in one season.4
"Every time out, my God, that guy has got something really special in his back pocket," Braves manager Brian Snitker said.5
Foltynewicz also pitched well through the seventh. After striking out Juan Lagares to finish the seventh, he left the game with seven strikeouts.
Seth Lugo took over mound duties for the Mets in the eighth. He walked Acuna with one out. After Albies flied out for the second out, Acuna took off for second. He easily beat the throw to get his 30th stolen base of the year.
The 21-year-old Acuna became the second youngest player with a 30-homer, 30-steal season. Mike Trout was the only player to do it faster than Acuna when he accomplished the feat in 2012. Acuna did not get any farther as Lugo struck out Donaldson for the third out.
Edwin Diaz relieved Lugo in the 10th. He hit Jackson with his second pitch. Billy Hamilton ran for Jackson. The speedy Hamilton had been picked up off waivers from the Royals a few days earlier. Hamilton reached second on a sacrifice bunt and then stole third. But he was left stranded when Diaz struck out the next two batters.
Diaz struggled all season and there was some booing from fans when he came in from the bullpen. Callaway later said he was pleased with Diaz's performance. "That should get him going," the manager said. "Big situation to hold them right there and give us a chance to win that ballgame."6
Shane Greene and Chris Martin each pitched two 1-2-3 innings for the Braves. Anthony Swarzak took over in the 10th. Swarzak was a former Met who had come to the Braves in a trade from Seattle earlier in the season.
Swarzak struggled after getting the first two outs. Two singles and a stolen base by catcher Wilson Ramos left two runners in scoring position. Swarzak walked Todd Frazier to load the bases. Then he got Amed Rosario to strike out, sending the game into the 11th.
New York had another opportunity to score in the 12th. Sean Newcomb was on the mound for the Braves. He hit Joe Panik, leading off. Panik advanced to third on two consecutive wild pitches to set up the winning run. Once again the Mets could not score.
Callaway called on Jeurys Familia in the 14th, the seventh Mets pitcher to see action. Familia walked leadoff batter Tyler Flowers. Adeiny Hechavarria, who had been released by the Mets on August 14 and signed by Atlanta two days later, hit a ground-rule double deep into right field. Flowers appeared to score the go-ahead run but the ball stuck in the door to the visiting bullpen. After a video review, the umpires ruled it a ground-rule double and held Flowers at third.
After Familia struck out Rafael Ortega, Hamilton hit a grounder that was just out of the reach of a diving Panik at second base, and Flowers scored from third with the go-ahead run. Callaway was asked later why Hamilton wasn't walked with the pitcher coming up next.
"When your pitcher is struggling to throw balls in the strike zone, it's tough [to walk the batter]," the manager responded. "He'll naturally pitch around Hamilton and not give him too much to hit like he did with Ortega. [We hoped that he would get] a big strikeout."7
Familia struck out two more batters but the damage was done. Mets pitchers struck out 26 Braves to tie a major-league record for the most strikeouts in a game. "Any time you go 14 innings and only give up one run, the pitchers have done their job really well," said Calloway.8
Now it was up to the Mets batters to come up with a victory. Snitker called on Mark Melancon to save it for Braves. Melancon came to the Braves in a trade at the July 30 deadline and had earned three saves since he arrived in Atlanta.
Melancon struck out leadoff batter J.D. Davis. Callaway sent pitcher Steven Matz to pinch-hit for Familia. Matz was batting .262 and had 11 hits for the season, including a home run on June 14. Matz ended up grounding out. Lagares then lined out to the second baseman and the Braves had their sixth straight victory.
"It's frustrating," Mets outfielder Michael Conforto said of the team's inability to score runs and win the game for deGrom. "We had lots of opportunities, lots of extra-inning opportunities, but also throughout the regulation nine innings. We didn't have it today at the plate like we have in the past."9
Sources
In addition to the sources cited in the Notes, I used the Baseball-Reference.com and Retrosheet.org websites for box-score, player, team, and season pages, pitching and batting game logs, and other pertinent material.
baseball-reference.com/boxes/NYN/NYN201908230.shtml
retrosheet.org/boxesetc/2019/B08230NYN2019.htm
Notes
1 Justin Toscano, "Jacob deGrom Homers, Strikes Out 13 but Mets Fall to Atlanta Braves, 2-1, in 14 innings," Northjersey.com, August 24, 2019.
2 Toscano.
3 Zach Braziller, "Jacob deGrom's Absolute Brilliance Wasted," New York Post.com, August 24, 2019.
4 Braziller.
5 "Braves Spoil Jacob deGrom's Masterful Performance, Beat Mets in Extras," Sports Illustrated.com, August 24, 2019.
6 Toscano.
7 Anthony Rieber, "Jacob deGrom Whiffs 13, Smacks His Second Home Run of Season but Mets Lose in 14," Newsday.com, August 24, 2019.
8 Toscano.
9 "Braves Spoil Jacob deGrom's Masterful Performance."
Additional Stats
Atlanta Braves 2
New York Mets 1
14 innings

---
Citi Field
New York, NY
Box Score + PBP:
Corrections? Additions?
If you can help us improve this game story, contact us.
Tags
https://sabr.org/sites/default/files/AcunaRonald-2019.jpg
600
800
admin
/wp-content/uploads/2020/02/sabr_logo.png
admin
2020-01-16 16:13:15
2020-04-17 10:22:19
August 23, 2019: Braves beat Mets despite deGrom's pitching and hitting