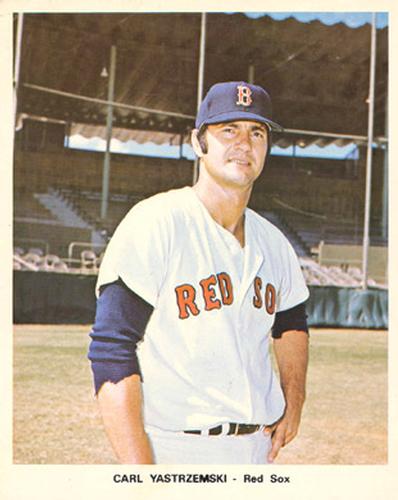 August 24, 1973: Yaz takes over for Red Sox … at third base?
---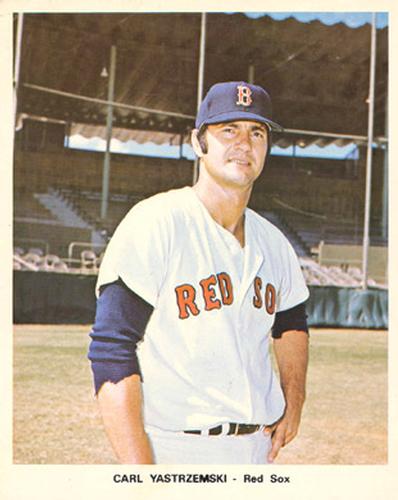 Jim Bouton's Ball Four is full of cutting personal commentary on players, coaches, managers and front-office staff. One of the most memorable and damning criticisms is credited to Bouton's roommate, pitcher Gary Bell: "Carl Yastrzemski is for himself first and second and the hell with everybody else."1
While Bouton depicted the longtime Red Sox star as selfish, it's worth noting that a few years later, Yastrzemski took a high-risk, highly visible, apparently selfless action in the midst of a pennant race to try to strengthen his team.
In August 1973 Yastrzemski moved across the diamond and became Boston's starting third baseman for the rest of the season despite having virtually no experience at the position. That kind of move was an unusual step for a veteran star of Yaz's stature, and there still aren't many comparable examples: Imagine Mike Trout showing up one August night at shortstop and staying there for the rest of the year.
"Nobody should envy Yaz going to third under these conditions – very little experience and a tight race. Most ballplayers think third a tougher position than first," sportswriter Harold Kaese wrote. "Yaz is a good sport to do this. He is exposing himself to ridicule."2
Yastrzemski's "battlefield promotion" came as part of a year when the Red Sox fought through injuries to a number of key players. Young outfielder Dwight Evans suffered a pair of concussions, while Reggie Smith dealt with a cranky knee. And third baseman and Fenway Park favorite Rico Petrocelli lost 61 games to injury, leaving the field for good after an August 11 game due to chronic elbow problems.
Moving Yastrzemski to an unfamiliar position wasn't an obvious choice for manager Eddie Kasko, but it wasn't entirely far-fetched. With hard-hitting youngster Cecil Cooper summoned from Triple-A Pawtucket, a combination of Yaz at third and Cooper at first would provide offensive punch, with Yastrzemski's shortstop experience in high school and college hopefully serving as adequate preparation for the hot corner. Other options at third included Danny Cater, who played a few games there before Yastrzemski took over and later spelled Cooper at first; John Kennedy, an infield supersub whose atrocious year at the plate had reduced him to pinch-running duty; and Buddy Hunter, who had a few cups of coffee with the '70s Red Sox but was hitting poorly that year in Triple-A.3
Contemporary news accounts don't specify who had the idea to move Yastrzemski to third, but evidence suggests it was the player's idea, rather than the manager's. News stories of the time describe Kasko as a conservative skipper not given to drastic change. The Boston Globe's Ray Fitzgerald wrote: "Yaz to third and Cooper to first must go against Kasko's grain, because he's just not a dramatic guy."4
It's also worth noting that Yastrzemski, like Ted Williams before him, reportedly enjoyed a strong relationship with team owner Tom Yawkey.5 With an ally at the very top of the organization, it seems unlikely that Yastrzemski would have been required to go along with anything he didn't want or hadn't offered to do. (Also, the 1974 team yearbook describes Yastrzemski as having been a "volunteer" at third base the prior year.6)
While Kasko praised Yastrzemski for his toughness under pressure, a grinning Yaz asserted to reporters that he'd "played three games at third in 1964 and done all right."7 Even that was an overstatement: On September 26 and 27, 1964, Yaz spent two full games at the hot corner in Detroit. He'd played the field without incident, starting an around-the-horn double play in the first game, but also went 1-for-9 at the plate in a pair of losses. Those games were meaningless, with Boston mired in the second division. When Yastrzemski took over at third in 1973, the Red Sox were in second place, fighting to make up a four-game deficit behind Baltimore.
And so, with New England watching, Kasko put Yaz in the lineup playing third and hitting third on August 24, 1973, against the Angels at Anaheim Stadium. It was two days after Yastrzemski's 34th birthday. A scant Friday-night crowd of 11,334 turned out to watch Boston southpaw Bill Lee take the mound against California right-hander Dick Lange, making his fourth big-league start. Adding further spice to the matchup, the Red Sox and Angels had cleared their benches twice in Boston two weeks earlier, and tensions were high on both sides.8
For all that, the game ended up being a low-key – albeit closely played – affair. Boston took a quick lead with runs in the first and third innings, both generated in precisely the same fashion. With two out in each inning, Yastrzemski, Orlando Cepeda, and Carlton Fisk hit back-to-back-to-back singles, bringing the newly anointed third baseman twice across home plate.
Not until the fifth inning did Yaz face a fielding chance, retiring Ken Berry on a grounder without incident. But yet another two-out rally tied the game, as California's Jeff Torborg, Rudy Meoli, Sandy Alomar, and Vada Pinson hit consecutive singles and Cooper committed a costly throwing error at first. Lee struck out Frank Robinson, looking to keep the game tied.
Boston reclaimed the lead for good in the top of the sixth after Cooper walked and Torborg threw away Doug Griffin's sacrifice bunt. Red Sox right fielder Ben Oglivie then hit a sacrifice fly to right to score Cooper with the last run of the game. Lee went the distance, scattering eight hits to earn his 14th win. Yaz handled only one additional chance, throwing out Alomar on a groundball to lead off the eighth.
It was Boston's seventh win in a row. But there was little to celebrate in the big picture, as the division-leading Orioles won their 11th in a row that same night en route to a 14-game winning streak. Between July 10 – Boston's last day in first place – and the Orioles' division clinching on September 22, Baltimore posted a torrid 50-24 record. The Red Sox went just 38-33 over the same stretch, troubled by injuries, slumps, uneven starting pitching, and a chronic failure to drive in men on base.9
That makes it difficult to assess how much Yaztrzemski's 32-game experiment at third helped or harmed his team. Even if he'd played with the grace of Boston-area native Pie Traynor, the streaking Orioles would have been virtually impossible to catch.
Still, the numbers show that Yaz posted an unacceptable fielding percentage for a major-league third baseman.10 His fans might point out that eight of his 12 errors were clustered in three games, and without those few bad days, his fielding percentage would have been higher. Yaz's detractors might respond that a team in a pennant race – especially against a juggernaut like the Orioles – can't afford to write off any games or tolerate subpar play at any position. (For what it's worth, Yastrzemski succeeded at the plate while he struggled in the field: His batting average rose almost 20 points between August 24 and the end of the year.)11
In his roundup of the season, Boston Globe scribe Peter Gammons laid significant blame for the team's troubles on the third-base situation, writing: "Here is where the '73 epitaph lies, right over by third base."12 In the same piece, Gammons gave Yaz backhanded credit for putting the team first: "Carl Yostrzemski [sic], of whom it was said for years that he wouldn't do this or that and then this year went out and allowed himself to be embarrassed trying to win, is a good first baseman."
The 1973 season cost Kasko his managing job after four good-but-never-great years of failing to make the postseason. His replacement, Darrell Johnson, made it immediately clear upon being introduced to media that Yastrzemski would not be back at third in 1974. Johnson gave Petrocelli the inside track to get his job back, and also vowed to have prospect Juan Beniquez work out with former Red Sox third baseman Frank Malzone to learn the position over the winter.13
When Johnson finally got to fill out a lineup card for real, Opening Day 1974 found Yastrzemski in left field, Cooper at first, Beniquez in center and Petrocelli at third, with Kennedy spelling him in midgame. Boston's Number 8 never played third base again.
Over his remaining decade in the bigs, Yastrzemski put in time at first base, all three outfield positions, and finally at designated hitter. No matter where he played, his team's inability to win the World Series would remain constant. It was a frustrating shadow over a great career – a shadow that tended to obscure the times, like August 24, 1973, when Carl Yastrzemski put his own interests aside to try to help his team.
Sources
baseball-reference.com/boxes/CAL/CAL197308240.shtml
retrosheet.org/boxesetc/1973/B08240CAL1973.htm
Notes
1 Jim Bouton, Ball Four (New York: Dell Publishing Company, 1970). Bell's remarks appear in the entry for June 6.
2 Harold Kaese, "Yaz Leading With Chin in Taking on New Role," Boston Globe, August 26, 1973: 90.
3 As per Baseball Reference, Hunter hit .206 with Pawtucket in 1973. baseball-reference.com/register/team.cgi?id=93a72ca6.
4 Ray Fitzgerald, "Kasko: He's Got Patience," Boston Globe, August 25, 1973: 21.
5 Glenn Stout and Richard A. Johnson, Red Sox Century: One Hundred Years of Red Sox Baseball (New York: Houghton Mifflin Co., 2000).
6 1974 Boston Red Sox yearbook, accessed 8/24/19 via the Internet Archive (archive.org/details/bostonredsoxyear1974bost/page/10): "Twelve of his 18 errors were made at third base, where he played 32 games as a volunteer after Petrocelli left the lineup."
7 "Kasko Shuffles Bosox Lineup," Associated Press, August 24, 1973: 12, as printed in the Nashua (N.H.) Telegraph. This is also the article in which Kasko praises Yastrzemski for his toughness under pressure: news.google.com/newspapers?nid=KFIQUvoPKFAC&dat=19730824&printsec=frontpage&hl=en.
8 "Lee, Fisk Team to Edge Angels," Associated Press, August 25, 1973: 13, printed in the Nashua (N.H.) Telegraph: news.google.com/newspapers?nid=KFIQUvoPKFAC&dat=19730825&printsec=frontpage&hl=en.
9 Harold Kaese, " '73: Truth Comes Out – Sox Just Adequate," Boston Globe, September 30, 1973: 102. "The season was not a disaster, merely a disappointment. The Red Sox just didn't put it together."
10 Yaz posted a fielding percentage of .893. Petrocelli, by comparison, fielded at a .980 clip in 99 games at third in 1973.
11 Yastrzemski's season and day-by-day fielding and hitting stats are sourced from his Retrosheet profile (retrosheet.org/boxesetc/Y/Pyastc101.htm). He batted .296 for the season.
12 Peter Gammons, " '74: There'll Be Some Changes Made," Boston Globe, September 30, 1973: 102.
13 Clif Keane, "Johnson Makes One Thing Clear – Yaz Won't Play Third," Boston Globe, October 2, 1973: 26; Ray Fitzgerald, "So Far Johnson's Unbeaten," Boston Globe, October 2, 1973: 25.
Additional Stats
Boston Red Sox 3
California Angels 2
---
Anaheim Stadium
Anaheim, CA
Box Score + PBP:
Corrections? Additions?
If you can help us improve this game story, contact us.
Tags
https://sabr.org/sites/default/files/Yastrzemski-Carl-1973.jpg
600
800
admin
/wp-content/uploads/2020/02/sabr_logo.png
admin
2019-09-11 15:32:49
2020-08-24 02:34:36
August 24, 1973: Yaz takes over for Red Sox … at third base?