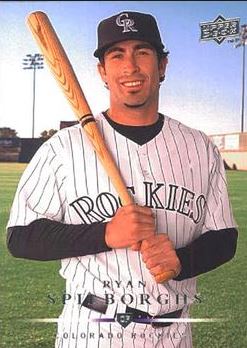 August 24, 2009: Ryan Spilborghs' walk-off grand slam boosts Rockies' playoffs chances
---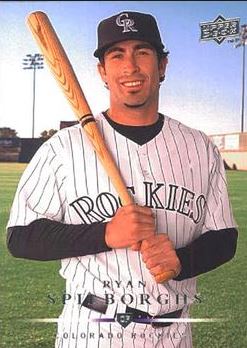 Clint Hurdle was the longest-tenured manager in Colorado Rockies history as the team entered the 2009 season. In 2007 he'd led the franchise, which debuted with major-league baseball's 1993 expansion, to its greatest success — two series sweeps in the National League playoffs and a World Series matchup in which a not-to-be-denied Boston Red Sox team turned the tables and swept them. The Rockies then slipped to 74-88 and third in the 2008 NL West and despite a 2009 spring training in which Hurdle tried to take the team "back to basics,"1 little went right in the early part of the season.
After an 8-6 home loss to the first-place Los Angeles Dodgers on May 27 that capped a three-game sweep by the visitors, Colorado was a dismal 18-28 and already 14 games back in the National League West. Although Rockies general manager Dan O'Dowd "had long been Hurdle's strongest ally," he admitted: "Our execution of fundamentals has been terrible. It's been hard to watch. We have to get better at that regardless of who the manager or general manager is."2
With that, Hurdle was out. O'Dowd installed first-year bench coach Jim Tracy as manager. Tracy, with prior National League managerial experience in Los Angeles and Pittsburgh, debuted on May 29 as Jason Marquis and closer Huston Street combined for a six-hit, 3-0 win over the visiting San Diego Padres. And in what would be a portent for the rest of the season, Colorado notched its first walk-off win of 2009 the next night.3
Tracy's 2-0 record as manager slipped to 2-4 as the Rockies then suffered four straight losses. But on June 4 they erupted for 10 runs in a blowout win at Houston and were on their way to winning 11 games in a row and 17 of their next 18 through June 22. The streak took them past .500 to a 37-33 record and lifted them to third place in the NL West. By July 20 the Rockies were 51-42 and had reached second place, still eight games behind Los Angeles. But Colorado's record was good for third best in the overall National League standings used for playoffs wild-card determination,4 a marked improvement over their 14th-place standing when Tracy took over.
Colorado continued to chop games off the Dodgers' lead, and on Monday morning, August 24, stood 70-54, just 3½ games back both in the division and overall, good enough for the National League wild-card lead as that race began to take on greater significance. The prior Friday the Rockies had opened a homestand against San Francisco. The Giants came in two games behind Colorado in the wild-card race. After losing 6-3 on Friday night, they nipped the Giants 14-11 in a typical Coors Field slugfest on Saturday and won 4-2 on Sunday.
A Monday-night crowd5 of 27,670 settled in to watch right-hander Marquis, who had gotten Tracy's tenure off to a positive start back in late May, match up with Giants' lefty Barry Zito. At 30, Marquis had a workmanlike National League career behind him with a 14-8 record and 3.58 ERA thus far in 2009.6 Zito, the American League Cy Young Award winner seven years earlier with the Oakland A's, had signed with the Giants as a free agent before the 2007 season. He was 8-11, 4.26 as he faced Colorado with a two-game swing in the National League wild-card race on the line.
The Giants got on the scoreboard in the top of the first inning. Leadoff batter Eugenio Velez singled to right-center on Marquis's third pitch of the night, then stole second with Randy Winn at the plate. Velez advanced to third as Winn lined to deep left-center. Pablo Sandoval then delivered a sacrifice fly to score Velez before Bengie Molina bounced out to end the half-inning.
Colorado posed no threat to Zito until the fourth, when Todd Helton walked and advanced to third on a two-out single by Brad Hawpe. That brought the number-6 hitter, outfield swingman Ryan Spilborghs, to the plate. The 29-year-old fifth-year man battled Zito to a 3-and-2 count but went down on a swinging strikeout.
The Rockies managed to break through with the tying run in the fifth, though, and might have had more. Ian Stewart walked to open the half-inning and reached second base when Giants third baseman Juan Uribe, who had replaced an injured Sandoval in the third, couldn't handle Yorvit Torrealba's groundball. Marquis delivered a sacrifice bunt to advance Stewart to third and Torrealba to second. Dexter Fowler rapped a ball deep in the short-third hole; Stewart hesitated long enough to be caught in a rundown between third and home for the second out. But Clint Barmes then worked Zito for an eight-pitch walk to load the bases. Helton did the same on five pitches to score Torrealba and tie the game before slugger Troy Tulowitzki roused, then disappointed, the crowd with a bases-loaded fly ball to deep right field that Nate Schierholtz tracked down.7
The score held at 1-1 for another eight innings. Zito was gone after 105 pitches through six; Marquis threw 122 through eight. For what amounted to offense, Stewart reached third again in the Rockies' ninth, but Brian Wilson struck out Barmes. Colorado posed another mild threat in the 10th but after a leadoff single by Helton, "Tulowitzki rounded first base too aggressively and was trapped in a rundown, setting up an intentional walk [to Hawpe] and a double play groundball [by Spilborghs, with Wilson still pitching]."8
San Francisco broke through in the 14th against Adam Eaton, Colorado's seventh pitcher. Triples by Edgar Renteria and Velez on either side of a walk scored two runs, and Uribe's single plated another to bump the score to 4-1.
Leading off the Rockies' last-chance half, Fowler fouled a ball off his knee and took several minutes to recover.9 With the Rockies down to one remaining position player, catcher Chris Iannetta, Fowler stayed in the game although "limping badly,"10 and managed to work a walk off Brandon Medders, San Francisco's sixth pitcher. After a popfly out, Iannetta11 greeted new pitcher Justin Miller with a pinch-hit single; Tulowitzki then walked on a 3-and-2 count to load the bases. With no bench left, pitcher Eaton faced Miller as Tracy, the Rockies, and the fans watched with crossed fingers.12 The veteran Eaton, though, less fearful of striking out than hitting into a double play, kept the bat on his shoulder and waited out the erratic Miller for a five-pitch walk, bringing Fowler limping home to make it 4-2.13
That brought up Spilborghs. He'd managed a single in the sixth but was quickly erased from the bases by Stewart's double-play ball. Otherwise, he had failed to deliver in the fourth with Helton on third base and two outs, and again by hitting into a double play with one out and the potential winning run on third base in the 10th. Giants manager Bruce Bochy went to right-hander Merkin Valdez, the seventh man out of his bullpen in the game, to face the righty-swinging Spilborghs. This time, with the game nearing its fifth hour,14 Spilborghs came through in the most dramatic way possible. He launched Valdez's 0-and-1 pitch to deep right-center — the first walk-off grand slam in Rockies history.15
The marathon ended 6-4 Colorado, the Rockies' longest game of 2009 in terms of innings played and time elapsed.
"I went from zero to hero," an ecstatic Spilborghs said after the game. "I just wanted to go home at that point. It was surreal."16
The Rockies engineered another walk-off the next night against the Dodgers on Tulowitzki's single in the 10th inning, narrowing the division lead to two games. But they then lost five straight and six of eight before reeling off eight straight wins, including another walk-off17 against Cincinnati on September 9.
Colorado closed to within one game of the division lead with a 4-3 win in Los Angeles on October 2 to open a season-ending series that would decide the NL West. The Dodgers, though, regrouped to win the remaining two games of that series to relegate Colorado to the wild card with a 92-70 record. In the divisional series against Philadelphia, the Rockies eked out a 5-4 road win in Game Two and returned to Coors Field with the series tied 1-1 and the opportunity for more walk-off magic.
But it wasn't to be — Philadelphia closed out the Rockies' season with, ironically, two top-of-the- ninth-inning wins that Colorado couldn't counter.
This story originally appeared in "Major League Baseball A Mile High: The First Quarter Century of the Colorado Rockies" (SABR, 2018), edited by Bill Nowlin and Paul T. Parker. To read more articles from this book at the SABR Games Project, click here.

Sources
In addition to the sources cited in the Notes, the author used the Baseball-Reference.com and Retrosheet.org websites for the excellent detail in their box scores, player, team, and season pages, pitching and batting logs, and play-by-play summaries.
Notes
1 Troy E. Renck, "Hurdle Out as Rockies Manager," DenverPost.com, May 29, 2009, accessed July 11, 2017.
2 Ibid.
3 Merriam-Webster defines "walk-off" as an event ending a baseball game immediately by causing the winning run to score in the bottom of the final inning. Merriam-Webster.com/dictionary/walk-off, accessed July 17, 2017. Prior to the May 30 walk-off win, the Rockies had lost walk-off games on May 3 and 5, at San Francisco and San Diego respectively.
4 Major League Baseball introduced the wild-card element to its playoffs in 1994, when both leagues realigned from two to three divisions. The first use of the wild card, however, was in 1995, due to 1994 labor issues that cost the playoffs and World Series. Through 2011, the non-division-winning team with the best record in each league became the wild card — the fourth playoff team — and played a five-game series with one of the divisional winners. (In 2012, Major League Baseball added a second wild-card team in each league, again determined by best non-division-winning records. These two teams play each other in a one-game elimination, with the winner advancing to the divisional playoffs.)
5 The Rockies had drawn 48,704 on Sunday and 47,178 on Saturday to see their wins over the Giants.
6 Marquis's 3.58 ERA included 11 home starts at Coors Field, notorious for offensive output.
7 Tulowitzki had 23 home runs at that point in the season. He finished the 2009 season with 32 homers.
8 Troy E. Renck, "Rox Jolt Giants With Grand Slam in 14th Inning," DenverPost.com, August 24, 2009, accessed July 14, 2017.
9 Ibid.
10 Ibid.
11 Iannetta, the last nonpitcher Tracy had available, hit for Carlos Gonzalez. "Two days earlier [Gonzalez] cut himself trying to catch a steak knife as it fell off his plate." He had entered the game as a pinch-runner for Helton in the 10th inning. "The Rockies determined that [Gonzalez] was healthy enough to run the bases, which he did in the tenth, healthy enough to bunt, which he did [as the leadoff hitter, making an out] in the twelfth, and healthy enough to play defense, which he did in between. However, [Tracy] did not want him swinging a bat full force in fear it would slice his hand open." Matt Gross, "Thank You, Ryan Spilborghs," Purple Row blog, August 25, 2015, purplerow.com, accessed July 17, 2017. Gonzalez was first able to start and complete a game six days later, on August 30.
12 The Rockies acquired Adam Eaton, age 31, as a free agent on June 6, 2009, after he was released by the Baltimore Orioles. He appeared in only four games with Colorado. This August 24 plate appearance was his only one in the 2009 season, and the game, in which he was the winning pitcher, was his last one in the major leagues.
13 Fowler's knee injury was sufficiently severe that he missed the next 14 games and didn't appear in the lineup again until September 9.
14 The official game time was 4 hours 57 minutes.
15 Renck, "Rox Jolt."
16 Ibid.
17 The 2009 Rockies had eight walk-off wins against five walk-off losses. All eight wins came during Tracy's managerial tenure.
Additional Stats
Colorado Rockies 6
San Francisco Giants 4
14 innings
---
Coors Field
Denver, CO
Box Score + PBP:
Corrections? Additions?
If you can help us improve this game story, contact us.
Tags
https://sabr.org/sites/default/files/7109.jpg
600
800
admin
/wp-content/uploads/2020/02/sabr_logo.png
admin
2019-04-10 13:30:40
2020-04-17 10:23:36
August 24, 2009: Ryan Spilborghs' walk-off grand slam boosts Rockies' playoffs chances