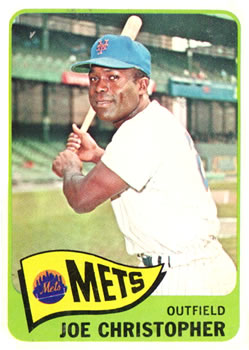 August 25, 1965: Joe Christopher's two-run homer keys Mets win over Dodgers
---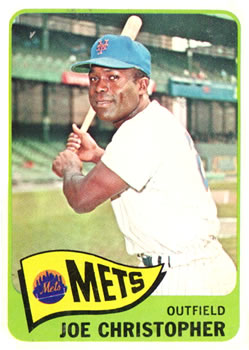 Oh, those New York Mets! In the first three seasons since the National League returned to New York in 1962, the Mets finished in last place. Would the 1965 season be their time to abandon last place for higher ground? To answer the question, manager Casey Stengel could be direct without resorting to some form of verbal Stengelese.1 "It could be. Yes, I think we have a fine chance to get out of last place," Stengel said on the eve of the opener.2 If the Mets were to move up in 1965, it was going to be with a younger team, averaging 24 years old. Only Jim Hickman, Joe Christopher, Al Jackson, and Chris Cannizzaro remained from the expansion draft and the 1962 inaugural team that averaged 29 years old.3 A pair of 20-year-olds, Ed Kranepool and Ron Swoboda, and "veteran" Ron Hunt were going to have to contribute at the plate.
It wasn't to be. When the Mets had reached the midpoint of their season by sweeping a doubleheader from the Chicago Cubs on July 5, they were solidly in last place, eight games behind the very same ninth-place Cubs. When they returned home from a mid-August road trip having lost 20 of their last 24 games, they faced the prospect of entertaining the St. Louis Cardinals and the Los Angeles Dodgers, against whom they had a combined record of 4-21 thus far in 1965.
Prospects for a successful homestand looked rather bleak after the first game, on August 20 against the Cardinals. The Mets committed four errors and Bob Gibson beat them, 8-1, pitching a complete-game three-hitter. Behind the complete-game pitching of Jack Fisher, the Mets beat the Cardinals, 6-2, on the following afternoon and swept a Sunday doubleheader for a 3-1 series win. Bring on the Dodgers!
Again, the Mets lost the first game of the four-game series, 8-4, to Don Drysdale with Ron Fairly hitting a home run and driving in four runs. In the second game, things looked bleak again when they trailed 3-1 entering the home ninth. Facing Bob Miller, Ron Swoboda reached first on Jim Lefebvre's groundball error. Consecutive singles by Ed Kranepool and Joe Christopher loaded the bases, setting the stage for pinch-hitter John Stephenson. His bases-clearing walk-off double to right field gave the Mets a 4-3 win to tie the series.
The pitching matchup on the 25th brought Claude Osteen (11-11, 2.62 ERA, eight complete games) and Jack Fisher (8-16, 3.79 ERA, nine complete games) as mound opponents. Osteen was in his first year with the Dodgers, having been part of a blockbuster trade. On December 4, 1964, the Dodgers traded Frank Howard, Ken McMullen, Phil Ortega, Pete Richert, and a player to be named later (Dick Nen) to the Washington Senators for John Kennedy, Osteen, and $100,000. Osteen became the number-three starter for the Dodgers behind Sandy Koufax and Don Drysdale.
Jack Fisher had started his career in 1959 and pitched four seasons for the Baltimore Orioles.4 His teammates admired him as a competitor and he loved pitching for Casey Stengel. Fisher once said, "Casey was great to me. I was a guy who wanted the ball every four days and Casey gave me the ball every four days. If I wanted to relieve between starts, he let me do that, too."5
It didn't take long for the Dodgers to jump in front in the first inning. "Before Fisher had thrown five pitches, they had two runs."6 Maury Wills opened the game with a single and Jim Gilliam hit the very next pitch off the right-field fence for a triple, scoring Wills. A sacrifice fly by Willie Davis scored Gilliam for a 2-0 lead. The Mets responded well. Claude Osteen walked Ron Hunt, who was moved to second by Joe Christopher's single. Ron Swoboda doubled to left, scoring Hunt. The Dodgers strategy of intentionally walking Jim Hickman backfired when Ed Kranepool singled, scoring Christopher and leaving the bases loaded. When Osteen walked Chris Cannizzaro, scoring Swoboda, the Mets led 3-2.
Fisher didn't hold the lead for long. Wes Parker's solo home run in the second tied the score. Fisher redeemed himself for the time being by opening the second with a single. With two outs, Joe Christopher struck the key blow, a two-run home run to left-center, and a 5-3 Mets lead. But Fisher's problems continued in the top of the third with one-out singles from Gilliam and Davis and he was replaced on the mound by Gordie Richardson. Although Richardson yielded a run-scoring double to Lou Johnson, he managed to get out of the inning with the Mets still leading, 5-4.
Meanwhile, the Mets ended Osteen's night with two outs in the bottom of the fifth inning. Jim Hickman doubled to right and scored when Ed Kranepool tripled to right. Osteen's wild pitch with Chris Cannizzaro batting scored Kranepool for a 7-4 Mets lead.
But Richardson's pitching was already becoming the game's story. After getting out of the third inning, he limited the Dodgers to a single hit, Gilliam's eighth-inning single, until the Dodgers' last at-bat in the ninth inning. With two outs, Wes Parker singled to right and scored on Jeff Torborg's double to center. Richardson got pinch-hitter Don Drysdale to ground out to shortstop to complete his improbable pitching performance.
Gordie Richardson made his major-league debut in 1964 for the St. Louis Cardinals, pitching a complete-game five-hitter to beat the first-place Philadelphia Phillies, 6-1. After the season, he was traded along with Johnny Lewis to the Mets for Elio Chacón and Tracy Stallard. When he joined the Mets in July from their Buffalo Triple-A club, Richardson was used exclusively in relief. Six strong relief appearances in eight days (July 25-August 1) earned him praise as "rubber-armed" by acting Mets manager Wes Westrum. (Westrum, the Mets pitching coach, was filling in for Stengel, who underwent surgery to repair a fractured hip he suffered while alighting from a car.) "When asked about the tag, Richardson drawled, "I guess if I had to, I could work every day."7
Richardson's major-league career lasted only through the 1966 season. After that magnificent debut performance in 1964, he pitched more than six innings only once in his career, and it came on this very night against the first-place Dodgers, a pitching line of one run on four hits in 6⅔ innings.
The improbability of it all continued the following night in a duel of left-handers when 20-year old Tug McGraw beat Sandy Koufax, 5-2. None other than Jack Fisher retired the last four Dodger batters and recorded his first and only save of the season. Several footnotes on the Mets' brief four-season history were noted in The New York Times:8
The Mets beat Koufax for the first time after 13 straight victories by the left-hander over Mets teams.
They won a series from the Dodgers for the first time after four years of mastery by Dodgers teams that won 58 of 68 games between them before this late-August series.
The Mets won two consecutive four-game series for the first time, winning three of four games in each series. The Cardinals were the defending 1964 World Series champions and the Dodgers were on their way to winning the National League pennant in 1965.
A 13-game winning streak in September propelled the Dodgers to that National League pennant. They would also win the World Series in seven games over the Minnesota Twins. The Mets finished the season in last place with a 50-112 record, 47 games behind the Dodgers. Oh those New York Mets!
Author's note
This game marked my first visit to Shea Stadium, now in its second season as the home of the Mets. A Mets-Dodgers game recalled days of Dodgers baseball in Flatbush9 for many fans. I had returned to the Polo Grounds in 1963 to see Sandy Koufax shut out the Mets, 6-0, striking out 13 and allowing only three hits.10
On this night, Dodgers catcher John Roseboro suffered another misfortune in the fourth inning when a foul tip off the bat of none other than Gordie Richardson aggravated a finger injury. Only three days earlier in a game at Candlestick Park, the always intense Dodgers vs. Giants rivalry took an ugly turn when Giants pitcher Juan Marichal attacked Roseboro with his bat, creating a two-inch gash on his head. The attack, which was followed by a bench-clearing free-for-all, earned Marichal a nine-game suspension and a fine of $1,750.11
Roseboro was replaced by Jeff Torborg, a college All-American in 1963 at Rutgers University. I got to witness the excitement Torborg created among Rutgers fans and major-league scouts, calling Rutgers baseball games on WRSU Radio from 1962-1966.
Sources
The author accessed Baseball-Reference.com for box scores/play-by-play information (baseball-reference.com/boxes/NYN/NYN196508250.shtml) and other data, as well as Retrosheet.org (retrosheet.org/boxesetc/1965/B08250NYN1965.htm). The game's action was captured by the author's own hand in the "1965 New York Mets Official Program & Scorecard" purchased for 25 cents.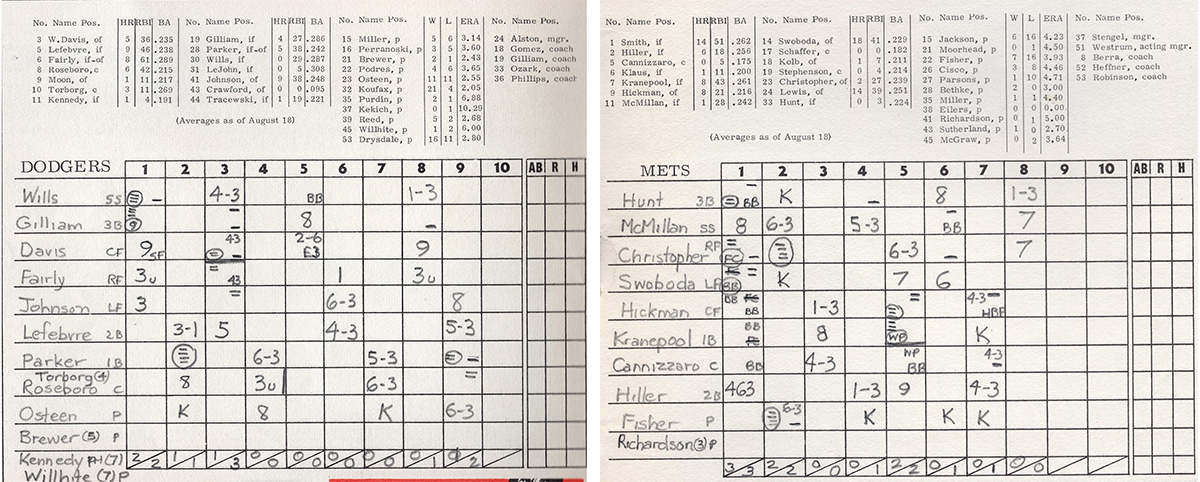 (Click image to enlarge.)
Notes
1 Paul Dickson, The Dickson Baseball Dictionary, 3rd Edition (New York: W.W. Norton & Company, 2009), 824. Dickson defines Stengelese as "The colorful vocabulary, fractured English, scrambled syntax, incessant flow of speech, and implausible brand of double-talk spoken by Hall of Fame manager Casey Stengel."
2 William J. Ryczek, The Amazin' Mets, 1962–1969 (Jefferson, North Carolina: McFarland & Company, 2008), 105.
3 Ibid.
4 Fisher's Baltimore career is best remembered for two at-bats: (1) On September 28, 1960, at Fenway Park, he yielded Ted Williams's 521st and last career home run; (2) On September 26, 1961, at Yankee Stadium, Roger Maris hit his 60th home run of the season off Fisher.
5 Ryczek, 109.
6 Joseph Durso, "Christopher Hits Key 2-Run Homer; Drive Send Mets Ahead — Richardson Relief Star — Roseboro Injured," New York Times, August 26, 1965: 26.
7 John Stahl, "Gordie Richardson," SABR Baseball Biography Project, https://sabr.org/bioproj/person/5dc835f2.
8 Joseph Durso, "Mets Top Dodgers 3rd Time in Row, 5-2, Beating Koufax," New York Times, August 27, 1965: 20.
9 Ebbets Field was in the Flatbush section of Brooklyn, about three miles south by southeast down Flatbush Avenue from the Manhattan Bridge.
10 Steven C. Weiner, "July 12, 1963: Koufax fans 13, hands Mets 13th loss in a row," SABR Games Project.
11 Leonard Koppett, "Marichal Hits Roseboro With Bat and Starts Brawl as Giants Top Dodgers, Catcher Suffers 2-Inch Head Cut," New York Times, August 23, 1965: 24.
Additional Stats
New York Mets 7
Los Angeles Dodgers 5
---
Shea Stadium
New York, NY
Box Score + PBP:
Corrections? Additions?
If you can help us improve this game story, contact us.
Tags
https://sabr.org/sites/default/files/ChristopherJoe.jpg
600
800
admin
/wp-content/uploads/2020/02/sabr_logo.png
admin
2018-06-12 14:31:35
2020-04-17 10:24:46
August 25, 1965: Joe Christopher's two-run homer keys Mets win over Dodgers