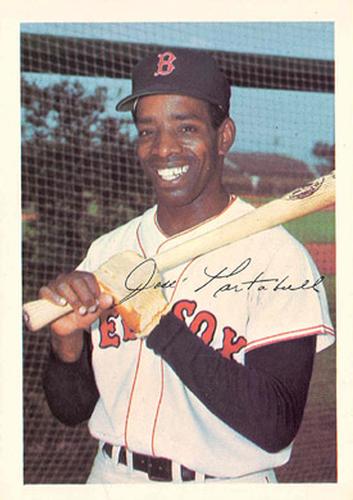 August 27, 1967: Tartabull's throw keys cardiac win for Red Sox
---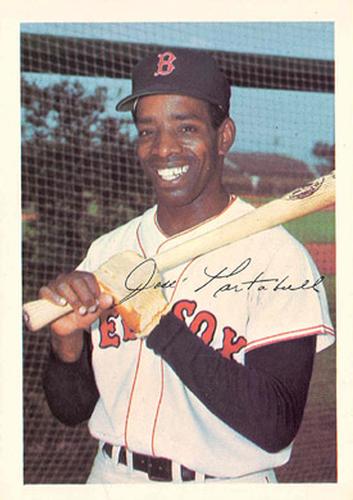 It was the weakest arm in the Red Sox outfield against the fastest runner on the basepaths for the Chicago White Sox, but in this wild and wacky season, the Cardiac Kids found yet another way to pull out an improbable victory.
Gimpy-armed right fielder Jose Tartabull became the instant hero when his throw from short right field nailed speedy Ken Berry at the plate — thanks to a great tag by catcher Elston Howard — to end the game in dramatic fashion and preserve a 4-3 Red Sox win in the first game of a doubleheader at Chicago's Comiskey Park on August 27.
With Boston holding a one-run lead going into the bottom of the ninth, Ken Berry led off with a double down the left-field line off starter Gary Bell. Sandy Alomar bunted him to third.
Boston manager Dick Williams summoned reliever John Wyatt from the bullpen to replace the tiring Bell after Duane Josephson was announced as a pinch-hitter for Chicago reliever Hoyt Wilhelm.
Swinging at Wyatt's first pitch, Josephson roped a fly ball into short right field. Tartabull caught the liner and, with Berry tagging at third, let go an arcing throw to the plate. Howard leaped high, caught the throw, and then successfully blocked the plate while sweeping the tag on Berry to complete the game-ending double play.
An irate White Sox manager Eddie Stanky roared from the dugout to protest the call by home-plate umpire Marty Springstead, but to no avail.
Howard, a 13-year veteran with the Yankees who had joined the Red Sox earlier in the month, used his catching wiles to deftly block the plate.
"He never got to the plate. He slid into my toe and then my shin guard," Howard said. "I had to jump for the ball and when I came down he was off the baseline. I tagged him before he could get his hand in between my legs and tag the plate."1
"I was a bit surprised that Berry was sent in, because the Josephson fly to right was rather shallow," Howard said. "But I suppose Stanky figured he had to go for broke in that spot."2
Manager Williams added, "It was a terrific grab of a high throw and an out-of-this-world tag by Howard. I never saw a better one."3
Boston Globe sportswriter Harold Kaese suggested that Howard's play might later be looked upon as one of the keys to the Red Sox pennant stretch. "At the end of the season Howard's left foot may go down in history as the first left foot ever to have won a pennant for the Red Sox," Kaese wrote. "The shoe the veteran receiver wore as he kept the speedy Berry from hook-sliding into the plate should be gilded and sent to the museum at Cooperstown. (Berry) missed the plate because, as Howard explained, his hooking left foot caught Howard's left shoe — size 12B — just as it came down in front of the plate, and deflected him wide of the five-cornered target."4
Tartabull had been platooned in right field with George Thomas and Jim Landis since Tony Conigliaro was beaned on August 18, The native of Cienfuegos, Cuba, was not accustomed to the media attention showered upon him. However, everyone wanted to hear about the throw.
"Line drive go deep in web and I have trouble getting ball out," Tartabull said in broken English. "I throw all the way hard as I can because nobody on bases and I don't worry about bad throw."5
"If I make good throw and keep it low, I feel I throw him out," he continued. "Then I saw the throw go high and I say to myself, 'Oh oh.' Then I watch (Howard) jump for the ball and when I see the umpire call him out, I say, 'Atta boy.' I caught the ball in the webbing of the glove and I have no chance to aim the throw."6
Tartabull's throw and Howard's tag would be added to the pantheon of highlights by unsung players that would define the Red Sox season. Jerry Adair's game-winning homer to cap the comeback from an 8-0 deficit to California, Dalton Jones's 10th-inning homer later in the season in Detroit, Norm Siebern's three-run pinch-hit triple, and Billy Rohr's near no-hitter were also among those nuggets on the list.
"Tartabull, nee of Cuba but Castro-converted to Caracas, Venezuela, has almost all the endowments except one — an arm," wrote Boston Record American sportswriter John Gillooly. "He could throw the bull farther than a baseball, except he hardly says a word. Mgr. Do-Something Dick Williams has been contemplating a three-man relay to get the ball in from right field when Tartabull's there — sort of a human train," the writer quipped. "How can the Red Sox continue triumphant with Tartabull, who lacks power and a propellant in his arm? I have only one answer — mgr. Williams has constructed a TEAM. All for one and not every man himself."7
The memorable play would even one day inspire a sci-fi thriller, Tartabull's Throw by Henry Garfield (Atheneum/Richard Jackson Books, 2001).
Going into the game, the Red Sox were a half-game ahead of Minnesota and one game ahead of Chicago and Detroit. At the end of the day, Boston found itself in a virtual tie for first place, just .001 behind the Twins. Minnesota won its game over Cleveland, 6-3, that day while the Red Sox lost the second game of their doubleheader.
In the first game, Chicago got off to a 1-0 lead in the first when Don Buford drew a walk off starter Bell, stole second, and came home on Pete Ward's single to center.
The Red Sox took the lead in the third as Mike Andrews singled off Chicago starter Fred Klages and moved to third on Adair's double. After Carl Yastrzemski was walked intentionally, George Scott singled under third baseman Buford's glove, scoring both runs.
Boston stretched the lead to 4-1 as Yastrzemski hit solo homers in the fifth and seventh innings, his 33rd and 34th of the year. That tied him for the league lead with Minnesota's Harmon Killebrew; Yaz led in runs batted in with 93.
Chicago scored a pair of unearned runs in the bottom of the seventh to pull within 4-3. J.C. Martin singled off Bell's glove and Rocky Colavito beat out a tapper to Adair at third. Berry hit a two-hop tailor-made double-play ball to second baseman Andrews, but he threw low to shortstop Rico Petrocelli and the ball scooted into left field.
While Yastrzemski was tracking the ball down, Martin scored, Colavito went to third, and Berry to second. Ron Hansen walked and Smoky Burgess popped out to short left for the first out. Buford then grounded to Andrews for another double-play chance, but Petrocelli's relay to first was late after a hard slide by pinch-runner Sandy Alomar, and Colavito scored. Wayne Causey fanned to end the inning.
Things remained that way until Wyatt was summoned to face pinch-hitter Josephson with Berry as the potential tying run 90 feet from home.
"I threw as good a fastball as I can. It was about knee high and on the outside of the plate," Wyatt recalled two decades later. "I think he was looking for some kind of breaking pitch. He was bending back from the plate and he just barely got the bat on it."8
From there, it was Tartabull to Howard for one of the most scintillating double plays of the season.
"When I had to jump for the ball, I wasn't thinking of blocking the plate, just trying to get the ball down quick enough," Howard said. "But his foot came into the tip of my shoe and kept him from getting in, and that was it."9
Former Chicago manager Al Lopez, who was one of the White Sox old-timers being honored between games of the doubleheader, marveled at Howard's play.
"You rarely see the play made the way Howard did it. I always instructed my catchers to get the ball out of their mitt and make the tag with the bare hand," Lopez noted. "It's too risky tagging with the mitt. The ball can easily be jarred loose. But Howard had no time to shift (the ball). His only chance was to try to make the tag with one sweep of the mitt and he did it. It was a play in a thousand."10
It was one of only four outfield assists Tartabull had in 1967. He played in all seven World Series games, starting three of them in right field.
Manager Williams summed it all up quite succinctly. "You can quote me: It's the best throw Tartabull has made for us all year," he said.11
This article appears in "The 1967 Impossible Dream Red Sox: Pandemonium on the Field" (SABR, 2017), edited by Bill Nowlin and Dan Desrochers. To read more stories from this book, click here.
Notes
1 Henry McKenna, "Sox Split, Drop to Second," Boston Herald Traveler, August 28, 1967: 19.
2 John Gillooly, "Elegant Effort by Hose, Elston," Boston Record American, August 28, 1967: 44.
4 Harold Kaese, "Sox Won First by Foot — Ellie's," Boston Globe, August 28, 1967: 19.
8 Ken Coleman and Dan Valenti, The Impossible Dream Remembered (Lexington, Massachusetts: The Stephen Greene Press, 1987), 169.
Additional Stats
Boston Red Sox 4
Chicago White Sox 3
Game 1, DH
---
Comiskey Park
Chicago, IL
Box Score + PBP:
Corrections? Additions?
If you can help us improve this game story, contact us.
Tags
https://sabr.org/sites/default/files/TartabullJose.jpg
600
800
admin
/wp-content/uploads/2020/02/sabr_logo.png
admin
2017-08-28 14:36:57
2020-04-17 10:25:45
August 27, 1967: Tartabull's throw keys cardiac win for Red Sox