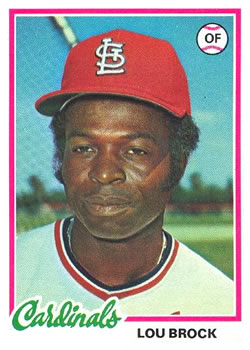 August 29, 1977: Lou Brock passes Ty Cobb as MLB's stolen-base king
---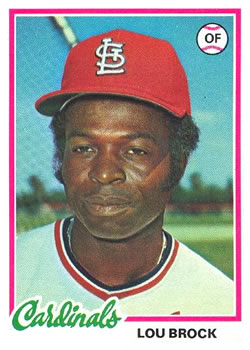 The St. Louis Cardinals began a three-game set with the San Diego Padres on August 29, 1977, in a virtual tie with the Chicago Cubs for third place in the National League's East Division. Both clubs were eight games behind front-running Philadelphia, but the Cubs (70-58 .547) were a smidgen ahead of the Cardinals (71-59 .546). There was a lot of ground to be made up if either team wanted to claim the division flag. The Padres were out of the running in the West, as they entered the series with a 56-76 record and 23 games behind first-place Los Angeles.
St. Louis and San Diego were both trying to put an end to four-game losing streaks. The pitching matchup for the opening game of the series featured right-handers: John Urrea (6-3, 2.67 ERA) for the Cardinals and Dave Freisleben (5-7, 4.97 ERA) for the Padres. Urrea, a rookie, and Freisleben both began the season working out of the bullpen. But both had been inserted into the starting rotation, making their 8th and 17th starts of the season, respectively.
However, the big story of the day centered on Lou Brock. The left fielder for the Cardinals was on the verge of tying and breaking the major-league career mark for stolen bases held by Ty Cobb. With two stolen bases at home on August 25 against San Francisco, Brock had brought his total to 891. Cobb, who played 24 seasons and 3,034 games, amassed 892 steals in his career. For comparison's sake, Brock was in his 17th season and was playing in his 2,376th game.
Brock led off for St. Louis in the top of the first inning, and worked Freisleben for a walk. When Brock took his lead, Freisleben stepped off. Brock again took a lead, and took off for second base, stealing it successfully. "He had a great lead off first base," said San Diego shortstop Bill Almon. "I don't think any kind of throw would've got him."1 A throwing error by Padres catcher Dave Roberts enabled Brock to move to third base. Jerry Mumphrey followed with a single to plate Brock. Mumphrey also stole second base, and after Keith Hernandez flied out to left field, Mumphrey scored on Ted Simmons's single to right. Ken Reitz reached first base on of an error by San Diego third baseman Mike Ivie. Hector Cruz struck out for the second out, but Mike Phillips doubled to left field, scoring Simmons. Freisleben retired the side and St. Louis led, 3-0.
The Cardinals looked as if they were in for a big inning in the second as well. Brock led off with a double to center field. He advanced to third base when Mumphrey followed with a single to left. Mumphrey tried to steal second base, but this time Roberts threw him out. Brock was left marooned at third base after Hernandez struck out and Simmons popped out to second to end the threat.
The Padres cut their deficit to a single run in the bottom of the third inning. Roberts led off and singled to left field. Urrea whiffed Freisleben for the first out, but gave up a triple to right by Gene Richards, scoring Roberts. Almon grounded out to short, sending Richards home to make the score 3-2.
After a rough first inning, Freisleben had settled down, and was keeping the Cardinals off the scoreboard. Urrea was matching his effort, and the score remained 3-2 through the middle innings.
Urrea led off the top of the seventh with a single to center field. Brock came to the plate and hit a comebacker to Freisleben. The pitcher turned and threw Urrea out at second for the force. With Mumphrey at bat, Freisleben threw to first base in an effort to keep Brock close to the bag. "I was out there trying to do my job," said Freisleben. "If he gets it, he gets it. I was trying to hold him close, but with Brock, that's hard."2 One might have thought they were in St. Louis, as the partisan Padre crowd began to chant "Lou … Lou … Lou." They pleaded for him to "Go … Go … Go …" Again, Brock took off and stole second base, beating the throw from Roberts to shortstop Almon. History had been made and the crowd of 19,656 rose in unison to salute Brock with applause as the Padres faithful showed their appreciation and respect for the new stolen-base king. "It showed just how much he's appreciated in the sports world," said Padres manager Al Dark. "It shows you don't have to be at home to be appreciated. When you're a great athlete and a great person, it doesn't matter what town you're in. People appreciate you."3 San Diego pitcher Randy Jones, who was representing the Padres organization, presented Brock with second base, which was removed from the field. Brock lofted it above his head as his teammates congratulated him. "It has not been easy but the moment is here," said Brock. "Looking back on it, Randy, I did it my way."4
But the Cardinals were unable to build on their 3-2 lead, and their slim advantage held until the bottom of the eighth inning. Gene Tenace pinch-hit for Freisleben and worked Urrea for a walk. St. Louis manager Vern Rapp signaled his bullpen for Al Hrabosky. The left-handed Hrabosky led the team in saves with nine, and the Cards were hoping he could shut the door on the opposition once again. Richards and Almon were quickly retired on fly outs. But Ivie stepped into the batter's box and unleashed a blast to left-center field for his ninth home run of the season and, more importantly, gave San Diego a 4-3 lead.
Rollie Fingers took to the hill for the Padres in the top of the ninth inning. The veteran righty was leading the NL in saves with 28. After recording two quick outs, Fingers walked pinch-hitter Dane Iorg. But Fingers secured the Padres' 4-3 win and his 29th save when Mumphrey flied out to center field. Freisleben's record improved to 6-7, while the loss was hung on Hrabosky, whose record now stood at 6-5.
When asked if he was targeting 1,000 steals for his career, Brock said, "I'm not thinking of a thousand. I'm just thinking of my next stolen base. Every stolen base over the years has been a challenge to me — not the number."5
Lou Brock stole 938 bases in his career. Two years later, in 1979, Brock reached another milestone when he collected his 3,000th hit. His stolen-base record was broken by Rickey Henderson in 1991.
Author's note
While researching this article, I noted that Ty Cobb's stolen-base total was listed at 897 on Retrosheet and Baseball-Reference, while mlb.com and Baseball Almanac listed it as 892. Recent research has credited Cobb with four extra stolen bases in 1907 and one more stolen base in 1921. The August 29, 1977, game is recognized as the one in which Brock surpassed Cobb, and was written as such despite the difference in total stolen bases for Cobb.
http://www.retrosheet.org/boxesetc/1977/B08290SDN1977.htm
https://www.baseball-reference.com/boxes/SDN/SDN197708290.shtml
Notes
1 Dick Kaegel, "Brock Steals Base No. 893," St. Louis Post-Dispatch, August 30, 1977: 5A.
2 Ibid.
3 Ibid.
4 Kaegel, 1A.
5 Kaegel, 5A.
Additional Stats
San Diego Padres 4
St. Louis Cardinals 3
---
San Diego Stadium
San Diego, CA
Box Score + PBP:
Corrections? Additions?
If you can help us improve this game story, contact us.
Tags
https://sabr.org/sites/default/files/BrockLou-1978-Topps.jpg
600
800
admin
/wp-content/uploads/2020/02/sabr_logo.png
admin
2018-01-18 02:01:02
2020-04-17 10:24:57
August 29, 1977: Lou Brock passes Ty Cobb as MLB's stolen-base king