Rollie Fingers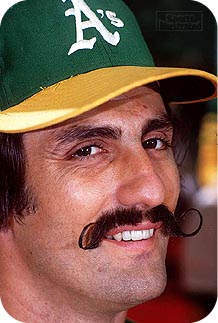 Rollie Fingers was clearly excited as he caught a leaping Ted Simmons, his catcher, after Fingers struck out Detroits Lou Whitaker to nail down the victory and the second-half American League East title for his Milwaukee Brewers in 1981. (The unprecedented split season was devised after the players' two-month strike was settled.) The Brewers were in the postseason for the first time in their 13-year history. They lost in the first round to the first-half champion New York Yankees, three games to two, but Fingers, whose 28 saves that season preserved 45 percent of the Brewers' 64 victories, won not just the Cy Young Award but the American League Most Valuable Player award as well. Only three pitchers (Sandy Koufax, Bob Gibson, and Vida Blue) had done that before Fingers, and only three (Willie Hernandez, Roger Clemens, and Dennis Eckersley) have done it after him, as of 2011.
Roland Glen Fingers developed his mustache, perhaps the most colorful in major-league baseball, on his own. But he credited his father with teaching him how to pitch. Roland was born on August 25, 1946, in Steubenville, Ohio, to George and Pearl (Stafford) Fingers. By that time his father was a steelworker, but he had pitched in the St. Louis Cardinals farm system for four years and had been a roommate of future Hall of Famer Stan Musial.
One day, after returning home from a tough day in the steel mill, George Fingers said, "That's it, we're moving to California," Fingers said in a TV appearance with Tim McCarver in August 2010. He sold his house for $1,500, bought a car, and moved the family to Cucamonga, California, where he went to work in yet another steel mill. On the drive west, the family couldn't afford to stay in hotels, and they were forced to sleep in sleeping bags by the side of the road.
At Upland High School, in a town next to Cucamonga. Fingers played left field and pitched on the school's baseball team. He also played American Legion baseball for the Upland Post. In August 1964, after graduating from high school, Fingers pitched his Legion team to the national American Legion title. After winning local and regional tournaments, Upland went to the national tournament in Little Rock, Arkansas. Playing the outfield, Fingers belted out three hits and made two running catches in Uplands victory over a Detroit team in the series opener, Then Fingers pitched a three-hitter against a team from Charlotte, North Carolina, to wrap up the title and win the tournaments player of the year honors. For the Legion season he finished with an 11-2 record and a 0.67 earned-run average, with 102 strikeouts in 81 innings, and he batted .450 (18-for-40) in the regional and national tournaments.
After the tournament Fingers returned home to California to discuss his baseball future with his parents. This was before the implementation of the major leagues free-agent draft, and Fingers had already received offers from more than a dozen major-league organizations. He was prepared to turn them all down to attend Chaffey Junior College at Alta Coma, California.
The Los Angeles Dodgers offered Fingers a $20,000 bonus to sign a contract. But because they already had a solid pitching staff, led by Fingers' boyhood heroes Sandy Koufax and Don Drysdale, he felt it would take him years to make the majors with the Dodgers. As a result he accepted a $13,000 offer from the Kansas City Athletics, signing the contract on Christmas Eve of 1964.
The Athletics originally wanted Fingers as an outfielder but decided in his first spring training to have him pitch. For the 1965 season they assigned Fingers to Leesburg, in the Class A Florida State League. As a starting pitcher he won 8 games and lost 15, pitching 175 innings and finishing with a 2.98 ERA. In late August he left the team to fly to Cooperstown, where in a ceremony at the Baseball Hall of Fame he received the American Legion player of the year award from the previous summer.
Fingers spent the 1966 season with the Modesto Reds, the Athletics entry in the Class A California League. Still a starter, he went 11-6 in 22 games with a 2.77 earned-run average. Among Fingers' teammates that season were future Hall of Famer Reggie Jackson and future manager Tony La Russa.
In the spring of 1967, Fingers married his high-school sweetheart, Jill Cutler, who had been the statistician for the Upland High School baseball team. He moved up the A's ladder again, to Birmingham of the Double-A Southern League. Pitching on Opening Day, he suffered a fractured cheekbone and jawbone, and lost some teeth when he was hit by a line drive off the bat of Fred Kovner of Evansville. Fingers' jaw was wired shut for five weeks. He returned to the mound two months later and finished the season with a 6-5 record and a 2.21 ERA. After Birminghams season ended, Fingers pitched for the Athletics' entry in the Arizona Fall Instructional League, winning three games and losing six, with a 3.39 ERA.
The Athletics moved from Kansas City to Oakland after the 1967 season, but Fingers stayed where he was – in Birmingham in 1968 for a second straight year. He started the season eight straight victories, including a two-hit, 5-0 shutout of Evansville, and ended the season with a 10-4 record and a 3.00 ERA in 18 games. This performance was impressive enough to earn Fingers a call-up to Oakland in September, and Fingers would never again throw a pitch in a minor-league game. He pitched just once for the As after his call-up, allowing four runs on four hits in relief of starter Lew Krausse in a 13-0 loss to the World Series-bound Detroit Tigers on September 15. The four hits included a home run by Tigers catcher Bill Freehan.
In the winter of 1968-69, Fingers pitched for the La Guaira club of the Venezuelan Winter League, winning seven games and losing six, with a 2.05 ERA. During his stay in Venezuela Fingers worked on developing a slider to supplement his "out" pitch, the fastball.
The Athletics' new manager, Hank Bauer, installed a four-man starting rotation – Blue Moon Odom, Chuck Dobson, Catfish Hunter, and Jim Nash – and said that to keep the starters on four days' rest, Fingers would start when the A's played more than four straight days. Fingers made his first start of the season on April 22 in Minnesota. He shut out the Twins on five hits, 7-0, facing just 31 batters. He made his next start five days later in Seattle, going 8 1/3 innings and allowing five runs on six hits in a 13-5 win over the Pilots. Seven days later he started against Seattle again, this time at Oakland, and lost, 6-4, giving up 11 hits in six innings. He didn't start again until May 30, when he was shelled by the Cleveland Indians, lasting just one-third of an inning in a 9-2 loss. For the next 3½ months Fingers worked exclusively out of the bullpen; he did not start again until September 15, when he lost to the Twins. In the remaining two weeks of the season he made three more appearances as a starter. In 60 games, including eight starts, Fingers was 6-7 with 12 saves.
Hank Bauer was fired in September and replaced by third-base coach John McNamara, who had been Fingers' manager at Birmingham in 1967. Under McNamara, Fingers got 19 starts and made 26 relief appearances, posting a 7-9 record.
Dick Williams replaced McNamara as manager for 1971. Fingers began the season in the rotation and started nine games, winning one and losing four. His last start of the season was made on May 15, after which Williams made Fingers the closer. Except for two starts early in the 1973 season, Fingers was a closer for the next 15 years. In that 1971 season he earned 17 saves in 19 opportunities, the fourth highest saves total in the American League.
The A's won 101 games that year to win the American League's West Division by 16 games over the second-place Kansas City Royals, but were swept by the Baltimore Orioles in the American League Championship Series. Fingers appeared in two games in the series, allowing two runs in 2 1/3 innings of work.
The division championship in 1971 was the first of five straight for the A's. Their rise to the top was fueled by the talent they got out of their minor-league system in the late 1960s, players like Fingers, Reggie Jackson, Bert Campaneris, Joe Rudi, Sal Bando, Catfish Hunter, Blue Moon Odom, and Vida Blue. As these players came together, they jelled as a team and brought success to Oakland. The As appearance in the 1971 ALCS was the first postseason play for the franchise and its predecessors since the Philadelphia Athletics lost the 1931 World Series to the St. Louis Cardinals.
Beginning with 1972, the A's won three straight World Series. Over that three-year span, in a time when the semiautomatic ninth-inning closer was not as much of a fixture as it became two decades later, Fingers had 61 saves and a 27-22 won-lost record with an ERA of 2.34. In each of those years, he pitched between 111 and 126 innings –numbers unheard of among closers of the 21st century. He made the American League All-Star team in each of those years.
Reggie Jackson, Oakland's star outfielder, showed up for spring training in 1972 with a beard. His teammates did not like the idea of Jackson with a beard so they all started growing facial hair to protest. Team owner Charles Finley, instead of making everyone shave, as the players hoped he would, started a contest by offering a cash prize to the player who could grow the best facial hair by Opening Day. Finley felt the look would help sell tickets. Fingers grew a handlebar mustache that curled at the tips. It won the contest, and the mustache became his trademark look.
After the 1972 season Finley sent Fingers a contract calling for a $1,000 raise for 1973. Fingers phoned Finley to argue about the contract. Finley would not budge, so Fingers slammed down the receiver and vowed never to talk to Finley again. He hired agent Jerry Kapstein to represent him in future negotiations with Finley and kept his word never to speak to Finley again.
In each of the three seasons from 1974 to 1976, Fingers pitched in at least 70 games, leading the league in appearances in74 and75. During that span, he saved 62 games for Oakland and had a better than 3-to-1 strikeout-to-walk ratio.
In June 1976, anticipating that he might lose them to free agency after the season, Finley sold Fingers and Joe Rudi to the Boston Red Sox, and Vida Blue to the Yankees for a total of $3.5 million ($1 million each for Fingers and Rudi and $1.5 million for Blue) Baseball Commissioner Bowie Kuhn rescinded the deal, saying that it was not in the best interests of baseball. Finley's argument had been that since the three were eligible to become free agents at the end of the season he would not get anything in return should they decide to sign elsewhere. Kuhn, on the other hand, said that if he allowed the sale to go through, "the door would be opened wide to the buying of success by the more affluent clubs." Finley sued Kuhn for restraint of trade but lost the suit.
After the 1976 season, with Fingers and several teammates eligible for free agency, Finley chose not to sign them and they all went their separate ways. In an attempt to prevent teams from making offers to Fingers, Finley stated publicly that he was washed up, but the San Diego Padres signed him anyway, for a salary of slightly over $250,000, almost triple the highest salary he had ever received from Finley. (The Dodgers, Cardinals, Giants, and Pirates had also wooed Fingers.) Among the players leaving Oakland that winter were Don Baylor, Joe Rudi, Sal Bando, Bert Campaneris, and Gene Tenace. Tenace also signed with the Padres. In signing, Fingers said he was glad to move to the National League because he was a low-ball pitcher and umpires in the league were more likely to call the low-ball strike. Fingers' signing with the Padres came shortly after his wedding to the former Danielle Lamar on November 14. (His first marriage had ended in divorce in 1974, and this one would, too.) A former A's teammate, pitcher Ken Holtzman, served as the best man at the ceremony in the Oakland suburb of Lafayette.
On the Padres Fingers was reunited with former Athletics manager John McNamara. But McNamara, who took over the Padres in 1974, was fired 48 games into the 1977 season and replaced by Alvin Dark. At the time of the Fingers signing many believed that McNamara would move him into the rotation. This would leave the closer role to Butch Metzger, who had saved 16 games with a 2.92 ERA for the Padres in 1976 and earned the NL Rookie of the Year Award. McNamara surprised many by giving the closer job to Fingers and using Metzger in middle relief.
In San Diego Fingers joined a staff anchored by 1976 Cy Young Award winner Randy Jones. Jones had won 22 games for the Padres in 1976, but an arm injury in September threatened his 1977 season. Jones recovered in time to start the season but went a disappointing 6-12 in 27 games for the Padres. Meanwhile, Fingers saved 35 games, more than half of the Padres' 69 wins.
Fingers spent four years in San Diego as the Padres' closer, going 34-40 while earning 108 saves in 265 outings. The Padres had just one winning season in the four years and never finished higher than fourth in the six-team National League Western Division. Fingers could hardly be blamed; during his stay in San Diego he won the unofficial National League Fireman of the Year Award three times, in 1977, 1978, and 1980. In his final year in San Diego, Fingers broke Hoyt Wilhelm's career record for saves with his 228th. (As an indication of how the use of closers has changed over the years, Fingers' career total of 341 puts him, as of the close of the 2010 season, only 10th among closers; the leader as of 2010 was Trevor Hoffman, with 601.)
After the 1980 season Fingers returned to the American League. The Padres traded him, Tenace, and pitcher Bob Shirley to the St Louis Cardinals for five players. Four days later The Cardinals put Fingers in a package with catcher Ted Simmons and pitcher Pete Vuckovich and shipped them to the Milwaukee Brewers for outfielders Sixto Lezcano and David Green and pitcher Lary Sorenson and Dave Lapoint. When Fingers arrived in Milwaukee the Brewers were coming off three straight winning seasons. They were led by an explosive offense that included future Hall of Famers Robin Yount and Paul Molitor. In the years leading up to the Fingers acquisition the Brewers had struggled to find someone who could consistently save games for them. In that regard Fingers was seen by many as the final piece of the puzzle that could send the team to the first postseason appearance in franchise history. Fingers did not disappoint. In what was regarded as one of the greatest seasons any relief pitcher has had, he saved 28 of the team's 62 victories as the Brewers sailed to the second-half American League East title in the strike-shortened 1981 season. Fingers' dominating performance, which included a minuscule 1.04 earned-run average, landed him not only the Cy Young Award but the MVP award as well. Fingers had one victory and one save as the Brewers fell to the Yankees three games to two in the divisional playoffs.
In 1982 Fingers saved 29 games through late August as the Brewers led the American League East for most of the season. The team had really taken off when hitting coach Harvey Kuenn replaced Buck Rodgers as manager in early June. Rodgers' removal had been precipitated by the team's poor play (the Brewers were 23-24 when he was fired) along with criticism of Rodgers by several players, including Fingers.
On September 2 the Brewers obtained right-handed pitcher Don Sutton from the Houston Astros in exchange for three prospects. Sutton, a future Cooperstown inductee, joined the team the next day and started the second game of a doubleheader against the Cleveland Indians. The Brewers lost the game, 4-2. The loss, however, was not the worst news the received that night. In the first game of the doubleheader Fingers tore a muscle in his right forearm. The injury kept him out of action for the remainder of the season. Rookie Pete Ladd replaced him as the closer, and the Brewers, without Fingers, advanced to the World Series, which they lost to the Cardinals in seven games.
Tendonitis left Fingers sidelined for the entire 1983 season. He returned to form for the Brewers in 1984, saving 23 games for a team that disappointed nearly everyone by finishing 67-94, last in the American League East under manager Rene Lacheman.
In 1985 Fingers, now 38 years old, returned to the Milwaukee bullpen but clearly wasn't his old self. He saved 17 games but had eight blown saves and finished with a 1-6 record and a 5.04 ERA. The Brewers released him after the season. He received overtures from the Cincinnati Reds, but a team rule against facial hair would have forced him to shave his trademark handlebar mustache, so he declined the Reds' offer and retired. Fingers ended his career with 341 saves, a record that stood until 1992, when it was broken by the Red Sox' Jeff Reardon.
After his retirement Fingers went to work for a communications company in the San Diego area, where he worked for about a dozen years. He followed that with a short stint at a printing company, also in the San Diego area.
In January 1992, on just his second appearance on the ballot, Fingers was elected to the Baseball Hall of Fame, along with pitcher Tom Seaver. Before his induction the Brewers retired his uniform number, 34. The following year the Athletics followed suit by also retiring number 34.
Golf became a major passion for Fingers in retirement. He carried a handicap of 2 to 3 for most of his adult life. Fingers played over a decade, with several other pro athletes, on the Celebrity Golf Tour, where he was known to finish as high as third.
In 1999 Fingers moved from his home in California to Las Vegas, where he took a job with Billy Waters, who owns several golf courses in the area. After less than a year he left Walters Golf and later got involved with a golf company that developed a product which helps clean up lakes.
In January 2007 the state of Wisconsin listed Fingers as number eight on its list of tax delinquents. The state's Department of Revenue alleged that he owed nearly $1.5 million in income tax from his days as a pitcher for the Brewers. In July the state filed documents saying that two of the three cases it had filed against Fingers had been satisfied, with the third case, for more than $58,000, still pending. The next month Fingers said that his name had been cleared and he had never been delinquent.
As of 2011 Fingers was retired in Las Vegas with his fourth wife, Lori, and remained busy doing personal appearances, signing autographs, and appearing at charity golf events. (In an online interview in 2009 Fingers said his first marriage lasted "six or seven years, his second marriage lasted about seven years, his third marriage about six or seven years and his current marriage about 11 years."
Of Fingers' five children, one, a son Jason, was drafted by the Kansas City Royals in the tenth round of the June 2000 amateur draft. He pitched for Spokane of the Class A Northwest League in 2000 and Burlington in the Class A Midwest League in 2001 before ending his baseball career. During the summer of 1970 Fingers' younger brother, Gordon, pitched in eight games for Coos Bay-North Bend, Oakland's entry in the Northwest League.
April 22, 2011
Sources
The Sporting News, September 12, 1964, August 7, 1965, April 27, 1967, November 25, 1967, November 16, 1968, January 11, 1969, February 8, 1969, April 19, 1969, July 3, 1976, December 11, 1976, March 12, 1977.
Fingers' Hall of Fame induction speech, 1992
Online interview with Fingers by Jimmy Scott, at http://www.jimmyscottshighandtight.com/node/824
Mark Armour, Charles Finley biography at SABR BioProject site.
Wisconsin State Journal (Madison, Wisconsin), November 4, 1981
"Fingers still takes pioneer route," at http://www.lasvegasgolf.com/departments/features/rollie-fingers-golf-326.htm