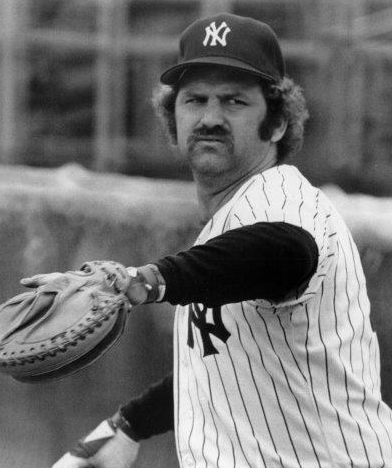 August 3, 1979: Somebody's missing: heartbroken Yankees play first game after Thurman Munson's death
---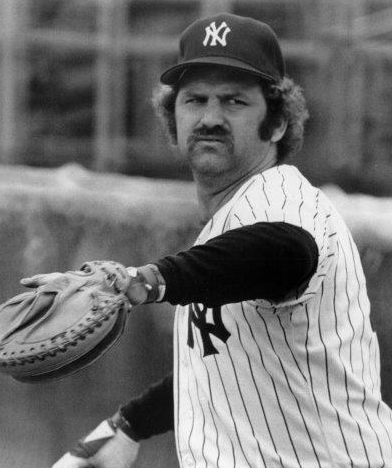 The array of emotions ranged among shock, disbelief, anger, sadness, and frustration when news broke about the plane crash that took Thurman Munson's life on August 2, 1979. Munson, who had been flying planes for several years, was practicing takeoffs and landing in his recently purchased twin-jet Cessna Citation. It was an offday for the Yankees, and Munson was near his home in Canton, Ohio, at the Akron-Canton Airport with two friends, practicing with the Cessna.
Munson, who had been flying prop planes, had just received the jet during the All-Star break. "I told him that he was jumping too fast from a prop plane to a jet, that a Cessna Citation was harder to fly than a Lear," said Yankees owner George Steinbrenner. "I think he was only checked out in it for 10 days but he had nothing but problems with it. Somebody over at Teterboro told me he had problems with it and then Thurman told me he had to return it to Wichita to check out the problems."1
Munson was on his third practice run when the plane went into a sudden descent as it approached the runway. It hit the ground about 1,000 feet before the runway and skidded through a bunch of small trees. The plane began to catch fire and the right wing struck a tree, spinning the jet around. It came to a stop on a roadway outside the airfield. Loss of power was given as the initial cause of the crash.
Although his two companions escaped the crash, with second-degree burns, Munson was not so lucky. Rescue crews could not reach him, and his body was burned beyond recognition.
Steinbrenner called manager Billy Martin and many of the Yankees players to deliver the dreadful news. For many, it was the first time someone they were close to had died. Still, there was baseball to be played, and as much as the Yankees' hearts were heavy with grief, it was a situation that would have to be worked through. "I'm sure this is going to have an effect on us for a while," said Ron Guidry. "But we can't just roll over and say we can't play anymore. We have to go out there now and give a little bit more. When you lose a guy the team's built around, the cornerstone, it's going to be tough. But we're going to have to do it."2
The day after Munson's death, Baltimore visited Yankee Stadium for a four-game series. The Orioles (72-34) had a comfortable seven-game lead over second-place Boston (64-40). New York (58-48) was currently in fourth place, 14 games behind the Orioles.
The Yankees had given some thought to canceling the first game of the series. But Bobby Murcer spoke to Thurman's wife, Diana; "Bobby told us that [Diana] said Thurman would have wanted the team to play all their games," said Steinbrenner. "That's what he would want the team to do and that's what we're going to do."3
Pregame tributes included a prayer by Cardinal Terence Cooke. Robert Merrill sang "America The Beautiful." After Merrill finished, the crowd of 51,151 remained on their feet and applauded for eight minutes. As the Yankees took their place on the field, catcher Jerry Narron stayed in the dugout. After public-address announcer Bob Sheppard thanked the fans for their "wonderful response," Narron took his place behind home plate.
The pitching matchup featured left-hander Scott McGregor (6-3, 3.58 ERA) for Baltimore and Luis Tiant (7-5, 3.96 ERA) for New York.
After a scoreless first inning, John Lowenstein launched a one-out, solo home run into the right field bleachers to give the visitors a 1-0 lead. "It was a changeup and it wasn't over the plate," said Lowenstein. "Louie makes so many hitters look foolish that I was waiting to see what he was going to throw."4
But the evening belonged to McGregor and Tiant. The pitchers retired the opposition with little fanfare. In the Yankees' second, Jim Spencer banged a two-out double to right and advanced to third base when McGregor balked. But there he would be marooned as Narron struck out.
The Orioles got an infield single by Al Bumbry and a walk to Mark Belanger to lead off the sixth inning. But Tiant bore down and retired Ken Singleton, Eddie Murray, and Lowenstein to keep the score at 1-0.
New York mounted its last scoring threat in the bottom of the eighth. With one out, the Yankees got two men aboard on back-to-back singles by Bucky Dent and Willie Randolph. But Bobby Brown flied out and Reggie Jackson popped out to third base to end the threat.
The game ended in Baltimore's favor, 1-0. McGregor went eight innings, scattered six hits, struck out six, and walked one. It was his fourth straight victory. Tiant suffered the hard-luck loss. He also went eight innings, struck out three, walked four, and surrendered only two hits.
The Yankees left New York on Monday morning to attend Thurman Munson's funeral, which was held at the Canton Civic Center. There were 500 people inside the Civic Center, while thousands more outside paid their respects. The whole team was present to say goodbye to their captain. "Whatever he was to each one of us," said Murcer in his eulogy, "he should be remembered as a man who followed the basic principles of life; he lived with his wife, Diana, and his three children; he led his team to two world championships and he loved the game, his friends and, most of all his family.
"He was No. 15 on the field and he will be No. 15 at the doors of Cooperstown. Loving, living and legend. History will court my friend as No.1."5
Carlton Fisk of Boston was Munson's main rival for recognition as the best catcher in the AL. Their enmity to each other added a flair to the competitiveness of the Boston-New York rivalry. "As much as everyone made a big thing of our rivalry, it was entirely in baseball terms, not in human terms," said Fisk. "I just wish we'd been able to know each other off the field, but I know enough to realize this a great loss for the Yankees and a great loss for baseball.
"If we were, as people said, the best or worst of enemies, it was because we had the highest amount of respect for each other,"6
Sources
The author accessed Baseball-Reference.com for box scores, play-by-play information, and other data, as well as Retrosheet.
baseball-reference.com/boxes/NYA/NYA197908030.shtml.
Retrosheet.org/boxesetc/1979/B08030NYA1979.htm.
Notes
1 Dave Anderson, "Face on the Scoreboard," New York Times, August 4, 1979: 13.
2 "Yankee Teammates in Munson Tributes," New York Times, August 4, 1979: 16.
3 Anderson: 13.
4 Ken Nigro, "Lowenstein Blast Wins for Orioles," Baltimore Sun, August 4, 1979: B5.
5 "Hundreds at Funeral of Yankees' Munson," New York Times, August 7, 1979: C15.
6 Peter Gammons, "Fisk vs. Munson: Out of Their Rivalry, a Bond Was Formed," Boston Globe, August 4, 1979: 47.
Additional Stats
Baltimore Orioles 1
New York Yankees 0
---
Yankee Stadium
New York, NY
Box Score + PBP:
Corrections? Additions?
If you can help us improve this game story, contact us.
Tags
https://sabr.org/sites/default/files/Munson-Thurman.png
600
800
admin
/wp-content/uploads/2020/02/sabr_logo.png
admin
2019-06-18 15:27:43
2020-04-17 10:22:36
August 3, 1979: Somebody's missing: heartbroken Yankees play first game after Thurman Munson's death