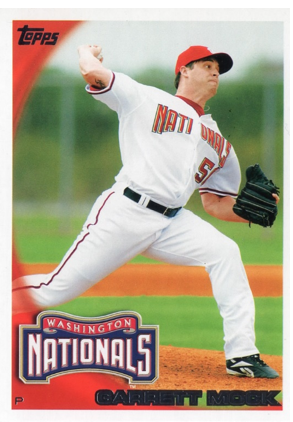 August 31, 2008: Aaron Boone's game-winning HR seals Garrett Mock's first major-league win
---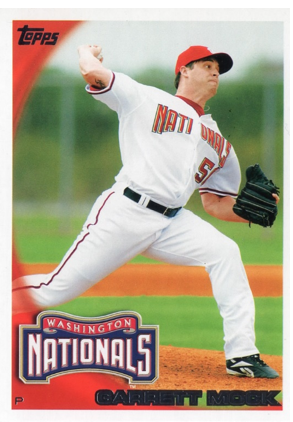 For the Washington Nationals and their fans, the opening of the 2008 season at brand-new Nationals Park on a Sunday night with a national television audience was an exhilarating experience. Baseball at RFK Stadium seemed like a distant memory.1 RFK, home of the Nationals since 2005, was best described as "leaky and creaky with plenty of rust, chipped away concrete and seats showing signs of decay."2 The 2008 season opened with a flourish as President George W. Bush, dressed in a Nationals jacket, threw out the first pitch. The Nationals managed only one hit after the first inning, but it was a walk-off home run by Ryan Zimmerman to deep center field in the bottom of the ninth inning off Peter Moylan for a 3-2 victory over the Atlanta Braves.
After they started the season with a 3-0 record, a nine-game losing streak sealed the Nationals' fate for the season, a last-place finish in the National League East Division. Nonetheless, Nationals Park brought moments of excitement to local baseball fans. The first half of the season included dramatic walk-off victories at the ballpark, three by home runs off the bats of Wil Nieves, Elijah Dukes, and Ronnie Belliard. There was even a victory by a walk-off wild pitch.3
As the grind of the season moved past mid-August, the Nationals had already endured another nine-game losing streak as well as a 12-game skid. When they returned home in the last week of August, they had lost 14 of their last 16 games and faced the prospect of a nine-game homestand against the Dodgers, Braves, and Phillies. Something happened! The Dodgers, battling the Diamondbacks for first place in the National League West Division, were swept out of Nationals Park. When Washington beat the Braves, 9-8, in the second game of that series, they had their longest winning streak of the season, five games, thanks to a dramatic walk-off finish in the 10th inning. Vladimir Nunez issued a full-count, bases-loaded walk to Elijah Dukes that scored Anderson Hernandez to end the game.
This Sunday afternoon game matched rookie pitchers. Jair Jurrjens (11-9, 3.56 ERA) had debuted in the major leagues late in the 2007 season with the Detroit Tigers before being traded to the Braves. Collin Balester (3-6, 4.70 ERA) made his major-league debut on July 1 with a win over the Florida Marlins, and his strong five-inning start on August 26 against the Dodgers led the way to a 2-1 victory and the start of the current winning streak.
Both teams started fast. In the first inning the Braves' Martin Prado doubled to center with two outs and Omar Infante's RBI single through third gave the Braves the first lead, 1-0. In the bottom of the first, Jurrjens was quickly in a jam when Willie Harris singled and moved to third on Cristian Guzman's double to center. Both scored on consecutive plays when Elijah Dukes grounded out and Aaron Boone weakly singled to shortstop for a 2-1 Nationals lead.
The Braves retook the lead in the top of the fourth inning. Prado walked and Infante singled, both scoring when Yunel Escobar hit his eighth home run of the year off Balester for a 4-2 lead. The Nationals got one of those runs back in the bottom of the inning when two walks by Jurrjens were followed by an RBI single by Harris. Jurrjens lasted through six innings holding that 4-3 lead, but a 10-pitch, sixth-inning at-bat by Ryan Langerhans may have been a turning point. Even though Langerhans struck out swinging, Jurrjens was done after 109 pitches, his high for the season, and the Braves would need to rely on their bullpen.
Meanwhile, Balester held the Braves at 4-3 with the longest start of his rookie season, a seven-inning, 107-pitch outing, making way for another rookie, Garrett Mock,4 in the eighth inning. Mock made his major-league debut on June 8 in a losing start against the San Francisco Giants and had been used mainly in relief since then. After striking out Gregor Blanco, Mock yielded a double to Prado, who advanced to third on a wild pitch. When Infante walked, Mock was in big trouble. The next batter, Yunel Escobar, had homered and doubled in his last two at-bats. Mock got Escobar on a swinging strikeout and Jeff Francoeur on a fly ball to left. Inning over!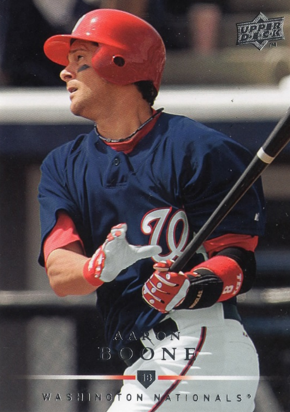 For the bottom of the eighth inning, the Braves called upon Elmer Dessens to pitch after Blaine Boyer had pitched a 1-2-3 seventh inning. When Ryan Zimmerman led off with a line-drive single and Elijah Dukes walked, manager Manny Acta had a decision to make with Aaron Boone at bat. Boone had the bunt sign but fouled one off. Acta called off the bunt sign on an 0-and-1 count and Boone guessed correctly on Dessens' pitching approach, planting a homer in deep left-center for a 6-4 Nationals lead. It was his first home run in more than three months.
The Nationals added two more runs in the inning. Emilio Bonifacio doubled to center and scored on a single by Wil Nieves. Dessens yielded the mound to Braves reliever Will Ohman. Willie Harris's single advanced Nieves to second, and he scored on Cristian Guzman's single to left field. Jesus Colome gave up a double by Brian McCann in the ninth, but nothing more and the Nationals had an 8-4 victory.
For the Nationals, the six-game winning streak was the first of a kind since July 31-August 5, 2007.5 The pitching contribution of Garrett Mock was noted by Acta. After the game, he said of Mock's escape in the eighth inning, "It was pretty huge, because you want to keep the game close."6 The winning streak extended to seven games when they beat the Phillies, 7-4, on Labor Day afternoon. Although they lost the following night to the Phillies, the 8-1 homestand was clearly their best baseball of the season.
Players and fans of the game have come to learn that baseball memories last a lifetime. When Aaron Boone was named manager of the New York Yankees in December 2017, he received congratulations from Tim Dillard, former pitcher for the Milwaukee Brewers, to note another highlight of the 2008 season at Nationals Park. Dillard pitched one inning in relief in his major-league debut. "It's so good to see him finally able to move past that time I struck him out at Nationals Park to record my first MLB strikeout May 23, 2008."7 Of course, Aaron Boone will forever be remembered for his 2003 Game Seven walk-off home run against Boston's Tim Wakefield in the bottom of the 11th inning to give the Yankees a 6-5 victory and their 39th American League pennant.8
For this Sunday afternoon game, we remember Aaron Boone's game-winning home run in his only season with the Washington Nationals and we remember Garrett Mock's first major-league victory, a memorable milestone for any pitcher. Washington Post staff writer Chico Harlan noted how good fortune on this day extended beyond the playing field. For the first time, Bobby and Becky Mock watched their son play baseball in the major leagues.9 Sitting behind home plate, they were thrilled with seeing their son's dreams come true.10
Author's note
Garrett Mock considers his June 22, 2009, start against the Columbus Clippers to be the best game he ever pitched. Pitching for the Triple-A International League's Syracuse Chiefs, Mock threw the first shutout of his professional career and his first complete game in five years. His pitching line was flawless: 10 strikeouts, no walks, and three hits on 96 pitches, 70 of which were strikes. The victory helped Mock earn International League pitcher of the week honors.11 Aaron Boone's father, former major-league catcher Bob Boone, watched that game in his role as Nationals assistant general manager and vice president for player development. Mock recalled, "Bob Boone saw the best game I ever pitched. I always appreciated his insight."12
Sources
The author accessed Baseball-Reference.com for box scores/play-by-play information (baseball-reference.com/boxes/WAS/WAS200808310.shtml) and other data, as well as Retrosheet.org (retrosheet.org/boxesetc/2008/B08310WAS2008.htm).
Notes
1 Steven C. Weiner, "September 23, 2007: Washington Nationals Win in RFK Stadium Farewell," SABR Baseball Games Project.
2 Ibid.
3 On May 25, the author sat down the third-base line and watched as Milwaukee Brewers pitcher Guillermo Mota's very first pitch to Felipe Lopez in the bottom of the ninth was wild, scoring Elijah Dukes from third. Game over, Nationals win, 7-6. On this Sunday afternoon, the author also spent the afternoon at the ballpark down the third-base line.
4 On August 7, 2006, the Nationals traded Livan Hernandez and cash to the Arizona Diamondbacks for Garrett Mock and Matt Chico.
5 Chico Harlan, "Boone's HR Helps Nats Extend Win Streak to 6; Blown Bunt Keys Three-Run Blast, 5-Run 8th Inning," Washington Post, September 1, 2008, E1.
6 Ibid.
7 Will Kubzansky, "Looking Back at the Career of Washington Nationals Legend Aaron Boone," FederalBaseball.com, December 3, 2017, accessed February 28, 2018, federalbaseball.com/2017/12/3/16728222/looking-back-at-career-of-washington-nationals-legend-aaron-boone.
8 Dave Caldwell, "With One Swing, Boone's Season Is Sweet," New York Times, October 17, 2003.
9 Harlan.
10 Garrett Mock, email to author, March 5, 2018.
11 "Mock Named IL Pitcher of the Week," MiLB.com, June 29, 2009, accessed March 5, 2018, milb.com/syracuse-chiefs/news/mock-named-il-pitcher-of-the-week/c-5596422.
12 Mock.
Additional Stats
Washington Nationals 8
Atlanta Braves 4
---
Nationals Park
Washington, DC
Box Score + PBP:
Corrections? Additions?
If you can help us improve this game story, contact us.
Tags
https://sabr.org/sites/default/files/MockGarrett.jpg.png
600
800
admin
/wp-content/uploads/2020/02/sabr_logo.png
admin
2018-04-12 15:16:10
2020-04-17 10:24:49
August 31, 2008: Aaron Boone's game-winning HR seals Garrett Mock's first major-league win