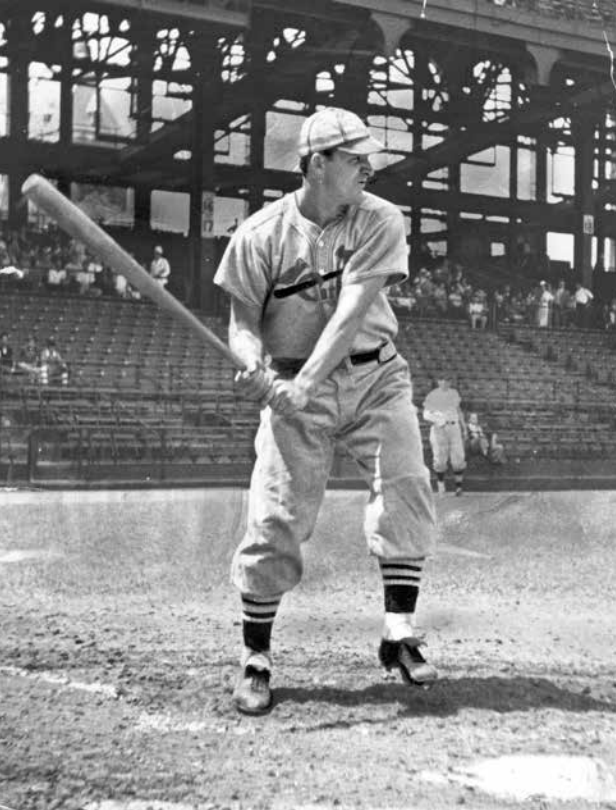 August 4, 1937: Cardiac Cardinals complete crazy comeback; Medwick ties record with four doubles
---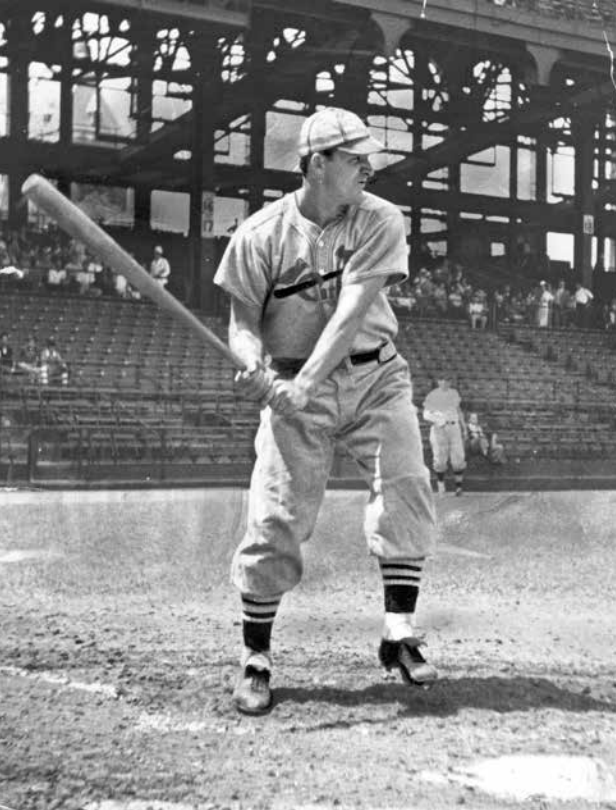 You know you've been to a great ballgame when you leave the stadium with a raspy voice after your team wins. It's easy, then, to imagine that 2,303 St. Louis Cardinals fans were just this side of laryngitis when they left Sportsman's Park on August 4, 1937, after watching their team roar back from a four-run deficit with two out in the bottom of the ninth to defeat the Boston Bees, 7-6.
It was a steamy 90-degree day as the two teams took the field with little to play for; the 45-49 Bees were in fifth place, 16 games behind the league-leading Chicago Cubs, while the fourth-place Cardinals, 49-43, were 11 games back.1
"It sure don't seem right to see a team in Cardinal uniform 10 [sic] games behind the leaders at no time, 'spcially [sic] in August," said Grover Cleveland Alexander, one of several former Cardinal greats in attendance.2
The pitching matchup pitted 30-year-old rookie sensation Lou Fette against journeyman veteran Bob Weiland, who was having one of his better seasons. Fette (pronounced Fetty), was a feel-good story. After toiling for nine years in the minors, he finally got his shot in "The Show" in 1937 and blew away the opposition. He went into this game with an astounding 13-3 record on his way to a 20-10 season (He was not the only age 30-plus Braves rookie to win 20 games that year. Jim Turner, 33, went 20-11). "Fette was a country boy from Missouri, a quiet, hard-working mature pitcher who had paid his dues in coming up through the low minors year after year, and he was ready," wrote Sol Gittleman.3
Weiland had ping-ponged between the majors and minors for years. Except for his rookie season in 1928, in which he won his only decision – a 1-0 victory over some Philadelphia Athletics benchwarmers on the last day of the season – he had lost more games than he won every year. He was 7-9 at game time, but would go on to finish above .500 for the first time in his career, at 15-14.
Fette faced a very strong Cardinals batting order, led by Joe "Ducky" Medwick, who was batting .397 and would go on to win the Triple Crown with a .374 batting average, 31 home runs, and 154 RBIs. Medwick had a season for the ages, as the only batting categories he didn't lead the league in were triples (he finished sixth) and on-base percentage (fourth). Johnny Mize (.364, 25, 113) could easily have been MVP were it not for Medwick's amazing season. These sluggers helped the Cardinals finish second in runs scored in the National League with 789.4
One of those runs came in the third inning, when Mize hit his 14th home run of the season, part of a 4-for-5 day that extended his hitting streak to 12 games. That 1-0 lead didn't last long, as Boston came back with three in the fourth without the benefit of an extra-base hit. Vince DiMaggio, Tony Cuccinello, and Gene Moore started the inning off with singles, with Joe's younger brother scoring on Moore's hit. With Cuccinello on third, Weiland committed a balk, which made the score 2-1. Weiland walked Gil English with first base open, but that strategy backfired when Elbie Fletcher singled to bring Moore home with the third run.
Boston extended its lead with a run in the fifth. Weiland walked Bobby Reis, who moved up on an infield out, and then scored on a single by DiMaggio. St. Louis got that one back in the bottom of the inning when Terry Moore and Stu Martin hit back-to-back singles. Mize hit into a fielder's choice, forcing Martin and sending Moore to third. Moore then scored on Medwick's double. Boston led 4-2 after five, and Weiland was done for the day.
At this point, the game turned into one of those affairs where the fans think the manager is a genius or a complete idiot, depending on how his moves work out. Cardinals manager Frankie Frisch looked as though he earned his degree from Fordham when he brought in Ray Harrell, who pitched a perfect sixth inning, and Sheriff Blake, who moseyed to the mound for a scoreless seventh.
But then came the eighth, which left fans wondering why Frisch took Harrell out after his perfect inning, this being the era when relievers sometimes worked three or four innings at a time. It was high noon for Blake, as he gave up two runs. The rally started again with the firm of DiMaggio, Cuccinello, and Moore hitting consecutive singles to load the bases. After Blake struck out English, he walked Fletcher to force in DiMaggio, after which Frisch replaced Blake with Mike Ryba. Ryba got Ray Mueller on an infield out, but Cuccinello scored and made the score 6-2, Boston.
That was how the score stood in the bottom of the ninth, when the Bees blew it, giving up five runs with two out. The fans' voices were still in good shape, as they hadn't had much to cheer about to this point. A number had probably already headed to the exits. Yogi Berra had yet to say it ain't over 'til it's over, but for all we know this may have been the game that inspired the maxim from the St. Louis-born ballplayer-philosopher.
The rally started with Moore on second thanks to a one-out walk and a groundout by Martin. Mize was the next batter and he singled to drive home Moore. Medwick then came up with a chance not only to drive Mize home, but also to tie the major-league record of four doubles in one game last accomplished by Frankie Hayes of the Philadelphia Athletics on July 25, 1936. With the kind of season Medwick was having, of course he came through, giving him a 4-for-5 day and a .403 average for the season. Mize's run made the score 6-4; Bees skipper Bill McKechnie had seen enough, and brought in Guy Bush.
For McKechnie, who was later elected to the Hall of Fame as a manager, this was not one of his better decisions. The first man Bush faced, Don Padgett, singled to bring in Medwick. The tying run was now on base and the lead was down to 6-5.
The next batter, Don Gutteridge, faced two prospects no player wants – an 0-for-5 afternoon and of being the last out of the game. But he came through with a crucial single; the Bees tried to throw Padgett out at third on the hit, and not only was Padgett safe, but Gutteridge also moved to second on the play. With the winning run in scoring position, Frisch sent Pepper Martin in to pinch-hit for Leo Durocher; Boston made the standard move of walking Martin intentionally to load the bases.
What was Frisch to do next? He adopted the if-you-want-something-done-you-have-to do-it-yourself approach and strode to the plate to pinch-hit for Mickey Owen. The old vet decided to make the last hit of his major-league career a memorable one, smacking Bush's first pitch down the right-field line for a double, driving home Padgett and Gutteridge to complete the comeback and set off a state of pandemonium. Medwick led a charge of Cardinals who rushed to Frisch from the dugout and tried to put him on their shoulders.
"Old Frank thought they ought to know better and blushed, but he liked it just the same," wrote J. Roy Stockton in the St. Louis Post-Dispatch. "It's great to have your men for you like that."5
This article appears in "Sportsman's Park in St. Louis: Home of the Browns and Cardinals at Grand and Dodier" (SABR, 2017), edited by Gregory H. Wolf. Click here to read more articles from this book online.
Photo Caption
In 1937 Joe "Ducky" Medwick had one of the best seasons in history, winning the Triple Crown (31-154- .374); leading the NL in runs, hits, doubles, and slugging; and winning the MVP award. (National Baseball Hall of Fame, Cooperstown, New York)
Sources
In addition to the sources listed in the Notes, the author also used:
(Fort Lauderdale, Florida) Evening Independent.
New York Times.
onthisdayincardinalnation.com.
SABR biography of Bill McKechnie by Warren Corbett.
SABR biography of Frankie Frisch by Fred Stein.
Weathersource.com.
Notes
1 Starting on August 4, the New York Giants went 41-17 to take the pennant by three games over Chicago. The Giants lost the World Series to the New York Yankees in five games.
2 J. Roy Stockton, "Sh! It's the Ghosts of Cardinal Teams That Rallied – Rising Up to Overcome Bees in the Ninth," St. Louis Post-Dispatch," August 5, 1937: 2B.
3 Sol Gittleman, Reynolds, Raschi and Lopat: New York's Big Three and the Yankee Dynasty of 1949-53 (Jefferson, North Carolina: McFarland & Company, 2007): 13.
4 The Cubs led with 811.
5 Stockton.
Additional Stats
St. Louis Cardinals 7
Boston Bees 6
---
Sportsman's Park
St. Louis, MO
Box Score + PBP:
Corrections? Additions?
If you can help us improve this game story, contact us.
Tags
https://sabr.org/sites/default/files/Screen%20Shot%202018-11-08%20at%2012.57.26%20PM.png
600
800
admin
/wp-content/uploads/2020/02/sabr_logo.png
admin
2018-11-08 12:58:53
2020-04-17 10:23:48
August 4, 1937: Cardiac Cardinals complete crazy comeback; Medwick ties record with four doubles