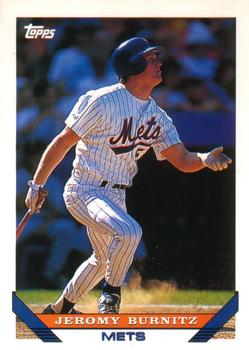 August 5, 1993: Burnitz saves the day for Mets in 13th inning
---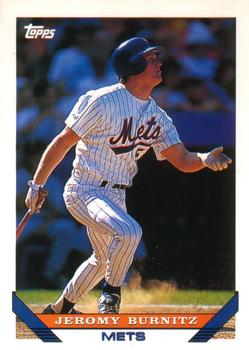 The New York Mets were at the end of a brief but miserable road trip. They had lost four of the previous six games and were ready to return home to Shea Stadium. Their time on the road was marred by Vince Coleman's misdeed on July 24 when he threw a powerful M-100 firecracker out of the car of the Los Angeles Dodgers' Eric Davis after a game. The explosive device injured three people and led to Coleman being charged with a felony.
Coleman expressed regret but his act created one more unpleasant incident in what was becoming a difficult season for the Mets. Gary Hunsicker, the Mets vice president, tried to distance the team from Coleman, saying, "This incident didn't happen during his working hours. It only involves the Mets because he's an employee of the Mets. This is Vince Coleman's problem."1
The Expos were playing well and felt that they still had a chance to make the playoffs. In this four-game series they had won two of the first three and hoped that a third win against the hapless Mets might go a long way toward helping them climb in the standings. Expos manager Felipe Alou started veteran right-hander Dennis Martinez for the final game of the series, an afternoon contest. Martinez had beaten the Mets earlier in the season in his only other start against them.
The Mets struck first. Joe Orsulak hit a one-out triple in the top of the first. After Martinez walked Bobby Bonilla, Jeromy Burnitz singled to bring home Orsulak. Jeff Kent followed and hit a two-strike pitch over the left-field wall to give the Mets a 4-0 lead.
The Expos scored one run against Mets starter Eric Hillman in their half of the inning. Hillman gave up singles to the first two batters he faced and a passed ball left runners on second and third. Larry Walker's sacrifice fly scored Delino DeShields, making the score 4-1.
The score remained unchanged until the fifth. The Mets scored five runs. Hillman led off with a ground-rule double. Orsulak moved him to third with his second single of the day. Eddie Murray followed with a double that brought a run home.
Martinez intentionally walked Bonilla to set up a possible double play. Burnitz spoiled that opportunity when he hit Martinez's first pitch over the right-field wall. It was his first career grand slam and it gave the Mets a seemingly insurmountable eight-run lead. "Burnitz has struggled lately, and obviously we needed him to come out of it," said Mets manager Dallas Green after the game.2
But the Expos were not ready to give up. In the bottom of the inning, Derrick White led off with a home run. Hillman then walked Sean Berry. The next batter, DeShields, hit Hillman's first pitch for a triple. DeShields scored when Marquis Grissom singled. When the next batter, Larry Walker, singled, it was clear that Hillman was coming apart. "When you have a 9-1 lead you think you're on top of the world. Then the next thing you know, you're humbled," Hillman said later.3
Green brought in reliever Pete Schourek, who gave up another run on a sacrifice fly by Moises Alou before retiring the side. The Expos had closed the gap to four runs.
Montreal continued to score in the sixth. When Schourek surrendered consecutive doubles and a single to start the inning, he was removed for Jeff Innis. Innis fared no better as he gave up a double and a single to the first two batters he faced. By the time the inning ended, the Expos had tied the score.
Felipe Alou sent Brian Barnes to the mound in the seventh. Barnes got in trouble when he gave up a walk, a Burnitz single (his third hit of the game), and, an out later, another walk. But the Mets could not capitalize as Barnes struck out Kevin Baez on three pitches for the third out. The Expos fared no better in the bottom of the seventh. They were unable to get a hit after John Vander Wal's leadoff single in the seventh.
Tied 9-9, the game went into extra innings. John Wetteland, Montreal's seventh pitcher, gave up a leadoff single to Jeff McKnight in the top of the 13th. Ryan Thompson bunted and was safe on Wetteland's throwing error, with McKnight going to third. When Orsulak hit the next pitch to right field, McKnight scored the go-ahead run.
It looked as if Wetteland might get out of trouble when he struck out Murray and got Bonilla to pop out to third and got two strikes on Burnitz. But on a 3-and-2 count, Burnitz hit a Wetteland fastball to right field. His double brought home two more runs. The Mets led 12-9.
Dallas Green brought in Anthony Young to close out the game. Young had ended his 27-game losing streak the previous week and had pitched one inning in relief since that win.
After getting Berry to ground out, Young walked Lou Frazier and Mike Lansing Grissom grounded into a shortstop-to-second force out for the second out. With runners on first and third, Young struck out Walker to earn his second save of the season.
"I guess you could say it was a game of heroes and goats and it was full of both. It's mind-boggling to think that you could mess up a 9-1 lead, but we sure did," Green commented.4
Burnitz finished with four hits and seven RBIs, one shy of the Mets record set by Dave Kingman in 1976 (when Kingman hit three homers and knocked in eight). The last time a Met had a seven-RBIs was in 1988 when Keith Hernandez did it against the Atlanta Braves. As for Burnitz, he just said of his feat, "I'd rather have been out of here in nine. That was long. My feet were killing me. I had to come in and change my shoes, my spikes hurt so much."5
Sources
In addition to the sources cited in the Notes, the author used Baseball-Reference.com for box-score, player, team, and season information as well as pitching and batting game logs, and other pertinent material.
baseball-reference.com/boxes/MON/MON199308050.shtml
retrosheet.org/boxesetc/1993/B08050MON1993.htm
Notes
1 Tom Friend, "Coleman Is Charged With Felony in Los Angeles," New York Times, August 4, 1993.
2 Jennifer Frey, "For Mets, Big Fall but Sweet Recovery," New York Times, August 6, 1993.
3 Ibid.
4 Ibid
5 Ibid.
Additional Stats
New York Mets 12
Montreal Expos 9
13 innings
---
Olympic Stadium
Montreal, QC
Box Score + PBP:
Corrections? Additions?
If you can help us improve this game story, contact us.
Tags
https://sabr.org/sites/default/files/Burnitz-Jeromy.jpg
600
800
admin
/wp-content/uploads/2020/02/sabr_logo.png
admin
2018-12-20 15:22:00
2020-04-17 10:23:43
August 5, 1993: Burnitz saves the day for Mets in 13th inning