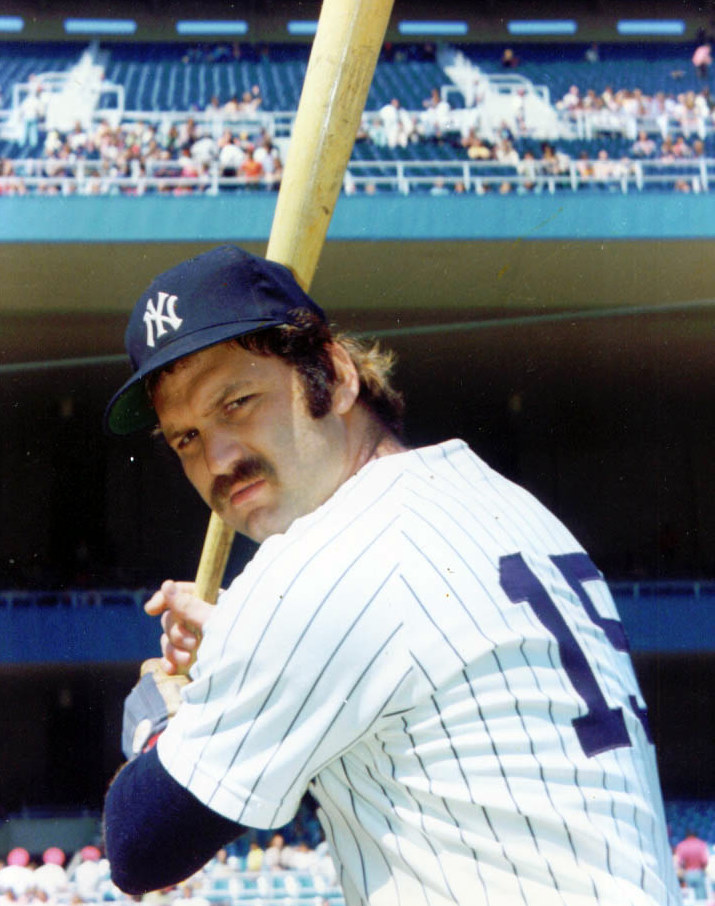 August 6, 1979: Yankees bury Thurman Munson, win emotional game against Orioles
---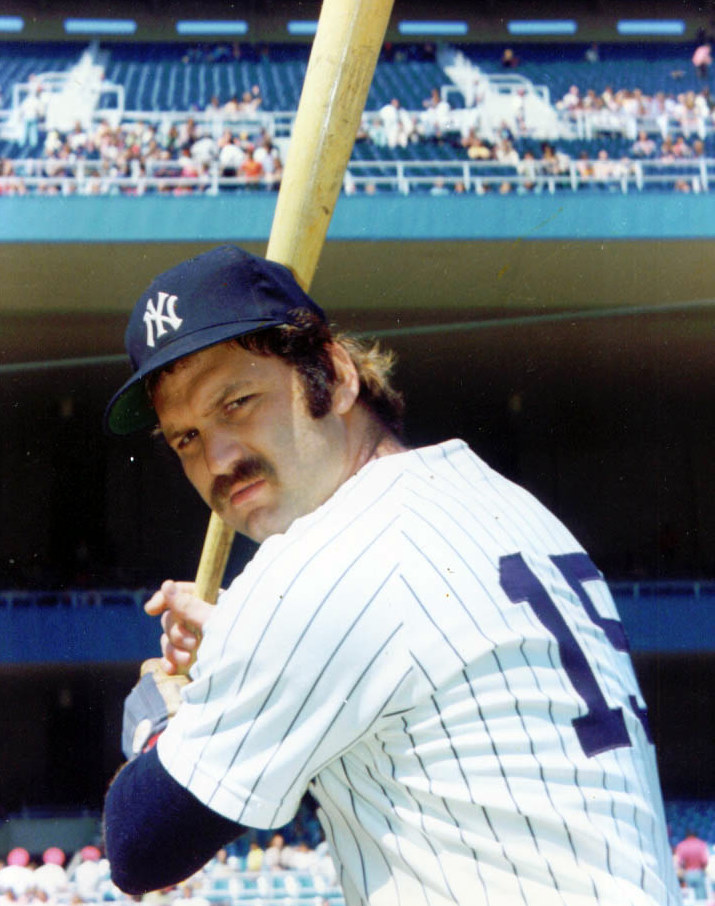 They came. They saw. They conquered.
But the game between the Baltimore Orioles and the New York Yankees on the evening of August 6, 1979, was more than a victory for the latter squad. It was a cathartic conclusion to a mournful day that began with the burial of a ballplayer whose absence was palpable across baseball and particularly in the South Bronx.
Thurman Munson. 1971 American League Rookie of the Year. 1976 American League Most Valuable Player. Team captain.
ABC televised the matchup on Monday Night Baseball with Howard Cosell, Keith Jackson, and Don Drysdale calling the action.
When Munson practiced "touch and go" landings with his Cessna Citation II in Ohio on Thursday, August 2, a Yankees offday — taking off right after the wheels hit the ground — he wanted to investigate a problem. "He said his plane wasn't acting right and he was going out to find out what was wrong with it," said Munson friend Carl Santelli.1 Munson had two passengers, David Hall and Jerry Anderson; Hall was his flight instructor. The plane crashed near the Akron-Canton Airport; both passengers worked to get Munson out of the cockpit. A detective on the scene said, "[T]he fire got so bad they had to get out. I think some of their clothes were on fire."2 Pilot error was determined to be the cause of the crash.3
Wearing black armbands, the Yankees had a homestand against the Orioles beginning on August 3 for four straight nights, Friday through Monday. They dropped the first two games (1-0, 5-4) and won the third (3-2). The game on August 6 was the last leg of an emotional marathon that sapped the Yankees – they flew to Canton that morning for Munson's funeral and returned for the game at Yankee Stadium. During the broadcast, owner George Steinbrenner told Cosell that he considered canceling Friday's game (the 3-2 victory) and this one. But Diane Munson asked that the team play, which meant waking up at 5:30 A.M. to get ready for the trip to Ohio.4
Depleted when they got to Yankee Stadium, the team didn't hold batting practice. Cosell described Ron Guidry, the starting pitcher, sobbing in the locker room and "a real travail for him to come out here tonight."5 Banners throughout Yankee Stadium affirmed the affection for number 15, including one that played on the initials of the network broadcasting the game: AMERICA'S BEST CATCHER.
In the bottom of the first, spirits raised when Willie Randolph singled on the first pitch and stole second – his 23rd stolen base of the year. But Bobby Murcer, Chris Chambliss, and Reggie Jackson struck out.
Lee May put the O's on the board in the top of the second when he clobbered a 1-and-2 pitch into the left field stands, though Murcer leapt in a valiant attempt to snag the ball. May added another run when he opened the fifth inning with a double to left and moved to third on Benny Ayala's 4-3 groundout. He scored on Rich Dauer's sacrifice fly to Reggie Jackson, but it was close — Jackson fired the ball like a cannon to Yankees backstop Brad Gulden.
Al Bumbry got a standup double on the first pitch of the top of the sixth inning, but Guidry's quick thinking on a bunt by Kiko Garcia got him out at third base. With power hitter Ken Singleton up and Garcia on first, a graphic flashed on the screen that sent chills through Yankee fans — Singleton had hit 27 home runs so far in the season and 18 were on the road. On a 2-and-0 pitch, he notched number 28. Then first baseman Eddie Murray got on base with a single off Chambliss's glove and took an enormous lead, which proved to be a downfall. Doug DeCinces flied to Jackson, who showed his defensive chops again by throwing on the run and off-balance to Chambliss to double up Murray, who was already near second base.
With two outs in the bottom of the seventh, hearts beat a little faster for Yankee fans when Bucky Dent walked on four straight pitches and Willie Randolph doubled to left. ABC showed another graphic that was not hopeful — Bobby Murcer was 0-for-15 that season with two outs and runners on base.6 Murcer broke that slump, smashing a homer off Dennis Martinez, and sending the crowd into a frenzy. It cut Baltimore's lead to 4-3.
Cosell noted that Murcer broke down during his eulogy at Munson's funeral. An ABC cameraman got a nice dugout shot of Murcer talking to Lou Piniella and reenacting the three-run homer. The rally continued when Chambliss singled to left. Orioles manager Earl Weaver brought in Tippy Martinez. DeCinces bobbled a Jackson groundball on a full count, but Nettles struck out with two men on base to end the inning.
In the bottom of the ninth, Martinez walked Dent, who was .400 against him (4-for-10); Randolph was 2-for-4 so far and got on base a third time with a bunt that Martinez fielded and overthrew to DeCinces. Murcer lashed a long single to left to score Randolph and Dent. Final score: 5-4.
"It was an emotional day for Bobby because he was close to Thurman," said Dent. "When we took the field, they left home plate empty. We turned around and Thurman wasn't there. It was almost surreal."
During its 75-year existence from 1923 to 2008, Yankee Stadium was often a site of awe, examples including Don Larsen's perfect game in the 1956 World Series; Reggie Jackson's three home runs in a 1977 World Series game; Babe Ruth setting a single-season home-run record in 1927 and Roger Maris breaking it in 1961; and Derek Jeter's 3,000th hit in 2011.
But it has also been the site of despair. On July 4, 1939, a dying man whose body was being shredded by a horrific disease proclaimed that he was the "luckiest man on the face of the Earth." Lou Gehrig's speech between games of a doubleheader against the Washington Senators set the standard for courage on and off the ball field. Gehrig died two years later.
When Thurman Munson died, the baseball world had no time to process the news. It was sudden, like a tornado whipping through a town. With a couple of swings of the bat on a hot August night, Bobby Murcer restored joy and hope to the South Bronx during a week of tears and mourning.
Sources
The author used Baseball-Reference and retrosheet.org for box scores and play-by-play information:
retrosheet.org/boxesetc/1979/B08060NYA1979.htm
baseball-reference.com/boxes/NYA/NYA197908060.shtml
Notes
1 Jim Naughton, "Yankees' Thurman Munson Killed Piloting His Own Small Jet in Ohio," New York Times, August 3, 1979: 1.
2 Naughton.
3 "The National Transportation Safety Board determines that the probable cause of the accident was the pilot's failure to recognize the need for, and to take action to maintain, sufficient airspeed to prevent a stall into the ground during an attempted landing." "Thurman L. Munson, Cessna Citation 501, N15NY," National Transportation Safety Board, Accident ID CHI79FA064, NTSB AAR-80-02, April 16, 1980, https://ntsb.gov/investigations/AccidentReports/Pages/AAR8002.aspx.
4 Monday Night Baseball, ABC, August 6, 1979, https://youtube.com/watch?v=TVzAJpoxQgI.
5 Monday Night Baseball, ABC, August 6, 1979.
6 Murcer's batting average was .220 at the time.
Additional Stats
New York Yankees 5
Baltimore Orioles 4
---
Yankee Stadium
New York, NY
Box Score + PBP:
Corrections? Additions?
If you can help us improve this game story, contact us.
Tags
https://sabr.org/sites/default/files/MunsonThurman_0.jpg
600
800
sabr
/wp-content/uploads/2020/02/sabr_logo.png
sabr
2020-05-01 17:05:11
2020-05-28 15:35:37
August 6, 1979: Yankees bury Thurman Munson, win emotional game against Orioles