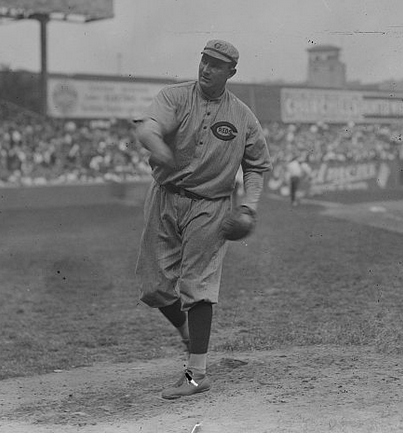 July 1, 1917: Reds' Fred Toney goes the distance twice in one day
---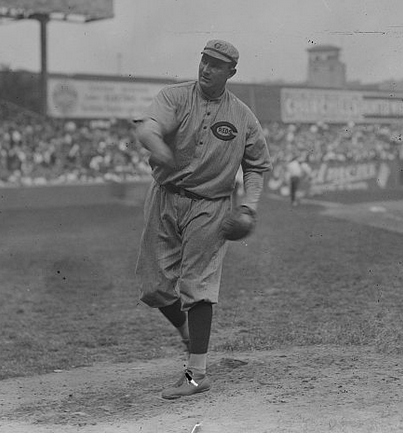 The Cincinnati Reds' Fred Toney was a big, 6-foot-2, rugged 200-pound pitcher, but even he didn't expect to take the mound twice on a hot summer day in the Queen City.
The Reds were in the midst of a grueling stretch of games when they prepared for a Sunday- afternoon twin bill with the Pittsburgh Pirates at Redland Field. Skipper Christy Mathewson's club had arrived home late the night before after concluding a 10-day road swing, but they had no time to unpack their bags. After the doubleheader, the team departed for Chicago to kick off a 22-game, five-city tour. The fifth-place Reds (34-37) knew the Bucs well. They had just taken three of five games from them at Forbes Field in the Smoky City and no doubt players from both clubs mingled together on the train they shared to Cincinnati.
The Pirates were in disarray, in last place with the worst record in baseball (21-40). Club owner Barney Dreyfuss had just fired skipper Jimmy Callahan and had replaced him for Saturday's game with Honus Wagner, the Pirates' legendary 43-year-old former shortstop who had come out of retirement a month earlier. With his expanding girth, the once swift Wagner was confined primarily to first base. How long he'd manage was anyone's guess. Described by the Pittsburgh Post as "one of the most reticent figures in the pastime," Wagner shunned the spotlight and seemingly had no interest in serving as player-manager.1
The Reds' best pitcher, Toney was tabbed to start the first game. The Cincinnati Enquirer reminded folks that "in case a wager is made of the game … the wager is decided on the result of the first game only. The second game has nothing to do with the bet."2 The paper didn't give the odds for Toney leading the Reds to a victory, but they were probably good. The 28-year-old right-hander was coming off a misleading 14-17 slate for a lousy Reds team in 1916, his first campaign as a full-time starter, and had won 11 of 19 decisions thus far in '17 to push his career record to 46-36. His mound opponent was 24-year-old right-hander Elmer Jacobs, who had lost twice as many games in his career as he had won (10-20).
A sunny, 90-degree day attracted 18,000 spectators to Redland Field. It was the biggest crowd since Opening Day and almost five times the season average of 3,363. It was also a festive day – and not just because the Reds faithful had their only chance to see their nine in a five-week period (June 19 to July 26); club owner August "Garry" Hermann feted the return of the "Flying Dutchman" to the park on "Wagner Day." In a pregame ceremony, the Reds presented Wagner with a silver pitcher. Genuinely popular and admired in Cincinnati, Wagner was "greeted with applause every time he came to the bat," reported the Enquirer.3
The Bucs' Max Carey quieted the crowd by drawing a leadoff walk to start the contest.4 En route to leading the NL in stolen bases for the third of four straight seasons and the fifth of 10 times in his career, Carey swiped second. Typical of a game in the Deadball Era, he advanced a station on a sacrifice and scored on Lee King's fly to center. It was a good omen for a club that had punished Toney for eight hits and six runs in just four innings three days earlier in a 6-2 victory.
Described as "brilliant at all times," Toney did not repeat his meltdown in the Steel City.5 For the remainder of the game, he permitted only four baserunners, none of whom reached second base. Carey collected two safeties and Wagner one; he was erased in a double play in the seventh. Toney also hit Willard Schmidt with a pitch.
While Toney was mowing the Bucs down, the Reds were whacking Jacobs. Greasy Neale led off the second with a double and scored on Dave Shean's one-out single to tie the game. The Reds took the lead, 2-1, in the third when Larry Kopf belted a leadoff triple and scored on Edd Roush's single. The Reds tacked on their final two runs in the fifth. Kopf laced a one-out single to right field and advanced to second on Lee King's fumble. Tommy Griffith's two-out single plated Kopf. Though neither team was charged with an error in the game, the Pirates played sloppy, inattentive ball in the field, opined sportswriter Edward F. Balinger of the Pittsburgh Post.6 Neale followed with a single to center and moved to second on Carey's ill-advised throw to third to cut down Griffith. Clarence Mitchell hit a sharp single that ricocheted off Jacobs's glove to second baseman Jake Pitler, whose throw to Wagner was too late, and Griffith scored.
Toney ended the game in a swift 90 minutes when he retired Wagner on a grounder to second.7 The Reds "found Jacobs easy," opined the Enquirer, collecting 13 hits, but scoring just four times.8 Kopf and Neale led the hit barrage with three each.
While Wagner was feted again and presented flowers during a 15-minute intermission between games, the Reds' 29-year-old rookie right-hander Mike Regan was warming up to toe the slab in the second game. Meanwhile Toney had an unusual conversation with his skipper. A native of Nashville, Toney was accustomed to heat and humidity; furthermore, he was a tireless workhorse and had completed 13 of his 19 starts entering the doubleheader. He persuaded Mathewson to let him start the second game, too. The Big Six, who won 373 times in his big-league career, acquiesced.
It was uncommon, but not altogether rare in the Deadball Era that one pitcher started two games of a doubleheader.9 In 1916, it had been done nine times, and on four occasions a twirler had gone the distance and emerged victorious in both games (Dave Davenport of the St. Louis Browns, and three NL hurlers, Pol Perritt of the New York Giants and Al Demaree and Pete Alexander of the Philadelphia Phillies).10 Toney was the third of 10 hurlers to pull the iron-man stunt thus far in 1917. Teammate Hod Eller was the first, 11 days earlier in the Queen City, where he split his two decisions. Four days later, on June 23, Ray Caldwell of the Giants won both games against the Phillies, logging 15 combined innings.
The second game unfolded almost as a carbon copy of its antecedent. After Toney set down the first six batters he faced, the Bucs took a 1-0 lead in the third on a pair of Reds miscues. Second baseman Dave Shean misplayed William Fischer's grounder. Alex McCarthy forced Fischer, then moved to third on Bob Steele's single, which center fielder Roush fumbled, permitting Steele to advance to second. McCarthy scored in Carey's one-out grounder. Toney shut down the Pirates after that frame, yielding only two hits and a walk. In the seventh, Wagner led off with a single and Chuck Ward drew a one-out walk, but Fischer hit into an inning-ending twin killing.
Just as in the first game, the Pirates' lead did not last long. With two outs in the third, Heinie Groh and Kopf singled, the latter advancing to second on right fielder Lee King's inexplicable throw to third. Edd Roush, the Reds' best hitter en route to leading the league in batting for the first of two times in a three-year stretch, brought both runners home on a double to deep left-center, and was thrown out at third trying for an extra base.
The Reds steadily wore down Bucs starter Bob Steele, a 23-year-old right-hander acquired from the St. Louis Cardinals about two weeks earlier. The Canadian native had a dismal career record (7-18), but had beaten the Pirates and Toney in his last outing, on June 28. The Reds tacked on a run in sixth when Jim Thorpe's triple drove in Roush. (Yes, that Jim Thorpe, the 1912 Olympic Decathlon Gold Medal winner, whom the Reds had acquired on April 23 from the New York Giants.) The Reds left two on in the seventh, then added a pair of insurance runs in the eighth. Roush led off with a single and scored on Griffith's triple. Two batters later, Hal Chase, who sat out the first game with a sore hand, tapped to third, trapping Griffith in a rundown. After swiping second, Chase scored on Shean's single for the Reds' fifth and final run.
Toney set down the Pirates 1-2-3 in the ninth to end the game in 84 minutes for the Reds sweep. Toney "stepped out boldly into the spotlight," gushed the Enquirer.11 That was an understatement. In fashioning his second-three hitter in the last three hours, Toney fanned one and walked one. There was "not a trace of luck" about Toney's 18 innings, continued the paper.
The Reds once again collected 13 hits and "nailed [Steele] to the yardarm," quipped the Enquirer. "Roush war unser Held am Bat," declared the Täglisches Cincinnatier Volksblatt, one of the city's German-language dailies, about Roush's 3-for-4 performance with two runs scored and two driven in.12
Toney continued his hot pitching for the rest of the season as the Reds finished in fourth place with their first winning season (78-76) since 1909. In his next outing, Toney tossed a five-hit shutout against the Cubs in Chicago on July 4. Over the last three months of the season, beginning with his doubleheader masterpiece against the Pirates, Toney went 13-8 with a 1.81 ERA, and completed 17 of 23 starts. He started both games of a doubleheader one other time in his career, also against the Pirates in Cincinnati, on June 23, 1918. The results were not as good, at least not for Toney. He suffered the loss in both games, failed to go the distance, and yielded 15 hits and seven runs (but only three earned) in 14 innings. Since Toney, only one other Reds hurler has started both games of a doubleheader. On July 17, 1923, in Boston, Dolf Luque won both games, yielding 15 hits and seven runs (five earned) in 15 innings, including a complete game in the second contest.
Sources
In addition to the sources cited in the Notes, the author also accessed Retrosheet.org, Baseball-Reference.com, SABR.org, and The Sporting News archive via Paper of Record.
Notes
1 Edward F. Balinger, "Big Toney Pitches Both Games and Allows Six Hits," Pittsburgh Daily Post, July 2, 1917: 8.
2 "Double Header Briefs," Cincinnati Enquirer, July 2, 1917: 18.
3 "Toney Wins Both Games of Double-Header," Cincinnati Enquirer, July 2, 1917: 18.
4 Neither Baseball-Reference.com nor Retrosheet.org has play-by-play information for the doubleheader; however, the Pittsburgh Post did. See Balinger.
5 "Toney Wins Both Games of Double-Header."
6 Balinger.
7 Length of game according to "Toney Wins Both Games of Double-Header." Baseball-Reference.com has 1 hour 24 minutes as the length.
8 "Toney Wins Both Games of Double-Header."
9 For a complete list of pitchers who started both games of a doubleheader, see J.G. Preston, "A thorough account of pitchers who have started both games of a doubleheader in the major leagues, "The J.G. Preston Experience," https://prestonjg.wordpress.com/2009/09/12/a-thorough-account-of-pitchers-who-have-started-both-games-of-a-doubleheader-in-the-major-leagues/.
10 For a list of all pitchers who tossed two complete-game victories in a twin bill, see "2 Complete Game Victories by 1 Pitcher in 1 Day," Baseball Almanac, https://baseball-almanac.com/feats/feats24.shtml.
11 "Toney Wins Both Games of Double-Header."
12 "Base-Ball," Tägliches Cincinnatier Volksblatt, July 2, 1917: 2. [Translation: "Roush was our hero with the bat."
Additional Stats
Cincinnati Reds 4
Pittsburgh Pirates 1
Cincinnati Reds 5
Pittsburgh Pirates 1
---
Redland Field
Cincinnati, OH
Box Score + PBP:
Game 1:
Game 2:
Corrections? Additions?
If you can help us improve this game story, contact us.
Tags
http://sabr.org/sites/default/files/Toney-Fred-LOC.png
600
800
sabr
/wp-content/uploads/2020/02/sabr_logo.png
sabr
2020-11-23 11:27:25
2020-11-23 11:27:25
July 1, 1917: Reds' Fred Toney goes the distance twice in one day