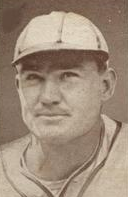 July 13, 1938: Johnny Mize ends slump with three straight homers
---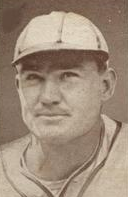 "For weeks on end, the once fell bludgeonings of Johnny Mize were but a ghastly whisper," opined the St. Louis Post Dispatch about the slugger's prolonged slump in 1938.1 After bursting on the scene as a rookie in 1936, batting .329 and knocking in 93 runs, the stout 6-foot-2 Georgian laid a legitimate claim as the best left-handed hitter in the National League the following season with a .364 batting average, 25 homers and 113 RBIs. Mize also formed with his teammate, 1937 MVP and Triple Crown winner Joe "Ducky" Medwick (.374 BA, 31 HR, 154 RBIs), the most potent one-two punch in Redbird history. But at almost the halfway point of the '38 campaign, the 25-year-old Mize was batting a measly .269 with only five homers, and just one in his last 76 at-bats. "[His] failure at the plate has been one of the [Cardinals'] major disappointments," declared the Associated Press.2
Cardinals skipper Frankie Frisch was on the hot seat. The Post-Dispatch pronounced his team a "complete washout."3 Coming off a fourth-place finish, the team was expected to challenge the New York Giants for the pennant in '38, but was mired in one of its worst slumps in recent memory. St. Louis had lost its last six games and 10 of 11, and were in seventh place (29-41), 16 games behind the Giants, as it prepared to play the ninth game of a season-long 21-game homestand. Many were speculating when club owner Sam Breadon, notoriously fickle with his managers, would fire Frisch, who had led the club to its last championship, as a player-manager in 1934. "I haven't quit on this club as yet," said Breadon. "I know they must be better than they've looked."4 Hardly a ringing endorsement.
After posting just their third winning season in the last 16 years, the Boston Bees had started off well under first-year pilot Casey Stengel in 1938, but had recently skidded, having lost 10 of their last 15 games, and were in fifth place (32-34).
A crowd of 7,846 showed up on a Wednesday afternoon at Sportsman's Park to take in an afternoon of baseball on Tuberculosis Day after the Cardinals had drawn less than half that total (3,583) in the two previous games combined against Cincinnati. The Cardinals, like the other 15 big-league teams, acutely felt the effects of the Great Depression. The pregame festivities for the annual fundraising event included 17 bands performing together on the field and 1,000 Boy Scouts doing stunts.5
Fundamentally sound defense had been a hallmark of previous Cardinals teams, but this year's club struggled, finishing with 199 errors, just two fewer than Philadelphia's league high. Hoping to light a fire under the players, Frisch rearranged his fielders against Boston, which had changed its name from the Braves to the Bees after a horrendous campaign in 1935 (38-115). Rookie Lynn Myers debuted at shortstop, pushing starter Don Gutteridge to third base, giving 35-year-old Joe Stripp a rest. Utilityman Don Padgett replaced rookie Enos Slaughter in right field, and Herb Bremer donned the tools of ignorance to spell the durable 22-year-old Mickey Owen behind the plate. Frisch's move turned out to be a disaster. "[They] played in the field like the awkward squad of a school for ungainly boys," criticized the Post-Dispatch sharply.6
Gene Moore led off for the Braves by stroking a double off Fiddler Bill McGee. In his first full season, the 28-year-old right-hander had an unsightly 2-8 record despite a sturdy 2.83 ERA. The next three hitters, suggested the Post-Dispatch, "should have been retired in order."7 Myers fumbled Johnny Cooney's tricky grounder and threw late to Mize at first; no error was charged. Gil English hit what appeared to be a routine double-play ball, but after Cooney was erased at second, Mize dropped the relay throw, as Moore crossed the plate. Once again, no error was charged. Tony Cuccinello grounded to Meyers, who again fumbled, drawing an error. In what was beginning to look like an episode from The Three Stooges, Padgett misplayed Max West's liner to right field, plating English. As the ball rolled to the wall, Cuccinello scored and West reached second.
One can only wonder what the demonstrative Frisch was yelling at this point. But the comedy of errors continued. When Bremer dropped a pitch by McGee, West broke for third and slid in safely for a stolen base while Gutteridge dropped the ball. After Mize made what Gerry Moore of the Boston Globe considered a sensational catch of Elbie Fletcher's bullet, Ray Mueller walked, and Rabbit Warstler singled to right to drive in West for the Bees' fourth run.8
Boston tacked on three more in the third, courtesy of more sloppy play by the Cardinals. With two outs, Cuccinello on first, and Mueller on third, the Bees pulled off a double steal, reminiscent of Stengel's years playing for his mentor John McGraw and his Deadball Era tactics with the Giants. Cuccinello slid in safely for the game's fifth run as Bremer dropped a relay throw. Warstler lined a triple to deep center to drive in West and then scored himself when center fielder Frenchy Bordagarays's throw went wild for the Redbirds' third and final charged error of the game. McGee's log of the day was forgettable: six hits, seven runs (three earned), and two walks in three innings.
Trailing 7-0 in the bottom of the fourth, the Cardinals took their whacks against Bees starter Milkman Jim Turner. The 34-year-old right-hander had debuted the previous season. He won 20 games and paced the National League in ERA (2.38), complete games (24), and shutouts (5) for manager/pitching guru Bill McKechnie, now the Cincinnati skipper. With Medwick on first, Mize walloped a homer onto the right-field pavilion roof to get the Redbirds on the board.
Held scoreless in the fourth and fifth innings by Cardinals swingman Roy Henshaw, the Bees tallied a run off the 5-foot-8 southpaw in the sixth on Moore's RBI single, driving in Warstler.
Mize accounted for the next three Cardinals runs. In the sixth he drove a pitch from Turner over the 33-foot-high screen that stretched across most of right field to prevent cheap homers, over the pavilion roof, and onto Grand Boulevard. In the eighth he repeated the blast onto the street, with Medwick on first with his third single of the game, to make it 8-5, and give the Cardinals a glimmer of hope. It was the first time a player had belted three homers in a game at Sportsman's Park, home of the American League's St. Louis Browns since its opening in 1909, and the Cardinals since July 1, 1920.
Right-hander Ray "Cowboy" Harrell's troubles in the ninth inning, in his second inning of mop-up work, were indicative of the Cardinals' frustrating day. With two outs, rookie West, batting just .210 entering the game, parked a pitch on the right-field roof for a 9-5 Bees lead. Fletcher followed with a single, stole the club's fourth base of the contest, and then scored on Mueller's single, the Bees' 13th safety of the game.
Turner, who had been rocked for 12 hits, ceded to Dick Errickson in the ninth. The rookie right-hander set down the side in order to preserve Turner's victory and ended the game in 2 hours and 14 minutes.
Mize's record-tying three consecutive home runs and five RBIs put a definitive end to the good-natured Southerner's slump. "Perhaps Mize will hit from now on and perhaps a few more things will happen," said Breadon.9 The impatient owner probably did not expect the kind of fireworks Mize would subsequently provide. A week later he became the first major leaguer to hit three home runs in a game twice in one season when he turned the trick in a 7-1 victory over the Giants. He also knocked in five runs in the second game of a doubleheader on July 20 at Sportsman's Park. For the remainder of the season, Mize was the most destructive force in the league, batting .391 and slugging .744.
The Cardinals finished in sixth place with their worst record (71-80) since 1924, leading to Frisch's dismissal with 16 games remaining. Mize made a run at the Triple Crown, finishing second in batting (.337), third in home runs (27), and fifth in RBIs (102), while leading the NL in slugging (.614) and total bases (326) for the first of three consecutive seasons, and also triples (16).
Mize cranked three or more home runs in a game six times in his career, compiling 359 homers in parts of 15 seasons.
This article appears in "Sportsman's Park in St. Louis: Home of the Browns and Cardinals at Grand and Dodier" (SABR, 2017), edited by Gregory H. Wolf. Click here to read more articles from this book online.
Sources
In addition to the sources cited in the Notes, the author also accessed Retrosheet.org, Baseball-Reference.com, the SABR Minor Leagues Database, accessed online at Baseball-Reference.com, SABR.org, and The Sporting News archive via Paper of Record, and Ancestry.com.
Notes
Additional Stats
Boston Bees 10
St. Louis Cardinals 5
---
Sportsman's Park
St. Louis, MO
Box Score + PBP:
Corrections? Additions?
If you can help us improve this game story, contact us.
Tags
http://sabr.org/sites/default/files/Mize-Johnny.png
600
800
admin
/wp-content/uploads/2020/02/sabr_logo.png
admin
2016-06-13 16:59:01
2020-04-17 10:26:40
July 13, 1938: Johnny Mize ends slump with three straight homers