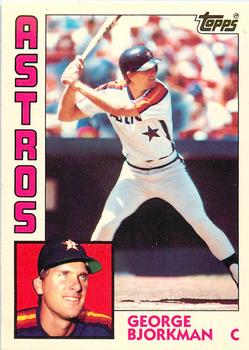 July 13, 1983: Bjorkman knocks in five in cup of coffee for Astros
---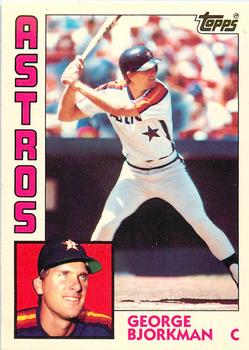 The Houston Astros were moving up in the world. On the morning of July 2, 1983, their record of 37-40 placed them fifth in the NL West, the same position they had finished the year before. Beginning that day, they won six of seven, to close in on third place.
Montreal came to Houston for a three-game series on July 12 holding a precarious half-game lead over the Philadelphia Phillies in the NL East after losing 8 of their previous 11 contests. The trend of two teams moving in opposite directions continued that Friday night as Houston captured a 7-5 victory, thanks in part to reliever Dave Smith's four innings of scoreless pitching. Philadelphia pulled ahead of Montreal, and Houston was now one game behind the third-place Padres.
The next day Montreal faced a daunting challenge. Starting for the Astros was Nolan Ryan, winner of his last seven decisions with a 1.97 ERA to show for the season. Ryan was not only off to the best start of his career, he was in a continual duel with Steve Carlton for the all-time lead in career strikeouts. Ryan had passed Walter Johnson's long-held 3,509-strikeout record in April, only to have Carlton surge past him in June as a urinary infection and pulled hamstring limited Ryan's starts. As Ryan took the mound on July 13, his 3,573 strikeouts were right behind Carlton's 3,575 mark.
Despite the Astros' surge, their catching staff was in bad shape. Starting backstop Alan Ashby was out of the lineup with an inner-ear infection, and backup catcher Luis Pujols could not catch because of a finger injury. John Mizerock, called up from the Triple-A Tucson Toros to fill the hole, played a few games before succumbing to a sore shoulder. Pujols, despite his injury, went back into the lineup, but opposing baserunners were having a field day at his expense.1At this point, the serendipitous nature of baseball showed itself, shining on a minor-league catcher in his sixth professional season name George Bjorkman, who had started the season with Columbus (Georgia) in the Double-A Southern League before being called up to replace Mizerock at Tucson.
Bjorkman barely had time to adjust to Arizona's climate before getting called up by the Astros and immediately being placed in the starting lineup on July 10 against the Mets. Against vastly superior competition than he had been facing less than two weeks earlier, Bjorkman acquitted himself well. He lined out in his first major-league at-bat. "I hit a bullet to George Foster in left — it was too bad because had I gotten under it a little I have no doubt it would have gone out — I hit it right on the screws."2 Batting in the sixth, Bjorkman singled to left as part of a three-run rally that put the Astros ahead, 5-3, in a game they ultimately lost. In the lineup again for the Friday night game, Bjorkman contributed another RBI in Houston's 7-5 victory over Montreal.
The next day, July 13, Bjorkman found himself catching Nolan Ryan before a crowd of 28,905 fans who were hoping to see the Astros continue their solid play. Facing Ryan for the Expos was 26-year-old Charlie Lea, who had a 6-5 record so far in his fourth major-league season.
Lea helped draw first blood in the third, singling in Chris Speier, who had tripled off Ryan. He would not be successful at holding the lead as the Astros scored five runs in the bottom of the inning, the big blow being a two-run triple by Jose Cruz. Bjorkman brought the fifth run of the inning home on a successful squeeze bunt off Bryn Smith, who had replaced the ineffective Lea.
Bjorkman drove in another run with a single in the fifth to make it a 6-2 lead. Ryan was holding his own but in a less than a fully effective manner, surrendering home runs to Tim Wallach in the fifth, then Andre Dawson in the sixth – that homer narrowed the deficit to 6-3. Coming to bat in the seventh inning, Bjorkman faced Smith for the third time with pinch-runner Denny Walling and Bill Doran on base. He put the game on ice with a three-run homer to left, giving him five RBIs in the game and cementing what would be a 9-4 victory for the Astros. Ryan surrendered three runs through eight innings before giving way to Bill Dawley in the ninth. In that frame the Expos scored their final run on Gary Carter's double and Speier's second hit of the game.
Ryan won his eighth straight game although he struck out only five batters. He fell further behind Carlton, who chalked up seven strikeouts in a losing effort against the Atlanta Braves. Though he was happy with the win, Ryan was less than enthusiastic about his pitching. He shrugged off the competition with Carlton and, focusing on the game, said, "It's nice to get nine runs for some breathing room. It was fortunate that I had the runs because I had good stuff but did nothing with it. I don't care about streaks, but I'm pitching better than I have since the year of the strike [1981]."3
Bjorkman, whose offensive outburst prevented the Expos from clawing back into a first-place tie with Philadelphia, was self-effacing. "I'm not the contributor of big hits. The everyday players have done that. I'm not making the difference."4 Rather than savor his performance, Bjorkman shared a different perspective concerning his batterymate and future Hall of Famer: "Just catching Nolan Ryan would have been enough for me."5
Bjorkman was fully convinced that he would return to the minors when Ashby recovered and could play again. Astros manager Bob Lillis disagreed: "It's a good possibility he is jumping to conclusions about being ready to go down. I might have to leave town if I did that.6 Regardless, at that point, Bjorkman was Houston's only fully functioning catcher.
The next day Bjorkman experienced the antithesis of Ryan's fastball deliveries when he caught knuckleballer Joe Niekro. In top form, Niekro pitched a complete-game, three-hit shutout to beat Montreal 3-0 for a sweep of the series. The win, Houston's eighth in nine games, put the Astros into a tie for third with the Padres.
Niekro sang Bjorkman's praises. "George looked like he'd been catching the knuckleball for 10 years. He picked some of my best knucklers cleanly. And he called a good game. I can't say enough good things about him. He's got to be in awe just getting to the major leagues, then catching Nolan Ryan one night and the knuckleball the next. But he handled it like a veteran." Bjorkman, by this time probably in a fog, could only observe, "I had never caught a knuckleball from any pitcher before except with Joe on the sidelines. I didn't know what to expect. But Joe talked with me before the game and helped me relax." Lillis chimed in, further complimenting his new catcher, "We had to find out if he could catch the knuckleball and we got our answer."7
Houston continued to win, amassing 10 victories in 11 games before Ryan succumbed to the Mets 3-1 on July 17 to snap his eight-game winning streak. It was Bjorkman's third straight hitless game. After striking out once in his first five games, Bjorkman fanned eight times in his next five starts, and things got worse as major-league pitching began to catch up with him.
Hitting had never been Bjorkman's forte. He had a good eye and he clouted 28 home runs for the Triple-A Springfield Redbirds in 1981, but that was an aberration. His career minor-league average was just .244. Against a steady diet of major-league pitching, his hitting continued to deteriorate. After striking out six straight times and watching his average sink to .192, Bjorkman was sent back to Tucson.
His earlier comment about being sent back down when the regulars came back was off the mark — it was poor hitting, and 20 strikeouts in 52 at-bats, that did him in, not necessarily Ashby's return. After he was called back to the Astros in September to play in a handful of games, his major-league career was over. Lost in a surplus of catchers on the Houston roster, Bjorkman was traded to the Expos in the spring of 1984, and his professional career ended a year later.
Baseball is a fickle game. Nolan Ryan was the big story in Bjorkman's best game in the majors, continuing the strikeout duel with Carlton which lasted until September 1984, when Ryan finally pulled ahead for good. Ryan notched a record 5,714 strikeouts during his 27-year career, George Bjorkman played in the majors for two months.
This article appears in "Dome Sweet Dome: History and Highlights from 35 Years of the Houston Astrodome" (SABR, 2017), edited by Gregory H. Wolf. To read more articles from this book at the SABR Games Project, click here.
Notes
1 Harry Shattuck, "Astros Must Lasso Enemy Basestealers," The Sporting News, July 18, 1983: 36.
2 Juan Rosales, "George Bjorkman's First MLB Hit," Baseball Interactions," baseballinteractions.wordpress.com/.
3 "Ryan Fires and Falls Back in the Strikeout Race but Keeps on Winning, 9-4, Los Angeles Times, July 14, 1983: D7.
4 "Ryan, Bjorkman Modest After Victory," Baytown (Texas) Sun, July 14, 1983: 2-C.
5 Harry Shattuck, "Astros' Bjorkman in a Dream World," The Sporting News, August 1, 1983: 17.
6 "Ryan, Bjorkman Modest After Victory."
7 Shattuck, "Astros' Bjorkman."
Additional Stats
Houston Astros 9
Montreal Expos 4
---
Astrodome
Houston, TX
Box Score + PBP:
Corrections? Additions?
If you can help us improve this game story, contact us.
Tags
https://sabr.org/sites/default/files/BjorkmanGeorge.jpg
600
800
admin
/wp-content/uploads/2020/02/sabr_logo.png
admin
2018-09-20 12:53:24
2020-04-17 10:23:55
July 13, 1983: Bjorkman knocks in five in cup of coffee for Astros