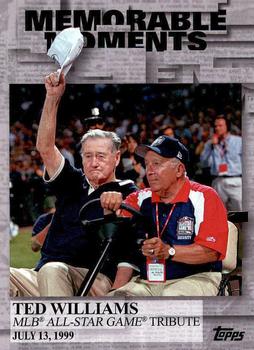 July 13, 1999: At Fenway Park, Pedro Martinez, Ted Williams shine in All-Star Game for the ages
---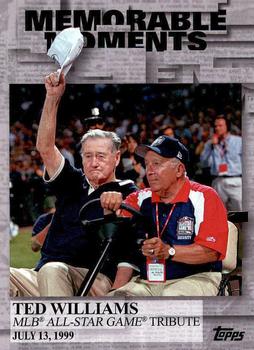 It was the final All-Star Game of the twentieth century. On a mid-July night at Fenway Park, the greatest living players in baseball history were in the ballpark for the game between the best of the National League and the best of the American League. And, appropriately, two Red Sox legends stole the show.
The game followed an exciting Home Run Derby that saw Mariners outfielder Ken Griffey Jr. defeat Brewers outfielder Jeromy Burnitz in the final round to win his second consecutive Derby. The final round was anticlimactic; the Derby's excitement came in the first round, when Cardinals first baseman Mark McGwire launched 13 home runs, then a Home Run Derby record. McGwire hit ball after ball over the Green Monster and onto Lansdowne Street, including a 488-foot blast. McGwire did not qualify for the final round after he hit only three homers in the second round.1
It was the third-ever All-Star Game at Fenway Park, and the first since 1961. This game came amid discussion of whether it was time to build a new, twenty-first-century version of Fenway that was outfitted with modern amenities.2 Prior to the game, Kevin Costner introduced most of the living nominees for the All-Century Team. Around the infield were 31 men, including Hank Aaron, Willie Mays, and Stan Musial. The loudest cheers were reserved for Red Sox legends Carl Yastrzemski and Carlton Fisk. Jim Thome, one of four Indians elected to start the game (the others being Manny Ramirez, Roberto Alomar, and Kenny Lofton), said having the greatest living players present for the game made it feel like Field of Dreams.3 Pictures of 98 of the 100 men nominated for inclusion on the All-Century Team were hung on banners draped around the grandstand; the only ones missing were Pete Rose and Shoeless Joe Jackson, both banned from baseball for life.4
The most memorable moment of the night was Ted Williams's introduction. Following Donna Summer's national anthem, a garage door in center field opened and Williams emerged. Wheeled in on a golf cart along the right-field and first-base line, Williams tipped his hat to the crowd of 34,187. When Williams arrived at the mound, he held court in his golf cart as all the past and present stars gathered around him. Williams grabbed McGwire's shoulder and spoke with him. McGwire said Williams asked him if after a sharp foul ball, he could smell smoke coming off the bat. ("All the time," McGwire responded.)5 Williams chatted with Tony Gwynn, his longtime friend, and Nomar Garciaparra, the Red Sox shortstop. Calling for Sammy Sosa, Williams bellowed "Where's Sammy?" before Sosa shook his hand. Leaning on Gwynn, Williams threw out the first pitch to Fisk. The 80-year-old Williams described the moment as great, saying: "Hell, I haven't had a base hit in 30 years, and I'm a better hitter now than I've ever been in my life."6
After the All-Century nominees and the All-Stars cleared the field, Red Sox ace Pedro Martinez took the mound for the American League. Martinez, one of three Red Sox selected for the game along with Garciaparra and Jose Offerman, was in the midst of a dominant stretch. From 1997 to 2003, Martinez posted a 213 ERA+, best in baseball, and won three Cy Young Awards. Halfway through the 1999 season, Martinez was 15-3 with a 2.10 ERA and 184 strikeouts; the talk around baseball was whether he could become the first pitcher since 1968 to win 30 games.7 Though Martinez failed to win 30, he ended the season with his second Cy Young and a second-place finish in MVP voting. His dominant 1999 and 2000 seasons came at the height of a high-scoring era; in each of those seasons, Martinez led the league in FIP, ERA, strikeouts, WHIP, fewest home runs per nine innings, strikeouts per nine innings, and K/BB ratio. At the 1999 All-Star Game, with Hall of Fame pitchers including Bob Gibson, Bob Feller, Warren Spahn, and Steve Carlton looking on, Martinez would have one of the most memorable moments of his career.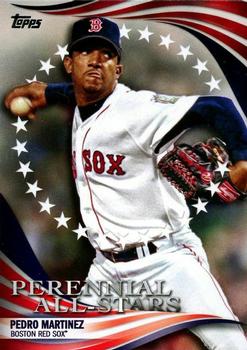 Martinez started the first inning by striking out Barry Larkin with a changeup away, then got Larry Walker looking on a fastball. He finished the inning by setting up Sammy Sosa with a nasty breaking ball, then striking him out swinging with a 96-mph fastball. Fenway Park was electric as Martinez walked off the mound.
Martinez's future Red Sox teammate Curt Schilling started for the National League. Schilling was making his third straight trip to the All-Star Game and was selected to start over Randy Johnson.8 After leadoff hitter Lofton reached on an infield single, Schilling retired the next two men but walked Ramirez. Thome singled home Lofton and Cal Ripken singled home Ramirez to make it 2-0, American League.
McGwire, Matt Williams, and Jeff Bagwell were due up for the NL in the second. Martinez opened the second by striking out McGwire, the Home Run King. Williams reached on a ball bobbled at second by Alomar. Martinez responded by striking out Bagwell, and Ivan Rodriguez threw out Williams at second. Martinez was finished for the night. In his two innings, he was absolutely dominant, striking out five. Only Williams put the ball in play. Schilling retired the AL in order in the bottom of the second, striking out Alomar and Lofton.
AL manager Joe Torre brought in a Yankees pitcher, David Cone, for the third. Cone gave up a one-out double to Brewers outfielder Burnitz, who was selected to start the game as an injury replacement for Gwynn. With two outs, Larkin hit a soft single up the middle to bring home Burnitz for the NL's first run. In the bottom of the third, Johnson retired the side in order.
Before the start of the fourth inning, Torre made changes, including removing Garciaparra. Derek Jeter ran onto the field to replace Garciaparra, who was warming up at short, giving fans an opportunity to applaud the Red Sox shortstop. Cone found himself in trouble in the fourth. McGwire walked, Bagwell singled, and Mike Piazza singled to bring up Burnitz with two men out and the bases loaded. On the first pitch, Burnitz hit a soft dribbler to Thome, who stepped on first to end the threat.
NL manager Bruce Bochy gave the fourth to Kent Bottenfield, the Cardinals pitcher who was an unlikely selection before the season.9 Bottenfield, who posted a 4.27 ERA between 1992 and 1998, had been released four times prior to 1999. He ran into trouble in the bottom of the fourth, walking Thome and hitting Ripken to put two men on with no outs. Rafael Palmeiro hit a single to score Thome and Alomar reached on an error to score Ripken. At the end of the fourth, it was 4-1, American League.
After that, the bats were finished for the night. The rest of the game would proceed quickly with little action, as both Torre and Bochy attempted to get as many players as possible into the game. In the top of the ninth, Torre called on his former Yankees closer John Wetteland to save the game for the American League. With one on and one out, Wetteland induced a groundball double play off the bat of Jeff Kent to end the game.
Postgame, all the talk was about Martinez and Williams. Martinez was named the game's MVP. His performance drew comparisons to Carl Hubbell, who struck out five Hall of Famers (Babe Ruth, Lou Gehrig, Jimmie Foxx, Al Simmons, and Joe Cronin) in the 1934 All-Star Game. As of 2020, three of the men Martinez struck out (Larkin, Walker, and Bagwell) have been elected to the Hall of Fame, while two others (McGwire and Sosa) each hit more than 580 home runs. Martinez said his "personal trophy" from the evening came when Williams called him into his suite and signed a program for him.10
Thirty-nine years after he made his final All-Star team, Williams's presence at the 1999 All-Star Game was magical. After the game, Cone called it "the most inspiring scene [he'd] ever been a part of or ever seen" as the "players surrounded [Williams] like he's [their] grandfather."11 Williams's return to Fenway combined with the presence of the All-Century players allowed baseball's past to merge with its present to create a timeless moment. Years later, players and fans continue to speak fondly of the game, with Larkin summarizing the game best: "It was what an All-Star Game is supposed to be."12
Author's note
At the time of the game, the author was a 7-year-old boy living in Brookfield, Wisconsin. He watched this game, excited to see two Brewers (Burnitz and Dave Nilsson) and his favorite player, McGwire.
Sources

baseball-reference.com/allstar/1999-allstar-game.shtml
retrosheet.org/boxesetc/1999/B07130ALS1999.htm

Notes
1 My recap of the 1999 Home Run Derby comes from the following: Paul Doyle, "Another Derby for Griffey," Hartford Courant, July 13, 1999: 160.
2 Peter Schmuck, "Fenway's Influence Is Apparent in Many of the New Ballparks," Berkshire Eagle (Pittsfield, Massachusetts), July 15, 1999: 30. The Red Sox decided to renovate Fenway Park rather than build a new ballpark.
3 Ben Walker, "Martinez Propels AL to 4-1 Victory," Longview (Washington) Daily News, July 14, 1999: 25.
4 "Selig: No Baseball for Rose," Cedar Rapids (Iowa) Gazette, July 14, 1999: 26. In fact, Pete Rose was not even invited to Fenway Park for the All-Star Game.
5 Steve Wilstein, "All-Stars in Awe of Ted Williams," Longview (Washington) Daily News, July 14, 1999: 25.
6 Walker.
7 Jayson Stark, "Fenway Will Go Wild When Martinez Takes the Hill," Philadelphia Inquirer, July 13, 1999: 43.
8 Paul Hagen, "How's That for Starter?" Philadelphia Daily News, July 13, 1999: 72.
9 Rick Hummel, "Bottenfield Will Introduce Himself to All-Star Game Fans," St. Louis Post Dispatch, July 8, 1999: 15.
10 Tim Britton, "'99 All-Star Game at Fenway Park an Enduring Classic," Providence Journal, July 12, 2014. Found online at providencejournal.com/article/20140712/SPORTS/307129989.
11 John Lowe, "Ted Williams' Most Splendid Moment," Detroit Free Press, July 15, 1999: 6.
12 Britton.
Additional Stats
American League 4
National League 1
---
Fenway Park
Boston, MA
Box Score + PBP:
Corrections? Additions?
If you can help us improve this game story, contact us.
Tags
https://sabr.org/sites/default/files/Williams-Ted-1999.jpg
600
800
admin
/wp-content/uploads/2020/02/sabr_logo.png
admin
2020-03-24 11:27:22
2020-05-28 15:46:18
July 13, 1999: At Fenway Park, Pedro Martinez, Ted Williams shine in All-Star Game for the ages