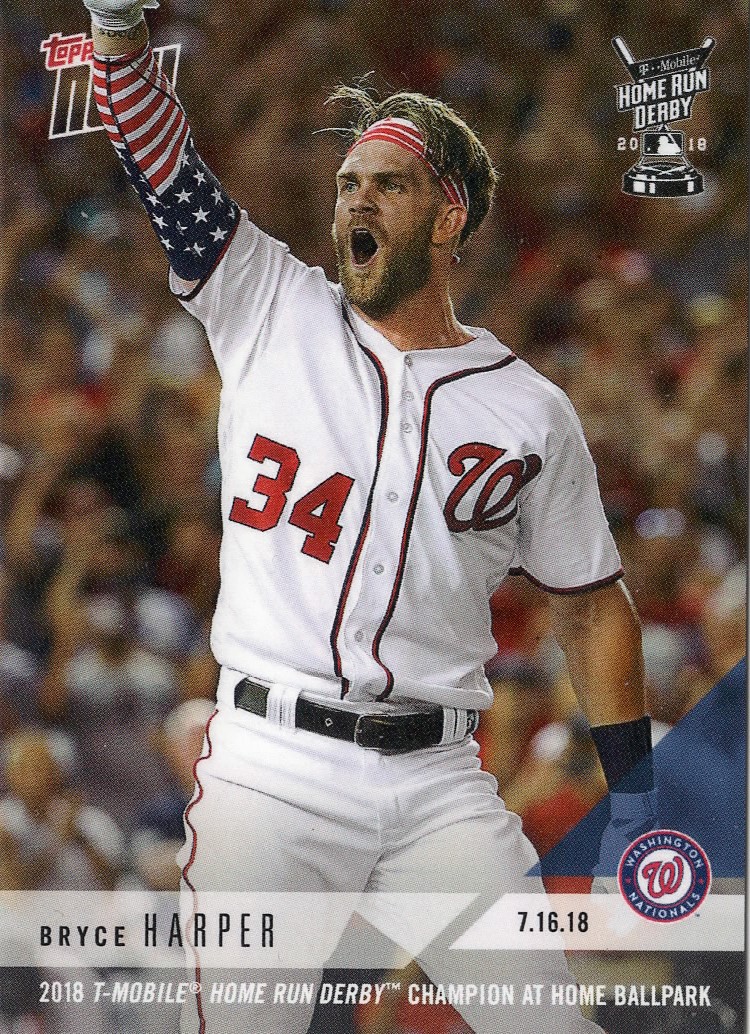 July 17, 2018: American League wins home run-happy All-Star Game in extra innings
---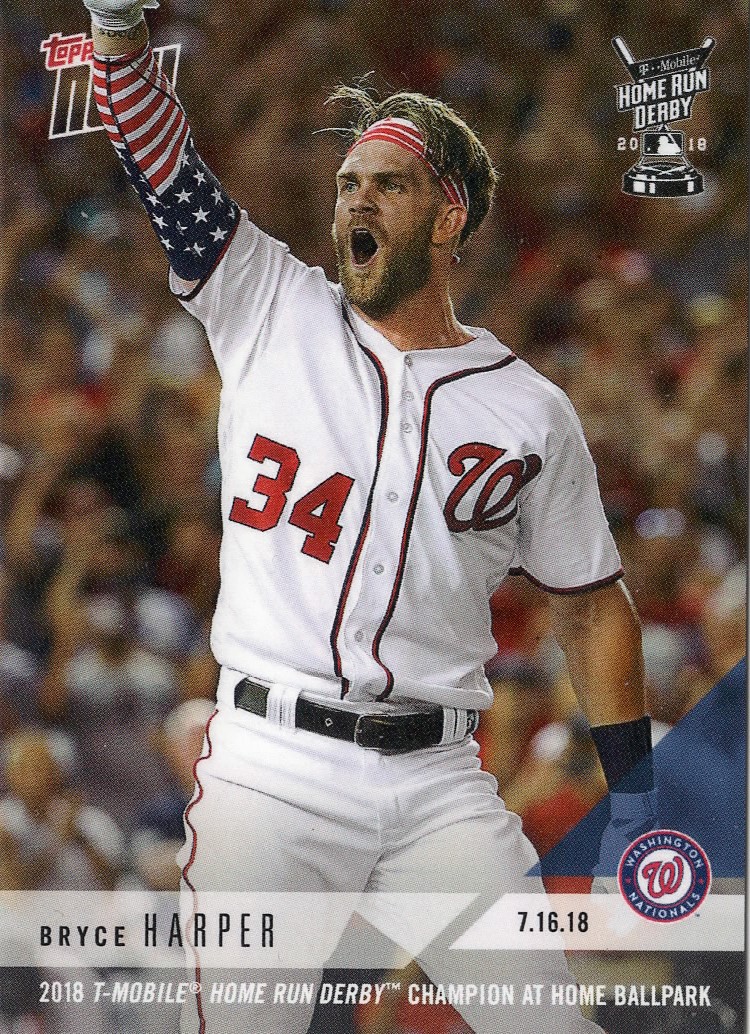 All-Star week in any city is a celebration of baseball's history, a recognition of its current and future stars, and a time of pure joy for baseball fans of all ages. This week was no exception in Washington, DC. The stars of major-league baseball had not descended en masse on the nation's capital in nearly 50 years but nonetheless its baseball history is rich with All-Star Game traditions.
In 1937 President Franklin Delano Roosevelt threw out the first pitch for the fourth All-Star Game1 and the first one hosted at Griffith Stadium, which also hosted the 1956 game. In 1962 President John F. Kennedy threw out the first pitch of the All-Star Game at the new D.C. Stadium (to be renamed RFK Stadium in 1968, in honor of his brother, Robert). In the 1969 game at RFK Stadium, hometown hero Frank Howard delighted fans with a home run for the first American League run that evening.
As fans filed through the home-plate entrance to Nationals Park for the 2018 festivities, they passed the bronze statues of Howard, Josh Gibson, and Walter Johnson, ready to witness a new chapter in Washington baseball history. They weren't disappointed.
The Home Run Derby, staged the night before the All-Star Game, served as a prelude to what baseball fans witnessed at Nationals Park in the game itself, and the capacity crowd loved it. Bryce Harper became only the third hometown player to win the competition, beating Kyle Schwarber in the finals, 19 homers to 18.2 In total, 221 home runs were hit with Javier Baez hitting the longest, 479 feet, one foot longer than Harper's most prodigious blast.3 Washington Post columnist Tom Boswell described the atmosphere during an online chat. "The crowd roars for Harper's nine homers on 10 pitches to beat the clock and win the Derby were akin to the explosion for Jayson Werth's Game Four [2012 NLDS] homer."4
As both teams stood along the foul lines during the pregame ceremony, 30 recipients of the highest and most prestigious military decoration, the Medal of Honor, were introduced to the capacity crowd (43,843).5 They had served in the armed forces during conflicts ranging from World War II to Iraq and Afghanistan. It was touching to watch from the stands as the players moved to the area around the pitcher's mound to personally greet and thank those heroes.
The honor of starting on the mound fell to Boston Red Sox pitcher Chris Sale (10-4, 2.23 ERA) for the American League and Washington Nationals hurler Max Scherzer (12-5, 2.41 ERA) for the National League, one strikeout pitcher versus another.6 It had a familiar ring since both started the 2017 midsummer classic in Miami. In fact, Sale became only the third pitcher to start three consecutive All-Star Games.7
Scherzer was firing fastballs up to 98 mph from the start and struck out the first two batters, Mookie Betts looking and José Altuve swinging. The decidedly hometown crowd was in a "let's go, Max" frenzy when he got two strikes on Mike Trout, who eventually walked. He allowed a single to J.D. Martinez but retired José Ramirez on a pop fly to second baseman Javier Baez. The 89th All-Star Game was underway. In the top of the second inning, Scherzer yielded a solo home run to Aaron Judge to deep left-center before closing his two innings of work by striking out Jose Abréu and Salvador Pérez. Judge's home run and Scherzer's four strikeouts were a hint of what was to come.
The Mets' Jacob deGrom replaced Scherzer in the third inning. Mike Trout hit a two-out solo home run to left field for a 2-0 American League lead. In the bottom half of the inning, Cubs catcher Willson Contreras led off with another solo home run, this one to deep left, to cut the lead to 2-1.
Through six innings, base hits by both teams were rather scarce. The National League had accumulated three hits, including Contreras' home run, and the American League had four hits, including the two solo home runs. Was it surprising that those same six innings produced 15 strikeouts? Not if you have followed recent data trends. In April and June, strikeouts exceeded hits in the major leagues. Such monthly deviations had never occurred before 2018 and strikeouts alone have set records for 10 consecutive seasons.8 Nonetheless, the tenor of this game was about to change.
With one out in the bottom of the seventh inning, the Rockies' Trevor Story hit a solo home run off Astros pitcher Charlie Morton and score was now tied at 2-2. The American League answered immediately to start the eighth inning but with some assistance. Pinch-hitter Shin-Soo Choo led off with a single to left off Brewers reliever Josh Hader. George Springer added a one-out single to left. When pinch-hitter Jean Segura hit a full-count foul pop just at the dugout railing, sure-handed first baseman Joey Votto dropped the ball and was charged with an error. Segura hit the very next pitch for a three-run homer and a 5-2 American League lead.
After throwing 28 pitches in the previous inning, Morton returned to the mound in the bottom of the eighth and gave up a one-out solo home run to Christian Yelich before striking out Charlie Blackmon and Lorenzo Cain to end the inning. Seattle closer Edwin Diaz, major-league save leader (36) at the All-Star break,9 was given the opportunity for a save in the bottom of the ninth inning with a 5-3 lead. After striking out Trevor Story, Diaz walked Marlins catcher J.T. Realmuto, setting the stage for Scooter Gennett's dramatic game-tying two-run home run down the right-field line to set the stage for extra innings.
The Dodgers' Ross Stripling came in to pitch the 10th inning and the first batter, Alex Bregman, homered to left-center for a 6-5 AL lead. His Astros teammate, George Springer, hit Stripling's very next pitch for a home run to right-center. Jean Segura and Mitch Moreland reached base on consecutive singles to put runners on first and third. When Segura scored on Michael Brantley's one-out sacrifice fly to left field, it became the only run in the entire game to be scored without the aid of a home run.
The save opportunity for an American League victory now rested with Toronto pitcher J.A. Happ. Perhaps predictably, Joey Votto hit Happ's very first pitch for a home run, cutting the lead to 8-6. Happ recovered nicely and retired Yelich, Blackmon, and Cain in order for the save. The victory was the American League's sixth consecutive win and 19th in the last 22 games to lead the all-time series 44-43-2. The 10 home runs obliterated the previous All-Star record of six.10 Those home runs accounted for half of the 20 hits by both teams. In this 10-inning game, the pitchers for both teams accumulated 25 strikeouts. The All-Star Game record for most strikeouts by both teams, 22, was set in the 1999 game at Fenway Park, a nine-inning victory by the American League, 4-1.
It was inevitable that one of the 10 players who hit home runs would be named as the game's MVP. After eight innings, Jean Segura's three-run home run made him the favorite, but MVP Alex Bregman's tie-breaking home run to lead off the 10th inning put his name on the award.
Afterward, Tom Boswell suggested that there was an important message from this game. "At the very time when some have wondered whether hard-throwing pitchers with wipe-out secondary pitches were simply too gifted to combat, this ASG showed that THE BEST hitters, playing in a pitcher/hitter-neutral park, could hit 10 homers in 10 innings against THE BEST pitchers."11
The 1969 All-Star Game at RFK Stadium featured 19 future Hall of Famers,12 "like one big waiting room for Cooperstown."13 How many future Hall of Famers did we see in the 2018 All-Star Game? It will be some years before we know the answer. Perhaps by then the All-Star Game will have returned to the nation's capital so that another generation of baseball fans will enjoy the same pleasures and thrills that highlighted this night at Nationals Park.
Author's note
Two days earlier at the MLB All-Star FanFest, the author had his photo taken with Vera Clemente and presented a copy of SABR's book on the Pittsburgh Pirates, Moments of Joy and Heartbreak, to Roberto Clemente Jr. The conversation centered on Roberto Clemente's uniquely singular feat on July 25, 1956, an inside-the-park, walk-off grand slam to beat the Cubs, and the essay that describes it.14 That night holds special significance for the author, whose father took this young teenager to see the Brooklyn Dodgers beat the Cincinnati Redlegs at Roosevelt Stadium in Jersey City.15Duke Snider's walk-off home run that night paled in comparison to what Roberto did. Roberto Jr. suggested that our brief encounter deserved a big hug. Moments not soon forgotten with memories cherished by a baseball fan.
Sources
The author accessed Baseball-Reference.com for box scores/play-by-play information and other data (baseball-reference.com/allstar/2018-allstar-game.shtml) and Baseball-Almanac.com (baseball-almanac.com/rb_asb3.shtml) for All-Star Game records. The baseball card sheets below were distributed by the Topps Company in purchased copies of the Washington Post on July 13, 2018.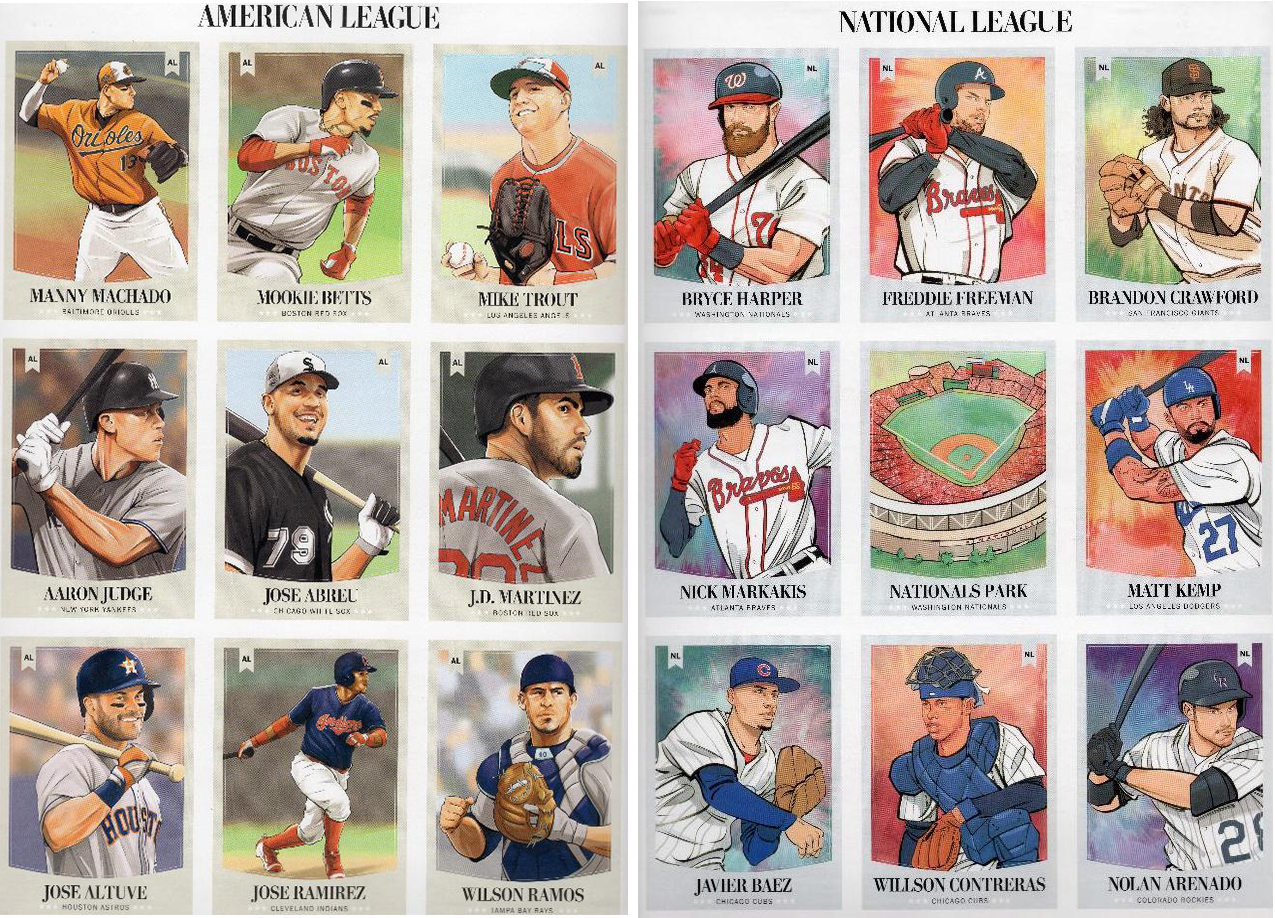 Notes
1 An unfortunate injury was sustained by St. Louis Cardinals pitcher Dizzy Dean in the third inning of that All-Star game. Cleveland's Earl Averill lined a drive back off Dean's left foot. A broken left toe kept Dean out of the lineup for weeks. When he returned in late July to pitch, he insisted he was OK, but he couldn't pivot his left foot and his pitching motion was all arm action. Arm soreness initially diagnosed as bursitis bothered him for the rest of his career. The future Hall of Famer had won 120 games in the previous five seasons. After the 1937 All-Star Game misfortune, he pitched only 42 games in the next three seasons. (Joseph Wancho, "Dizzy Dean," SABR Baseball Biography Project).
2 In 1990 at Wrigley Field, Chicago Cubs second baseman Ryne Sandberg won the Home Run Derby; in 2015 at Great American Ballpark, Cincinnati Reds third baseman Todd Frazier won the competition.
3 New York Times, July 18, 2018: B12.
4 Thomas Boswell, "Ask Boswell," WashingtonPost.com, July 23, 2018, accessed August 4, 2018, live.washingtonpost.com/ask-boswell-20180723.html. (see October 11, 2012: Jayson Werth walkoff HR beats Cardinals in NLDS Game 4).
5 "MLB All-Star pre-game ceremony to pay tribute to Medal of Honor recipients in Washington, DC," MLB.com, July 16, 2018, accessed August 4, 2018, mlb.com/news/mlb-all-star-pre-game-ceremony-to-pay-tribute-to-medal-of-honor-recipients/c-286111286.
6 In 2017 Max Scherzer led the National League with 268 strikeouts and Chris Sale led the American League with 308 strikeouts.
7 New York Yankees pitcher Lefty Gomez (1933-1935) and Philadelphia Phillies pitcher Robin Roberts (1953-1955) also started three consecutive All-Star Games.
8 "MLB Strikeouts Top Hits for 2nd Time in 3 Months," USAToday.com, July 1, 2018, accessed August 29, 2018, usatoday.com/amp/36537637.
9 Diaz led the major leagues in saves (57) for the 2018 season.
10 The AL beat the NL 6-4 at Detroit's Tiger Stadium in the 1971 All-Star Game. Home runs hit by Johnny Bench, Hank Aaron, Roberto Clemente, Reggie Jackson, Frank Robinson and Harmon Killebrew accounted for all the runs.
11 Boswell.
12 "Washington, DC and the All-Star Game," Washington Nationals 2018 Media Guide, 284.
13 Mike Lupica, "Summer Spotlight," Major League Baseball Official Program, 2018 All-Star Game, Washington, DC, 256.
14 Steven C. Weiner, "Clemente Grand Slams and Runs to Pirates' Victory," in Jorge Iber and Bill Nowlin, eds., Moments of Joy and Heartbreak: 66 Significant Episodes in the History of the Pittsburgh Pirates (Phoenix: Society for American Baseball Research, 2018), 80.
15 Steven C. Weiner, "July 25, 1956: Dodgers win on Snider walk-off home run in Jersey City," SABR Games Project.
Additional Stats
American League 8
National League 6
10 innings
---
Nationals Park
Washington, DC
Box Score + PBP:
Corrections? Additions?
If you can help us improve this game story, contact us.
Tags
https://sabr.org/sites/default/files/Harper%20HR%20Derby%207-16-2018.jpg
600
800
admin
/wp-content/uploads/2020/02/sabr_logo.png
admin
2018-10-23 15:14:12
2020-04-17 10:23:50
July 17, 2018: American League wins home run-happy All-Star Game in extra innings