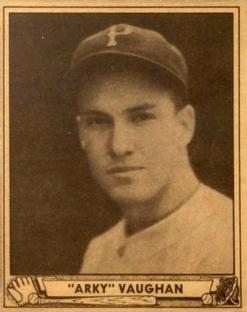 July 19, 1939: Arky Vaughan hits for reverse natural cycle, leads Pirates past crippled Giants
---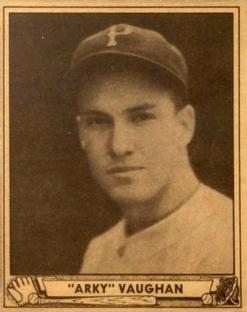 The July 20, 1939, headline in the Pittsburgh Post-Gazette read, "Pirates Smother Crippled Giants, 10-3,"1 alluding to the fact that "with most of his stars walking on crutches, [Giants manager] Bill Terry was forced to use patchwork in his batting array."2 Burgess Whitehead was nursing a bruised leg, although he started the game at shortstop. Lou Chiozza was out of the lineup with a broken leg. Billy Jurges was serving a suspension for arguing with and then punching umpire George Magerkurth over a home run. Jo-Jo Moore had a sore arm, and Harry Danning was in the hospital.3 Terry tried to put together a lineup that could halt a four-game losing streak.
The third-place Giants (tied with the St. Louis Cardinals) hosted the Pirates on July 19 in the first of a three-game series at the Polo Grounds. New York had won 18 of 25 games in June but had won only six games since July 1. Pittsburgh had struggled on-and-off for much of the season, losing 13 of 21 games in June. At 34-34, they started a road trip on July 12 but had won only three of seven games coming into New York. This game was a turnaround for both teams.
According to the Pittsburgh Post-Gazette, it "was more like batting practice for the Buccos who crashed into four Giant hurlers for 19 safe blows."4 The offensive star was Arky Vaughan, who hit for the cycle against the Giants.
Vaughan had batted .385 in 1935, when he finished third in the voting for the Most Valuable Player of the National League. Not known as a power hitter (although he smacked 19 homers in 1935), he had hit his first homer of the season just four days earlier. Vaughan usually helped his team by getting on base and ended with a career on-base percentage of .406.5 The future Hall of Famer had led the league in OBP from 1934 through 1936. In this game, he reached base five times.
A pair of right-handers opposed each other on the mound. Terry named Bill Lohrman as his starter, while Pittsburgh's skipper Pie Traynor countered with Mace Brown. Lohrman "was on the mound just long enough to become the loser (3 innings)."6 After Lohrman retired Lloyd Waner, Vaughan opened the scoring when he "poled a home run into the right upper deck"7 with one out. The ball barely passed inside the foul pole and "settled among the sparsely populated seats."8
Singles by Elbie Fletcher and Lee Handley got the second inning started for Pittsburgh. With runners on the corners, Pep Young bounced into a 6-4-3 double play, but Fletcher scored, making it 2-0.
In the third, Vaughan tripled to deep left-center and scored when Fern Bell "planted a single on the sod back of second base,"9 giving the Pirates a 3-0 lead. Chuck Klein stepped into the batter's box and stayed for a while. He fouled off 11 pitches and drew three balls before lining out to Bob Seeds in left. Lohrman worked his way out of the inning, but through three frames, he had faced 14 batters and his team trailed 3-0.
Jumbo Brown came on in relief of Lohrman to start the top of the fourth. A few batters later, he, too, exited the game. Young started things with a double to left and advanced to third on a sacrifice by Ray Berres. Mace Brown flied out to center for another sacrifice, plating Young. Waner singled to center, bringing up Vaughan, whose "murderous drive"10 back up the middle caught Jumbo Brown on his right wrist. The ball caromed into left field, allowing Vaughan to cruise into second base with a double. Dick Coffman replaced Jumbo and was greeted by Bell with a two-run double to center. Klein grounded out to end the inning, but the Pirates had doubled their run total. In the home half, three straight singles (by Whitehead, Frank Demaree, and Ott) resulted in New York's first run.
Johnny McCarthy surprised both the crowd and the Pirates when he took the mound at the top of the fifth. It was McCarthy's major-league pitching debut.11 This was only his 20th game of the season, and he had been used primarily as a pinch-hitter or first baseman. Unfortunately for Terry and the Giants, "the bold Buccos didn't give a hoot what arm delivered the apple."12 Although he held the Pirates scoreless in the fifth inning, McCarthy was not so lucky afterward.
Pittsburgh tallied another run in the sixth. Waner doubled to lead off and Vaughan singled to right with a run batted in. Vaughan rounded first too far and was run down heading into second on a 9-5-3-4 play. Despite making an out, Vaughan had hit for the cycle. In the Giants' sixth, Whitehead singled to lead off. New York loaded the bases when Demaree reached on an error by second baseman Young and Ott walked. Zeke Bonura grounded into an around-the-horn double play, allowing Whitehead to score.
Both teams added a run in the seventh inning, when Pittsburgh's Fletcher and New York's Alex Kampouris each homered to roughly the same part of the right lower tier. Both were solo home runs.
McCarthy was "whaled for two more runs in the eighth."13 With one down, Vaughan drove another ball into right field for his fifth safety of the game. After Bell flied out, Klein singled to center and Fletcher worked McCarthy for a walk, loading the bases. Handley singled up the middle and Vaughan scored his fourth run of the ballgame. That proved to be all the scoring in the game, and Pittsburgh enjoyed a 10-3 victory.
Pirates hurler Mace Brown scattered seven hits, with three of them by Demaree, in picking up his fifth win of the season. Pittsburgh's win put the Pirates into a tie for fifth place with the Brooklyn Dodgers in the National League standings. This game also marked the start of a five-game win streak that saw the Pirates climb higher in the standings. Every position player had at least one hit, as Pittsburgh banged out 19 in total. Lohrman was tagged with the loss, evening his record at 7-7.
The Giants continued their slide. Pittsburgh swept them in this series, and then New York lost two games to the Chicago Cubs. The Giants took only one of their next four games, giving them a 1-12 stretch that saw them sink to sixth place.
Vaughan had accomplished the rare feat of hitting for the cycle, and the even more rare deed of doing it in the reverse order of total bases (home run, triple, double, and single). He became just the fifth major leaguer to hit for the reverse natural cycle, joining the Philadelphia Athletics' Henry Larkin (June 16, 1885), Cincinnati Red Stockings' Bid McPhee (August 26, 1887), New York Giants' Sam Mertes (October 4, 1904), and Detroit Tigers' Gee Walker (April 20, 1937).14
Further, Vaughan "distinguished himself by compiling a perfect average for his five trips to the plate."15 His batting average jumped 12 points to .311, leading the Pirates. In his last eight contests, Vaughan had collected 15 hits in 33 at-bats (good for a .455 clip). He now had an eight-game hitting streak in progress. Klein extended his hitting streak to 18 games, and Fletcher's streak reached seven games.
This was the second time in his career that Vaughan hit for the cycle. His first cycle occurred on June 24, 1933, in a game against the Brooklyn Dodgers at Ebbets Field. In that contest, he also hit a home run in his first at-bat. Vaughan was the third and final player to hit for the cycle in 1939, following the Philadelphia Athletics' Sam Chapman (May 5) and Detroit's Charlie Gehringer (May 27). It was the first cycle event in the National League since Sam Leslie of the New York Giants accomplished it on May 24, 1936. It was also the 11th time that a Pittsburgh batter had hit for the cycle.
Postscript
When the Pirates entered the field and headed into their dugout before the game, they were greeted from a nearby box seat by Cy Young, the winningest pitcher in major-league history. The 72-year-old Young had just returned from playing an Old-Timers' Game in Boston and told reporters, "Yep! I can still pitch."16
Also before the game, a group of 200 ROTC cadets presented Giants slugger Ott with a small saber; the "boys had voted him their favorite player."17
Sources
In addition to the sources mentioned in the Notes, the author consulted baseball-reference.com, mlb.com, retrosheet.org and sabr.org.
https://retrosheet.org/boxesetc/1939/B07190NY11939.htm
https://baseball-reference.com/boxes/NY1/NY1193907190.shtml
Notes
1 Edward F. Balinger, "Pirates Smother Crippled Giants, 10-3," Pittsburgh Post-Gazette, July 20, 1939: 15.
2 Ibid.
3 Four days earlier, in a game played on July 15 at the Polo Grounds, Cincinnati's Harry Craft hit a ball down the left-field line that hooked toward the foul pole. Umpires ruled it a home run, but the Giants thought the ball had gone foul. Shortstop Jurges argued with and then exchanged punches with first-base umpire Magerkurth. Left fielder Moore and catcher Danning joined in the melee. All three Giants were ejected for arguing a fair/foul call (as well as fighting for Jurges), and both Moore and Danning were injured in the fight. Moore injured his arm, and Danning was spiked, sending him to the hospital.
4 Balinger.
5 When Vaughan retired, this OBP mark was 30th best all-time.
6 Balinger.
7 Ibid.
8 Ibid.
9 Ibid.
10 Ibid.
11 According to the Pittsburgh Press, McCarthy "had some semi-pro experience as a moundsman." Lester Biederman, "Young's Return Steadies Pirate Infield," Pittsburgh Press, July 20, 1939: 23.
12 Balinger.
13 Harry Forbes, "Giants Drop Fifth, 10-3; Brown Joins Injured," New York Daily News, July 20, 1939: 46.
14 As of the beginning of the 2020 season, only 10 players have hit for the reverse natural cycle. After Vaughan, they are the Brooklyn Dodgers' Jackie Robinson (August 29, 1948), the California Angels' Jim Fregosi (May 20, 1968), the Houston Astros' Luke Scott (July 28, 2006), the Minnesota Twins' Carlos Gomez (May 7, 2008 – his first of two career cycles) and the Cleveland Indians' Rajai Davis (July 2, 2016).
15 Balinger.
16 Chilly Doyle, "Pirate Chillysauce," Pittsburgh Sun-Telegraph, July 20, 1939: 21.
17 Forbes.
Additional Stats
Pittsburgh Pirates 10
New York Giants 3
---
Polo Grounds
New York, NY
Box Score + PBP:
Corrections? Additions?
If you can help us improve this game story, contact us.
Tags
https://sabr.org/sites/default/files/images/VaughanArky.jpg
600
800
admin
/wp-content/uploads/2020/02/sabr_logo.png
admin
2019-09-24 11:21:37
2020-07-28 12:50:28
July 19, 1939: Arky Vaughan hits for reverse natural cycle, leads Pirates past crippled Giants