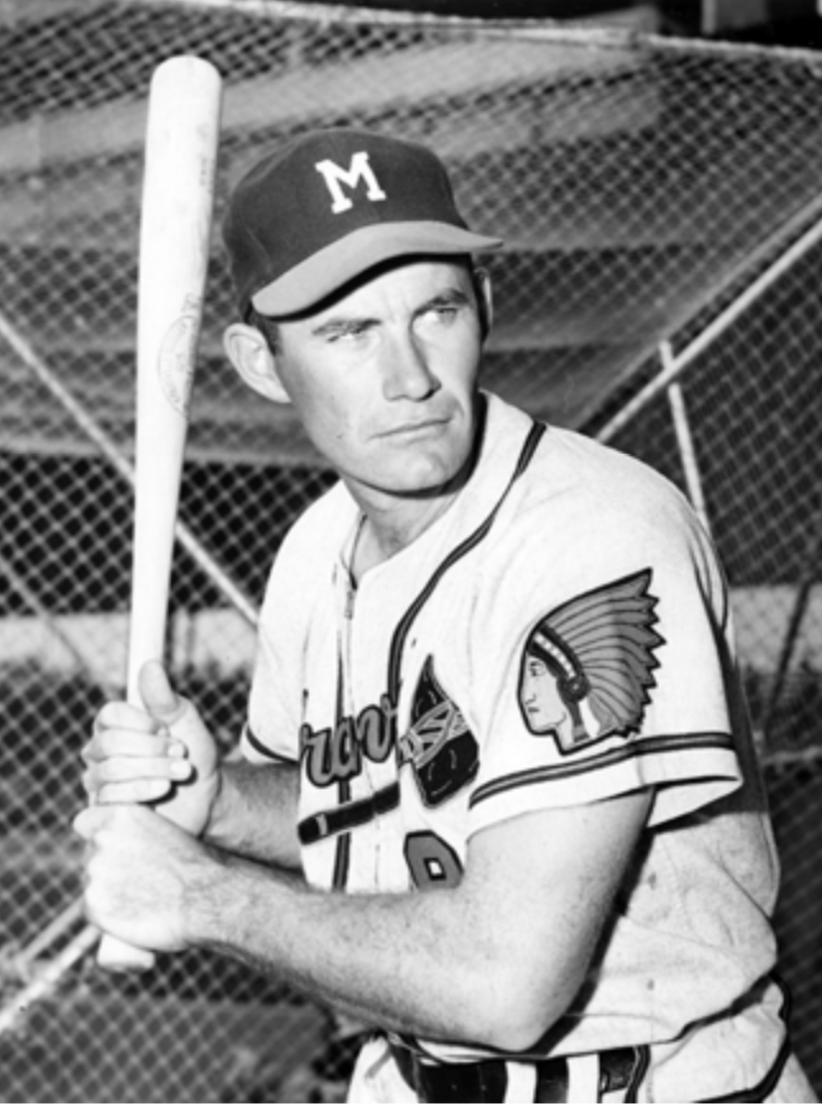 July 19, 1956: Joe Adcock's forever record of 8 RBIs at County Stadium
---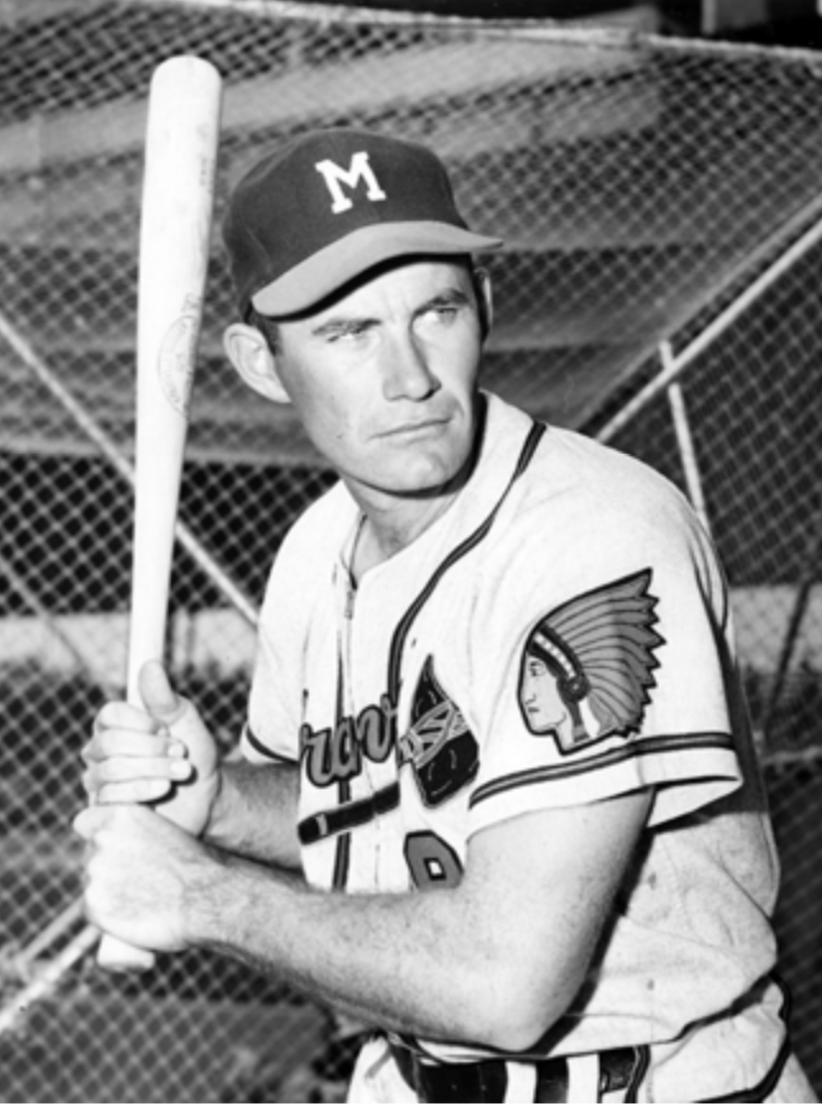 In July 1956 no major-league slugger was hotter than County Stadium's Coushatta Crusher. Not the Yankees' Commerce Comet, destined for his Triple Crown; not Porkopolis' rookie phenom, Frank Robinson; not the Cardinals iconic Stan the Man, nor the champion Dodgers' Duke. Not even the Crusher's own hit-machine teammate, Hank Aaron, who was coming into his own stardom. Not anyone.
Louisiana's Joseph Wilbur Adcock had never been, nor would he ever be again, as dangerous over as many games. July began with the Braves in a first-place war with the upstart Cincinnati Reds and the defending Brooklyn Dodgers, with the St. Louis Cardinals and Pittsburgh Pirates lurking close at hand. Young Hank Aaron was blossoming (.301), and Adcock was having a solid year (.270, 9 home runs, 30 RBIs) as were Del Crandall (.259) and Billy Bruton (.298), while hurlers Warren Spahn, Lew Burdette, and Bob Buhl were by then 21-13 combined. The only concern was Eddie Mathews' slump (.245).
July looked promising as the Braves had a 20-game homestand, second longest ever to a 21-gamer in their inaugural 1953 campaign at County Stadium. Milwaukee's first July home tilts did not inspire, as they merely split with St. Louis on July 4 and then did the same with the Cubs (four games) before the three-day pause for the All-Star Game at Washington's Griffith Stadium.
A scheduling oddity put the Braves back at County for another 14 games after the break. Manager Fred Haney's warriors were well rested and on a "mission." However, one nonleague energy source upstaged most July celebrations and the Tribe. Mother Nature seemed determined to fill Wisconsin's lakes, rivers, streets, and basements with a near-daily deluge. Violent downpours drowned people at lakes, lightning killed and injured a few more, and there was abundant property damage statewide.
Unruly weather aside, rival Brooklyn came calling. The Braves swept four behind Adcock, Aaron, and solid pitching. Buhl, with help from Adcock's solo blast, won the first, 2-0. Then Friday the 13th proved very unlucky for Dem Bums. In a doubleheader, Adcock's "longest home run ever seen at County" powered an 8-6 win in the opener, while his grand slam was the difference in game two, 6-5, to move into first place. Yet another Adcock wallop tied Saturday's game late, before the Braves won 3-2 on Aaron's RBI single in the 10th. Milwaukee remained atop the NL after sweeping three more from Pittsburgh. Enter the last-place New York Giants, separated only a year and a half from their 1954 Series sweep. They arrived having lost seven straight.
Ruben Gomez (5-9) started for New York in the series opener. Adcock didn't like him in 1956 and he still didn't like him in the early 1990s when he recalled to this writer, "He threw at you, always." In the second inning, Gomez hit Adcock's right wrist as Joe threw up his hands to avoid being beaned. Despite the Giants' cellar play, Adcock was 5-for-30 against all Giants jersey owners to that point. As Joe headed to first, words were exchanged and then he turned toward the mound. Adcock had size on Gomez. Disturbed at the looming possibilities, Gomez fired the new baseball into Adcock's left thigh. Joe ran after him but Gomez fled to his dugout. Retrosheet records show Adcock being hit 17 career times by 17 pitchers, but Gomez hit him twice in that one at-bat. Both players were ejected and fined. Milwaukee lost in 11 innings, 8-6, halting both streaks.
Still miffed the next night, Adcock singled in two runs in a four-run first inning in a 7-3 win. To end the raucous series New York had Jim Hearn (3-9) toe the rubber on July 19. The two men had a history. The year before (July 31, 1955), a Hearn fastball found Adcock's right forearm at County, breaking it and ending his season. On April 29, 1953, Adcock's first Brave circuit blast had been off Hearn. (Adcock had been traded to the Boston Braves from Cincinnati in mid-February 1953 in a four-team swap. Then the Braves suddenly moved 860 miles west.) Adcock's two-run clout landed in the Polo Grounds' center-field bleachers (475 feet), the first ball ever to do so in a major-league game.
Storm clouds again gathered on July 19, 1956. Hearn had a successful 13-year major-league career, but at age 35, he was nearing the end. This would be his last full season as a starter, the final year of his seven-year tenure with the Giants – and on this night he had nothing. Danny O'Connell walked to lead off and then Bruton bunted for a hit. Mathews singled home O'Connell and Aaron walked. In his two well-spaced at-bats against Hearn since being hit, Adcock had fouled out and hit into a double play. Jim threw and Joe's revenge was swift as the ball quickly left County Stadium for a grand slam. Reliever Joe Margoneri got Bobby Thomson out as the sky opened. For nearly 100 minutes, Mom Nature held Joe's heroics hostage before the game resumed in a light drizzle.
Adcock continued to make that night's ticket stubs even more treasured souvenirs. He singled in another run in the fourth inning and then blasted a three-run shot off Dick Littlefield in the sixth. If not for Mathews' baserunning blunder, Joe could have had a second slam. Standing at first, Eddie blindly headed to third on an Aaron single, forcing a stunned Bruton to go home, where a tag awaited. Adcock could have had nine RBIs and would now share that franchise record with pitchers Harry Staley (Boston, 1893) and Tony Cloninger (who hit two grand slams in a game for Atlanta in 1966). In fact, Adcock may have achieved a stand-alone record of 10, as Haney replaced Adcock with Frank Torre in the seventh inning, and Torre drove in Aaron in the eighth as the Braves went on to wallop the Giants, 13-3.
Though the Coushatta Crusher missed out on one record, he will forever have the most RBIs (eight) in a game at old County (Braves or those slugging Brewers). Adcock shares it with only Willie Mays, whose eight came on April 30, 1961, via his four-home-run outburst. (Joe's infield pal Johnny Logan and Dodger Gil Hodges had held the County RBI mark with six, both achieved in 1955.)
The July 1956 homestand ended as Philadelphia dropped three of four. That gave Milwaukee a 15-5 mark for the homestand, their best month ever at County (21-10 for July overall) as they played before more than 505,000 fans.
Adcock finished his career-best month at New York, Philly, and Brooklyn. What a month it was: 15 home runs, 21 runs, and 36 RBIs while hitting .358. Joe's 15th circuit smash came on July 31, the anniversary of his broken arm and the second anniversary of his four-home-run (and one double) barrage at Brooklyn's Ebbets Field.
Adcock finished second to Snider's 43 round-trippers in 1956, tied with Cincinnati's Rookie of the Year, Frank Robinson (38). He also was second to Stan Musial's 109 RBIs with 103. Flatbush Duke edged Joe .598 to .597 in slugging.
The Milwaukee press tried to explain the Adcock surge.
Milwaukee Journal sportswriter Bob Wolf wrote on July 14: "In the first game he hit one which many observers thought was the longest ever seen at the Stadium." Then Wolf quoted Joe: "I switched to a lighter bat and I started hitting the ball where it was pitched. I quit trying to pull all the time." Adcock continued, "I used to use a 35-ounce bat. When I borrowed a 33-ouncer from (Carl) Furillo and hit that long home run in Brooklyn recently, I decided I'd be better off with a light bat. So I went even further and ordered 30-ouncers instead."
After the eight-RBI night, the Milwaukee Sentinel's Lou Chapman wrote a piece headlined, "Adcock Gets New 'Lift' From Bat." "I don't know what it is, but I'm doing something entirely different from what I've done before," Adcock told him. "I've been lifting the ball a lot more than I used to do. … (T)he ball is going higher and farther. I can't explain it. I'm using the same old bat. I've had that stance now for 10 years. I don't get as close to the plate as a lot of the other guys do."
That season only Mickey Mantle's 16 home runs and 35 RBIs in May equaled Adcock's Joltin' July in one-month slugging output (15 and 36). Each played in 31 games.
This article appears in "From the Braves to the Brewers: Great Games and Exciting History at Milwaukee's County Stadium" (SABR, 2016), edited by Gregory H. Wolf. To read more stories from this book at the SABR Games Project, click here.
Sources
Conversations between Joe Adcock and author, the early 1990s.
Milwaukee Journal, April 15, 1953, August 1, 1955, May 16, 1956, July 4 through August 1, 1956, and September 30, 1962.
Milwaukee Sentinel, April 15, 1953, August 1, 1955, May 16, 1956, July 4 through August 1, 1956, and September 30, 1962.
Additional Stats
Milwaukee Braves 13
New York Giants 3
---
Milwaukee County Stadium
Milwaukee, WI
Box Score + PBP:
Corrections? Additions?
If you can help us improve this game story, contact us.
Tags
https://sabr.org/sites/default/files/Adcock.Joe_.png
600
800
admin
/wp-content/uploads/2020/02/sabr_logo.png
admin
2018-03-22 13:48:44
2020-04-17 10:24:52
July 19, 1956: Joe Adcock's forever record of 8 RBIs at County Stadium