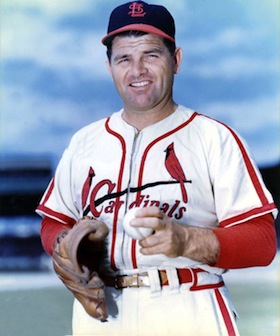 July 2, 1944: Max Lanier pitches marathon gem for Cardinals as Hopp delivers winner in 14th
---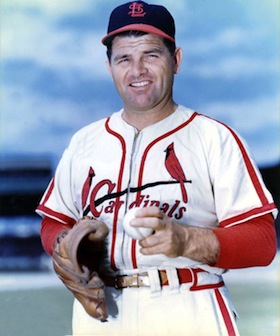 The St. Louis Cardinals entered July 1944 with an eight-game lead over the second-place Pittsburgh Pirates. The reigning NL champions compiled a 42-19 record through June 30, the best record in the majors. Manager Billy Southworth guided the Cardinals to successive World Series appearances in 1942-43 and a 17-5 record during June 1944. Their success during early 1944 was attributable to a balanced offensive and defensive attack, supported by roster consistency.
The Cardinals had lost several players to World War II service, including pitchers Johnny Beazley, Howie Pollet, Ernie White, and Howie Krist;1 second baseman Lou Klein; and outfielder Harry Walker. However, position players including catcher Walker Cooper, first baseman Ray Sanders, shortstop Marty Marion, third baseman Whitey Kurowski, and outfielders Stan Musial and Danny Litwhiler remained in St. Louis. In addition to that stability, the Cardinals featured the youngest team in baseball for the third consecutive season.2
The Brooklyn Dodgers struggled to a 33-33 record through June. After five consecutive winning seasons, Leo Durocher was enduring the worst season in his young managerial career. Brooklyn was particularly hurt by the war; by the start of the 1944 season, the Dodgers had lost Hugh Casey, Billy Herman, Kirby Higbe, Pee Wee Reese, Pete Reiser, and Johnny Rizzo to the war effort.3 Brooklyn subsequently filled its roster with youngsters like 16-year-old shortstop Tommy Brown and 21-year-old Eddie "The Fiddler" Basinski, and timeworn veterans like 41-year-old Paul Waner. Entering July, the Dodgers were in fifth place, 11½ games behind the Cardinals.
Starting July 1, the Cardinals hosted Brooklyn for three games. In an 8-3 victory in the opener, St. Louis pounded Brooklyn pitcher Curt Davis for 18 hits and seven earned runs in 7⅓ innings, while Cardinals starter Al Jurisich allowed just one run on one hit, with seven walks, through five innings for his fifth win.4 The series featured top NL hitters; just before the series began, Musial recaptured the batting lead with a .3786 average to Brooklyn's Dixie Walker's .3780.5 In the series opener, Musial tied Walker for the NL lead in doubles by hitting his 22nd two-bagger.
Max Lanier was the Cardinals' game-one starter in the July 2 doubleheader. Lanier earned his first NL All-Star Game appearance in 1943, leading the league with a 1.90 ERA. Through 14 starts so far in 1944, Lanier was 7-5 with a 2.50 ERA in 104⅓ innings. Lanier had begun the season strong, pitching complete-game victories in six of his first seven starts.6 However, he had lost four of his previous six starts, including his last one, on June 28 against Philadelphia. Lanier's repertoire included an overhead curve, fastball, changeup, and knuckleball, which he had developed just two years earlier. His approach was pitching mostly overhand to right-handed batters and side-arm to left-handed batters, with a high leg kick in his full windup.7
Rube Melton started for Brooklyn. His career began with Philadelphia, where he was 10-25 over two seasons. Scouts raved about Melton's potential, but he never overcame his wildness. On December 12, 1942, Philadelphia traded Melton to Brooklyn for Johnny Allen and $30,000; this was Brooklyn's second attempt to acquire Melton. Commissioner Kenesaw Landis nullified a 1939 deal sending him to Brooklyn because of suspected collusion.8 Melton entered this game with a 5-5 record and 3.20 ERA. He had last appeared four days earlier in the final inning of the second game of a doubleheader; before that scoreless appearance, he won three of his last five starts, including a 10-inning complete-game victory against Philadelphia on June 25.
Both teams had scoring opportunities during the early innings, but neither crossed the plate. The Cardinals had runners reach second base during each of the first three frames, but couldn't push across a run. Brooklyn placed runners on first base in the second and third innings, but neither advanced beyond first base. Spanning the fourth to sixth innings, Lanier and Melton each faced only one batter over the minimum.
The Dodgers threatened in the seventh inning; Augie Galan singled and Dixie Walker followed with a fielder's choice, forcing Galan at second. Frenchy Bordagaray walked, advancing Walker to second with one away. However, Mickey Owen ended the threat by hitting into a 5-4-3 double play. The Cardinals' Emil Verban singled in the bottom of the seventh, and the Dodgers' Eddie Stanky doubled in the top of the eighth, but neither runner advanced. In the bottom of the eighth with two outs, Musial walked and Ken O'Dea singled, but Kurowski popped out to third base, ending the threat. Both teams went down 1-2-3 in the ninth to send the scoreless game into extra innings. This was Melton's third time pitching into the 10th inning in 1944, while Lanier ventured into extra innings for the first time that season.
Both pitchers faced the minimum in the 10th inning; Lanier induced three groundouts and Melton benefitted from an 8-3 line-drive double play. In the 11th, Brooklyn moved a runner into scoring position when Stanky singled and advanced to second on a Melton sacrifice bunt. After an Eddie Miksis strikeout and Luis Olmo intentional walk, Galan grounded out to second for the third out.
In the top of the 12th, the Dodgers nearly broke the impasse. After one out Bordagaray and Owen delivered successive singles to place runners at first and second. Howie Schultz grounded out, and both baserunners advanced, resulting in runners on third and second. Stanky was intentionally walked so Lanier would face Melton. The strategy worked as Melton struck out, ending the inning. The Cardinals mustered a lone Verban single in the 12th as each starting pitcher remained in the game. Both Lanier and Melton set down the side in order during the 13th inning.
Brooklyn's Walker tripled to lead off the 14th inning, the first time a runner stood at third base with no outs. Bordagaray lifted a fly ball to left field, scoring Walker with the game's first run. After two Brooklyn groundouts, St Louis batted. Melton walked catcher O'Dea to start the Cardinals half. Kurowski hit into a fielder's choice, forcing pinch-runner Pepper Martin at second. Litwhiler singled, moving Kurowski to second, and then Marion singled, scoring Kurowski with the tying run and advancing Litwhiler to third base. Durocher replaced Melton with reliever Les Webber, who intentionally walked pinch-hitter Debs Garms. Southworth then pinch-hit for Lanier with Augie Bergamo, who lined out for the second out. With the game now exceeding three hours, Hopp stepped to the plate for the seventh time and delivered a single far over Olmo's head in center field that plated Litwhiler with the winning run.9
Lanier pitched 14 innings, allowing one run on seven hits while striking out nine and walking five. Melton nearly matched Lanier, pitching 13⅓ innings, allowing two runs on nine hits while striking out seven and walking five. Each pitcher allowed multiple hits in only one inning: Brooklyn off Lanier in the 11th and the Cardinals off Melton during the fateful 14th inning.
Coincidentally, National League All-Star Game rosters were announced later that day. Six Cardinals earned a trip to Pittsburgh: Marion, Kurowski, Cooper, Musial, George Munger, and Lanier.10 Due to elbow soreness, Lanier didn't pitch in the game;11 he finished the season with a 17-12 record and 2.65 ERA. Marty Marion won the 1944 National League MVP Award, the first NL shortstop to receive the honor. The Cardinals faced their Sportsman's Park landlords, the St. Louis Browns in the 1944 World Series, the Browns' lone World Series appearance. The Cardinals defeated the Browns four games to two for their fifth title.
This article appears in "Sportsman's Park in St. Louis: Home of the Browns and Cardinals at Grand and Dodier" (SABR, 2017), edited by Gregory H. Wolf. Click here to read more articles from this book online.
Sources
Besides the sources cited in the Notes, the author consulted Baseball-Almanac.com, Baseball-Reference.com, Retrosheet-org, and the following:
Bedingfield, Gary. Baseball in World War II, baseballinwartime.com/baseball_in_wwii/baseball_in_wwii.htm. Accessed November 11, 2016.
Thorn, John, and Pete Palmer, et al. Total Baseball: The Official Encyclopedia of Major League Baseball (New York: Viking Press, 2004).
Notes
1 Frederick G. Lieb, "Cards' Service Staff Best," The Sporting News, June 29, 1944: 2.
2 Gregory H. Wolf, "The Cardinals in Wartime," in Marc Z. Aaron and Bill Nowlin, eds., Who's on First: Replacement Players in World War II (Phoenix: Society for American Baseball Research, 2015), 177.
3 Peter Golenbock, Bums: An Oral History of the Brooklyn Dodgers (Lincolnwood, Illinois: Contemporary Books, 2000), 71.
4 J. Roy Stockton, "Three-Ply Killing Halts Dodger Threat in Third; Birds Collect 18 Hits," St. Louis Post-Dispatch, July 2, 1944: 35.
5 Associated Press, "Musial Regains N.L. Batting Lead," St. Louis Post-Dispatch, July 1, 1944: 6.
6 Gregory H. Wolf, "Max Lanier," SABR Biography Project, sabr.org/bioproj/person/587c5c76.
7 Bill James and Rob Neyer, The Neyer/James Guide to Pitchers: An Historical Compendium of Pitching, Pitchers, and Pitches (New York: Fireside Books, 2004), 274.
8 Jack Morris "Rube Melton," SABR Biography Project, sabr.org/bioproj/person/2e93db95.
9 Herman Wecke, "Munger and Brechen to Pitch in Twin Bill With Giants Tomorrow," St. Louis Post-Dispatch, July 3, 1944: 6.
10 "Six Cardinals, Three Brownies Are Named on All-Star Squads," St. Louis Post-Dispatch, July 3, 1944: 6.
11 "Cardinals Likely to Bat Against Konstanty or Southpaw Clyde Shoun," St. Louis Post-Dispatch, July 13, 1944: 18.
Additional Stats
St. Louis Cardinals 2
Brooklyn Dodgers 1
14 innings
Game 1, DH
---
Sportsman's Park
St. Louis, Mo
Box Score + PBP:
Corrections? Additions?
If you can help us improve this game story, contact us.
Tags
https://sabr.org/sites/default/files/images/LanierMax.jpg
600
800
admin
/wp-content/uploads/2020/02/sabr_logo.png
admin
2018-11-14 12:11:38
2020-04-17 10:23:46
July 2, 1944: Max Lanier pitches marathon gem for Cardinals as Hopp delivers winner in 14th