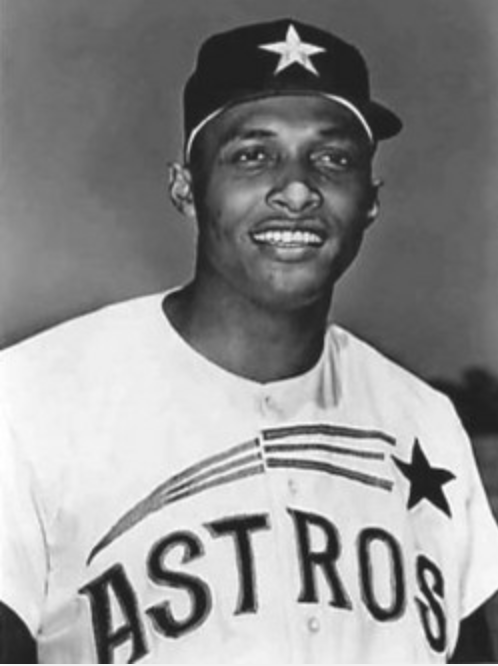 July 2, 1965: Walt Bond's walk-off single caps Astros' comeback win against Dodgers
---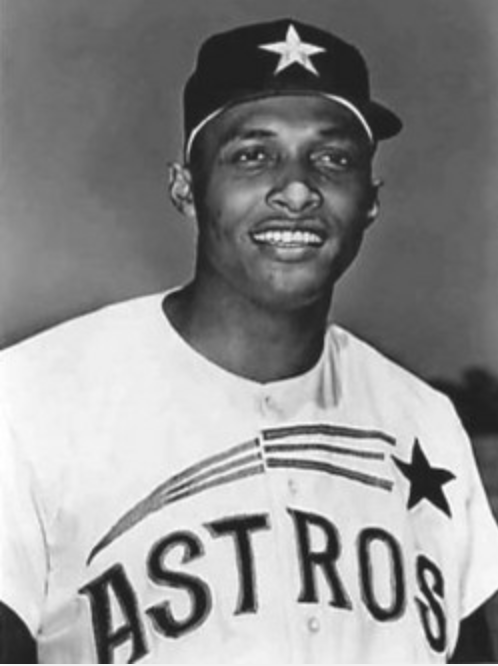 The Los Angeles Dodgers were coming off a 6-3 loss to the struggling Chicago Cubs when they arrived in Houston for a three-game series with the Houston Astros. Although the Dodgers held a two-game lead over the Cincinnati Reds in the National League, they had lost two of three games against the Cubs and were only 2-3 on their current road trip. After losing the Cubs series, Dodgers manager Walt Alston said, "Anything can happen in this league. How it will all come out I don't know. You might as well ask a 6-year-old boy what he thinks instead of me."1 Slated to pitch for Los Angeles was All-Star Don Drysdale, who had lost his last four starts, lowering his record to 11-7.
The Astros, although mired in ninth place, had won five of their last six games, including a four-game sweep of the New York Mets in the Astrodome the previous weekend. The Astros started Bob Bruce, whose record was 6-9. He eventually led the Astros in games started, innings pitched, strikeouts, and losses in 1965. Bruce also had the honor this season of throwing the first pitch at the Astrodome and getting the first loss, on April 12, Opening Day, to the Philadelphia Phillies.2 On this first Friday in July, the announced attendance of 33,044 was one of the larger crowds in 1965. (The next night the Astrodome drew its largest crowd of the season when Dodgers ace Sandy Koufax took the mound against the Astros' Larry Dierker.)
The Dodgers started quickly. Leadoff batter Maury Wills singled and Junior Gilliam tripled him home. Gilliam scored on an error by Joe Morgan. Bruce then retired the side. In the bottom of the inning Morgan walked and stole second with Lee Maye at the plate. But the Astros couldn't bring Morgan around to score: Maye struck out, Jim Gentile lined out, and Walt Bond grounded out to shortstop.
In the second inning, the Dodgers threatened to increase their lead when Wes Parker led off with a double and stole third. But Bruce got Lou Johnson and Don LeJohn to ground out to third and struck out Drysdale. Parker was the last Dodger to reach third base until the sixth inning. Drysdale was also pitching well, not allowing a hit until the bottom of the fourth inning, when Bond singled. Through six innings, the Astros had yet to reach third.
Willie Davis started the top half of the sixth inning with a single and went to second on a bunt by Ron Fairly. John Roseboro drove Davis home with a single, and increased the Dodgers' lead to 3-0. In the bottom of the inning, Drysdale faced the heart of Houston's lineup. Maye flied out to right field, Gentile grounded out to second. Bond doubled, but Bob Aspromonte struck out looking to leave Bond in scoring position. Pitching a three-hit shutout through six innings, Drysdale appeared to be on the brink of ending his losing streak.
In the seventh inning Drysdale singled with one out, but Wills hit into a 6-4-3 double play. In the bottom of the inning, Drysdale got Jim Wynn and Ron Brand on grounders. The Astros' number-eight hitter, shortstop Bob Lillis, reached first on an error by Wills. Houston manager Lum Harris sent in Rusty Staub to pinch-hit for Bruce. Staub doubled, and Lillis scored Houston's first run. Morgan was hit by a pitch. With runners on first and second, Maye's groundball struck Staub as he ran from second to third. By rule, Maye was credited with a single but Staub was called out to end the inning.
Mike Cuellar came in to pitch the eighth for Houston. Cuellar was making his fourth appearance since coming over in a midseason swap with St. Louis. Cuellar was a year away from a breakout season and went on to a brilliant career in Baltimore, but at this point he was a 28-year-old journeyman with limited major-league experience and limited success.
Gilliam greeted Cuellar with a single and Davis sacrificed him to second. Gilliam advanced to third as Fairly grounded out to second base, then Roseboro grounded out to shortstop, stranding Gilliam. Drysdale started the eighth facing the Astros' 3-4-5 hitters. Gentile started the inning with a single and was forced at second on a grounder by Bond. Aspromonte flied out to right. Jim Wynn doubled to put runners and second and third. Ron Brand, a light-hitting rookie catcher from North Hollywood, California, singled home Bond and Wynn to tie the game, then was caught trying to steal, ending the inning. Cuellar struck out Parker to start the ninth, then walked Johnson, who reached second when Cuellar threw wild on a pickoff attempt. John Kennedy struck out. Drysdale, a good hitter, batted and grounded out to short, stranding Johnson at second.
Drysdale started the ninth inning strong, getting Lillis to ground out to second and striking out Cuellar. Morgan brought some life to the Astros with a single and his second stolen base of the game. Drysdale intentionally walked Maye, then walked Gentile to load the bases and bring Walt Bond to the plate. On a 1-and-2 count, Bond delivered his third hit of the game, a single past the diving third baseman Kennedy into left field, plating Morgan with the winning run.3
Cuellar earned his first win as an Astro with two scoreless innings. Although Drysdale cruised through six innings, he gave up seven hits from the seventh on and suffered his fifth loss in a row.
The Dodgers went on to win the 1965 World Series against the Minnesota Twins, while the Astros, in their first season in the Astrodome, finished ninth in the 10-team NL, 32 games behind Los Angeles.
This article appears in "Dome Sweet Dome: History and Highlights from 35 Years of the Houston Astrodome" (SABR, 2017), edited by Gregory H. Wolf. To read more articles from this book at the SABR Games Project, click here.
Sources
In addition to the sources cited in the Notes, the author also consulted:
AstrosDaily.com (2000-2015). astrosdaily.com/history/1965/. Accessed October 17, 2015.
Thorn, John, Pete Palmer, et al. Total Baseball: The Official Encyclopedia of Major League Baseball (New York: Viking Press, 2004).
Notes
1 Associated Press, "Funny Thing Happens to Dodgers on Their Way to the Astrodome," Corpus Christi (Texas) Caller-Times, July 2, 1965: 19.
2 David Skelton, "Bob Bruce," SABR Baseball Biography Project. sabr.org/bioproj/person/d899b359.
3 Karl O'Quinn, "Astros Whip Dodgers: Bond Is Hero, Like in Movies," San Antonio Express, July 3, 1965: 15.
Additional Stats
Houston Astros 4
Los Angeles Dodgers 3
---
Astrodome
Houston, TX
Box Score + PBP:
Corrections? Additions?
If you can help us improve this game story, contact us.
Tags
https://sabr.org/sites/default/files/BondWalt.png
600
800
admin
/wp-content/uploads/2020/02/sabr_logo.png
admin
2018-09-11 13:48:51
2020-04-17 10:24:40
July 2, 1965: Walt Bond's walk-off single caps Astros' comeback win against Dodgers