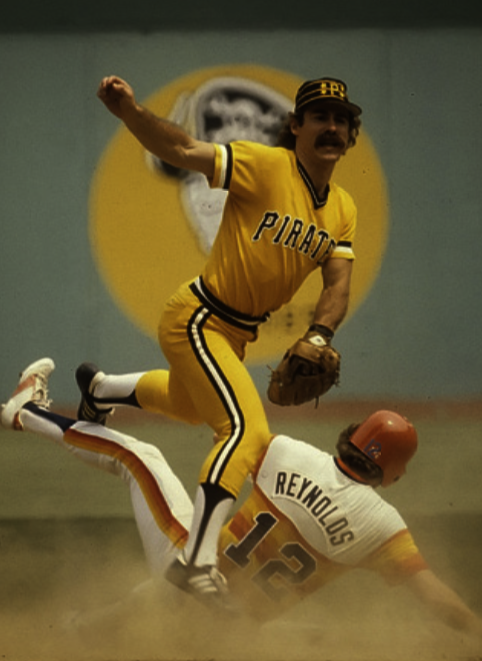 July 21, 1979: Garner's home run leads Pirates to comeback win over Astros
---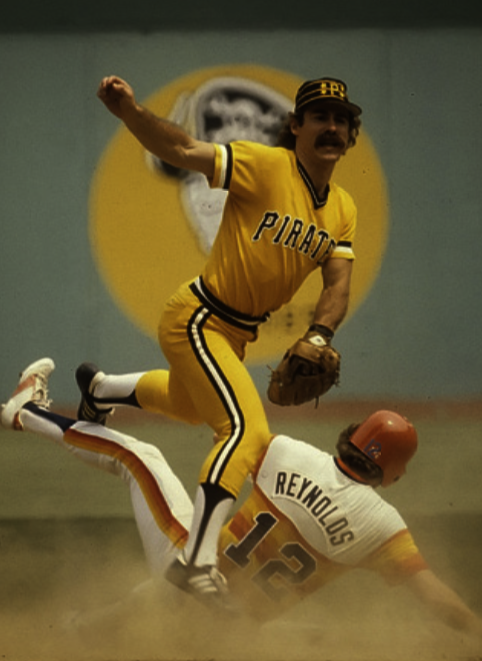 "This was a hell of a win for us," said Pirates manager Chuck Tanner after his team rallied in the eighth inning with a pair of solo home runs to beat the Houston Astros 6-5 on July 21 at Three Rivers Stadium.1The win was the Pirates' sixth in a row and 10th in 11 games, a stretch that began before the All-Star Game on July 17. The winning streak eventually reached a season-high nine games and it finally allowed the Pirates to put behind them a slow start to the 1979 season. (They were 7-11 in April and reached their lowest point on May 15, when they were six games under .500 at 12-18. They immediately evened their record with a six-game winning streak, but didn't hit the .500 mark to stay until their 43rd game.) After a 9-3 win over Houston on July 20 Tanner's team was 49-39, tied with the Chicago Cubs for second place in the National League East, 1½ games behind the Montreal Expos.
As hot as the Pirates were, the Astros were just the opposite. They had completed a 20-8 month in June, but had won just five times in 17 tries in July, and had lost four of five before coming into Pittsburgh and losing the first three of a four-game set. But Astros manager Bill Virdon, a former Pirates skipper, still had his team leading the NL West by 3½ games over the Cincinnati Reds.
All the Pirates needed to do to continue their winning ways and extend the Astros misery was get the best of Houston's All-Star relief pitcher, Joe Sambito, who entered the game with a 0.95 ERA. Since allowing four runs at St. Louis on May1, Sambito hadn't allowed an earned run to score (and only two unearned runs) in a stretch that covered 27 appearances and 40⅔ innings.
It was 84 degrees with light drizzle when the teams took the field that Saturday afternoon. The Pirates were sending veteran left-handed pitcher Dave Roberts, a one-time Astro, to the mound for his first starting assignment since joining the Pirates on June 28. Two days earlier, Roberts won the first game of the series when he pitched 2⅔ innings of scoreless relief in the first game of a twi-night doubleheader. The Pirates had acquired Roberts and Bill Madlock in a six-player trade with the San Francisco Giants. Roberts was expected to add more flexibility to the bullpen, where the only left-handed reliever had been Grant Jackson.
However, the Pirates' schedule got in the way. Three scheduled doubleheaders and four that were needed to make up for postponements meant the Pirates had to play 29 games in 23 days after the All-Star break (July 19 through August 10). That forced Tanner to start reliever Roberts twice. (He had been mainly a starter up to the 1979 season.)
Against Roberts, the Astros got their leadoff man on in each of the first two innings and he scored both times. In the first inning, second baseman Julio Gonzalez tripled to center field and scored on a single to center by shortstop Craig Reynolds. An inning later, Enos Cabell doubled to left field and José Cruz knocked him home with a single to right. For the Pirates, Tim Foli had a one-out single in the first but went no farther. With one out in the second, Madlock walked and went to second when catcher Ed Ott singled. They advanced on a groundout by Phil Garner but were left on base when Roberts grounded out to end the inning.
After stranding three runners in the first two innings, Pittsburgh broke through in the third when right fielder Dave Parker drove in Omar Moreno with a grounder and first baseman John Milner hit a two-run homer, his eighth of the season, to right-center off Joaquin Andujar.
The Pirates' 3-2 advantage did not last long. José Cruz led off the fourth with an infield single and stole second. Art Howe walked and, after Roberts got two outs, Gonzalez who knocked Cruz home with a single to center.
The Pirates immediately grabbed the lead back. With two outs, Moreno singled to center, then stole second, his 41st swipe of the season. Foli sent him home with a double to right field.
Pitcher Enrique Romo took over for the Pirates in the sixth inning and gave up the tying run on doubles by Bruce Bochy and Gonzalez. Romo was also shaky in the top of the seventh but kept the Astros off the scoreboard as catcher Ott gunned down two Houston runners attempting to steal. In the eighth Cruz got his third hit, a single to shortstop, went to second when Romo threw a wild pitch, then stole third, his second stolen base of the game and his 25th of the season. Howe walked and Bochy struck out. Denny Walling pinch-hit for Astros starter Andujar and singled to left, plating Cruz. Left fielder Bill Robinson fielded Walling's hit and threw it to relay man Madlock, who fired it to Phil Garner to get Walling at second. Romo got Gonzalez on a foul fly to left field for the third out, but the Astros were up 5-4.
The stage was set for heroics by the Pirates. Joe Sambito entered the game in the bottom of the eighth and Bill Robinson greeted him by hitting a two-strike pitch over the wall in right-center field for his 20th home run of the season. Sambito got Madlock and Ott, but with two outs, Garner hit his third homer of the series and sixth of the year.
The Pirates weren't out of it yet. Grant Jackson came on in the top of the ninth to close out the game and pinch-hitter Jesus Alou, leading off, got aboard on a hit to shortstop. Pinch-runner Jimmy Sexton went to second on a groundout by Terry Puhl. Enter Kent Tekulve, who got the final two outs, striking out Jeffrey Leonard and getting Enos Cabell to ground back to him. It was Tekulve's 14th save of the season. Up to this point he and Jackson had split the closer role. However, for the rest of the season, Tanner made Tekulve the primary closer. Jackson had 11 saves coming into the game but got just three more the rest of the season while Tekulve finished with 31. As for Enrique Romo, despite throwing a wild pitch, committing a balk, walking one batter, and giving up two runs on six hits while facing 13 batters during his three innings of work, he got the win and his record improved to 5-3.
Sambito's record fell to 4-3 with the loss and the two runs he surrendered pushed his ERA up from 0.95 to 1.24. (At season's end it was 1.77.) Philosophical about it all, he said, "When I lose, I lose in style."2
This article appeared in "When Pops Led the Family: The 1979 Pitttsburgh Pirates" (SABR, 2016), edited by Bill Nowlin and Gregory H. Wolf. To read more game stories from this book at the SABR Games Project, click here.
Sources
https://www.baseball-reference.com/boxes/PIT/PIT197907210.shtml
http://www.retrosheet.org/boxesetc/1979/B07210PIT1979.htm
Notes
1 Ron Cook, "Confident Pirates Eyeing First Place," Beaver County (Pennsylvania) Times, July 22, 1979.
2 Ron Cook, "Astros' Honeymoon is Over," Beaver County Times, July 22, 1979.
Additional Stats
Pittsburgh Pirates 6
Houston Astros 5
---
Three Rivers Stadium
Pittsburgh, PA
Box Score + PBP:
Corrections? Additions?
If you can help us improve this game story, contact us.
Tags
https://sabr.org/sites/default/files/GarnerPhil-PIT.png
600
800
admin
/wp-content/uploads/2020/02/sabr_logo.png
admin
2018-05-31 13:38:50
2020-04-17 10:24:46
July 21, 1979: Garner's home run leads Pirates to comeback win over Astros