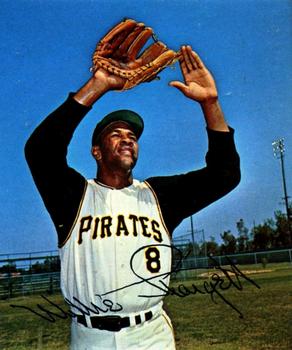 July 22, 1964: Mazeroski, Lynch, and Stargell lead Pirates' rout of Cardinals
---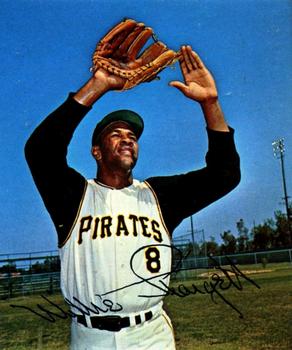 The Pittsburgh Pirates bombed the St. Louis Cardinals before a meager gathering of 11,089 spectators at Busch Stadium. Three Pirates batters connected for long home runs and on top of that, Willie Stargell hit for the cycle, en route to a 13-2 Pittsburgh victory.
At the 1964 All Star break, the fourth-place Pirates were 40-35, seven games behind the National League-leading Philadelphia Phillies. Thirteen games later, they came into this match at 46-42, still in fourth place. The sixth-place Cardinals were a game behind the Pirates with a 47-45 record. Bob Veale, with his 6-foot-6-inch frame, toed the rubber for Pittsburgh, seeking his fourth straight victory; he was opposed by right-handed veteran Roger Craig, pitching in his first season for the Redbirds.
Three Pittsburgh mainstays, Stargell, Jerry Lynch, and Bill Mazeroski, had not been contributing regularly on the offensive side, due to, respectively, injury, part-time playing, and a slump. Stargell's knees had been bothering him. Lynch was being platooned in left field with Stargell while routinely being subbed for defensively by Manny Mota. Gold Glove second baseman Mazeroski had been 4-for-26 (.154) during the seven games before this series.
Stargell got the party started in the very first inning. With one out, Bill Virdon, Roberto Clemente, and Lynch all reached on singles to the outfield. With one run in, Stargell sent a shot to deep center for a two-run triple. This extended his hitting streak to a modest four games.1 Mazeroski followed with a sacrifice fly to left, driving in Stargell. Pittsburgh had staked Veale to a four-run lead. The Pittsburgh left-hander allowed three singles to St. Louis in the first five innings, but the home team never threatened to score.
In the fifth inning, after a two-out walk to Clemente, Lynch hit his 10th homer of the season, a shot that cleared the nearly 37-foot-high pavilion roof in right-center. Cardinals manager Johnny Keane called to the bullpen and brought on Bob Humphreys to face Stargell. The Pirates slugger greeted the right-handed reliever with his 13th homer, making it a back-to-back barrage for a 7-0 Pittsburgh advantage. (His shot also cleared the roof in right.)
In the sixth, Lou Brock hit a two-out double for the Cardinals and scored on a single by former Buc Dick Groat, to break up Veale's shutout. Pittsburgh answered with three more runs in the top of the seventh. Righty Ray Washburn came on to pitch for St. Louis and was tagged by the middle of the Pirates lineup. Clemente singled with one out. After Lynch lined out, Stargell drove a single to left, and Mazeroski doubled to right for two more runs batted in. Jim Pagliaroni singled up the middle and Mazeroski came around to score. Veale and the Pirates now had a 10-1 lead.
Pittsburgh manufactured a run in the eighth on a single by Veale, an error by St. Louis right fielder Carl Warwick, and a sacrifice fly by Virdon. The Cardinals responded in their half with a meaningless tally to make it 11-2 on singles by Brock and pinch-hitter Charlie James. Ken Boyer lifted a sacrifice fly to right, and Brock scored the second and final run for the home team.
In the final frame, with 19-year-old rookie right-hander Dave Bakenhaster now doing the pitching duties for St. Louis, Stargell doubled to right, completing the cycle. Mazeroski slammed his seventh home run of the season, deep into the left-field seats, as Pittsburgh added two more tallies. Bakenhaster finished the inning without further damage, but this was his last outing in the major league. The youngster was optioned the next day to Winnipeg of the Class-A Northern League, and never returned to the majors. The final score was 13-2.
Stargell joked with reporters after the game, saying, "The more hits I got the better my knee felt. I wanted to stay in the game even after we had a big lead because I felt good hitting."2 The next day, he said, "If I can hit like I did last night, I'll run on one leg."3 He had walked in the fourth inning, so he had reached base every time he came to the plate. He scored four runs and drove in three. Lynch also had three RBIs. Since July 13, Lynch was batting .480 (12-for-25) with three round-trippers and 17 RBIs. His batting average vaulted to .323. The Pittsburgh Press printed, "'I never felt better,' Lynch enthused. 'I want to play regularly because I feel I can help more.'"4 Mazeroski drove in five runs in a 2-for-4 performance, adding a sacrifice fly. He delivered three hits in the first game of the series, driving in two runs. For the series, he had seven hits, eight RBIs, and six runs scored, and it seemed as if his slump was over.
As part of the 18-hit attack, Veale chipped in with three singles and a run batted in while picking up his 11th win of the season. Veale lost 15 pounds during the game, and he had to change his shirt three times!5 He struck out four and walked none in the complete-game outing, gaining his fourth straight win, improving his season's record to 11-6. Clemente added two hits and three runs scored to the attack, raising his major-league-leading batting average to .347.6 Brock and Groat each had two hits for the Cardinals. Craig took the loss, evening his record at 5-5.
The win was the second in a Pittsburgh sweep over the Cardinals. In the three-game series, the Pirates pounded out 46 hits and scored 29 runs. But after beating St. Louis, the Pirates were 32-40 the rest of the season, falling to sixth place. St. Louis stood at 47-47, tied for seventh place, after this sweep. But then they played 46-22 ball to win the National League pennant on the last day of the regular season by a single game over Philadelphia and Cincinnati, and eventually beat the New York Yankees in the World Series.
Stargell's cycle was the 18th for the Pittsburgh franchise. It came 13 years after Gus Bell's cycle on June 4, 1951. Richie Zisk became the next Pirate after Stargell to cycle (on June 9, 1974). Stargell's cycle was the third of four in the 1964 season. The others who hit for the cycle were Jim King (Washington Senators, May 26), Ken Boyer (St. Louis Cardinals, June 16), and Jim Fregosi (Los Angeles Angels, July 28).
This article appears in "Moments of Joy and Heartbreak: 66 Significant Episodes in the History of the Pittsburgh Pirates" (SABR, 2018), edited by Jorge Iber and Bill Nowlin. To read more stories from this book at the SABR Games Project, click here.
Sources
In addition to the sources mentioned in the notes, the author consulted baseball-reference.com and retrosheet.org.
Notes
1 Over the next six games, Stargell continued hitting the ball well, elevating his batting average to .303 with a 10-game hitting streak, in which he hit three home runs and drove in 10 runs. In 1964, Stargell hit 21 home runs, beginning a string of 13 consecutive seasons with at least 20 round-trippers.
2 Lester J. Biederman, "Lynch's Big Bat Is Magic Wand for Pirates," Pittsburgh Press, July 23, 1964: 43.
3 Ed Wilks, "Ailing Bucs Enjoy Get-Well Cards," St. Louis Post-Dispatch, July 23, 1964: 47.
4 Biederman.
5 Les Biederman, "Veale Loses 15 Pounds in Game," Pittsburgh Press, July 23, 1964: 44.
6 Clemente finished the 1964 season at .339, which led the league. He also led the National League in batting average in 1961 (.351), 1965 (.329), and 1967 (.357).
Additional Stats
Pittsburgh Pirates 13
St. Louis Cardinals 2
---
Busch Stadium
St. Louis, MO
Box Score + PBP:
Corrections? Additions?
If you can help us improve this game story, contact us.
Tags
https://sabr.org/sites/default/files/StargellWillie.jpg
600
800
admin
/wp-content/uploads/2020/02/sabr_logo.png
admin
2019-01-30 10:18:23
2020-04-17 10:23:40
July 22, 1964: Mazeroski, Lynch, and Stargell lead Pirates' rout of Cardinals