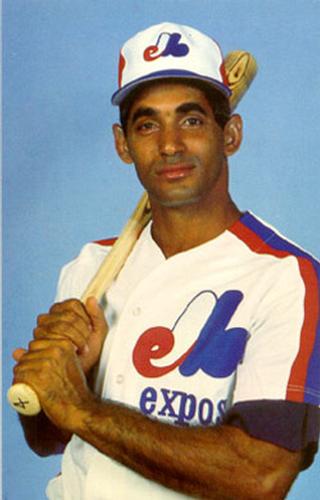 July 22, 1989: High-flying Expos score five in ninth to stun Reds 6-5
---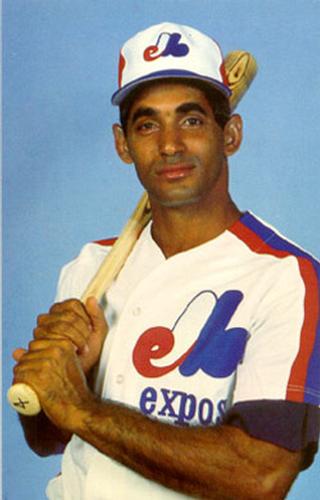 After more than two decades as Expos owner, Charles Bronfman had become disillusioned with the business of baseball. He was looking to sell the team, and he wanted to go out a winner, so he had his GM, 32-year-old Dave Dombrowski, make a move that wasn't normally part of the Montreal playbook.1 On May 25, 1989, Dombrowski shocked the baseball world by acquiring one of the top starting pitchers in the game, the soon-to-be free agent Mark Langston, from the Seattle Mariners in return for three pitching prospects. One of those young pitchers was future Hall of Famer Randy Johnson, although nobody seemed to worry about the price tag for Langston at the time.2
The Langston deal immediately energized the Expos. On the day of the big trade, they were mired in fourth place with a 23-23 record. They won 32 of their next 50 games, and as they prepared for their July 22 game against the Reds, they held a three-game lead in the Eastern Division. Montreal had taken the first two of their four-game set with Cincinnati, with Langston striking out 13 batters in a dominant complete-game victory in the series opener.
The Reds had been in first place as late as June 10, but their season had gone downhill quickly. They were on a six-game losing streak and had lost 11 of their last 12 to fall into fourth place with a 45-51 record, 13 games behind the San Francisco Giants. They were decimated by injuries, coming into the series against Montreal with José Rijo, Barry Larkin, Rob Dibble, Chris Sabo, and Bo Díaz all on the disabled list, only to have Paul O'Neill break his thumb fielding a ball off the bat of Tim Raines in the series opener. To make matters worse, the Dowd Report had been released less than a month earlier, and it was overflowing with evidence that Cincinnati manager Pete Rose had allegedly bet on baseball, including games involving the Reds. Despite Rose's attempt to use the courts to avoid a hearing with the commissioner, there was a grim realization that the Reds might soon be without their manager.
The Expos sent Pascual Pérez (5-9, 4.18 ERA) to the hill to face Ron Robinson, making his second start of the season after returning from an elbow operation in the spring. However, it was Dámaso García, a player not even in the starting lineup, who played a pivotal role in this game. García, hampered by multiple surgeries on his left knee over the past two seasons, had been signed by the Expos to a bargain-basement free-agent contract in January. Although his balky knee limited him defensively, the 32-year-old García could still hit, and the two-time All Star formed a competent platoon with Tom Foley at second base.
After retiring the first six batters he faced, Pérez gave up a double to Jeff Reed and a walk to Robinson in the top of the third inning. With two outs in the inning, Mariano Duncan doubled down the right-field line to score Reed with the game's first run. Eric Davis followed with a groundball to the shortstop Jeff Huson, filling in for the injured Spike Owen, but Huson booted it, allowing both Robinson and Duncan to score, and the Reds were up 3-0.
The score remained that way through six and a half innings. Robinson ran into trouble in the bottom of the seventh, as catcher Nelson Santovenia led off with a home run, his fourth of the season, to cut the lead to 3-1. After Huson followed with a groundball single, Expos manager Buck Rodgers sent Wallace Johnson in to hit for Pérez. Robinson had thrown 105 pitches, and given his recent return from an elbow injury, Rose wisely went to his bullpen. With Dibble on the DL and Norm Charlton having thrown 29 pitches the day before, Rose decided to go to his reliable closer, John Franco. Asking Franco to go three innings was not unreasonable, as the lefty had already done so twice that season, and he hadn't given up an earned run in either outing. The left-hander needed only four pitches to get out of the inning, as he induced Johnson to ground into a double play and retired Otis Nixon, pinch-hitting for Dave Martinez, for out number three.
After holding the Reds scoreless in the eighth, Expos left-hander Joe Hesketh returned to the mound for the ninth inning. Todd Benzinger led off with a line-drive single, and pinch-hitter Jeff Richardson followed with a bunt single. Both runners scored when Reed's pop fly landed in shallow right field between three Expos fielders for a double, extending Cincinnati's lead to 5-1.
Montreal's chances of coming back from a four-run deficit looked slim heading to the bottom of the ninth, considering Franco had been successful in 68 of his previous 73 save opportunities dating back to September 22, 1987, and the number six through eight hitters in the order were due up. After singles by Tim Wallach and Santovenia opened the inning, utilityman Rex Hudler was called upon to pinch hit for Huson. With both Franco and the catcher Reed expecting him to take the 2-and-0 pitch, Franco grooved a fastball that Hudler slammed over the left-field wall for a three-run homer.3 Despite the Expos still being down 5-4, an exuberant Hudler re-emerged from the Expos dugout moments later for a curtain call.
Pinch-hitter Mike Fitzgerald kept the rally going by drawing a walk. The Expos were content to play for the tie at home, and so Otis Nixon sacrificed Fitzgerald to second to bring up García, who had struck out looking as a pinch hitter in the previous inning. Franco, trying to get ahead in the count, threw a first-pitch fastball, and this time García wasn't caught looking. The former Silver Slugger Award winner drove the ball to left-center field for a two-run homer, giving the Expos a stunning 6-5 walk-off victory. It was García's second home run of the year and his 35th in 11 big-league seasons. "This was the most exciting home run of my career," proclaimed Garcia.4
Rose did not take the loss well. "This is one of the toughest losses I've ever had," he said. "It's like we're never supposed to win. And the Expos are incredible."5 Montreal thumped the Reds 12-4 the next afternoon to complete the four-game sweep and hand the Reds their eighth loss in a row. A few days later, the streak was extended to 10 games, the most consecutive losses for Cincinnati since 1966.
On August 24, Rose reluctantly agreed to be permanently placed on baseball's ineligible list with an opportunity to be re-instated after one year.6 He acknowledged that there was a factual reason for the ban in return for MLB not making a formal finding with respect to the gambling allegations. Coach Tommy Helms took over as manager, and the Reds, after enduring another 10-game losing streak in September, finished their tumultuous season in fifth place with a 75-87 mark.
The surging Expos appeared to be headed for their second postseason appearance in franchise history. On August 2, they were atop the NL East standings with a 63-44 record, three games ahead of the Cubs, and then suddenly the bottom fell out of their season. Montreal lost 14 of their next 20 games, going 0-5 in one-run games, three of which were extra-inning losses. The string of heartbreaking defeats culminated with a soul-crushing 1-0 loss to the Dodgers in 22 innings on August 23. When the Expos dropped into fourth place with two weeks to play, García was told to take the rest of the season off so the team could get a closer look at their younger players. He never played another game in the big leagues.7
The Expos completely fell apart as the season wound down, with the team losing 17 of their last 23 games to finish with a disappointing 81-81 record, 12 games behind the division-winning Cubs. To add insult to injury, the cash-strapped Expos watched Langston sign a lucrative free-agent contract with the Angels in the offseason that briefly made him the highest-paid player in baseball.8
The biggest reason for the Expos' collapse was the mysterious disappearance of their offense from August 3 onward, although some were inclined to believe that the turning point was when the Montreal Daily News tempted fate in late July by printing up promotional t-shirts showing a front-page headline that read, "Expos win the World Series."9 The fans loved them — for a while anyway. The audacious move came back to haunt the tabloid. By the end of the year, the Montreal Daily News was out of business.
Sources
In addition to the sources cited in the Notes, the author consulted Baseball-Reference.com and Retrosheet.org. The author was present at this game.
baseball-reference.com/boxes/MON/MON198907220.shtml
retrosheet.org/boxesetc/1989/B07220MON1989.htm
Notes
1 Jonah Keri, Up, Up & Away: The Kid, The Hawk, Rock, Vladi, Pedro, Le Grand Orange, Youppi!, The Crazy Business of Baseball, & the Ill-fated but Unforgettable Montreal Expos (Toronto: Random House Canada, 2014), 236.
2 The Seattle Mariners traded Mark Langston and a player to be named later to the Montreal Expos for Gene Harris, Brian Holman and Randy Johnson. On July 31, 1989, the Mariners sent Mike Campbell to the Expos to complete the trade. Johnson went on to win five Cy Young Awards and four ERA titles, make 10 All-Star teams, and post a career Baseball Reference Wins Above Replacement (bWAR) of 101.1.
3 Ian MacDonald, "Rose's woes mount as Expos shell Franco," Montreal Gazette, July 23, 1989: C-3.
4 Don Campbell, "Power surge stuns Reds," Ottawa Citizen, July 23, 1989: B-1.
5 Campbell.
6 Commissioner A. Bartlett Giamatti died eight days after announcing the agreement with Pete Rose. When Rose signed the agreement, he was convinced that he would be reinstated after only one year. As of the end of 2019, he has applied unsuccessfully for reinstatement to Commissioners Fay Vincent, Bud Selig, and Rob Manfred.
7 Dámaso García signed a non-guaranteed free-agent contract with the New York Yankees on December 23, 1989. However, he didn't make the team and retired at the age of 33.
8 Helene Elliott, "Angels Sign Langston to Baseball's Richest Contract," Los Angeles Times, December 2, 1989, latimes.com/archives/la-xpm-1989-12-02-mn-367-story.html, accessed December 10, 2019.
9 Dan Burke, "Hopes of glory," Maclean's, August 7, 1989, archive.macleans.ca/article/1989/8/7/hopes-of-glory, accessed December 10, 2019.
Additional Stats
Montreal Expos 6
Cincinnati Reds 5
---
Olympic Stadium
Montreal, QC
Box Score + PBP:
Corrections? Additions?
If you can help us improve this game story, contact us.
Tags
https://sabr.org/sites/default/files/Garcia-Damaso-1989.jpg
600
800
admin
/wp-content/uploads/2020/02/sabr_logo.png
admin
2020-01-22 13:55:45
2020-04-17 10:22:19
July 22, 1989: High-flying Expos score five in ninth to stun Reds 6-5