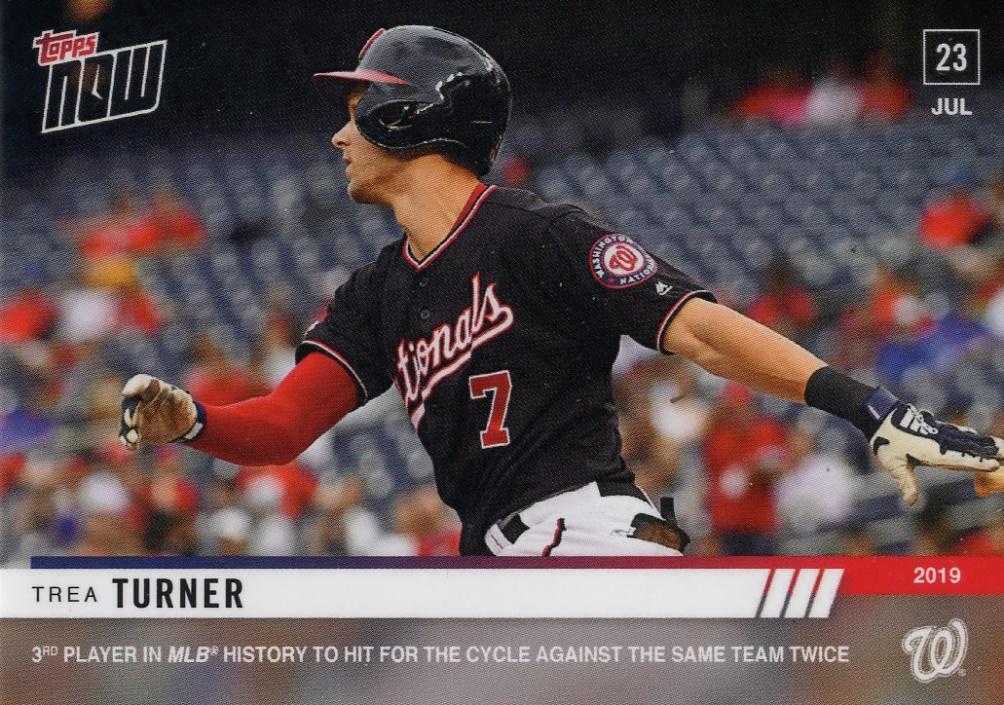 July 23, 2019: Trea Turner hits for the cycle again
---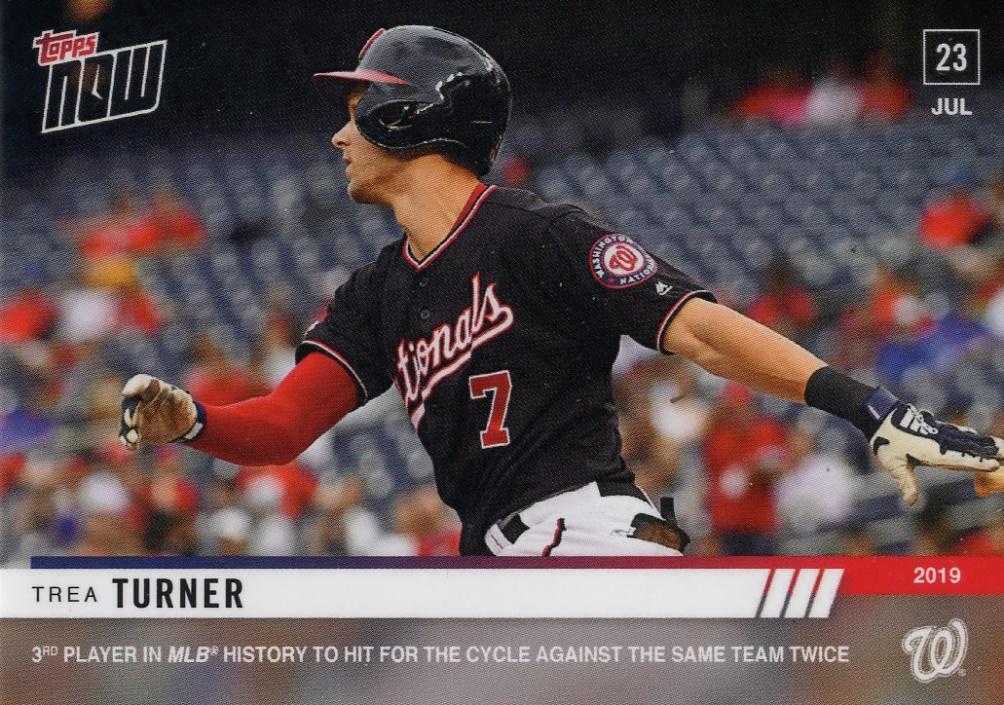 Every good recipe starts with the right ingredients. In baseball, start with some speed and power, solid swings on the right pitches, and good bounces or caroms off the wall, and add some good fortune. In other words, possess the offensive skills of a "five-tool player"1 and it might lead to one of the rarest of baseball achievements, hitting for the cycle — a single, double, triple, and home run by one player in a single game.2
Curry Foley hit the first cycle in major-league history on May 25, 1882, when the Buffalo Bisons trounced the Cleveland Blues 20-1. Mike Huber, a SABR researcher/author of more than 100 essays on hitting for the cycle, notes that few saw the feat, 1,000 fans on a cold Thursday afternoon in Buffalo, and the media failed to mention the specific accomplishment beyond noting Buffalo's "terrific slugging."3 Huber and Allison Davidson traced the evolution of the achievement's terminology to the first printed use of hit for the cycle in the Washington Post to mark Jimmie Foxx's accomplishment on August 14, 1933.4 By that time, the feat had already been achieved over 100 times! As Huber and Davidson concluded, "the term found a permanent place in baseball vernacular"5 and Trea Turner became a part of that baseball history 84 years later.
On a cold and gusty Colorado night, April 25, 2017, the bases were loaded in the top of the seventh inning when Turner hit a liner down the right-field line. Wearing a neck gaiter for warmth, Turner sped around the bases and slid headfirst into third base for a bases-clearing triple. It was the first cycle of his career; he joined Cristian Guzman and Brad Wilkerson as the only Nationals to accomplish the feat. The Nationals led 14-5 and eventually won 15-11, prompting their manager, Dusty Baker, to sarcastically call the game "Coors Field at its finest." 6 The Nationals had scored the first seven runs of the game and yielded the game's last seven runs.
Fast-forward to a warm July night in 2019: A different set of circumstances confronted the Nationals and Trea Turner. The Nationals cruised to the postseason in 2017, failed to beat the Chicago Cubs in the NLDS and then missed the postseason altogether in 2018. They started the 2019 season poorly. After being swept out of New York, they stood at 19-31 on May 23, 10 games behind the Phillies in fourth place in the NL East Division. Turner broke his right index finger attempting to bunt during the first week of the season and didn't return to the lineup until mid-May. He essentially gripped the bat with nine fingers for the remainder of the season.
The Nationals' turnaround was in progress as they returned from a road trip to play the Colorado Rockies, having won 33 of their last 45 games. It was a critical homestand for the Nationals; they were trying to catch the Atlanta Braves in the East Division race, and the crowd was into the game from the outset with Stephen Strasburg (12-4, 3.52 ERA) pitching for the Nats. Rookie Peter Lambert (2-1, 6.06 ERA), less than two months into his major-league career, started for the Rockies.
Trea Turner did not have to use his speed to lead off the bottom of the first inning. His home run, Adam Eaton's double to right center, and Matt Adams's two-out RBI single to right center gave the Nationals an early 2-0 lead. For Turner, it was the ninth leadoff home run of his career.
Strasburg didn't need much of a lead. In each of the first three innings, he allowed a runner to get into scoring position — Trevor Story's double in the first, Ian Desmond's walk and stolen base in the second, and Charlie Blackmon's double in the third — and all three were stranded. He allowed only one other hit and one other walk for another solid pitching performance, six innings of three-hit, eight-strikeout ball, as the Nationals came to bat.
But the parallel story was already building and Turner was again using his speed. He legged out an infield single in the second inning and drove the ball down the right-field line in the fifth inning for a standup triple. The Nationals finally scored again in the sixth inning when Yan Gomes singled to left, scoring Brian Dozier, who had led off the inning with a double to left field.
Rockies lefty reliever Sam Howard had entered the game in the sixth inning and stayed to pitch the seventh inning, ostensibly to face the Nationals left-handed batters. It didn't work. He did strike out Adam Eaton, but after hitting Anthony Rendon, Howard allowed singles to Juan Soto and Adams, and the Nationals led 4-0. Jairo Diaz replaced Howard and managed to get the second out but little else. Victor Robles singled to left, scoring Soto and advancing Adams to third base. When Robles stole second base and Gomes walked, the bases were loaded for pinch-hitter Gerardo Parra. A single by Parra and Ian Desmond's throwing error cleared the bases. Nationals 8, Rockies 0, but the inning wasn't over. Turner got the double to deep right-center and his second cycle that everyone was asking for; for good measure, Adam Eaton's single and Anthony Rendon's double made it 11-0.
The large lead changed the pitching strategy for Nationals manager Dave Martinez, who might otherwise have had to use Sean Doolittle in high-leverage late-inning relief. After all, there was still one week to go to the July trading deadline and an obvious need for the Nationals to reconstruct their bullpen for the last two months of the regular season.7 Wander Suero had already pitched a scoreless seventh inning in relief of Strasburg. Michael Blazek made his Nationals debut and pitched the final two innings, yielding a meaningless run in the ninth inning on Desmond's single to right and Yonder Alonso's RBI double. The strategy worked the very next day when the Nationals swept the Rockies in a doubleheader. Suero was the winning pitcher in the first game and Doolittle saved both games of the 3-2, 2-0 sweep. They were now only four games behind the division-leading Braves but would get no closer during the remainder of the 2019 regular season. Nonetheless, the next chapter of baseball's postseason history would include the Nationals as a wild-card entrant.
On this night there were really two stories to tell, Strasburg's pitching and Turner's second cycle. Strasburg's pitching repertoire couldn't have been more balanced — 28 four-seam fastballs, 23 sinkers, 29 curveballs, and 27 changeups.8 You ask why, recalling those 98-99 mph heaters from Strasburg's major-league debut in 2010?9 "As you get older and stuff, you might be a tick down on your velocity, so you have to pitch a bit more," Strasburg said. "Especially when guys are trying to get to your fastball early in the count because they don't want to see the other stuff later."10 Since the Nationals' season hit a low point in late May, Strasburg responded with nine wins in his last 10 starts, every fifth day like clockwork!11
Turner became only the 26th player to hit for the cycle twice in a career. Washington Post beat reporter Jesse Dougherty pointed out the broader value of Turner to the Nationals with simple numbers, wins and losses. With Turner out of the lineup through mid-May, the Nationals' record for 39 games was 17-22. Now he had played 56 consecutive games and the Nationals had won 35 games in that stretch.12
Only four players — John Reilly, Bob Meusel, Babe Herman, and Adrián Beltré — have hit for the cycle three times in their careers. Could Trea Turner join that group? Certainly. But Turner, as well as everyone who has hit for the cycle, realizes that "getting those four hits to bounce the right way requires a bit of luck."13
Author's note
When Trea Turner came to bat in the bottom of the sixth inning, he was only a double short of hitting for the cycle. When he ended the inning by grounding into a 5-4-3 double play, a cry could be heard in Section 211: "No, no, I said double, not double play!"
Sources
The author accessed Baseball-Reference.com for box scores/play-by-play information (baseball-reference.com/boxes/WAS/WAS201907230.shtml) and other data, as well as Retrosheet.org (retrosheet.org/boxesetc/2019/B07230WAS2019.htm). Videos of Trea Turner's two cycles are available for interested readers.14
Notes
1 "A gifted position player who excels at the five major baseball skills: hit for average, hit for power, run, field (catch) and throw." — Paul Dickson, The Dickson Baseball Dictionary, 3rd Edition (New York: WW Norton & Company, 2009), 328.
2 According to research conducted by Baseball Almanac, Inc. (baseball-almanac.com/hitting/Major_League_Baseball_Players_to_hit_for_the_cycle.shtml), hitting for the cycle has been achieved 330 times through the 2019 season. For comparison, 303 no-hitters have been pitched and 720 triple plays have been executed through the 2019 season.
3 Mike Huber, "May 25, 1882: Buffalo's Curry Foley completes first cycle in major leagues with grand slam," SABR Baseball Games Project.
4 Michael Huber and Allison Davidson, "Origin of the Phrase 'Hitting for the Cycle' and an Approach to How Cycles Occur," Baseball Research Journal, Spring 2018, 112-119. Other reference: Paul Dickson, The Dickson Baseball Dictionary, 3rd Edition, 416.
5 Huber and Davidson, 119.
6 Chelsea Janes, "Trea Turner Hits for the Cycle as Nationals Outlast Rockies, 15-12," WashingtonPost.com, April 26, 2017, accessed December 2, 2019, washingtonpost.com/sports/nationals/trea-turner-hits-for-the-cycle-as-the-nationals-outlast-rockies/2017/04/26/de8998a8-2a39-11e7-a616-d7c8a68c1a66_story.html.
7 At the July 31 trading deadline, the Nationals acquired pitchers Roenis Elías and Hunter Strickland from the Seattle Mariners for three minor leaguers, Elvis Alvarado, Aaron Fletcher, and Taylor Guilbeau. Pitcher Daniel Hudson was acquired from the Toronto Blue Jays for minor leaguer Kyle Johnston. Nonetheless, the Nationals finished the 2019 season with a 5.66 ERA compared with the major-league average of 4.35 (Thomas Boswell, "With Strasburg Back, Nats Should Focus on Bullpen," Washington Post, December 11, 2019: D6).
8 Jesse Dougherty, "Stephen Strasburg Wins Again and Trea Turner Hits for the Cycle as Nats Rout Rockies," July 23, 2019, WashingtonPost.com, accessed December 9, 2019, washingtonpost.com/sports/nationals/stephen-strasburg-wins-again-and-trea-turner-hits-for-cycle-as-nats-rout-rockies/2019/07/23/b2ee625e-ad6e-11e9-bc5c-e73b603e7f38_story.html.
9 Steven C. Weiner, "Stephen Strasburg strikes out 14 in MLB debut," SABR Baseball Games Project.
10 Dougherty.
11 Stephen Strasburg was named NL pitcher of the month for July, pitching five games to a 5-0 record, 1.14 ERA and 44 strikeouts.
12 Jesse Dougherty, "Trea Turner's Second Career Cycle Underscores His Utmost Value to Nationals," July 24, 2019, WashingtonPost.com, accessed December 9, 2019, washingtonpost.com/sports/2019/07/24/trea-turners-second-career-cycle-underscores-his-value-nationals/.
13 Dougherty, "Trea Turner's Second Career Cycle."
14 "Trea-cycle: Young Nat Uses Wheels for Feat," MLB.com, April 25, 2017, accessed July 26, 2019, mlb.com/amp/news/nationals-trea-turner-hits-for-cycle-c226540454.html; "Trea Turner Hits for Second Career Cycle vs. Rox," MLB.com, July 23, 2019, accessed July 26, 2019, mlb.com/amp/news/trea-turner-hits-for-cycle-against-rockies.html.
Additional Stats
Washington Nationals 11
Colorado Rockies 1
---
Nationals Park
Washington, DC
Box Score + PBP:
Corrections? Additions?
If you can help us improve this game story, contact us.
Tags
https://sabr.org/sites/default/files/TurnerTrea-2019.jpg
600
800
admin
/wp-content/uploads/2020/02/sabr_logo.png
admin
2019-12-23 13:58:04
2020-04-17 10:22:21
July 23, 2019: Trea Turner hits for the cycle again