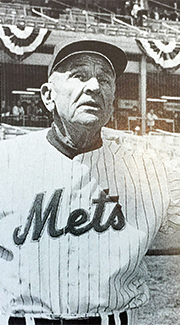 July 24, 1965: Casey Stengel's unexpected goodbye
---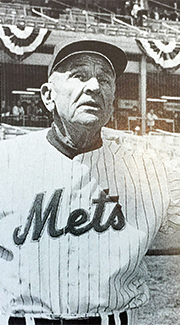 The 36,921 fans who packed Shea Stadium on Saturday afternoon, July 24, 1965, got a double ration of baseball history — one scheduled, one unexpected.
First, they got to watch a two-inning Old-Timers Day game pitting former New York Giants stars against former Brooklyn Dodgers players. The 1951 playoff hero Bobby Thomson hit another home run, this time off Van Lingle Mungo, but the Dodgers alumni won the game 4-2. Both sides played with "exceptional competitive fervor," Leonard Koppett wrote in the New York Times.1
The second half of the historic doubleheader didn't become apparent until the following day, when news emerged that 75-year-old Mets manager Casey Stengel was in the hospital with a fractured hip requiring surgery. Mets coach Wes Westrum served as acting manager for that day's game, and the game after that. As time went on, it became apparent that what began as an interim arrangement would likely need to be permanent.
Stengel's injury turned a routine Mets loss to the Philadelphia Phillies into a historic occasion. The 5-1 defeat on July 24 was the last of 3,753 major-league games Stengel managed, and the end of an on-field professional baseball career going back 55 years.
The elderly manager's future had been hotly debated the previous year. With the Mets turning in their third straight 100-loss season in 1964, top team officials were reportedly interested in making a change.2 Stengel also faced long-standing accusations of falling asleep on the bench during games and favoring writers over players.
Casey, though, was eager to manage through his 75th birthday and still hoped to lead the Mets out of the second division. And he remained widely beloved among fans. On September 29, 1964, the team announced that he would be back for another year — predicted by sportswriters to be his last.3
The debates over Stengel continued into 1965. A piece in the July 25 New York Times asked the question, "Casey Stengel Near 75: Old Pro or Con Man?" while the July 31 issue of the Saturday Evening Post carried a critical piece called "The Last Angry Old Man." (Both were filed before Casey's injury, but ran after it.)
Meanwhile, Arthur Daley of the Times summed up the pro-Stengel sentiment in a July 25 column that preceded a birthday party for Casey at Shea Stadium: "This has been a one-man operation from the start and the one man has been Charles Dillon Stengel. So the Mets owe him everything and it's nice to know that they appreciate his extraordinary talents. So today's birthday party is an expression of that gratitude. He rates every bit of it."4
For the July 24 game against the Phillies, the man who had once tapped legendary starting pitchers like Ed Lopat, Whitey Ford, and Vic Raschi named Tom Parsons his starter. Parsons was a 6-foot-7 righty from Connecticut who had been picked up from Pittsburgh on Stengel's recommendation and had recently moved from the bullpen to the starting rotation.5
Parsons was going up against a proven Met-killer, Jim Bunning. Philadelphia's star right-hander had pitched the National League's first perfect game in 85 years against the Mets 13 months before.
Bunning came into the July 24 game with a lifetime record of 6-1 against the Mets. And while he was not perfect that day, he was "absolutely too good for the New York Mets," the New York Times wrote, striking out 12 in a complete game.6
Only two New York batters managed to reach base. Right fielder Johnny Lewis bounced a second-inning single off the glove of Phillies second baseman Ruben Amaro and hit a fourth-inning solo homer to left-center field. Second baseman Chuck Hiller drew a harmless third-inning walk.
In contrast, the Phillies pounded out 14 hits off four Mets pitchers, though, like the Mets, they got their biggest offensive jolt from two players. Left fielder Wes Covington gave the Phillies all the lead they needed with a two-run single to center in the first inning, then added insurance with a solo homer leading off the fourth.
In the sixth Covington led off with a double down the right-field line, then scored on a two-run homer by first baseman Dick Stuart. Stuart's homer chased Parsons, who took the loss, dropping his record to 1-6. He ended the year 1-10; it was his last season in the majors.
Besides Lewis's homer, the biggest bright spot for Mets fans came in the seventh inning, when right-hander Dennis Musgraves came in with the bases loaded and none out. Musgraves, making his fourth big-league appearance, struck out Alex Johnson and Stuart, then got Clay Dalrymple to fly to left. Musgraves and another rookie, Tug McGraw, combined to shut out the Phils over the final three innings.
Stengel loved to champion the promise of his "youth of America," so it seemed appropriate that his final game should feature some bright moments from young players in the midst of a runaway loss. (Musgraves played only one more game in the big leagues. McGraw, you've heard about.)
The Phillies earned their resounding win without several of their regular starters. Infielder Tony Taylor and outfielder John Briggs missed the game with injuries suffered the night before in what the Times called "a spectacular three-man collision in center field." Second baseman Cookie Rojas missed Saturday's game too: He'd gone in to sub for Taylor after Friday night's collision and aggravated an existing hand injury.7
The Mets' defeat — their 64th in 96 games8 — did not seem to linger with Stengel, who had welcomed many friends back to town as part of the old-timers' celebration. After the game, he joined some of them at Toots Shor's restaurant and caroused into the early hours of the morning.9
Since his wife, Edna, was in California, Stengel accepted an invitation to return to the Queens home of Mets comptroller Joe DiGregorio. Accounts at the time said he twisted his hip while stepping out of DiGregorio's car;10 reports years later said he'd fallen in the bathroom at DiGregorio's home.11
Either way, the result was the same. Stengel awoke the morning of July 25 in intense pain and was taken to Roosevelt Hospital, where doctors diagnosed a broken hip. Following hip-replacement surgery, he remained in the hospital until mid-August. News stories said Stengel's injury "raised ever more questions about his future with the struggling darlings of New York's New Breed,"12 but to all but incurable optimists, those questions were answered with each day Stengel spent away from the field.
On August 25, after talks with his wife and his doctor, Stengel called Mets general manager George Weiss and confirmed his retirement. On the 30th the Mets publicly made it official: The long and colorful on-field career of Casey Stengel had come to an end.13 And with it, the first phase of Mets history was over.
Sources
Retrosheet box score: retrosheet.org/boxesetc/1965/B07240NYN1965.htm
Baseball Reference: baseball-reference.com/boxes/NYN/NYN196507240.shtml
Notes
1 Leonard Koppett, "Thomson Hits Homer, but Old Dodgers Win," New York Times, July 25, 1965: S1.
2 Bob Burnes, "Five Skippers Facing Date with Noose," The Sporting News, Sept. 26, 1964: 1. Burnes wrote that Stengel "has helped pour a record number of fans into new stadium, but Met officials are reported restive."
3 Barney Kremenko, "School Bell to Ring Again for Old Perfesser," The Sporting News, Oct. 10, 1964: 9.
4 Arthur Daley, "The Birthday Kid," New York Times, July 25, 1965: 2S.
5 Barney Kremenko, "Pride of Mets' Mound Corps: Kroll, Parsons," The Sporting News, July 24, 1965: 15.
6 "Phillies Defeat Mets, 5-1," New York Times, July 25, 1965: S1. The story is not bylined, but Leonard Koppett was at Shea Stadium to write a bylined piece about the old-timers game, so the Mets game story could be his work as well.
7 "Phillies Defeat Mets, 5-1."
8 Retrosheet, "Standings at Close of Play July 24, 1965." retrosheet.org/boxesetc/1965/07241965.htm.
9 George Vecsey, Joy in Mudville (New York: McCall Publishing Company, 1970), 127.
10 Joe Durso, "Casey Stengel Breaks His Hip and Misses 75th Birthday Party," New York Times: 1; and others.
11 Stengel's SABR bio, among others: https://sabr.org/bioproj/person/bd6a83d8.
12 Associated Press, "Stengel May Miss Remainder of Season Nursing Hip Injury," Youngstown (Ohio) Vindicator, July 26, 1965: 15.
13 Vecsey, Joy in Mudville, 128.
Additional Stats
Philadelphia Phillies 5
New York Mets 1
---
Shea Stadium
New York, NY
Box Score + PBP:
Corrections? Additions?
If you can help us improve this game story, contact us.
Tags
https://sabr.org/sites/default/files/Stengel-NYM.jpg
600
800
admin
/wp-content/uploads/2020/02/sabr_logo.png
admin
2020-02-13 12:25:40
2020-04-17 10:22:18
July 24, 1965: Casey Stengel's unexpected goodbye