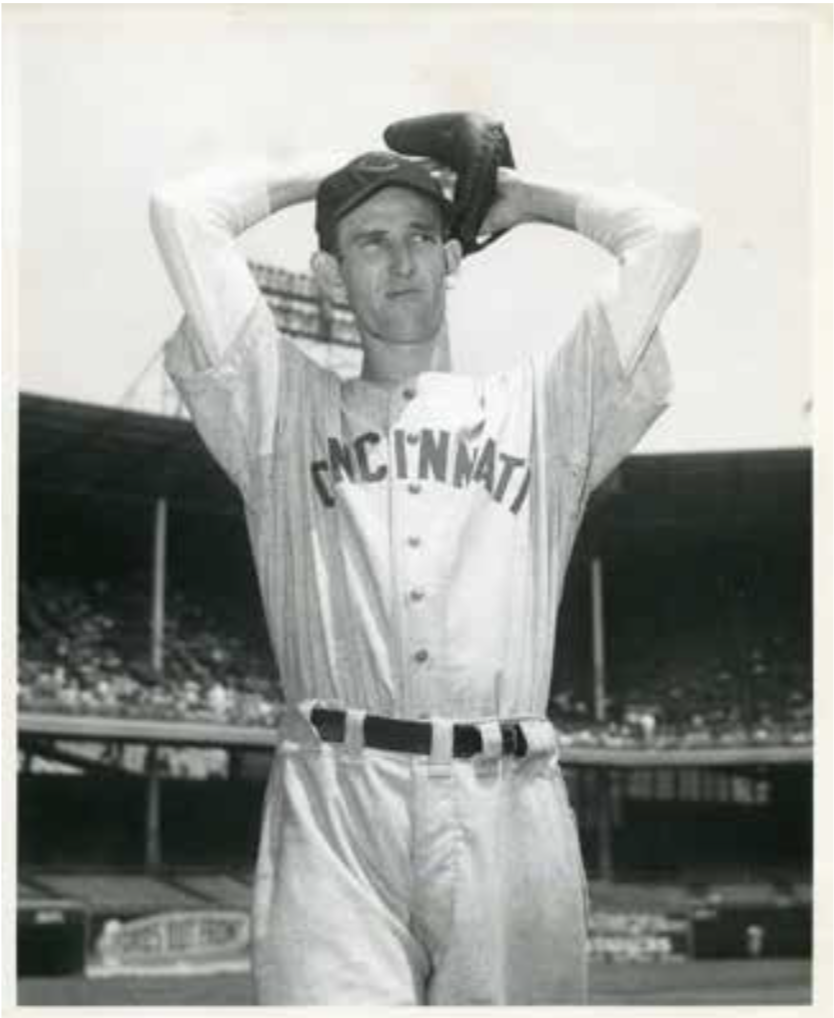 July 25, 1947: Reds' Ewell Blackwell sets modern NL record with 16th straight victory
---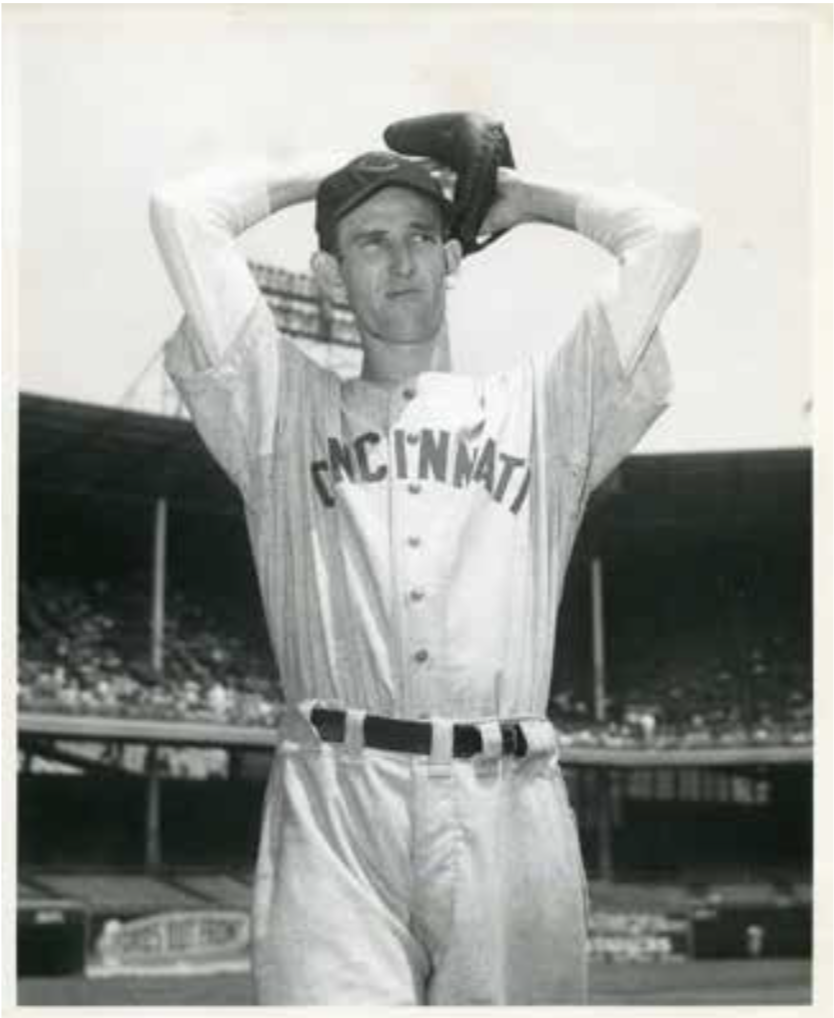 On Friday, July 25, 1947, Crosley Field was packed with 24,430 spectators as the Cincinnati Reds hosted the Philadelphia Phillies. On the surface, that many showing up to watch a sixth-place team play the last-place Phils seemed curious during a season in which Cincinnati posted the lowest home attendance of all teams in the National League.1 It was particularly curious in that the previous day only 13,676 came to see the second-division Reds take on the pennant-leading Brooklyn Dodgers whose lineup featured rookie sensation Jackie Robinson.
While Philadelphia's outfielder Harry Walker was leading the league in hitting at .344, he was not responsible for the increased attendance. Fans were drawn because Cincinnati's Ewell Blackwell was on the mound. At this point in the season, Blackwell was overwhelming opponents. He led the National League in wins (17, against only 2 defeats), winning percentage (.895), complete games, (17), shutouts, (5), strikeouts (120), and ERA (2.23). He was riding a 15-game winning streak. That streak was starting to come within striking distance of Rube Marquard's National League single-season record of 19 consecutive wins set in 1912 with the New York Giants.2 More instant, Blackwell was attempting to break Dazzy Vance's modern record for most consecutive wins by a right-handed pitcher in the National League. (In 1888, Tim Keefe of the New York Giants won 19 consecutive games in a single season. That record was set before the pitching mound was moved back to 60 feet, 6 inches from home plate.)3
Blackwell's streak reflected dominance over more than a two-month period. Coming into the July 25 game, his skein of wins included 11 consecutive complete games, an ERA of 1.52 spanning May 10 through July 20 and 95 strikeouts. It also included a no-hitter on June 18 against the Boston Braves, followed by a two-hit shutout of the Dodgers – those two hits coming after one out in the ninth; Blackwell nearly duplicated teammate Johnny Vander Meer's two consecutive no-hitters pitched in 1938.
Blackwell was just a second-year major leaguer, but had already developed a presence.4 In his inaugural season he had compiled a seemingly unimpressive 9-13 record but led the league with five shutouts. His 2.45 ERA, fourth best in the National League, indicated that his losing record had more to do with lack of run support (Cincinnati was last in the National League in runs scored) rather than lack of pitching prowess.
Numbers did not reflect Blackwell's impact on the mound. The 6-foot-6 right-hander threw side-arm in such a way that right-handed batters could not readily pick up his pitches. As he described it, "Some of those righties would come up to me and swear it was the third baseman pitching to them."5 Nicknamed "The Whip," he instilled fear in opposing batters. Hall of Famer Ralph Kiner recalled that when he had to face Blackwell, "Your legs shook when you tried to dig in on him."6
All seemed to be going well for Blackwell but there were signs that his effectiveness was waning. The righty's ERA for his last three starts was 3.00, nearly twice what it was earlier in the streak. During his run, Blackwell allowed just over six hits per nine innings, yet in his last three starts that number had crept up to one per inning. One might question whether the number of innings thrown was catching up to Blackwell. He was winning but two of his last three victories were based on 5-4 and 10-6 scores, not exactly reflecting dominant deeds.
Blackwell's recent turndown, was a matter of concern to Reds manager Johnny Neun. Noting that he was beginning to tire in his recent outings, Neun began resting Blackwell four days between assignments. His thoughts came forth when asked to explain why Blackwell had not pitched against the league-leading Brooklyn Dodgers and was instead named to appear against the lowly Phillies. Having closely watched Blackwell's performance "convinced me more than ever that Blackie needed four days rest," Neun said. He also observed that if the Reds were in the pennant race, he might have a different perspective, but as things stood he did not want to overwork his prize starter.7
The game began with Blackwell facing 32-year-old lefty Ken Heintzelman, who was coming into the game with a 4-4 record and a 3.96 ERA.8 Cincinnati did not waste getting on the board after Blackwell shut down the Phils in the top of the first. In the bottom of the inning, after Grady Hatton walked, Reds outfielder Bert Haas doubled him home.
Blackwell held Philadelphia scoreless in the second but not without a scare. With two outs and a runner on first, the Phillies' Emil Verban ripped a pitch off Blackwell's right shinbone for an infield single. Blackwell got out of the inning, retiring Heintzelman on a grounder, but he was hurting. He pitched the rest of the way without being fully able to put weight on the injured leg. After the game he commented ruefully, "A few more bumps like that and I'll have a leg like a man."9
Philadelphia scored once in the top of the third to tie the game but the Phillies' effort proved just a moment's respite as the Reds pushed four runs across in the bottom of the inning. Three walks and three hits, including a two-run single by Augie Galan, helped chase Heintzelman out of the game; he was replaced by Al Jurisich, who closed out the inning. Given a 5-1 lead, Blackwell seemed invincible. Neun's concern for his ace pitcher was well grounded, however. Philadelphia nicked Blackwell for single runs in the fourth and eighth.
Nursing a 5-3 lead, Blackwell went into the top of the ninth trying to get his 12th consecutive complete game. He would achieve it but not without a struggle. With one out, Oscar Judd pinch-hit for pitcher Charley Schanz, who had come on in relief in the seventh. Judd singled. Jack Albright singled and Johnny Wyrostek beat out a slow grounder to load the bases. Harry Walker then came to the plate. The National League batting leader's sacrifice fly to center fielder Clyde Vollmer made the score 5-4. Third baseman Jim Tabor, who had shown during the course of his major-league career an ability to drive the ball out of the park, came to bat with the tying run on second and the go-ahead run at first. Tabor lined to Vollmer for the final out.10 Blackwell's winning streak was intact; with 16 straight he broke Vance's mark.
Savoring this record-setting achievement was appropriate but during the course of the game Blackwell had given up 13 hits, more than in any previous start in 1947.
What made his victory impressive is that Phillies manager Ben Chapman called all his pitches. The Sporting News noted, "Mel Ott of the Giants and Eddie Dyer of the Cardinals also can do this." Blackwell, knowing he was tipping his pitches, observed that batters made aware what was coming risked a flip side: "You'll get someone killed."11
Blackwell had his 16th win but Neun had reason for concern. Neither could know that Blackwell's victory proved to be the apex of his career.
Epilogue
After four days' rest, Blackwell started against the New York Giants on July 30 at Crosley Field. This time the fates were against him. Nursing a 4-3 lead in the ninth, he allowed a game-tying home run to Willard Marshall. Marshall had homered against him 10 days earlier to prevent Blackwell achieving another shutout. The game went into the top of the 10th. With two out and a runner on second, Blackwell faced Giants shortstop Buddy Kerr. Blackwell related what happened next: "I got two strikes on him, then threw a pitch that so help me, cut the middle of the plate belt-high. I swear, I never threw a cleaner strike. But the umpire missed it. So I had to try it again, and this time Buddy looped it over short for a base hit and that beat me, 5-4."12 Luck, a factor in several of his previous victories, had deserted him.
With this loss, Blackwell went on to a 4-6 record the rest of the year. Despite his late-season slump, his accomplishments still impressed. His 22 wins were the best in the majors; his league-leading 193 strikeouts just three behind American Leaguer Bob Feller.
In November Blackwell came in second to Boston Braves third baseman Bob Elliot in voting for the Most Valuable Player Award. It was extremely possible that while his pitching exploits counted for much, giving the Reds nearly a third of their victories, their fifth-place finish hurt his chance to win the award.
The following season Blackwell hurt his arm in spring training; the year after that he had a kidney removed. He overcame these hurdles to win 17 games in 1950 and 16 in 1951 for the Reds' continuing run of second-division teams, but he never regained the form he showed during the 1947 season. He was out of the majors by 1955, ending a career that had begun in such promising fashion.
This article was published in "Cincinnati's Crosley Field: A Gem in the Queen City" (SABR, 2018), edited by Gregory H. Wolf. To read more articles from this book at the SABR Games Project, click here.
Sources
In addition to the sources mentioned in the Notes, the author consulted Baseball-Reference.com, mlb.com, and retrosheet.org.
https://www.baseball-reference.com/boxes/CIN/CIN194707250.shtml
https://www.retrosheet.org/boxesetc/1947/B07250CIN1947.htm
Notes
1 In 1947 Cincinnati's attendance of 899,875 was eighth in the eight-team league.
2 Carl Hubbell, also of the Giants, had a 24-game winning streak over two years, 16 in 1936 and 8 to start the 1937 season.
3 Vance had set this record in 1924 while with the Brooklyn Dodgers. For more on 19th-century changes to the pitching mound, see John Thorn, "A Brief History of the Pitching Defense," Our Game, February 27, 2015, at https://ourgame.mlblogs.com/a-brief-history-of-the-pitching-distance-3210e7874d5c.
4 Blackwell pitched two games for the Reds in 1942 before joining the Army.
5 Donald Honig, Baseball Between the Lines: Baseball in the 40's and 50's (New York: Coward, McCann & Geoghegan, Inc., 1976), 49.
6 Richard Goldstein, "Ewell Blackwell, 74, Pitcher Noted for His Whip-Like Style," New York Times, October 31, 1996: D21.
7 Stan Baumgartner, "Reds Ration Thin Man's Turns on Hill, The Sporting News, August 1, 1947: 3.
8 Heintzelman's ERA with the Phils. He had been sold by Pittsburgh to Philadelphia on May 9 that year.
9 Baumgartner.
10 "Blackwell Notches 16th in Row Despite Heavy Pounding By Phils, 5-4," Boston Globe, July 26, 1947: 4.
11 Baumgartner.
12 Honig, 52.
Additional Stats
Cincinnati Reds 5
Philadelphia Phillies 4
---
Crosley Field
Cincinnati, OH
Box Score + PBP:
Corrections? Additions?
If you can help us improve this game story, contact us.
Tags
https://sabr.org/sites/default/files/Screen%20Shot%202019-10-03%20at%2012.27.30%20PM.png
600
800
admin
/wp-content/uploads/2020/02/sabr_logo.png
admin
2019-10-03 12:31:11
2020-04-17 10:22:30
July 25, 1947: Reds' Ewell Blackwell sets modern NL record with 16th straight victory