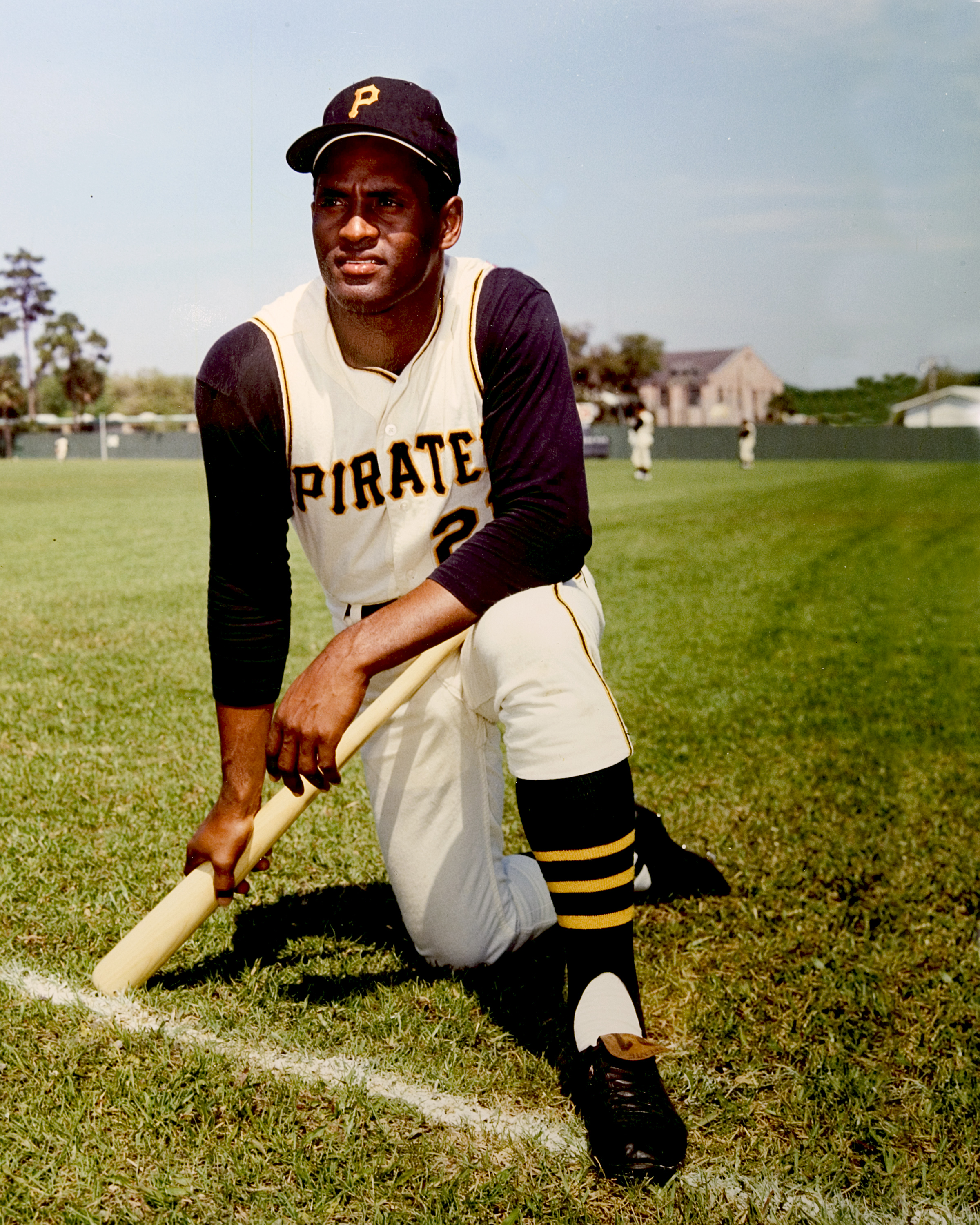 July 25, 1956: Roberto Clemente hits an inside-the-park, walk-off grand slam to lift Pirates
---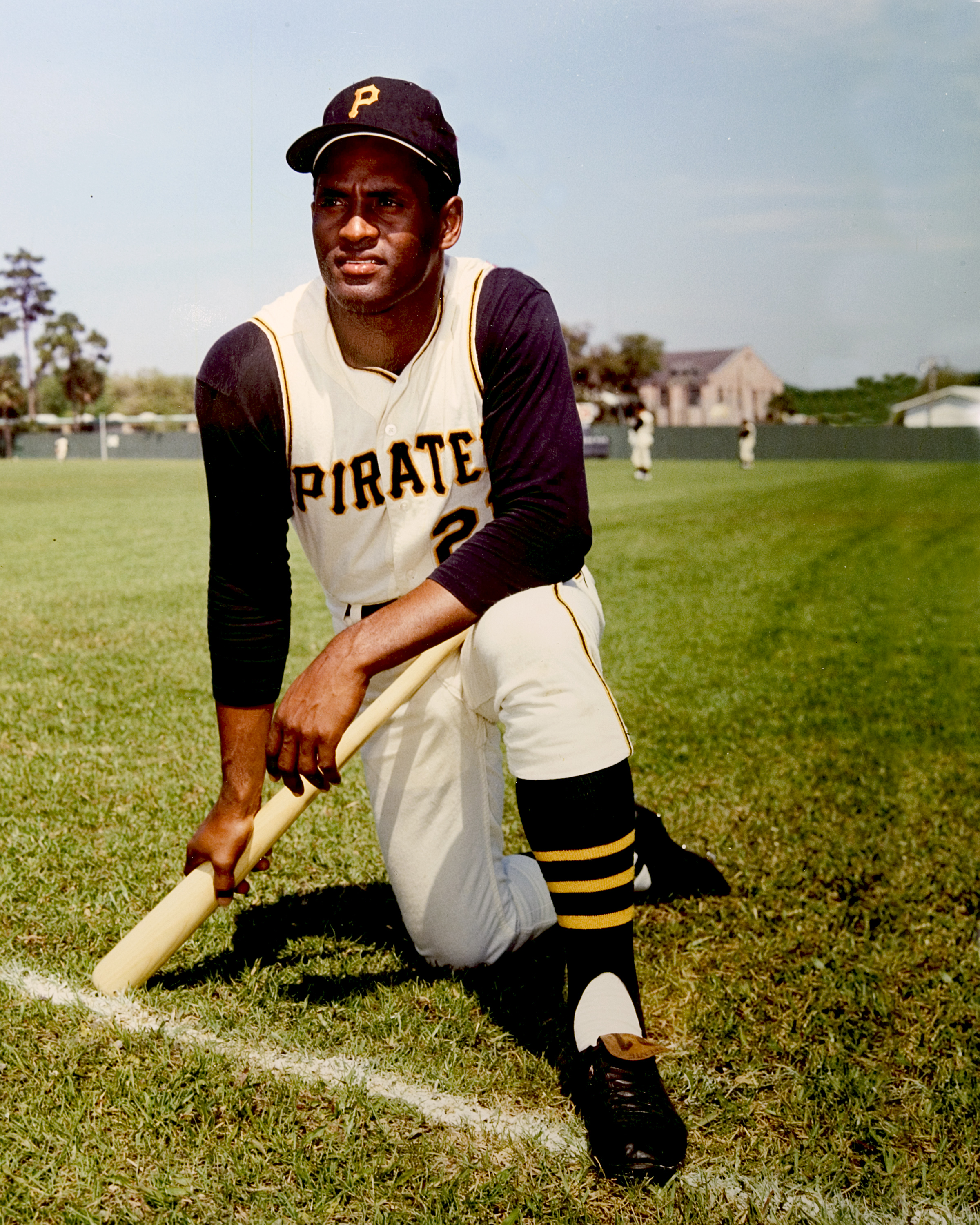 The headline writer for the front page of a daily newspaper is challenged to provide the reader with glimpses of tragedy and joy, victory and defeat, worry and elation, all appropriately befitting the day's news. When Pittsburgh awoke on the morning of July 26, 1956, the headline spread across the front page of the Pittsburgh Post-Gazette was "Luxury Liners Collide, 1,100 Abandoning Andrea Doria."1
Just before midnight, the Swedish ship MS Stockholm struck the Italian ocean liner SS Andrea Doria in dense fog off Nantucket Island. The Andrea Doria was severely damaged and badly listing before finally capsizing in the morning. The heroic efforts of rescuers saved 1,660 people but tragically, 51 others lost their lives.2 No doubt the headline, the photo of the Andrea Doria and that first two-column story captured the tragedy and the actions taken in response during the early-morning hours.
For the sports fan, the smaller-print box in the middle of the front page, "Clemente Again, Pirates Win in Merriwell Finish, 9-8,"3 provided that first glimpse of a unique baseball feat never seen before and so far never repeated (as of 2018.) The 20-year-old Roberto Clemente brought his exciting style to Pittsburgh in his 1955 rookie season and earned a spot in the Pirates outfield. On this night, he clouted an inside-the-park grand slam off Cubs relief pitcher Jim Brosnan to end the game in a victory for the Pirates, right then and there.
Clemente was a free swinger, an impatient hitter who swung at almost any pitch including those outside the strike zone.4 He became known as a primary example of a good "bad-ball hitter."5 Playing for the Triple-A Montreal Royals in 1954, Jack Cassini was Clemente's teammate. In Stew Thornley's interview for Clemente's biography at the SABR BioProject, Cassini said, "He could hit. He didn't need a strike. The best way to pitch him was right down the middle of the plate."6 In fact, Clemente walked only 13 times in 572 plate appearances in 1956. In one stretch that season, covering 192 plate appearances, he went 50 games without walking.7
For a game pitting two teams that would finish the season last and next-to-last in the National League, respectively, the Pirates started their All-Star pitcher, Bob Friend (12-8, 3.24 ERA), and the Cubs countered with Warren Hacker (2-8, 5.37).
The Pirates started the scoring in the fourth inning when Clemente reached on an infield singleand Dale Long hit his 20th home run of the season for a 2-0 lead. That home run set a record for Pittsburgh left-handed hitters, previously held by Hall of Fame shortstop Arky Vaughan ,who hit 19 in 1935.8 The Pirates scored their third run in the fifth inning. After Friend singled and Bill Virdon doubled, Bob Skinner was intentionally walked to load the bases for Clemente. No grand slam this time, just a sacrifice fly to center for a 3-0 lead. In the sixth inning, consecutive doubles by Frank Thomas and Jack Shepard added another run and Warren Hacker's pitching outing was over for the night when he was replaced by Vito Valentinetti.
Meanwhile, Bob Friend was sailing along into the eighth inning on a 4-0 four-hitter, but four singles that produced one run ended his evening. Roy Face, by now being used almost exclusively in relief, came in to pitch and was summarily hammered with doubles by Walt Moryn, Eddie Miksis, and Hobie Landrith each of whom knocked in two runs for a 7-4 Cubs lead. Each team scored once in its next at-bat for an 8-5 Cubs lead. In the case of the Cubs, they scored on three singles against Face after two were out. Nellie King replaced him and ended the top of the ninth inning by striking out Miksis on three pitches.9 The stage was now set for the dramatic bottom of the ninth inning and the improbable feat about to unfold.
With Turk Lown pitching for the Cubs, a walk to Hank Foiles, a single by Bill Virdon, and another walk to Dick Cole loaded the bases for Clemente. Jim Brosnan relieved Lown and threw one pitch, described by Jack Hernon as "high and inside."10 There was no doubt that Clemente would swing. He hit the ball over Jim King's head in left field and after the ball struck the fencing, it rolled along the cinder warning track toward center field. The three runners easily scored and Clemente ignored the outstretched arms and stop sign of Pirates manager and third-base coach Bobby Bragan as the relay throw came in from center fielder Solly Drake to Ernie Banks to catcher Hobie Landrith. The last moments of the improbable were captured in the Pittsburgh Post-Gazette: "He slid, missed the plate, then reached back to rest his hand on the rubber with the ninth Pirate run in a 9-8 victory as the crowd of 12,431 went goofy with excitement."11
Would Clemente be fined for roaring right past Bragan? The circumstances were ripe. After the game, Bragan's comments reflected conventional baseball strategy, "Clemente tied up the game, for sure and I threw up the stop sign. … After all, we had some long-ball hitters coming up, no one out and getting Bobby home with the winning run looked easy."12 Clemente readily admitted his deliberate action to ignore the stop sign.
Bragan was in his first year as Pirates manager, desperately trying to improve their lot after four consecutive years in the eight-team National League's cellar.13 Bragan's penchant for fining players started early in the season. After a loss to the New York Giants in the second game of the season, he fined Clemente $25 for missing a squeeze-play sign and Dale Long the same amount for using bad judgment in cutting off a relay from the outfield.14 As Bragan put it, "A manager can get into serious trouble by letting the little things go unnoticed. They soon grow into big things, so let's put a stop to the little things now."15
A Sports Illustrated feature story by Robert Creamer also explained the rationale for those minor infractions — $5 for reporting late to the park, $10 for failing to throw a pitchout when it was called for, $20 for failing to slide into second base in a crucial moment. "The fines aren't much, but they sting a man's pride. And they help spread Bragan's basic idea that this club is too good to condone carelessness; carelessness is for eighth-place clubs."16
Clemente's heroics and the Pirates' victory maintained their position in fifth place. We can only speculate as to the mood of Bobby Bragan after the game. Clemente was not fined.
It would be 32 years before the term "walk-off" entered the baseball lexicon. As noted by Paul Dickson, "The term was coined by Oakland Athletics pitcher Dennis Eckersley for that lonely stroll from the mound after a pitcher gives up the winning run (Gannett News Service, July 30, 1988)."17 Eckersley's use of the term had a rather negative connotation marking the losing pitcher as he leaves the field.18 Common usage has evolved now to highlight the achievement of the batter and the celebratory mood of the winning team and its fans.
The drama created by the possibility of any walk-off home run and the elation felt when it occurs happens quite often. In fact, it occurred at another game on that very night. The author, attending the game with his father as a young teenager and avid Dodgers fan, saw Duke Snider hit a walk-off home run in Roosevelt Stadium, in Jersey City, New Jersey, as the Brooklyn Dodgers edged the Cincinnati Reds, 2-1.19 But what happened in Jersey City pales in comparison to what happened in Pittsburgh!
"What Roberto Clemente accomplished in Pittsburgh on July 25, 1956, stupefied the tobacco-spitting baseball lifers all around him precisely because it transcended baseball, entering the realm of pure theater and then myth. Even his defiance of authority that day — running through hapless Bobby Bragan's sign — enhances the quality of the legend."20
Improbable as it may be, the uniqueness of Clemente's game-ending home run could be duplicated someday if the right set of circumstances align. Regardless, the inside-the-park walk-off grand slam is safe at home plate thanks to Roberto Clemente. We should celebrate what Clemente accomplished on this night and take the greatest of pleasures in what he brought to baseball in an exciting style we got to enjoy over his entire career.
This article appears in "Moments of Joy and Heartbreak: 66 Significant Episodes in the History of the Pittsburgh Pirates" (SABR, 2018), edited by Jorge Iber and Bill Nowlin.

Sources
In addition to the references cited in the Notes, the author also accessed Baseball-Reference.com and Retrosheet.org.
https://www.baseball-reference.com/boxes/PIT/PIT195607250.shtml
https://www.retrosheet.org/boxesetc/1956/B07250PIT1956.htm
Notes
1 "Hits Stockholm in Heavy Fog, Italian Ship Listing So Badly She Can't Lower Life Boats; Vessels Racing to Rescue," Pittsburgh Post-Gazette, July 26, 1956: 1.
2 Evan Andrews, "The Sinking of Andrea Doria," History.com, July 25, 2016, accessed September 12, 2017, history.com/news/the-sinking-of-andrea-doria.
3 "A Frank Merriwell finish: A dramatic and successful ending to a baseball game in the manner of Burt L. Standish's (pseudonym for Gilbert Patten) fictitious character Frank Merriwell, who triumphed each week in spectacular fashion by performing unmatchable feats of last-minute derring-do. Merriwell's exploits as a scholar sportsman captured the imagination of millions from 1896 to 1914 in Tip Top Weekly, a pulp-fiction magazine for boys." Paul Dickson, The Dickson Baseball Dictionary, 3rd Edition (New York: W.W. Norton & Company, 2009), 345.
4 Dickson, 347.
5 Dickson, 43.
6 Stew Thornley, "Roberto Clemente," SABR Baseball Biography Project (telephone interview with Jack Cassini, June 20, 2005).
7 Les Biederman, "Clemente in 50 Games Without Walk," The Sporting News, August 8, 1956: 18.
8 Jack Hernon, "Bucs Bounce Back After Losing Lead, Rally in 9th After Chicago's 7-Run 8th; Long Sets HR Mark," Pittsburgh Post-Gazette, July 26, 1956: 14.
9 After mention of such a performance, this author feels compelled to acknowledge Roy Face's outstanding 16-year career as captured in his SABR biography written by Gary Gillette. In this season alone, Face led the National League with 68 appearances and tied a major-league record by appearing in nine consecutive games September 3-13, 1956.
10 Hernon.
11 Hernon.
12 "Clemente Ignored Stop Sign on Slam, but Escaped Fine," The Sporting News, August 8, 1956: 18.
13 The Pittsburgh Pirates finished the 1956 season in seventh place in the National League with a record of 66-88 and only the Chicago Cubs trailed them; they remained a seventh-place team well into the 1957 season when Bragan was replaced by Danny Murtaughin August.
14 "Bragan Cracks Down Early, Fines Clemente, Long $25," The Sporting News, April 25, 1956: 21.
15 "Les Biederman, "Bear-Down Bragan Means Business, Buc Fans Learn," The Sporting News, May 2, 1956: 7.
16 Robert Creamer, "The Sad Song of Bobby," Sports Illustrated, May 6, 1957: 54-58.
17 Dickson, 919.
18 Although unconfirmed by the author, it is quite possible that Dennis Eckersley was referring to the Oakland-Seattle game at the Kingdome on July 29, 1988. Eckersley came into the game in the 10th inning seeking his 31st save of the season with the A's leading 3-2. Instead, Steve Balboni hit a three-run game-winning home run for the Mariners and the walk-off began.
19 Steven C. Weiner, "July 25, 1956: Dodgers Win on Snider Walk-Off Home Run in Jersey City," SABR Games Project.
20 Martin Espada, "The Greatest Forgotten Home Run of All Time," The Massachusetts Review, Volume 56, Number 2, Summer 2015: 249-255.
Additional Stats
Pittsburgh Pirates 9
Chicago Cubs 8
---
Forbes Field
Pittsburgh, PA
Box Score + PBP:
Corrections? Additions?
If you can help us improve this game story, contact us.
Tags
https://sabr.org/sites/default/files/images/Clemente06.jpg
600
800
admin
/wp-content/uploads/2020/02/sabr_logo.png
admin
2019-02-05 12:38:28
2020-07-25 00:22:52
July 25, 1956: Roberto Clemente hits an inside-the-park, walk-off grand slam to lift Pirates