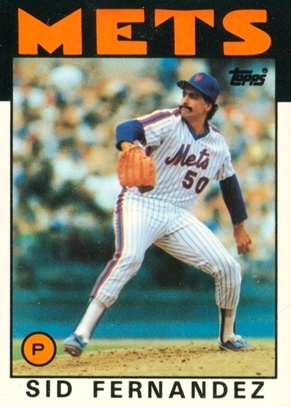 July 25, 1990: Mets survive exciting 6-run ninth-inning rally by Phillies
---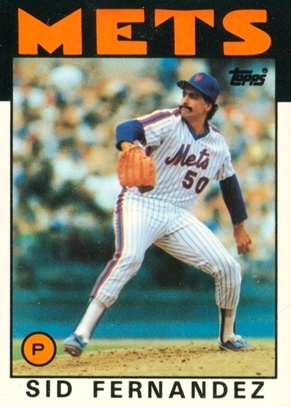 As July 1990 neared its end, the New York Mets were closing in on the first-place Pittsburgh Pirates, entering this contest only 1½ games back in the senior circuit's East Division. They were finishing a three-game series against the Philadelphia Phillies, who were stuck in fourth place, 10 games out of first. A crowd of 40,079 showed up at Veterans Stadium for the Wednesday night game, and they were treated to a match that "rocket[ed] from one extreme to the other."1
Jeff Parrett toed the rubber for the home team. He had been made a Phillies starter on July 3, after 39 appearances from the bullpen and despite his 4.94 earned-run average. New York countered with Sid Fernandez, a winner of three of his last four decisions. Fernandez had allowed only six earned runs in his last 26 innings pitched.
With two outs and Dave Magadan on second base in the opening frame, Phillies skipper Nick Leyva instructed Parrett to walk Darryl Strawberry intentionally, despite Straw's recent 3-for-26 stretch in his last seven games. That brought Kevin McReynolds to the plate. McReynolds lifted a pop fly into foul territory for the third out.
In the third inning, Howard Johnson worked a full count off Parrett before launching a triple into center field. Magadan then "zonked a two-run homer," giving New York a 2-0 lead.2
In the fifth, Leyva tried the walk-by-design strategy again when Strawberry batted with two outs and Johnson on third. Strawberry was intentionally passed for the second time. This time, however, Parrett hung a curveball and McReynolds "crushed it for a triple," increasing New York's advantage to 4-0.3 On the next pitch, Mackey Sasser grounded to short for the third out. Parrett never came back to the mound. After the game, the 6-foot-4 right-hander told reporters that "he was certain that he was headed back to the bullpen."4 But after three relief appearances in the following week for the Phillies, Parrett was traded to the Atlanta Braves for Dale Murphy and players to be named later.5
The sixth inning was the key for New York, when Phillies reliever Don Carman "was pelted for five runs on four hits."6 Daryl Boston doubled between strikeouts by Tom O'Malley and Fernandez. Then, for the third time in the game, Leyva called for an intentional walk, this time to Johnson. Magadan singled, driving in Boston. Afterward, Leyva said, "I tried to match a lefty against a lefty but if he doesn't make a good pitch, it doesn't matter. Magadan found a hole to keep the inning alive."7 After Magadan, Gregg Jefferies tripled, plating two more runs, and then Strawberry smashed his 25th home run of the season, a blast that "glow[ed] through the night like a re-entering space shuttle."8 The ball landed 450 feet away in the center-field seats.9 The Mets had now scored seven runs after two intentional walks.
New York still had a shutout going into the bottom of the seventh inning. According to the Philadelphia Inquirer, "as the Vet's organist played 'Take Me Out to the Ball Game,' some pacifists began trudging home — the Phillies trailed by nine."10 How many fans would regret it as they were stuck in traffic, listening to the radio? The game was far from over. Fernandez started the inning by striking out Dickie Thon. Darren Daulton then lined a single to center. After Jim Vatcher flied to left for out number two, Dykstra singled, advancing Daulton to third. Tom Herr jumped on Fernandez's first pitch and singled to right, driving in Daulton. Dykstra motored to third. With Von Hayes at the plate, Herr stole second base, and on catcher Sasser's throwing error, Dykstra scored the Phillies' second run.
Wally Whitehurst relieved Fernandez in the bottom of the eighth. Charlie Hayes singled, and an out later, so did Thon. Tom Nieto hit the third single of the inning, and Hayes scored, making it 9-3.
The Mets added a run in the top of the ninth, when Sasser singled in McReynolds, who had doubled to deep center with one out. Little did the Mets know this would be the insurance run they needed. Going into the last half-inning, the Mets had a comfortable seven-run lead.
Philadelphia opened the bottom of the ninth with a record seven consecutive nobody-out singles.11 None of them were hit hard. After single number 7, Mets manager Bud Harrelson called on John Franco to replace Julio Machado, who had replaced Whitehurst when Ricky Jordan reached on single number 5, a weak grounder to third. Jordan had been 0-for-4, all strikeouts. Machado had lasted for only two batters, allowing two-strike singles to Thon and Nieto. Whitehurst remarked after the game that the Phillies "hit three or four in a row that just got by someone."12
John Kruk, pinch-hitting for Vatcher, strode to the plate to face Franco, worked a full count and then drew a walk, once again loading the bases. Eight straight Phillies had now reached base and five of them had scored. Philadelphia had all the momentum.
Franco now had to face Dykstra and Herr, who had collected six of the Phillies' hits. The tying run was on second base with no outs. Dykstra swung at Franco's first offering and rolled a hard grounder to second baseman Keith Miller, who started a 4-6-3 double play. Thon scored, making it a one-run game, 10-9. With the Mets still clinging to the lead, Nieto was only 90 feet from home plate, but now there were two outs. The first pitch to Herr, who had led off the inning with a single, was a ball. Herr drove the next pitch toward short, but Mario Diaz snared the liner at eye level. The Mets had survived a six-run rally with no outs. The few hardy Phillies fans who had remained were surely emotionally spent, first to watch their team give up nine unanswered runs, and then fight back with so many consecutive singles, each one building their hopes a bit more, only to see it not be enough.
Bob Murphy, the Ford C. Frick Award-winning sportscaster for the Mets, made the radio call: "Here's the pitch on the way. Line drive — caught! The game is over! The Mets win it! A line drive to Mario Diaz and the Mets win the ballgame! They win the damn thing by a score of 10-9!"13
The "damn thing" featured 30 hits, 10 walks, and 18 strikeouts. A total of 33 players found their names in the box score, with all of the pinch-hitters, pinch-runners, and pitching changes. The Phillies had banged out 16 hits, but 14 of them were singles (Dykstra had two doubles to pace their attack). Fernandez earned his seventh victory for the Mets and his ERA dropped to 3.16, while Franco picked up his league-leading 23rd save. Franco remarked after the excitement, "It wasn't pretty, but we got it done. It was crazy. It was scary."14
After the game, Leyva was chagrined: "We had a chance to win that game. It was amazing. We don't quit."15 He added, "To get two down, have the bases loaded and none out, you've got to win the game if you're at home."16 New York fought its way into a tie for first the next day, but then toggled between first and second position in the National League East for the next five weeks, before finishing the 1990 campaign as runner-up in the division to the Pirates.
This article was published in "Met-rospectives: A Collection of the Greatest Games in New York Mets History" (SABR, 2018), edited by Brian Wright and Bill Nowlin. To read more articles from this book at the SABR Games Project, click here.

Sources

In addition to the sources mentioned in the Notes, the author consulted baseball-reference.com, mlb.com, and retrosheet.org.
https://www.baseball-reference.com/boxes/PHI/PHI199007250.shtml
http://www.retrosheet.org/boxesetc/1990/B07250PHI1990.htm
Notes
1 Joseph Durso, "Mets Survive Late Scare and Hold Off the Phillies," New York Times, July 26, 1990: B9.
2 Michael Bamberger, "Phils Get 6 in 9th but Lose," Philadelphia Inquirer, July 26, 1990: 29.
3 Ibid.
4 Ibid.
5 For the players to be named later, Atlanta received Jim Vatcher on August 9 and Victor Rosario on September 4, while Philadelphia received Tommy Greene on August 9.
6 Bob Brookover, "Phils Get on Late Roll, but Still Fall to Mets," Camden (New Jersey) Courier-Post, July 26, 1990: 45.
7 Don Bostrom, "Mets Withstand Late Barrage of Singles 10-9," Allentown (Pennsylvania) Morning Call, July 26, 1990: 59.
8 Bill Conlin, "Better Half Arrived Late," Philadelphia Daily News, July 26, 1990: 79.
9 Durso.
10 Bamberger.
11 Ibid.
12 Bostrom.
13 "Mets Fans Share Their Memories of the July 25, 1990 Game," The Ultimate Mets Database. Found online at https://ultimatemets.com/gamedetail.php?gameno=4606&tabno=B. Accessed January 2018.
14 Durso.
15 Bamberger.
16 Bostrom.
Additional Stats
New York Mets 10
Philadelphia Phillies 9
---
Veterans Stadium
Philadelphia, PA
Box Score + PBP:
Corrections? Additions?
If you can help us improve this game story, contact us.
Tags
http://bioproj.sabr.org/bp_ftp/images5/FernandezSid.jpg
600
800
admin
/wp-content/uploads/2020/02/sabr_logo.png
admin
2019-10-16 16:36:53
2022-08-22 11:36:14
July 25, 1990: Mets survive exciting 6-run ninth-inning rally by Phillies