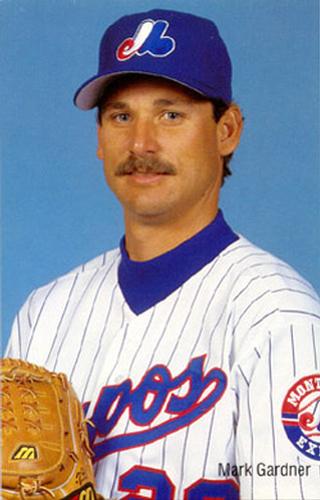 July 26, 1991: Mark Gardner loses game, no-hitter in extra innings
---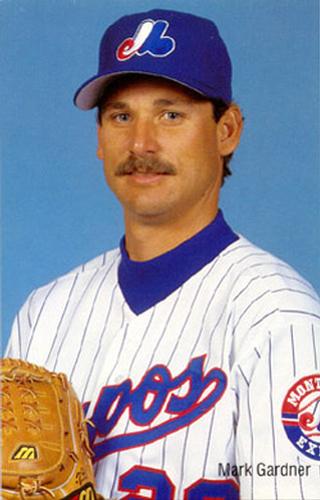 When the fifth-place Montreal Expos limped into Los Angeles for a three-game set at Dodger Stadium on July 26-28, 1991, there was little indication that history would be made that weekend. Not only would two Expos throw dramatic pitching gems in the series, but some of baseball's long-standing records would be reclassified as a result of the events that unfolded.
The pitching matchup in the series opener featured a pair of hurlers whose careers had been recently saved by orthopedic surgeon Frank Jobe.1 Expos starter Mark Gardner underwent shoulder surgery for a torn labrum in November 1990 after his first full season in the big leagues.2 Gardner had returned to form since being activated from the disabled list on May 14, 1991, posting a solid 3.30 ERA in 14 starts.3 The Dodgers countered with Orel Hershiser, who was still being eased back into action after undergoing shoulder reconstruction surgery in April 1990.4
Gardner looked anything but dominant in the first inning as he walked Eddie Murray after getting the first two outs on a line drive to the right-field gap and a long fly ball. He quickly settled down after the walk and easily retired the next 19 batters in order. Meanwhile, Hershiser was nearly matching Gardner pitch for pitch, surrendering only a walk and an infield single to Tim Wallach in six strong innings. In spite of the fact that he had thrown only 73 pitches, Hershiser was removed for a pinch-hitter in the bottom of the sixth inning with one out and nobody on base.
Gardner kept the Los Angeles hitters at bay with an outstanding curveball and a good, moving fastball, although his streak of 19 consecutive outs was snapped when Kal Daniels walked to lead off the bottom of the eighth inning.5 After Mike Scioscia sacrificed Daniels to second, Dave Hansen hit a slow roller to third baseman Wallach, who barehanded it and gunned it to Andres Galarraga at first for the second out. Daniels broke for third on the play, but Galarraga's strong relay to shortstop Spike Owen completed a stellar 5-3-6 double play, and Gardner took his no-hitter into the ninth inning.
The Expos' best chance to break the scoreless tie was in the top of the ninth. Owen led off with a walk. He was forced at second on Gardner's failed sacrifice attempt. Marquis Grissom's two-out infield hit moved the Expos pitcher into scoring position, but both were stranded when Ivan Calderon flied out to deep right field.
Rookie Expos manager Tom Runnells had a pair of relievers warming up to start the bottom of the ninth even though Gardner hadn't given up a hit and had thrown only 99 pitches in the first eight innings. He easily retired the Dodgers in order, getting Alfredo Griffin on a popup, striking out pinch-hitter Chris Gwynn on a moving fastball, and inducing Brett Butler to hit a weak groundball to second base. The appreciative fans at Dodger Stadium gave Gardner a standing ovation to acknowledge his nine no-hit innings, and his teammates briefly congratulated him when he returned to the dugout.6 He had faced just 28 batters through the first nine innings, and the only Dodger to come close to a base hit was Mike Scioscia, who smacked a hard groundball to Galarraga's right in the fifth inning.
Gardner became the first pitcher to throw nine no-hit innings against the Dodgers in their home ballpark since Johnny Vander Meer in 1938.7 He was also the first visiting pitcher to throw nine no-hit innings at Dodger Stadium.8
After nine innings the game was scoreless. The light-hitting Expos, the lowest-scoring team in the National League in 1991, had been limited to two infield singles, so Gardner was forced to continue pitching in the bottom of the 10th inning to try to preserve his no-hitter. That ended with leadoff batter Lenny Harris, who hit a chopper over the mound that bounced twice in front of a charging Spike Owen. The Expos shortstop had no chance to throw out Harris at first. The next batter, Eddie Murray, singled to chase Gardner from the mound, and then Darryl Strawberry hit a line-drive single on a 2-and-0 curveball from Jeff Fassero to win the game. After throwing nine no-hit innings, Gardner was tagged with the loss in a 1-0 heartbreaker.
Gardner put the evening's events in perspective after the game. "The no-hitter was really of no consequence," he said. "It didn't matter to me. I wanted to win the game, even if they went into the pen at the end."9
He may have lost the game, but did Gardner's nine innings of no-hit baseball qualify as a no-hitter? According to the vague definition in the scoring rules at the time, a no-hitter was "an official game in which a pitcher, or pitchers, give up no hits."10 One could argue that Gardner still threw a no-hitter, because after nine innings he hadn't given up any hits and the game was official. The Dodgers contacted the Elias Sports Bureau, MLB's official statistician, which led the official scorer to rule that the Expos pitcher had not thrown a no-hitter.11 After the game Gardner was told that he would be credited only with throwing nine no-hit innings.12
It was just the 12th time in baseball history that a no-hitter had been broken up in extra innings, and the first time in 26 years.13 The previous pitcher to endure that experience was Cincinnati's Jim Maloney, who pitched 10 no-hit innings against the New York Mets on June 14, 1965, before surrendering a leadoff home run in the 11th inning in a 1-0 loss. However, Maloney, along with all the other pitchers who had lost no-hitters in extra innings, had been given credit for throwing a no-hitter.14
While the Elias Sports Bureau may have been convinced that Gardner didn't deserve credit for a no-hitter, others weren't so sure. The Sporting News and Macmillan, publisher of the Complete Baseball Reference Book and the Baseball Encyclopedia respectively, indicated that Gardner would be credited with a no-hitter in their next edition.15 In a completely different approach, the Elias Book of Baseball Records would continue to use a separate list for pitchers who lost no-hitters in extra innings.16 A few days after Gardner's outing, Rich Levin, director of public relations for the commissioner's office, announced that the Committee for Statistical Accuracy would likely meet to review the Gardner no-hitter issue in September.17
The Committee for Statistical Accuracy was an eight-man panel chaired by Commissioner Fay Vincent and also included Seymour Siwoff, general manager of the Elias Sports Bureau.18 The committee was asked to review a variety of baseball records, including the single-season home-run record that was credited at the time to both Roger Maris (61 homers in a 162-game schedule) and Babe Ruth (60 in a 154-game schedule). As Levin suggested in late July, they were also asked to determine if Gardner should be given credit for a no-hitter.19
On September 4 the committee announced that Maris was awarded sole possession of the single-season home-run record and Gardner was denied a no-hitter.20 The committee also altered the definition of a no-hitter to "a game in which a pitcher or pitchers complete a game of nine innings or more without allowing a hit."21 That wording change resulted in the elimination of 50 no-hitters from the record books, dating back to the 1890 season.22 Twelve of them involved pitchers throwing at least nine no-hit innings before giving up one or more hits in extra innings, including the famous 1959 game in which Harvey Haddix of the Pittsburgh Pirates pitched 12 perfect innings, only to lose the game in the 13th.23 The other 38 games wiped from the record books were those in which the pitcher or pitchers gave up no hits but threw fewer than nine innings. Those included road losses in which the home team didn't bat in the ninth inning, and games that were cut short by rain, darkness, or other reasons.24
The weak-hitting Expos would continue to struggle scoring runs in their series with the Dodgers, although the team finally snapped its scoreless streak at 30⅓ innings by pushing across two unearned runs in the seventh inning of the series finale. Those two runs would be crucial for Dennis Martinez, who tossed a perfect game less than 48 hours after Gardner lost his no-hit bid. Without those two unearned runs, Martinez would have been forced to return to the mound in the 10th inning and risk suffering a fate similar to that of hard-luck Harvey Haddix and Mark Gardner.
Sources
In addition to the sources cited in the Notes, the author consulted Baseball-Reference.com and Retrosheet.org. Portions of the game can be watched on YouTube, "7/26/91 Expos at Dodgers," at youtube.com/watch?v=6Sc17PykZqk.
Notes
Additional Stats
Los Angeles Dodgers 1
Montreal Expos 0
10 innings
---
Dodger Stadium
Los Angeles, CA
Box Score + PBP:
Corrections? Additions?
If you can help us improve this game story, contact us.
Tags
http://sabr.org/sites/default/files/GardnerMark.jpg
600
800
admin
/wp-content/uploads/2020/02/sabr_logo.png
admin
2016-06-01 18:42:49
2020-08-31 11:34:18
July 26, 1991: Mark Gardner loses game, no-hitter in extra innings