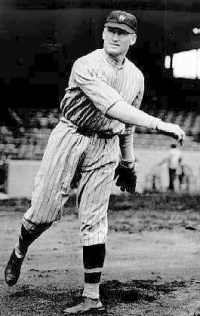 July 28, 1927: Walter Johnson records 417th and final career win for Senators
---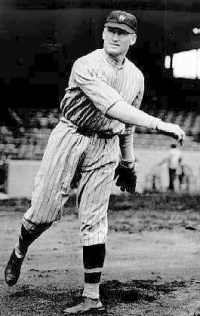 On April 27, 1926, Walter Johnson of the Washington Senators joined Cy Young as the only major-league pitchers with 400 or more career victories. Young began his career in 1890 and finished in 1911 with a record of 511 wins and 315 losses. Johnson, a major leaguer since 1907, began the 1926 season with 398 wins. He finished the season with 412 wins and 273 losses.
On July 28, 1927, Johnson and his Washington teammates were in second place in the American League with a record of 55-39, trailing the first-place New York Yankees by 14 games. Washington's opponents that day, the Chicago White Sox, were in fifth place (49-49) and trailed New York by 22 games.
As the starting pitcher, Chicago player-manager Ray Schalk chose rookie left-hander Charlie Barnabe, who was making his fourth major-league start. Barnabe, with a record of 0-5, trailed Johnson in career wins by 416. "Barnabe was a recruit obtained from the Shreveport team and was touched for eight hits during his stay on the mound and this netted the Nationals five runs in the first two innings."1 "Johnson, on the other hand, was the master of the situation at all stages of the game with the White Sox here today and the Nats won by a score of 12 to 2."2
Johnson entered the game with an uncharacteristic 5.55 earned-run average but had won three out of his last four decisions. The Washington right-hander did not have a good beginning. White Sox leadoff batter Alex Metzler reached second base on an error by Washington's shortstop, Bobby Reeves and went to third on a groundout by former Senator Roger Peckinpaugh. Metzler scored on a fly ball to right field by Bill Barrett. After a walk to Bibb Falk, Bud Clancy flied out to Tris Speaker in center field to end the inning with Chicago leading 1-0.
It was no better for Barnabe in the bottom of the first inning: He gave up singles to Earl McNeely, player-manager Bucky Harris, Speaker, and Joe Judge that gave Washington a 2-1 lead when the inning ended on a groundout by Muddy Ruel.
The Senators added three runs off Barnabe with two outs in the second inning. The Chicago twirler struck out Ossie Bluege and got Reeves on a fly out to right field. Then Johnson singled and scored on a double by McNeely. Harris singled to score McNeely with Harris taking second on the throw in. Speaker's single sent Harris home and Speaker also advanced to second on the throw. Chicago manager Schalk removed Barnabe and reliever Ted Blankenship got Judge on a fly ball for the third out.3
The game remained 5-1 until the top of the fifth inning when Chicago scored a run on used a leadoff walk to Buck Crouse and a double by Blankenship.
The Senators responded in the bottom of the first with two more runs. Harris, leading off, reached first on a grounder to second base, and took second when Chicago second baseman Aaron Ward made a wild throw to Clancy at first base. With one out, Judge doubled to left field, scoring Harris. Goose Goslin singled, his first hit of the game, and Judge scored to give Washington a 7-2 lead.
Clancy singled with one out in the Chicago sixth, the third hit off Johnson, who then got Willie Kamm and Ward on groundouts to end the inning.
Washington exploded for five runs in the bottom of the seventh inning. After a one-out single by Speaker off Blankenship, Judge walked and Goslin's single loaded the bases. Ruel reached on an error by Moe Berg, who had replaced Kamm at third base in the sixth inning, Speaker scored, and the bases remained loaded. But only until Bluege cleared them with a triple to left field. He scored on a fly ball by Reeves. Johnson's foul pop to third base ended the inning with Washington holding a 12-2 lead.
Bert Cole replaced Blakenship on the mound in the bottom of the eighth. He gave up a one-out single to Harris but got Speaker to hit into an inning ending double play. Chicago's Ward led off the ninth inning with a triple to center field, but Johnson got Harry McCurdy on a foulout to catcher Benny Tate, who had replaced Ruel. Cole and Metzer both hit fly ball outs and Johnson had his 417th win, the last of his 21-year career.
Clancy led Chicago with two hits in a losing effort. For Washington in the win, Harris had four singles, Speaker had three, and Bluege contributed a triple and three RBIs. Washington totaled 16 hits off Barnabe, Blankenship, and Cole. Johnson, in a fine effort allowed just six hits, walked three, and struck out one.
Johnson pitched in eight more games for Washington, six of them starts, before making his final appearance as a player on September 30, when he pitch-hit for Tom Zachary, who earlier in the game had given up Babe Ruth's historic 60th home run of the season.
Age and injuries took their toll on Johnson that season, in which he won only five games and lost six. After the season he retired as a player. In 1928 he managed Newark of the International League. The next season he returned to Washington, where he managed for four seasons (1929-1932). Then he spent all or part of three seasons (1933-1935) as the manager of the Cleveland Indians.
Walter Perry Johnson ended his major-league pitching career with a record of 417 wins (second best all-time), 279 losses, a 2.17 ERA (12th best all time), and 110 shutouts (all-time record).
Sources
In addition to the game story and box-score sources cited in the Notes, the author consulted the Baseball-Reference.com and Retrosheet.org websites.
baseball-reference.com/boxes/WS1/WS1192707280.shtml
retrosheet.org/boxesetc/1927/B07280WS11927.htm
Notes
1 "Johnson Hurls Team to Victory," Johnson City (Tennessee) Chronicle, July 29, 1927: 2.
2 "Old Walter Johnson Masters Hose, 12-2," Philadelphia Inquirer, July 29, 1927: 20.
3 Edward Burns, "Senators Chase Barnabe; Rout White Sox," Chicago Tribune, July 29, 1927: 15.
Additional Stats
Washington Senators 12
Chicago White Sox 2
---
Griffith Stadium
Washington, DC
Box Score + PBP:
Corrections? Additions?
If you can help us improve this game story, contact us.
Tags
http://bioproj.sabr.org/bp_ftp/images2/JohnsonWalter.jpg
600
800
sabr
/wp-content/uploads/2020/02/sabr_logo.png
sabr
2020-11-13 13:03:26
2020-11-13 13:03:26
July 28, 1927: Walter Johnson records 417th and final career win for Senators