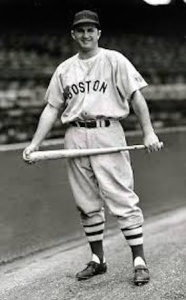 July 3, 1943: Red Sox rookie Leon Culberson hits for the natural cycle — with inside-the-park home run
---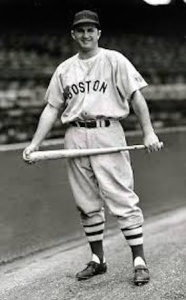 As the Boston Red Sox pounded the Cleveland Indians in front of 11,410 fans at Cleveland Stadium on July 3, 1943, Boston rookie Leon Culberson became the first player of the season to hit for the cycle. The New York Times reported that "Culberson's contributions formed the major share of a 12-hit barrage laid down by the Red Sox, although most of the damage was done in a seven-run, ninth-inning uprising."1
Through the 2015 season, Culberson was the last major leaguer to hit for the cycle with an inside-the-park home run. His cycle came in only his 31st major-league game. The Boston Globe started its recap of the game with: "A pink-cheeked rookie from Georgia, who six weeks ago was shagging flies in the bush leagues, stepped into America's largest ball park tonight and made baseball history."2 Culberson's cycle was rare on another count: The hits came in natural sequence: single, double, triple, and home run.
Joe Dobson started for the Red Sox, opposed by Cleveland's Chubby Dean. Culberson led off the game by greeting Dean with a single. One out later, Tony Lupien singled to left, and Cleveland's Pat Seerey threw out Culberson trying to make it to third. In his next at-bat, in the third inning, Culberson hit a two-out double but was stranded.
Cleveland tallied solo runs in the third and fourth innings, each on two singles and a walk and each with two outs. Boston rallied in the top of the sixth. With one out, Culberson launched a triple to deep left and scored as Pete Fox followed with a single. Lupien then singled, sending Fox scampering to third base and chasing Dean from the mound. Player-manager Lou Boudreau brought in Mike Naymick from the bullpen. The first batter he faced, Jim Tabor, hit a fly ball to center field, driving in Fox and tying the score at 2-2.
In the Cleveland half of the fifth inning, Ken Keltner had sent an offering from Dobson deep into right-center field. Fox, "running like a Jesse Owens, galloped a country mile and caught the ball in deep center. He wound up so far out in the distant reaches of the stadium that he almost needed a taxicab to get back to right field."3 When Cleveland batted in the sixth, Mike Ryba replaced Dobson on the mound for Boston.
The score remained 2-2 until the top of the eighth inning, when Culberson, leading off, hammered a ball to left and raced around the bases for an inside-the-park home run. The ball ticked off Cleveland left fielder Seerey's glove and he couldn't corral it as Culberson rounded the bases. The home run went an estimated 400 to 410 feet. Mel Webb of the Boston Globe wrote that Culberson crossed home plate before the ball got back to the infield.4 Fox then walked and after Lupien sacrificed him to second, Tabor crushed his seventh home run of the season. The productive inning lifted the Red Sox to a 5-2 lead.
The Red Sox made that lead into a rout in the top of the ninth. The first three batters reached without benefit of a hit, loading the bases. Pete Center relieved Naymick and walked Culberson to score a run. Pete Fox singled in two runs, and after two outs, the next five Red Sox batters reached on singles and walks. Boudreau yanked Center in favor of Al Milnar, who faced one batter–Culberson. This time the man who had already hit for the cycle and also collected an RBI walk flied out to center field to end the inning. Boston had sent 13 batters to the plate and had scored seven more runs. The 5-2 lead had ballooned to 12-2.
Mike Ryba, still pitching for Boston, gave up two runs to the Indians in the bottom of the ninth on singles by Milnar and Oris Hockett and doubles by Boudreau and Keltner, but Cleveland could not get close to catching up. The Indians were playing without "three front-rank outfielders, Roy Cullenbine, Hank Edwards, and Jeff Heath, [yet] made a valiant stand in the last of the ninth."5
Culberson ended the day 4-for-5 with three runs scored, two runs batted in, and a walk. After the game he was hitting an even .300 for the season. Fox and Tabor each drove in three runs for Boston. Keltner led the Indians with a 3-for-5 game and an RBI. Ryba earned his fourth victory of the season by allowing just the two ninth-inning runs in four relief innings.
Two days later, in a July 5 doubleheader against the White Sox at Comiskey Park, Culberson was 6-for-10, with a bases-loaded triple. Those games raised his average to .323, his high mark for the season.6
Through the 2015 season, 14 batters, seven in each league, have hit for a natural cycle:7
| | | |
| --- | --- | --- |
| Player | Team | Date |
| Bill Collins | Boston (NL) | October 6, 1910 |
| Bob Fothergill | Detroit (AL) | September 26, 1926 |
| Tony Lazzeri | New York (AL) | |
| Charlie Gehringer | Detroit (AL) | May 27, 1939 |
| Leon Culberson | Boston (AL) | July 3, 1943 |
| Jim Hickman | New York (NL) | August 7, 1963 |
| Ken Boyer | St. Louis (NL) | June 16, 1964 |
| Billy Williams | Chicago (NL) | |
| Tim Foli | Montreal (NL) | |
| Bob Watson | Boston (AL) | September 15, 1979 |
| John Mabry | St. Louis (NL) | May 18. 1996 |
| Jose Valentin | Chicago (AL) | May 27, 2000 |
| Brad Wilkerson | Montreal (NL) | June 24, 2003 |
| Gary Mathews Jr. | Texas (AL) | September 13, 2006 |
Sources
In addition to the sources mentioned in the Notes, the author consulted Baseball-Reference.com and Retrosheet.org.
Notes
Additional Stats
Boston Red Sox 12
Cleveland Indians 4
---
Cleveland Stadium
Cleveland, OH
Box Score + PBP:
Corrections? Additions?
If you can help us improve this game story, contact us.
Tags
http://sabr.org/sites/default/files/CulbersonLeon.preview.jpeg
600
800
admin
/wp-content/uploads/2020/02/sabr_logo.png
admin
2016-09-07 18:03:24
2020-04-17 10:26:02
July 3, 1943: Red Sox rookie Leon Culberson hits for the natural cycle — with inside-the-park home run