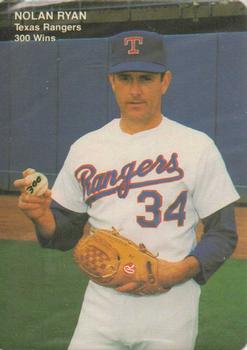 July 31, 1990: The Ryan Express wins 300th career game
---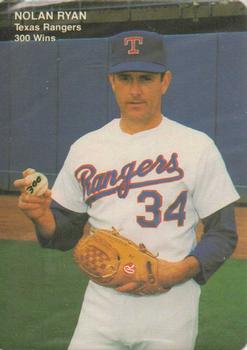 "I'm just relieved to have this over with," said 43-year-old Nolan Ryan after tossing 146 pitches (including 103 strikes) over 7⅔ innings against the Milwaukee Brewers at County Stadium to win his 300th big-league game. "The last 15 days have been the toughest emotionally that I've ever gone through."1 Since holding the Detroit Tigers to one hit over six innings to capture number 299 on July 20, the "Ryan Express" had been followed by no fewer than 250 reporters all hoping to chronicle the immensely popular pitcher's historic victory. "Typical Nolan Ryan," said Robin Yount after the game. "He was throwing hard, mixing in curveballs and changeups. He's not as overpowering as he once was, but he sure as hell is overpowering."2 Those sentiments were echoed by Brewers skipper Tom Trebelhorn: "[Ryan] used three pitches well — fastballs, curves and changeups — and when he gets three pitches over the plate, he's proven in the past that he's a pretty good pitcher."3
Described by Dale Hoffman of the Milwaukee Sentinel as a "medical marvel," Ryan was battling injuries that came with the territory of pitching in excess of 4,800 innings.4 According to Randy Galloway of the Dallas Morning News, Ryan had severely strained Achilles tendons in both feet, and walking after pitching had been difficult the past two years; and to make matters worse, Ryan had been suffering from a stress fracture in his lower back since the beginning of the season.5 Rangers beat writer Tracy Ringolsby reported that manager Bobby Valentine and pitching coach Tom House wanted to move Ryan's scheduled start in Milwaukee back two days to give the hard thrower some extra rest, but that Ryan refused.6 "Nolan is not a selfish man," said House. "He always keeps the best interests of his team first and foremost."7 Galloway noted that Ryan's success resulted from more than just natural ability and his legendary workout regimen. "Nothing has come easy for Texas' favorite and fabled son," he wrote unequivocally. "But with a strong right arm and a stronger heart, Ryan has overcome all obstacles."8
At an age when most baseball players are well into retirement, the 24-year veteran Ryan was not slowing down or backing into history. Acquired by the Rangers the previous year, he led the majors in strikeouts (301), the sixth time he had fanned at least 300. Ryan started hot in 1990, winning his first four starts, and on June 11 he recorded his sixth career no-hitter by defeating the Oakland A's and punching out 14. He possessed a 10-4 record as he took the mound in Beer City in his second attempt to become the 20th member of the exclusive 300-win club.9 "[Ryan's] gone far beyond what his critics said he was capable of," said Brewers hitting coach and former Ryan teammate Don Baylor.10
Ryan's quest for his 300th victory overshadowed the game. The Rangers were in fourth place in the AL West (51-50), while the Brewers (45-54) were in sixth place in the AL East, but that seemed secondary on a warm Midwestern summer night. County Stadium was packed with 51,533 fans, the majority of whom, according to Bob Berghaus of the Milwaukee Journal, came to see Ryan "reach a milestone."11 (At the Rangers' home ballpark, Arlington Stadium, outside Dallas, 7,828 Ryan fans showed up to watch the game on the Diamond Vision scoreboard.12 ) As Ryan walked from the bullpen to the dugout with his son Reese, the overflowing crowd at County Stadium rose for its first of three standing ovations; seldom was the ballpark quiet thereafter.
"Cheering began when Ryan struck out the Brewers lead-off hitter [Paul Molitor]," reported Berghaus. In the third inning Molitor collected the first hit off Ryan, a two-out bloop single, and then scored on Yount's triple off the right-field wall to give the Brewers a 1-0 lead. The Brewers' starter, 27-year-old right-hander Chris Bosio (4-8), came out of the chute doing his best Ryan impression by retiring the first 12 batters he faced before running into trouble in the fifth, yielding four hits and a walk that led to four runs. The pivotal hit was Jeff Huson's two-out triple, which according to Frank Clines of the Milwaukee Journal, "just eluded a diving Mike Felder" in right field. Two runs scored to increase the Rangers' lead to 4-1.13 In the sixth inning Texas tacked on another run when Pete Incaviglia singled off reliever Paul Mirabella for a 5-1 lead.
The Ryan Express cruised from the fourth inning through the seventh, yielding two hits and striking out six. "It was vintage Ryan," said Yount. "Through his career, you've needed to get him out early because if you don't, he gets into a groove."14 Ryan, too, was pleased with those four frames. "I didn't have the command in the beginning I had at the end," he said. "I think the key to the game was the middle innings. I had a better fastball and got ahead of them."15 Molitor remarked that Ryan's pitches had extraordinary movement. "It seemed like you'd go to swing and the ball would just disappear over the outside corner," he said."16
The game's tensest moments came in the eighth inning when Rangers second baseman Julio Franco booted two sure double plays after Molitor led off with a single. Ryan's night ended when Jim Gantner connected for the club's sixth hit to drive in the second run of the inning (both unearned). Ryan received another standing ovation as he left the mound with the Rangers leading 5-3. "He represents something for the older players," said the Brewers 18-year veteran Dave Parker after the game. "I have great admiration for him."17
Any anxiety that Ryan might not win his 300th game was put to rest in the ninth when the Rangers scored six insurance runs. Incaviglia led off with a homer, Jack Daugherty singled in another, and then Franco redeemed himself by crushing a grand slam to give Texas an 11-3 lead. The Rangers' Brad Arnsberg, who had relieved Ryan, hurled a scoreless ninth to preserve the win. "It's a different feeling, going up there in the ninth inning, swinging and missing and having the crowd cheer," said Molitor "But you have to respect what they came out for."18
When the game ended, fans showered Ryan with their third standing ovation. "It was rewarding on a personal basis to hear the Milwaukee fans so supportive," said Ryan, who displayed no outward sign of emotion, fist-pumping, or any other attention-grabbing gesture.19 Eschewing any celebration, the stoic Ryan commended his teammates and his opponents for the game they played, and left any celebratory remarks to others. "He's a person who lets his actions speak for him," said Tom House. "He's the gunslinger who doesn't flinch.20
"He had that cut fastball," said the Brewers' Greg Vaughn, who twice struck out swinging against Ryan. "You know, the ball starts out right at you and next thing you know it's darting down and out of the strike zone."21 Ryan finished with eight strikeouts and walked two. "If [Ryan's] been amazing, spectacular in the past, then it goes beyond description now," said Valentine, who began his major-league playing career in 1969, the year Ryan won his only World Series as a swingman for the New York Mets.22 Said Milwaukee's 21-year-old Gary Sheffield, in his third season, "He was pumping the ball up. He was throwing me fastballs, starting away to try to get ahead, then brushing me back and coming in."23 Perhaps the most appropriate compliment came from Rangers managing general partner and future President of the United States George W. Bush, who described Ryan as a "real live Texas hero with Texas virtues."24
Ryan's 300th victory kicked off an impressive stretch of 12 starts to conclude the season. In 91⅔ innings he limited the opposition to a paltry .182 batting average, struck out 97, and carved out a 2.75 ERA. A tough-luck loser, he won only three of those starts, and finished with a 13-9 record. At season's end his name was prominently displayed at the top of the leader board in several categories. He led the league for the 11th and final time in strikeouts (232); his average of 10.2 strikeouts per nine innings topped the league for the fourth consecutive season and 11th of 12 times in his career; he paced the AL with a 1.034 WHIP (walks and hits allowed per inning pitched) for the first of two consecutive seasons; and his 6.0 hits allowed per nine innings was the league's best for the 11th of 12 times. So much for old age.
This article appears in "From the Braves to the Brewers: Great Games and Exciting History at Milwaukee's County Stadium" (SABR, 2016), edited by Gregory H. Wolf. To read more stories from this book at the SABR Games Project, click here .
Notes
1 Dale Hoffmann, "Ryan's 300th. Speed, Class Tell in Historic Triumph," Milwaukee Sentinel, August 1, 1990: 1.
2 "Brewers Laud Ryan's Skills," Milwaukee Journal, August 1, 1990:C3.
3 Frank Clines, "For Trebelhorn, the Joy of Ryan's Heat is Overshadowed by the Agony of Defeat," Milwaukee Journal, August 1, 1990: C1.
4 Hoffmann.
5 Randy Galloway, "Ryan's Greatness Affirmed," Dallas Morning News, August 1, 1990: B1.
6 Tracy Ringolsby, "Milestone Win Relief for Ryan," Dallas Morning News, August 1, 1990: B1.
7 Ibid.
8 Galloway.
9 Ryan was just the eighth pitcher since Lefty Grove in 1941 to join the exclusive club. The others were Early Wynn, Warren Spahn, Gaylord Perry, Phil Niekro, Tom Seaver, Steve Carlton, and Don Sutton.
10 Galloway
11 Bob Berghaus, "Fan Appreciation: Crowd Cheers Buoy Ryan," Milwaukee Journal, August 1, 1990: C3.
12 Al Brumley, "Fans Cheer Ryan at Arlington," Dallas Morning News, August 1, 1990: A1.
13 Clines.
14 Tom Haudricourt, "Brewers Are Ryan's 300th Victim, Milwaukee Sentinel, August 1, 1990: Part 2, 1.
15 Tom Flaherty, "300 — Ryan Hits the Elusive Target," Milwaukee Journal, August 1, 1990: C1.
16 "Brewers Laud Ryan's Skills."
17 Haudricourt.
18 Berghaus.
19 Flaherty.
20 Ringolsby.
21 Brewers Laud Ryan's Skills."
22 Mike Hart, "Rangers Happy To Be a Part of Historic Night," Milwaukee Sentinel, August 1, 1990: Part 2, 1.
23 Hart.
24 Flaherty.
Additional Stats
Texas Rangers 11
Milwaukee Brewers 3
---
County Stadium
Milwaukee, WI
Box Score + PBP:
Corrections? Additions?
If you can help us improve this game story, contact us.
Tags
https://sabr.org/sites/default/files/RyanNolan-300.jpg
600
800
admin
/wp-content/uploads/2020/02/sabr_logo.png
admin
2018-04-19 11:58:55
2020-04-17 10:24:49
July 31, 1990: The Ryan Express wins 300th career game