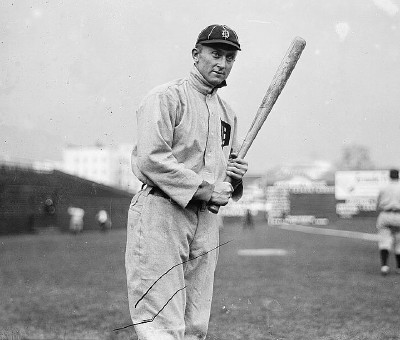 July 4, 1911: Ty Cobb's 40-game hitting streak ends as Ed Walsh, White Sox drop Detroit
---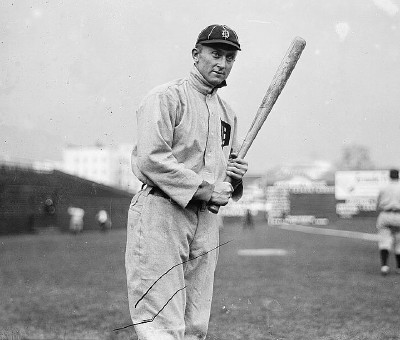 On July 4, 1911, the Detroit Tigers hosted the Chicago White Sox for two games. As Independence Day dawned, the first-place Tigers had a half-game lead over the Philadelphia Athletics, a team they once led by 9½ games. Detroit had raced to a 27-5 record by May 19, but had been just 19-17 since then, bringing their record to 46-22. Philadelphia began the season slowly, but since May 1 had been winning at a heady .722 clip to close the gap.1
In the morning contest, a crowd of 7,1222 saw Chicago's Ed Walsh "pitch an unbeatable brand of baseball"3 to top the Tigers, 7-3. The loss dropped Detroit from first place in the American League, a position they had held continuously since April 12.4 The Tigers bounced back to beat the White Sox 11-10 in the afternoon game, but with Philadelphia sweeping two games from the New York Highlanders, it was the Athletics who topped the standings.
Not only did the Tigers fall to second place that morning, but their star, Ty Cobb, failed to extend his 40-game hitting streak. Until Walsh stymied him, Cobb had not gone hitless since May 14. During those 40 games he stroked 80 hits in 168 at-bats, raising his batting average to .444.
More than a century after the game, the end of Cobb's hitting streak — one of only six hitting streaks to reach the 40-games milestone5 — seems far more significant than a midseason fall from first to second in the standings. But at the time, the streak's termination went unreported. The Free Press was aware of the 40-game string of hits, but apparently did not find its end to be newsworthy. The omission is puzzling, because on July 3 the Free Press had reported the streak's length, along with this proposal: "Here's hoping he makes it 100."6
The morning game matched righthanded, spit-balling Walsh against rookie Jack Lively (6-3) of the Tigers. Walsh was the White Sox' ace, and one of the best pitchers in baseball. In 1908 he had won 40 games, the last pitcher as of 2019 to accomplish that feat.7 As he took the mound to face the Tigers, his record was 13-8, and it included a four-hit shutout of Detroit a week earlier.
Despite Lively's rookie status, he and the White Sox were familiar foes. He had beaten them 5-4 in 10 innings on May 7, pitching a complete game. Lively had also pitched an inning in relief against the White Sox on June 27, giving them two hits and a run.
On this day, Lively struggled. He "was hit regularly throughout,"8 surrendering 11 hits, as Chicago built a 5-0 lead during his seven innings on the mound. The Free Press complained that the White Sox did not vault into the lead with one big inning, but "they had an aggravating tendency to shove over a run here and there."9
In contrast, Walsh had few problems over the first seven innings. He "mowed the Tigers down just as fast as they faced him."10 He was aided by spectacular fielding. Third baseman Harry Lord raced behind the pitcher's box to scoop a grounder and throw out a runner at first; "the whole performance ranking with the best plays ever seen in Bennett Field."11 Also, first baseman Shano Collins grabbed a sharp bounder hit by Cobb, threw to shortstop Lee Tannehill covering second, and took the return throw, all "with the speed of a rifle bullet," to turn a 3-6-3 double play that the Free Press described as "a corker."12
Ed Lafitte replaced Lively for the eighth and ninth and allowed Chicago one run in each inning. The Tigers finally scored in the eighth, when Davy Jones doubled and advanced to third, and then home on consecutive groundouts by Donie Bush and Cobb.13 Detroit added two more runs in the ninth before Walsh stanched the rally to secure the 7-3 victory. While Walsh had pitched well enough to claim a win, he was certainly not at the top of his game. He surrendered 10 hits and walked three.
Cobb batted four times in the game, but only three of the plate appearances are recounted in the available reports. He was one of Walsh's four strikeout victims, and, as described above, hit into a double play before grounding out in his final at-bat in the eighth.
Cobb returned to form in the afternoon game, rapping two hits. The next day, in the final game of their series, Cobb drove in four runs with three hits, including two triples, as the Tigers beat the White Sox 8-1. Cobb ended 1911 with a .419 batting average, the best of his career, to earn the American League batting crown. He also led the league in hits, runs, doubles, triples, stolen bases, slugging, and runs batted in. Cobb's 1911 season is often cited as his best and as one of the greatest single-season performances by any batter.14
Detroit's fall from first was temporary. The Tigers regained first place with their win on July 5, and then extended their lead to 5½ games on July 14 by beating the Athletics in three straight games. But the sweep of the Athletics was to be the Tigers' last hurrah. From that day to the end of the season, Detroit lost seven more games than it won. Although the Tigers and A's shared first place as late as August 5, Detroit faded to a second-place finish, 13½ games behind Philadelphia.
The White Sox ended their season tied for fourth with Boston. Walsh led the league in innings pitched (368⅔) and strikeouts (255), while compiling a 27-18 record. He would pitch even more innings (393) in 1912, and again win 27 games, but his heavy workloads led to arm weakness and a premature end to his career.15 From 1913 to 1917 he pitched only sporadically, winning just 13 more times before retiring. As he later admitted, "My arm was played out after the 1912 season — it needed a rest."16 His career earned-run-average of 1.82 is the best of any pitcher in history, an impressive accomplishment even in baseball's Deadball Era of 1901-1919.
Sources
retrosheet.org/boxesetc/1911/B07041DET1911.htm
baseball-reference.com/boxes/DET/DET191107041.shtml
Statistical information in this article is taken from Retrosheet.org.
Notes
1 retrosheet.org/boxesetc/1911/VPHA01911.htm.
2 "Told About the Tigers," Detroit Free Press, July 5, 1911: 10.
3 E.A. Batchelor, "Tigers Forced to Vacate Position at League's Head," Detroit Free Press, July 5, 1911: 9.
4 Batchelor.
5 The major-league hitting streaks to reach 40 or more games are: Joe DiMaggio, 56 (1941); Willie Keeler, 44 (1897); Pete Rose, 44 (1978); Bill Dahlen, 42 (1894); George Sisler, 41 (1922); and Ty Cobb, 40 (1911). Cobb's 40-game streak broke the previous American League record of 33, set by Hal Chase in 1907.
6 "Told About the Tigers," Detroit Free Press.
7 Stuart Schimler, "Big Ed Walsh," SABR BioProject: sabr.org/bioproj/person/3a0e7935.
8 Batchelor.
9 Batchelor.
10 Batchelor.
11 Batchelor.
12 Batchelor.
13 Sam Weller, "Sox Jerk Tigers from Top Place," Chicago Tribune, July 5, 1911: 12.
14 See, e.g., Sam Quentin, "Top 10 Dominant Seasons in MLB History," TheRichest.com, May 7, 2014. therichest.com/baseball-sports/top-10-best-offensive-seasons-in-mlb-history/. Accessed October 16, 2019.
15 Schimler.
16 Schimler.
Additional Stats
Chicago White Sox 7
Detroit Tigers 3
Game 1, DH
---
Bennett Park
Detroit, MI
Box Score + PBP:
Corrections? Additions?
If you can help us improve this game story, contact us.
Tags
https://sabr.org/sites/default/files/images/CobbTy.jpg
600
800
sabr
/wp-content/uploads/2020/02/sabr_logo.png
sabr
2020-06-09 21:24:22
2020-06-09 21:24:22
July 4, 1911: Ty Cobb's 40-game hitting streak ends as Ed Walsh, White Sox drop Detroit