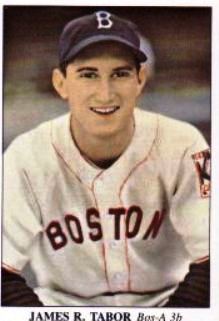 July 4, 1939: Boston's Jim Tabor hits two grand slams at Shibe Park
---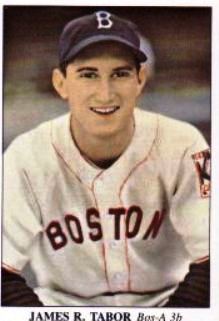 On July 4, 1939, the Boston Red Sox engaged the Philadelphia Athletics in a holiday doubleheader at Shibe Park in Philadelphia. A "punch-drunk Independence Day throng of 22,030"1 witnessed a slugfest between the two American League teams. In the first game, Boston jumped out to a quick lead and had a 10-0 advantage going into the bottom of the third inning. Philadelphia fought back with seven runs in three innings, and then Boston scored seven more times to win, 17-7. In Game Two, the Athletics squandered an 11-8 lead, allowing 10 unanswered runs and losing,18-12. The doubleheader provided 65 hits, with Boston collecting 15 and 20 in the two games, respectively, and Philadelphia getting 15 hits in each game.
The first game featured four home runs by the Red Sox (Bobby Doerr, Ted Williams, Joe Cronin, and Jim Tabor) and three by the Athletics (Bob Johnson, Frankie Hayes, and Sam Chapman). The second game provided three Boston dingers, all by Tabor. Philadelphia scored 12 times in Game Two, all without a home run. The Boston Globe told its readers, "Bad Boy Jim Tabor paid his debt to society today, while the Red Sox were sweeping both ends of a daffy double-header from the helpless A's by fantastic scores of 17-7 and 18-12."2 A week before this doubleheader, Tabor had been suspended by the team.
Boston started the second game with second baseman Bobby Doerr singling to third base for an infield hit. Center fielder Doc Cramer flied to left, and then Philly turned a "strike 'em out, throw 'em out" double play as first baseman Jimmie Foxx struck out and Doerr was caught in a catcher-to-second-to-first-to-second rundown. The Athletics came to bat in the bottom of the frame and chased Boston pitcher Woody Rich after a groundout, a single by shortstop Wayne Ambler, a double by first baseman Dick Siebert, a two-RBI single by left fielder Bob Johnson and an RBI double by catcher Earle Brucker. Pitcher Jack Wilson entered the game for Boston and ended Philadelphia's rally, but the Athletics led, 3-0.
In the top of the second with two outs, Boston left fielder Lou Finney singled to center, third baseman Jim Tabor walked, and catcher Johnny Peacock stroked a double to center field, driving in the two runners. The Athletics did not score in their half of the second, and Boston came up in the top of the third. Doerr singled to center, Cramer singled to left, and Foxx doubled to center, driving in his teammates. Right fielder Ted Williams walked, shortstop Joe Cronin was out on a sacrifice bunt, and Finney walked, loading the bases. Tabor "hit the jackpot … when with George Jasper Caster hurling, Jim slapped a towering smash into the upper left field deck about two feet inside the foul line, where it reads 334 feet."3 It was the second grand slam of his career. He had hit one the season before against the Athletics, also at Shibe Park4. Caster retired Peacock and Jack Wilson, but Boston had pushed across six runs on just four hits, taking an 8-3 lead.
In the bottom of the third inning, Philadelphia charged right back. Siebert walked and moved to second on Bob Johnson's single to left. Eddie Collins entered the game as a pinch-runner for Johnson. Brucker doubled, driving in Siebert. Center fielder Sam Chapman grounded to first, bringing in Collins. Right fielder Dee Miles doubled to center, knocking in Brucker. Third baseman Bill Nagel reached on an error by Finney, moving Nagel to third. Chubby Dean pinch-hit for Caster and reached on a fielder's choice as Miles scored Second baseman Joe Gantenbein singled to center, driving in Nagel. At this point, Boston manager Joe Cronin lifted Wilson for Monte Weaver, who promptly gave up a single to Ambler that plated both Dean and Gantenbein. Weaver retired the next two Athletics batters, but Philly had scored seven runs on five hits and had taken a 10-8 lead over the Red Sox.
Philadelphia added another run in the bottom of the fourth inning on a walk to Brucker,a single by Miles,and Nagel's sacrifice fly, pushing the score to 11-8. In the top half of the fifth, Boston answered. Cronin walked, Finney singled, Tabor forced Cronin at third on a sacrifice bunt attempt, and Peacock hit a double on which Finney scored. Gene Desautels came on as a pinch-hitter for Weaver and grounded out to third. Tabor scored on the play. Doerr reached on an error by Ambler and Peacock scored, tying the game at 11-11. In the bottom of the fifth, Denny Galehouse became the fourth Boston pitcher and retired the side, allowing only Siebert to reach on the pitcher's own error. The score was still 11-11 after five innings,
The Red Sox changed that in the top of the sixth. After Foxx led off with a walk, Williams doubled, and Lynn Line Drive Nelson replaced Dean on the mound. He walked Cronin, bringing up Finney with the bases loaded. Finney flied out to center, but Foxx did not tag. So Tabor came up for the second time in the game with the bases filled. And for the second time he hit a grand slam. This time, however, it was an inside-the-park home run.5 Tabor "drilled a shrill liner against the center field wall, where the reading is 405 feet.The ball caromed back yards into the playing field, and before All-American Sam Chapman could retrieve the pellet the speedy Alabaman had circled the sacks, just about deciding this contest."6 Nelson retired Peacock and Galehouse, but the damage was done. Boston had scored four runs on two hits and two walks for a 15-11 lead. Jim Tabor had tied Tony Lazzeri's record of hitting two grand slams in a game.
Three innings later, with the score still 15-11, the Red Sox scored again. With two outs Tabor hit his third home run of the game, a solo shot, increasing Boston's lead to 16-11. With two outs in the top of the ninth, Cramer doubled, Foxx added an RBI single, Williams walked and Cronin drove in Foxx with a double. Boston had added two more runs and led 18-11. The Athletics added a run in the bottom of the ninth on a Nagel leadoff double and two groundouts. The final score was Boston 18, Philadelphia 12. Each team had committed two errors. Ninety-eight batters had come to the plate in the nine-inning game.
With his home run in the eighth inning of the first contest, Tabor's three in the nightcap gave him four home runs in a doubleheader, tying the record at the time. He had hit two home runs with the bases loaded in a game, becoming only the second major leaguer to have done so. In five plate appearances in the second game, he had four at-bats and a walk, scored five runs, hit three home runs, and had driven in nine runs. In the doubleheader, Jim Tabor was 6-for-9 with seven runs scored, four home runs, a double, a single, and 11 runs batted in. Gerry Moore, reporter for The Boston Globe opined, "If Joe Cronin could have foreseen Jim's chances he probably wouldn't have ordered Tabor to bunt with runners on first and second in the fifth inning."7
Since Tabor's feat, eleven other players (as of 2015) have hit two grand slams in a game: Rudy York, Jim Gentile, Tony Cloninger, Jim Northrup, Frank Robinson, Robin Ventura, Chris Hoiles, Fernando Tatis, Nomar Garciaparra, Bill Mueller and Josh Willingham. York, Garciaparra, and Mueller did it while playing for the Red Sox.
Postscript
1. On July 5, the day after his doubleheader display, Tabor hit another home run, giving him five in a three-game stretch.8
2. Jim Tabor's formal rookie season with the Boston Red Sox was in 1939. This two grand slam performance, plus his 95 RBIs for the season, were not enough to favorably compare him to another Boston rookie, Ted Williams, who batted .327 and led the league with 145 RBIs in 1939.9
Acknowledgements
The author thanks Lisa Tuite of The Boston Globe Library for her assistance with obtaining sources.
Sources
Gerry Moore, "Red Sox Crush the A's Making 35 Runs on 35 Hiys – Tabor Drives in Nine Runs," The Boston Globe, July 5, 1939.
"Two Grand Slams in One Game," http://baseball-almanac.com/feats/feats11.shtml.
"The Ballplayers – Jim Tabor," http://baseballlibrary.com/ballplayers/player.php?name=Jim_Tabor_1913.
"July 4, 1939 Boston Red Sox at Philadelphia Athletics Box Score (Game 1)," http://baseball-reference.com/boxes/PHA/PHA193907041.shtml.
"July 4, 1939 Boston Red Sox at Philadelphia Athletics Box Score (Game 2)," http://baseball-reference.com/boxes/PHA/PHA193907042.shtml.
"RetrosheetBoxscore: Boston Red Sox 17, Philadelphia Athletics 7 (1)," http://retrosheet.org/boxesetc/1939/B07041PHA1939.htm.
"RetrosheetBoxscore: Boston Red Sox 18, Philadelphia Athletics 12 (2)," http://retrosheet.org/boxesetc/1939/B07042PHA1939.htm.
Maurice Bouchard, "Jim Tabor," SABR BioProject.
Notes
Additional Stats
Boston Red Sox 18
Philadelphia Athletics 12
Game 2 of DH
---
At Shibe Park
Philadelphia, PA
Box Score + PBP:
Corrections? Additions?
If you can help us improve this game story, contact us.
Tags
http://bioproj.sabr.org/bp_ftp/images4/TaborJim.jpg
600
800
admin
/wp-content/uploads/2020/02/sabr_logo.png
admin
2015-02-25 11:17:59
2020-04-17 10:26:47
July 4, 1939: Boston's Jim Tabor hits two grand slams at Shibe Park