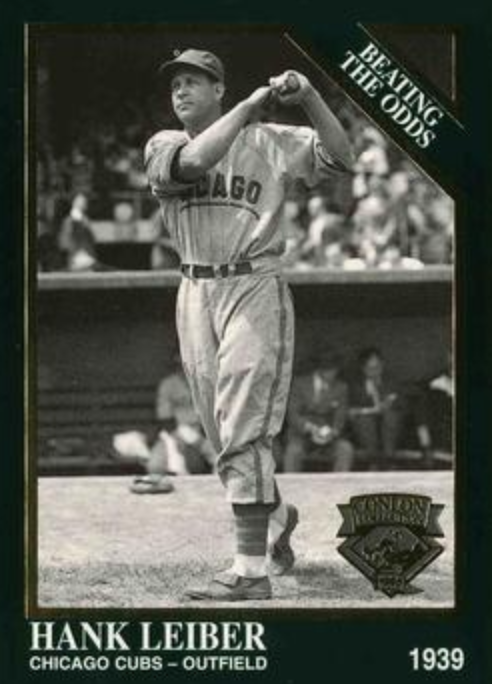 July 4, 1939: Cubs' Hank Leiber provides fireworks with three home runs
---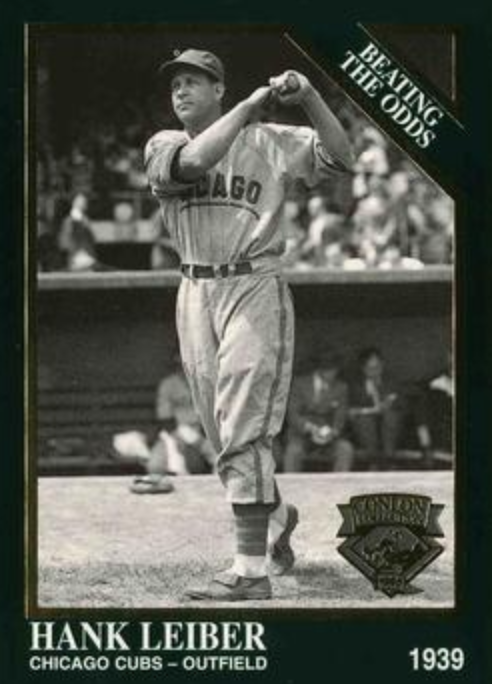 Sixteen games into the 1939 season, Cubs player-manager Gabby Hartnett had seen enough. The defending National League champions had just lost 10-3 to the New York Giants on May 7 to fall into sixth place. Hartnett announced the benching of some lineup regulars, including team captain Billy Herman. Unsatisfactory play, not hustling, and low batting marks were the targets of Hartnett's "whip-cracking" for a squad that had been hailed as a "happy family" during spring training. Herman's banishment lasted just eight innings.1
In the third week of June, the Northsiders seemed to straighten themselves out with a six-game win streak. Nevertheless, the Cincinnati Reds had locked in on first place as July emerged. Meanwhile the Cubs seemed stalled in either third or fourth place as the season schedule crept toward the halfway mark. The team's borderline showing did Hartnett no favors since former Chicago major-league managers Charlie Grimm (Cubs) and Lew Fonseca (White Sox) reported game action on WJJD radio.2
On July 2, Chicago split a Sunday doubleheader with league-leading Cincinnati that was attended by a season-record home gathering of 42,094. A passive turnout of 12,749 filtered in the next afternoon to watch the Cardinals' Johnny Mize collect four extra-base hits (double, triple, two home runs) in a 5-3 St. Louis victory. This loss dropped the Cubs to fourth place and 6½ games behind the Reds.
Independence Day arrived, and with it a holiday doubleheader at Wrigley Field. The Cubs would wrap up a three-game series with their current "dance partners" in the standings, the St. Louis Cardinals. The day's weather forecast called for slightly cloudy conditions with a chance of a thunderstorm, coupled with a southerly wind and temperatures in the upper 70.3 A crowd of 26,409 made their way into the confines at Clark and Addison to enjoy another afternoon of baseball.
For Game One, Hartnett selected longtime American League hurler Earl Whitehill to start for Chicago, while St. Louis rookie skipper Ray Blades tabbed Bill McGee. Whitehill, a 40-year-old southpaw, sported a 4-3 record with a 3.84 ERA during his 17th major-league season and had won 218 games. The veteran, signed by the Cubs in February, possessed a tantalizing curveball, and was not above planting a fastball in the ribs of a batter who was digging in.4 Right-hander McGee (6-4, 3.44), making his sixth start of the season, was normally employed in relief.
Both teams went down in order in the opening frame, and Whitehill etched another scoreless round in the second. Chicago center fielder Hank Leiber, who came in hitting .302, led off the bottom of the second with a long home run into the left-center-field bleachers to give the Cubs a 1-0 lead.5 The slugging flychaser was acquired in a six-player trade with the New York Giants during the offseason.
Ironically, Leiber was one of the Cubs Hartnett had benched in May; he was hitting .213 with two home runs and seven RBIs from the cleanup spot. At the time Hartnett announced the players on his "splinter-gathering crew," he emphasized that Leiber had indeed been hustling.6 Leiber's exile on the pines lasted two games, and beginning May 11, he started a 12-game hitting streak, batting .404.
Whitehill dispatched the Cardinals in the third and had not allowed a hit. McGee, on the other hand, was having location issues, walking two in the second. In the third, he gave a one-out free pass to Herman. With two away, Leiber stepped in and swatted his second homer of the game to increase the lead to 3-0.7 The two-run blast landed near his second-inning solo wallop. It was the fourth time in his career (the first with the Cubs) that Leiber had logged a multihomer game.8
The advantage evaporated quickly in the top of the fourth as St. Louis sent seven men to the plate, scoring three runs while playing small ball. Jimmy Brown got the Cardinals' first safety, and scored from second base when Mize singled to center with one out. Mize took second on Leiber's throw to the plate, and scored on a single to right by Joe Medwick. Terry Moore also singled to right, sending Medwick to third. Mickey Owen flied deep enough to left fielder Augie Galan to score Medwick, and the game was tied.9
With two out in the top of the sixth, Medwick hammered his sixth home run to put St. Louis up, 4-3.10 Remarkably, Leiber struck again in the bottom half, tying the game with a one-out solo smash that landed halfway up the center-field bleachers for his ninth homer of the year.11 It was Leiber's third consecutive circuit clout. All of Leiber's blasts were propelled off the Cardinals' starter, McGee.
Whitehill, who was the oldest player in the NL,12 returned to the mound for the seventh and held the Cardinals in check. Blades sent rookie right-hander Mort Cooper to the hill for St. Louis. McGee's line for six frames showed four runs on five hits with three walks and one strikeout. The 26-year-old Cooper, making his 21st appearance of the season, had gone six innings in a no-decision as the starter the day before. Cooper matched zeroes with Whitehill, allowing only a walk and one hit while zipping his fastball past several of the Cubs, including the "hot-swinging" Leiber, who fanned in the eighth.
Leading off the top of the ninth, Mickey Owen worked Whitehill for a walk. Don Gutteridge sacrificed Owen to second, and Blades let Cooper bat for himself.13 This late-game decision proved fruitful as Cooper launched a deep drive down the left-field line. Galan gave chase, bad knees and all,14 but could only watch as the ball barely cleared the wall, thumped against the rail screen, and bounded back on the field. Galan scooped up the sphere and pegged it to shortstop Dick Bartell, who turned to see teammates angrily rushing toward third-base umpire Lee Ballanfant after he signaled that Cooper's drive was a home run. A heated argument commenced, but the "rhubarb" was short-lived when the other arbiters, George Magerkurth and Ziggy Sears, joined the dispute and confirmed Ballanfant's ruling.15 Three days before, a new Wrigley Field ground rule had gone into effect stating that batted balls hitting the screens near each foul pole were home runs.16 Thus, Cooper's first major-league homer gave St. Louis a two-run lead.
Cooper (3-3) completed a third scoreless frame when he retired pinch-hitter Gus Mancuso to close out the Cubs' "heart-breaking" 6-4 defeat in 2:13. Whitehill (4-4),17 who struck out four and walked five, suffered the complete-game loss. Line-score numbers displayed six runs and eight hits for St. Louis versus four runs on six hits for Chicago, with no errors by either side. The Cubs dropped to 36-34, while the third-place Cardinals improved to 35-30. As the teams walked to their clubhouses to relax before the second game, Leiber thought about his hitting exploits, but another look at the massive scoreboard trumped his pleasure. In a first for the Cubs organization, Leiber's triplicate longball performance came during a loss instead of a stimulating victory. Leiber joined Babe Herman (1933), Rogers Hornsby (1931), Hack Wilson (1930), Cap Anson, and Ned Williamson (both in 1884), who had previously hit three homers for the franchise in a contest.
Leiber18 went hitless in Game Two, and ended up upstaged offensively by the third baseman of the Red Sox. In Philadelphia, Jim Tabor drove in 11 runs and tallied four home runs, with three clouts in the second game during Boston's doubleheader thrashing of the Athletics.19 Additional baseball stories the next day (outside of Chicago) hailed the attendance record set (249,538 for the eight doubleheaders),20 along with the poignant ceremony in New York that honored Lou Gehrig at Yankee Stadium.21
This article appears in "Wrigley Field: The Friendly Confines at Clark and Addison" (SABR, 2019), edited by Gregory H. Wolf. To read more stories from this book online, click here.
Sources
In addition to the sources cited in the Notes, the author also accessed Retrosheet.org, Baseball-Reference.com, Newspapers.com, SABR.org/bioproj, and The Sporting News archive via Paper of Record.
https://www.baseball-reference.com/boxes/CHN/CHN193907041.shtml
http://www.retrosheet.org/boxesetc/1939/B07041CHN1939.htm
Notes
1 Ed Burns, "Hartnett Cracks the Whip on Cubs in Shake-up," The Sporting News, May 11, 1939: 1-2.
2 Chicago Tribune, July 4, 1939: 19.
3 "Our Weather Man," Belvidere (Illinois) Daily Republican, July 3, 1939: 8.
4 Bill Johnson, "Earl Whitehill," SABR Baseball Biography Project, https://sabr.org/bioproj/person/c510cd32).
5 Ed Burns, "Cubs, Cardinals Split," Chicago Tribune, July 5, 1939: 19-20.
6 Burns, "Hartnett Cracks the Whip."
7 Burns, "Cubs, Cardinals Split."
8 Photo Captions, "Leiber Hits Three Homers for Cubs in First Game," Chicago Tribune, July 5, 1939: 28.
9 Burns, "Cubs, Cardinals Split."
10 Ibid.
11 "Leiber Hits Three Homers."
12 Johnson, Whitehill biography.
13 Burns, "Cubs, Cardinals Split."
14 Greg King, "Augie Galan," SABR Baseball Biography Project, https://sabr.org/bioproj/person/10f4ef3f.
15 Burns, "Cubs, Cardinals Split."
16 "Dean and French Face Reds Today in Twin Bill," Chicago Tribune, July 2, 1939: 16.
17 Whitehill ended the 1939 season for the Cubs at 4-7. He was released on October 18.
18 Leiber hit a career-high 24 home runs for the Cubs in 1939. An All-Star selection in 1940 and 1941, Leiber was traded back to the New York Giants for pitcher Bob Bowman on December 3, 1941.
19 "Red Sox Lace Mackmen Twice," Allentown (Pennsylvania) Morning Call, July 5, 1939: 18
20 "Holiday Ball Games Draw 249,538 for New High Attendance Mark," St. Louis Star and Times, July 5, 1939: 18.
21 "'Iron-Man' Gehrig Weeps as 61,808 pay Tribute to Him," St. Louis Star and Times, July 5, 1939: 18.
Additional Stats
St. Louis Cardinals 6
Chicago Cubs 4
---
Wrigley Field
Chicago, IL
Box Score + PBP:
Corrections? Additions?
If you can help us improve this game story, contact us.
Tags
https://sabr.org/sites/default/files/LeiberHank.jpg
600
800
admin
/wp-content/uploads/2020/02/sabr_logo.png
admin
2019-12-03 11:45:17
2020-04-17 10:22:24
July 4, 1939: Cubs' Hank Leiber provides fireworks with three home runs