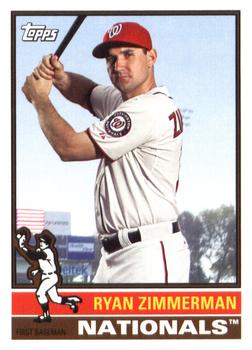 July 4, 2006: Nationals' Ryan Zimmerman provides the walk-off fireworks
---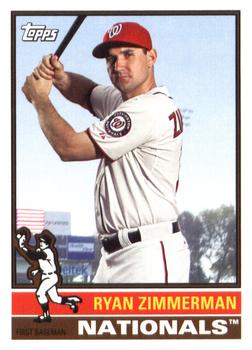 A relatively small crowd of 23,1181 assembled at RFK Stadium for the Fourth of July festivities and a baseball game. As always in DC, the Fourth was a day game so the fans could head home before the fireworks over the National Mall. Neither team was going anywhere: The Marlins (35-44) and the Nationals (36-48) were third and last in the NL East.2 Maybe the weather discouraged the fans: It was 92 degrees and sunny.
John Patterson (1-2, 4.41 ERA) had recently returned from two months on the DL with a right-forearm strain. He had been a solid pitcher for the Nationals the previous year (3.13 ERA, best of the starters). His first inning looked like the Patterson of 2005: Hanley Ramírez and Dan Uggla flied out and Mike Jacobs grounded out, all on 10 pitches.
Scott Olsen (6-4, 4.26 ERA) was pitching for the Marlins. He was still a rookie; this was only his 19th career start. Although no one scored, he had a tough first inning. Alfonso Soriano worked the count full, then walked. José Vidro flied out, then, with Ryan Zimmerman batting, Soriano stole second. He wasn't there long: Zimmerman walked and then executed a double steal with Soriano, putting two runners into scoring position. Unfortunately for the Nationals, José Guillén flied out to right, but they did make Olsen throw 26 pitches.
Patterson continued his efficient outing in the second: He needed only eight pitches to get All-Star Miguel Cabrera to ground back to him, Jeremy Hermida to fly out, and Joe Borchard out looking at strike three. The Nationals broke through in the bottom of the second. After Royce Clayton grounded out, Marlon Byrd homered. But that was all the Nationals got: Brian Schneider was out on a foul pop and, although Patterson singled, Soriano struck out to leave him at first.
Patterson wasn't quite as efficient in the top of the third: He needed 14 pitches for a flyout and two strikeouts. One was the opposing pitcher, who was looking for his second career hit: He'd gotten his first hit and RBI in his previous game. But Olsen took the mound after striking out on three pitches and worked his first 1-2-3 inning of the game.
Patterson's luck, or skill, ran out in the fourth inning.3 He started by walking Ramírez. With Uggla batting, Ramírez stole second, allowing him to score on Uggla's double. After Jacobs struck out, Uggla scored on Cabrera's single, giving the Marlins a 2-1 lead. Hermida struck out, then Borchard singled, moving Cabrera to second. Patterson was almost out of the inning, but second baseman Vidro couldn't handle Reggie Abercrombie's grounder, so the bases were loaded. Patterson escaped the jam by getting Matt Treanor to pop out, but it took him 32 pitches to get through the inning, the same number he'd needed for the first three innings. In the bottom of the fourth, Olsen got a quick fly out and two strikeouts, using just 11 pitches.
Patterson opened the fifth by giving up a single to Olsen (his second career hit4) but he was erased when Ramírez grounded into a double play. Uggla fouled out to Nick Johnson at first on the first pitch, so Patterson was out of the inning on five pitches. The Nationals threatened in the bottom of the fifth: After Schneider grounded out, Olsen walked pinch-hitter Matt LeCroy. Nationals manager Frank Robinson put in Ramón Ortiz5 as a pinch-runner. When Soriano doubled down the left-field line Ortiz tried to score, but was thrown out at the plate on a good relay from Ramírez at short. Soriano took third on the throw but was left there when Vidro flied out to center.
Mike Stanton took the mound for the Nationals for the sixth inning. He gave up a single to Jacobs, but he got Cabrera and Hermida to strike out. Borchard singled but not deep enough for Jacobs to advance beyond second. They were left there when Abercrombie grounded into a force out at second.
The Nationals retook the lead in the bottom of the sixth, helped by two fielding errors. Zimmerman walked, Johnson struck out, and Guillén was out on a foul pop to first. Clayton doubled to right, scoring Zimmerman. Both Hermida in right and Uggla at second were charged with throwing errors, so Clayton was able to score as well. That didn't go in the record books as a home run, but it does qualify as a "Little League Home Run" in the SABR database.6 The Nationals led, 3-2. Byrd flied out to end the inning.
Jon Rauch took the hill for the Nationals in the seventh. He struck out Treanor and pinch-hitter Josh Willingham. But then Ramírez homered on the next pitch, tying the game, 3-3. Rauch limited the damage, though: Uggla flied out. With Olsen at 101 pitches, Marlins manager Joe Girardi chose left-handed rookie Taylor Tankersley to face the lefties Schneider and Ward. He was successful: a fly out and a strikeout, and he gave way to Randy Messenger to face Soriano. Messenger was also successful: Soriano grounded out on the first pitch.
The Marlins retook the lead in the eighth. Nationals rookie Bill Bray (5.51 ERA) did not have a successful outing.7 He got Jacobs to ground out, but then gave up a single to Cabrera and walked Hermida. Borchard grounded to third so the Nationals got a force out at second, but Vidro's relay to first bounced in the dirt and away from Johnson. Cabrera took advantage of the opportunity and beat Johnson's throw home.8 The run was unearned, but the Marlins took a 4-3 lead. Robinson brought in his closer, Chad Cordero, to face Abercrombie, who struck out.
The Nationals threatened in the bottom of the eighth but left the bases loaded. Vidro grounded out, Zimmerman singled, then advanced to third on Johnson's ground-rule double. Guillén was intentionally walked to load the bases. The strategy worked: Clayton was out on a foul pop and Byrd grounded back to the pitcher.
Cordero held the Marlins in check in the top of the ninth. Although Alfredo Amézaga singled, he was caught stealing.
Girardi chose Joe Borowski, his usual closer, to pitch the ninth. Schneider was out quickly on a fly ball to left. But pinch-hitter Robert Fick singled to left just over Ramírez's glove, followed by a Soriano popup that landed for a hit. Vidro flied out to left: The runners held. That brought up Zimmerman as the Nationals' last chance. Down to his last strike, he homered into the left-field bullpen, the same location as his first walk-off homer, two weeks earlier, perhaps assisted by the announcer yelling "Get up, get up!" at the ball while it was in the air. As usual Zimmerman's teammates mobbed him at home plate, but no one dumped Gatorade on him. The holiday crowd went wild, demanding a curtain call. It was Zimmerman's rookie year, but he was already building a reputation for clutch hits.9
Sources
baseball-reference.com/boxes/WAS/WAS200607040.shtml.
retrosheet.org/boxesetc/2006/B07040WAS2006.htm.
youtube.com/watch?v=DX2Fk7ZALzE (walk-off home run).
espn.com/mlb/game?gameId=260704120.
Notes
1 A crowd of 44,331 had attended the previous year's Fourth of July game, when baseball had just returned to DC, and the Nationals were leading the NL East. Even July 4, 2010, with the Nationals 36-47, heading for another last-place finish in the division, drew 29,234.
2 They finished fourth and fifth in the NL East respectively.
3 Patterson left his last start on June 29 after three innings because of fatigue in his throwing arm. "Zimmerman's 3-Run Walk-Off HR Lifts Nats Over Marlins," ESPN, July 4, 2006, espn.co.uk/mlb/recap?gameId=260704120. Accessed November 12, 2018.
4 Olson seemed to get the hang of hitting as the season went on: He finished 2006 with a .190 BA, not bad for a rookie pitcher.
5 Ortiz was a starting pitcher. During his 12-year career, he was used as a pinch-runner only five times, all during his Nationals tenure in 2006.
6 This play meets the criteria for a "Little League Home Run" (batter scores, and two errors on the play), and is included in the SABR Little League Home Runs database at drive.google.com/file/d/1IQe3WbWsRCHi1GP4OUfn1vnVpjtdjrs6/view.
7 The following week he was traded to the Reds, with whom he had a six-year career, ending with a career 3.74 ERA.
8 "Zimmerman's 3-Run Walk-Off."
9 He finished second in the Rookie of the Year voting. Hanley Ramírez was the winner. Dan Uggla, who also appeared in this game, was third.
Additional Stats
Washington Nationals 6
Florida Marlins 4
---
RFK Stadium
Washington, DC
Box Score + PBP:
Corrections? Additions?
If you can help us improve this game story, contact us.
Tags
https://sabr.org/sites/default/files/ZimmermanRyan-2015-Topps.jpg
600
800
admin
/wp-content/uploads/2020/02/sabr_logo.png
admin
2019-01-08 16:14:29
2020-04-17 10:23:42
July 4, 2006: Nationals' Ryan Zimmerman provides the walk-off fireworks