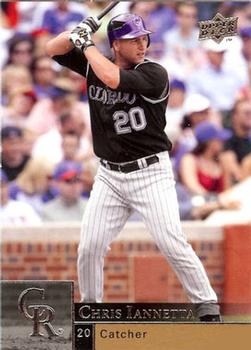 July 4, 2008: Rockies out-blast Marlins 18-17 in Fireworks Night game in Denver
---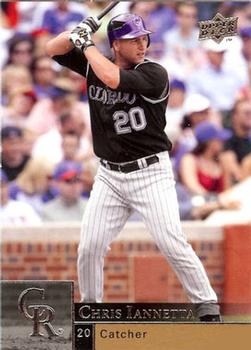 The Colorado Rockies and Florida Marlins celebrated the Fourth of July in 2008 "with plenty of fireworks, combining for 43 hits and 35 runs."1 Colorado overcame a nine-run deficit and defeated the Marlins, "their expansion brethren,"2 with a bases-loaded, walk-off single in the bottom of the ninth inning. And then the commercial fireworks began.
From the first batter of the game, who drove in a run, to the last batter, who drove in the winning run, an Independence Day crowd of 48,691 fans watched all those runners cross the plate in an epic battle. Coors Field, known as "the happiest place on Earth for runs,"3 became home to the biggest comeback in Rockies history.4 Colorado batters launched six home runs. Florida added two. After seeing the baseballs fly out of the ballpark like bottle rockets in a pyrotechnic display, the crowd stuck around for the Fireworks Night promotion.
Coming into the game, the Rockies had won three in a row, including an 11-inning 6-5 walk-off win over the Marlins the night before. Before that, however, they had lost eight in a row and were stuck in fourth place in the National League's West Division, with a 35-51 record. Florida (44-41), meanwhile, was 4-7 in its last 11 games but was still only 2½ games out of first place in the East.
Rockies rookie Greg Reynolds made his 11th start of the season, bringing a 5.75 ERA to the mound. He was opposed by Scott Olsen (4-4, 3.47), who had pitched seven innings in each of his previous two starts.
The Marlins set the tone early by plating five runs in the first inning. Hanley Ramirez led off with a home run. Jeremy Hermida walked and advanced when Jorge Cantu was hit by a pitch. One out later, Mike Jacobs doubled to right, scoring Hermida. After Cody Ross popped out, Matt Treanor capped off the inning with a three-run firecracker bomb to deep left. An inning later, the Marlins added two more tallies on singles by Ramirez and Cantu, who both scored when Josh Willingham doubled on a play involving fan interference. When Jacobs walked, Colorado manager Clint Hurdle made the call to the bullpen, bringing in Cedrick Bowers to relieve Reynolds.
After Colorado scored one, then two, then one run in the first three innings, the "Marlins took the plate in the fourth inning and exploded."5 The first three batters reached on two singles and a walk, and then Ross cleared the bases with a double to center. Treanor was called out on strikes but Alfredo Amezaga doubled to center, sending Bowers to the showers. The next hurler, Luis Vizcaino, struck out Olsen but then allowed a double to Ramirez and a single to Hermida, and Florida had scored six runs in the inning. With three hits in the Marlins' first four innings, Ramirez was a triple shy of the cycle.
After the top of the fourth inning, Florida's 13-4 lead gave the Marlins a 98.3 percent chance of winning, according to FanGraphs.6 But the Rockies had some aerial effects of their own. In the bottom of the fourth, Ryan Spilborghs sent a solo homer over the left-field wall. In the fifth, Matt Holliday led off with a blast to the seats in right-center. Garrett Atkins singled, Jeff Baker doubled to left, and Chris Iannetta slugged a three-run shot deep down the left-field line and over the barrier, trimming the Marlins' advantage to 13-9. Florida's Taylor Tankersley replaced Olsen to begin the bottom of the sixth, and Spilborghs sent a 3-and-1 offering to the left-center bleachers for his second home run of the game. Clint Barmes followed with a single, Holliday struck out, and then Barmes moved to second on a wild pitch. Atkins worked a 10-pitch full count before crushing the ball to deep left. After allowing two round-trippers and retiring only one batter, Tankersley was lifted, in favor of Joe Nelson. With the score now 13-12, the Marlins' chances to win had dropped to 67.9 percent.7
In the sixth inning Jason Grilli became the fourth Rockies pitcher, and an inning later, he let the Marlins grab back some runs. Cantu and Willingham led off the seventh with back-to-back doubles, but Cantu stopped at third. Grilli intentionally walked Jacobs to load the bases with no outs. Ross slapped a single into short left-center and two runners came home. Manuel Corpas strode in from the bullpen and retired the next two batters, but Florida had two runners in scoring position. When pinch-hitter Luis Gonzalez hit a line drive up the middle, Ross and Amezaga both scored. Suddenly, after building a 17-12 lead, Florida's winning chances had grown to 95.3 percent.8
Justin Miller's name was added to the box score as Florida's fourth hurler of the evening. He lasted two batters, yielding a double to Omar Quintanilla and a walk to Spilborghs. Miller's ball four was in the dirt and got away from the catcher, allowing Quintanilla to advance to third. Logan Kensing came on in relief, walked Barmes, and then battled Holliday to a full count. Holliday rocketed a home run to left. His third career grand slam pulled the Rockies within one run, 17-16. According to FanGraphs, the Marlins still had a 73 percent chance to come away with a W, with only two innings to play.9 But it was not to be.
Both teams were held scoreless in the eighth – a rare accomplishment – and then Taylor Buchholz came on to pitch a scoreless ninth inning for Colorado. Florida's skipper, Fredi Gonzalez, countered with Kevin Gregg to hold onto the one-run lead, but the Rockies greeted him with a barrage of singles. Barmes grounded a 1-and-2 pitch up the middle for a leadoff hit. Holliday moved Barmes to second with a single into short right field. Atkins followed with an RBI single to left, tying the score. Gregg had blown his second straight save. Baker hit a ball to second baseman Amezaga, who threw to shortstop Ramirez for a possible double play, but Hanley could not safely make the catch, and all three runners were safe. Ramirez was charged with an error. Iannetta took a strike and then hit a weak groundball past third base and Holliday scored. The fans exploded in cheers, making their own fireworks, as Colorado had won, 18-17. Buchholz earned his third victory while Gregg picked up his fourth loss and second in two days in a walk-off fashion.
The Marlins confined their scoring outbursts to only four different innings, while Rockies crossed the plate in every inning except the eighth. Colorado batters sent six souvenirs into the stands for homers. Atkins had a career-best five hits in his six at-bats, and he scored three runs and batted in three more. Spilborghs and Holliday each had two home runs. The first four batters in the Rockies' lineup (Spilborghs, Barmes, Holliday, and Atkins) combined for 16 hits, 2 walks, 13 runs scored, and 13 runs batted in. Ten different Florida batters registered hits. Ross drove in five runs, while teammate Cantu scored four runs. Jacobs was 4-for-4 with two walks, increasing his on-base percentage by 16 points. Yet the 17 Florida runs proved to not be enough. A combined 14 pitchers from both squads made their way to the mound, and yet the game was completed in one minute under four hours.
Two seasons had passed since a team had come back from nine runs down.10 In addition it had been over nine years since two teams combined for more than 35 runs in the major leagues.11 The Marlins won six of their next eight games, but they could not gain any ground and first place eluded them. The Rockies continued to be streaky, losing six of their next nine before winning nine of ten, but they, too, finished in third place in their division.
This story originally appeared in "Major League Baseball A Mile High: The First Quarter Century of the Colorado Rockies" (SABR, 2018), edited by Bill Nowlin and Paul T. Parker. To read more articles from this book at the SABR Games Project, click here.
Sources
In addition to the sources mentioned in the Notes, the author consulted baseball-reference.com and retrosheet.org.
Notes
1 Andrew Gould, "The Top 15 Highest Scoring MLB Games in History," https://bleacherreport.com/articles/2698031-the-top-15-highest-scoring-mlb-games-in-history, accessed July 2017.
2 Michael Jong, "This Day in Marlins History: Marlins, Rockies Play to Wild 18-17 Defeat," https://fishstripes.com/2012/7/4/3131214/this-day-in-marlins-history-marlins-rockies-play-to-wild-18-17-defeat, accessed July 2017.
3 Ibid.
4 Associated Press, "Rockies Outlast Marlins 18-17," https://denverpost.com/2008/07/04/rockies-outlast-marlins-18-17/, accessed July 2017.
5 Jong.
6 Ibid.
7 Ibid.
8 Ibid.
9 Ibid.
10 "Rockies Outlast Marlins 18-17."
11 On May 19, 1999, Cincinnati doubled up Colorado, 24-12, in a game also contested at Coors Field.
Additional Stats
Colorado Rockies 18
Florida Marlins 17
---
Coors Field
Denver, CO
Box Score + PBP:
Corrections? Additions?
If you can help us improve this game story, contact us.
Tags
https://sabr.org/sites/default/files/Iannetta-Chris-2009.jpg
600
800
admin
/wp-content/uploads/2020/02/sabr_logo.png
admin
2019-04-10 14:41:20
2020-04-17 10:23:36
July 4, 2008: Rockies out-blast Marlins 18-17 in Fireworks Night game in Denver