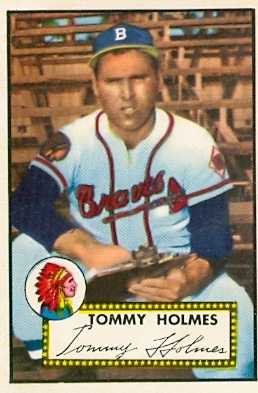 July 6, 1945: Tommy Holmes's greatest day and greatest season
---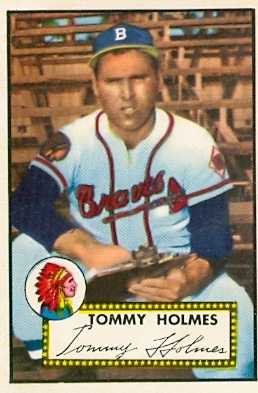 On June 6, 1945, Tommy Holmes of the Boston Braves began a hitting streak that ended as a modern National League record of 37 games; the record lasted until 1978 when Cincinnati's Pete Rose established the current (as of 2014) mark of 44 games. The Braves connection remained: Atlanta's Gene Garber stopped Rose in Atlanta on August 1.1
Thomas Francis Holmes, a chunky Brooklyn native, was a fine natural hitter. He had spent six years as a Yankee farmhand before joining Casey Stengel's Boston Braves in the spring of 1942. A Braves outfielder for the next 10 years, with right field his home from 1945 to 1950, he endeared himself to the fans with his easygoing manner, steady hitting, and his knack of turning routine fly balls into shoestring catches.
Holmes had his biggest year in 1945. He led the major leagues in slugging percentage (.577), hits (224), doubles (47), home runs (28), extra-base hits (81), and total bases (367).2 Moreover, he struck out a mere nine times, and had one of the best home runs-to-strikeouts ratios in major-league history. It's not surprising that he was the darling of fans in the Jury Box, Braves Field's right-field bleachers. Braves fans had not had much to cheer about in the previous 28 years, finishing in the bottom half of the standings for all but three of those years.
For most of the season Holmes had been using a 35 ounce, 13-year-old bat that Johnny Frederick had used to hit six pinch homers for the 1932 Brooklyn Dodgers. Del Bissonette, a Braves coach and an apple farmer, had collected a number of bats when he played with the Dodgers. The well-seasoned bats had been lying in an attic in Winthrop, Maine, for years until Bissonette brought them to Boston in the spring of 1945. He succeeded Bob Coleman as Braves manager on July 30, 1945.
Holmes's streak began in Philadelphia on June 6 in a noteworthy series consisting of a twilight game, a night game, and a doubleheader. The Braves won all four as Tommy went 10-for-21, raising his average to .390. Another series at the end of the month against the Cardinals provided Holmes with an opportunity to extend his streak to 28 games and to raise his average to a heady .397. In those three games he went 7-for-10, hitting four homers and driving in nine runs.
The Braves met the Chicago Cubs on July 3 in Boston where Holmes broke the city's major-league record of 28 games with a hit set by George Metkovich of the Red Sox in 1944. And by singling three times against the Cubs' ace Claude Passeau he raised his average to .403. Holmes's second single, on a Passeau forkball, broke the 1932 bat he had been using; however, he singled again in the ninth inning with his own bat as the Braves bowed 24-2.
Holmes was one game short of tying Rogers Hornsby's modern National League hit-streak mark of 33 games (set in 1922) when the Braves opened a doubleheader at home with the Pirates on July 6, a gray day with intermittent showers. Both teams were mired in the second division: the Pirates (36-32) in fifth place and the Braves (32-35) in sixth. It was, however, a day that produced two of the most memorable games in Braves' history.
Braves manager Bob Coleman started Nate Andrews, a hard-living pitcher with a 4-6 record, while Pittsburgh's Frankie Frisch went with Al Gerheauser, one of his veteran starters. Holmes, as usual, played right field (as he did in every one of his team's 154 games that year) and batted third in the order. If Holmes had been nervous, he showed no sign of it as he hit Gerheauser's first pitch for a double, tying Hornsby's 23-year-old mark. He singled in the seventh and then hit his 13th home run in the eighth inning as the Braves won, 13-5. Andrews was the winning pitcher although he gave up eight hits and five runs in seven innings. Mort Cooper, the former St. Louis ace who had been traded to the Braves less than a month earlier, earned what would be defined today as a save for Andrews.
Don Hendrickson, an eight-year minor leaguer who had been called up from the minors and made his first major-league appearance on July 4, started the second game for the Braves. Frisch went with the ace of the Pittsburgh staff, Preacher Roe. It was not, however, to be one of Roe's better outings. Holmes wasted no time breaking Hornsby's record when he hit a double on Roe's first pitch to him. The Braves star went on to hit two more doubles in the game as he led his team to 14-8 victory in a wild scoring game. Hendrickson pitched a complete-game victory, giving up 13 hits and eight runs. The umpires had collected both of the first-inning balls that Holmes hit for doubles and presented them to him as a rain-soaked crowd of 8,025 cheered. They had witnessed two of the most memorable games in Braves history. Holmes was now batting .407.3
The new record intact, Holmes' streak went to 35 games the next day thanks to the first break he had had since June 6. A bad-bounce single off Pirate first baseman Frank Colman's glove in the fourth inning saved Holmes, who went on to deliver hits in two more games against the Pirates. There was no All-Star Game in 1945, because of wartime travel restrictions, but at the break he had a .401 average and a 37-game hitting streak.4
The Braves faced the Cubs in a doubleheader on July 12 in Chicago. With Hank Wyse feeding the Braves sinkers and sliders before 30,000 fans, Holmes drove Peanuts Lowrey to the left-field wall to haul in a line shot in the first inning. He grounded out to second base in the fourth and sixth innings, and the hit streak was finally broken in the ninth when Tommy grounded weakly back to the box and Wyse completed a 6-1, three-hit victory.5
Although Holmes set four Braves hitting records in 1945, he lost the batting title on the last day of the season, .352 to .355 to Phil Cavarretta, the Cubs first baseman. He lost the league MVP title to Cavarretta as well, but The Sporting News named him the National League's Most Valuable Player, which the publication's 1946 Baseball Guide said made him "one of the few second-division players ever selected for this distinction."
The Boston sportswriters made up for any lack of attention to Holmes's achievement by awarding him the Peter F. Kelley memorial plaque as the city's outstanding player for the year. The Braves and their fans rewarded their hero with one of the most highly prized objects imaginable in the last of the war years, a new Ford sedan.6
As of the 2014 season, Holmes still held the Braves franchise record for most hits in a season since 1900 (224) and the longest hitting streak (37 games).7
This article appeared in "Braves Field: Memorable Moments at Boston's Lost Diamond" (SABR, 2015), edited by Bill Nowlin and Bob Brady. To read more articles from this book, click here.
Sources
http://www.baseball-reference.com/boxes/BSN/BSN194507061.shtml
http://www.retrosheet.org/boxesetc/1945/B07061BSN1945.htm
http://www.baseball-reference.com/boxes/BSN/BSN194507062.shtml
http://www.retrosheet.org/boxesetc/1945/B07062BSN1945.htm
Several personal interviews with Tommy Holmes at Boston Braves Historical Association events in the 1990s.
Wisnia, Saul. "Tommy Holmes," SABR BioProject, at http://sabr.org/bioproj/person/2c6097b4.
Baseball-reference.com.
Reichler, Joseph L., ed. The Baseball Encyclopedia, 6th edition (New York: Macmillan, 1985).
Notes
Additional Stats
Boston Braves 13
Pittsburgh Pirates 5
Boston Braves 14
Pittsburgh Pirates 8
---
Braves Field
Boston, MA
Box Score + PBP:
Game 1:
Game 2:
Corrections? Additions?
If you can help us improve this game story, contact us.
Tags
http://bioproj.sabr.org/bp_ftp/images3/HolmesTommy.jpg
600
800
admin
/wp-content/uploads/2020/02/sabr_logo.png
admin
2017-08-09 21:22:06
2020-04-17 10:25:46
July 6, 1945: Tommy Holmes's greatest day and greatest season