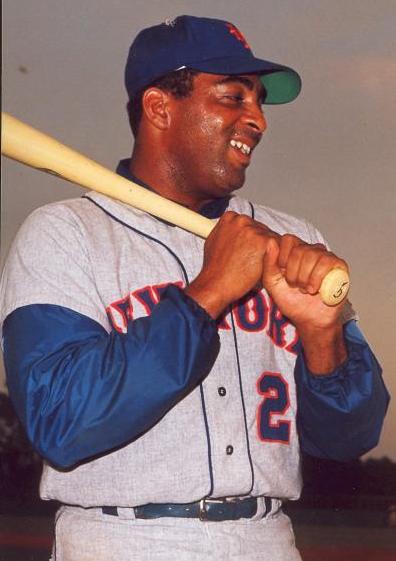 July 6, 1970: Tommie Agee hits for the cycle; Mets pound Cardinals for 10 runs, 17 hits
---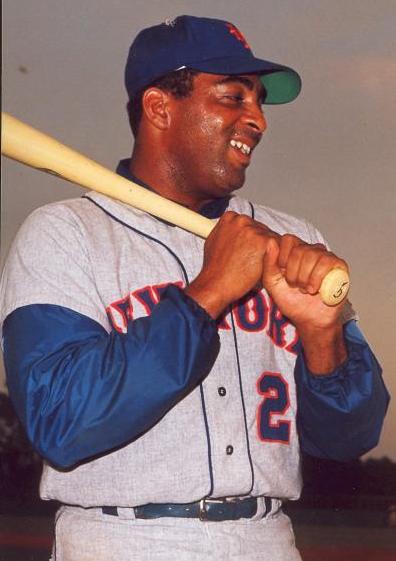 Mention the name Tommie Agee to a Mets fan and you're likely to hear about his outstanding performance in Game Three of the 1969 World Series against the Baltimore Orioles – a home run and two catches on the run requiring Olympic-caliber sprinting. One catch came with two men on base and the other with the bases loaded. But the following July, Agee's hitting prowess was the talk of the town as he hit for the cycle against the St. Louis Cardinals on July 6, 1970, in a 10-3 victory.
The Mets began the game at Shea Stadium with great promise when Jim McAndrew retired the first three Cardinals, getting José Cardenal on a pop fly to second baseman Al Weis and striking out Lou Brock and Joe Hague.
Agee's first at-bat did not augur a productive game, as St. Louis-area native Jerry Reuss got him out on a pop fly to Cardinals second baseman Julian Javier. The Mets put one runner on base when Ken Singleton singled, but Bud Harrelson grounded out on a 6-3 play and Donn Clendenon lined out to center fielder Cardenal.
The second inning also left both teams scoreless, though the Mets showed a threat after Ron Swoboda's 5-3 groundout when third baseman Joe Foy walked and went to second on Jerry Grote's single. But Cardinals backstop Ted Simmons, who had a 39 percent defensive caught-stealing percentage, eliminated Foy in a rare 2-4 play. "There was a comic touch, too," wrote Daily News scribe Joe Trimble. "Joe Foy killed an early Met rally by being picked off second base when he watched two snarling cats who came running out of the Cardinal dugout."1
Weis kept the rally going, singling Grote to third base; it stopped with McAndrew's grounder to Javier.
In the Cardinals' half of the third inning, Javier was thrown out at second base trying to stretch a single into a double; when he tried to argue the call, umpire Bill Williams tossed him from the game. Whether Javier's ejection riled up the St. Louis lineup is unknown, but shortstop Dal Maxvill got on base with a single and moved to second on what Reuss intended to be a sacrifice bunt. The fates seemed to be with St. Louis for the moment: Reuss got on base on a fielder's choice and the runners then advanced on McAndrew's wild pitch. But the Mets hurler settled down, struck out Brock, and got Cardenal on a pop fly to shortstop Harrelson.
When the Mets came to bat in the bottom of the third, they roused the Shea Stadium faithful when Agee singled and Singleton homered into the right-field stands for a 2-0 lead. "Donn Clendenon told me I didn't have to be ashamed to hit the ball to right field," said the right-handed Singleton about going to the opposite field. "The good hitters with the high averages have to hit the ball all over."2
McAndrew kept the Cardinals scoreless in the fourth, fifth, and sixth innings. In the Mets' halves of those innings, more runs added to the tally.
Mets fans erupted in the fourth when the team batted around. Foy and Grote repeated their second-inning output with a walk and single, respectively. Then Agee smacked a three-run homer. With the score 5-0 and two outs, Schoendienst sent Sal Campisi to relieve Reuss. It was for naught. Clendenon singled home Harrelson, who had walked and gone to third on another single by Singleton. With Clendenon and Singleton on the corners, the Mets increased the pressure when Swoboda drew a walk. Campisi got Foy out on a grounder to third baseman Joe Torre for an unassisted play.
Chuck Hartenstein, who pitched only 13⅓ innings during his six-game tenure with the Cardinals in 1970,3 became the third St. Louis hurler when he took the mound in the bottom of the fifth. The Mets pounded him for three consecutive doubles and two runs. McAndrew advanced his cause by doubling Weis home. Agee also doubled, but Hartenstein retired the next two batters.
In the sixth Clendenon singled and left the game for pinch-runner Mike Jorgensen. Swoboda hit a two-run homer; that would be it for the Mets crossing home plate.
The Cardinals notched a run in the seventh with a solo homer by Richie Allen, his 23rd of the season. Agee completed his cycle with a triple against Frank Linzy in the bottom half, but it might have been something more. "If I'd run on the ball from home plate, it might have been an inside-the-park homer but I thought it was going out," explained the Alabama native. "I was standing there watching it. Why? I was lazy. I was even loafing around first base."4
In the top of the ninth, St. Louis added its other two runs with Cardenal's solo shot and three consecutive singles: Hague reached first, moved to third on Carl Taylor's single, then scored on a single by Milt Ramirez. The trio had been part of a musical-chairs defensive substitution in the seventh inning but they didn't align with their predecessors in the batting order. Hague changed from right field to first base and stayed as the number-three hitter; Ramirez took Torre's number-five spot in the batting order and replaced shortstop Maxvill in the field; Mike Shannon replaced Maxvill as the number-eight hitter and took over for Torre at the hot corner.
Mets skipper Gil Hodges pulled McAndrew with no outs to prevent further damage and sent in Tug McGraw, who retired the next three Cardinals.
There was some drama in the game. Reuss threw a ball that came close to Harrelson's head and sparked a potential firestorm doused by the umpires before it began.
Agee, Singleton, and Clendenon combined for 10 of the Mets' 17 hits. The day was a continuation of excellence for Agee. In June he had been named the National League Player of the Month after batting .364 and swatting 11 home runs.5 He finished the year with a .286 batting average, 24 home runs, 31 stolen bases, and a Gold Glove.
Sources
The author used Baseball-Reference and retrosheet.org for box scores and play-by-play information:
baseball-reference.com/boxes/NYN/NYN197007060.shtml
retrosheet.org/boxesetc/1970/B07060NYN1970.htm
Notes
1 Joe Trimble, "Mets' 17 Hits Rip Cards, 10-3; Agee 'Cycles,'" New York Daily News, July 7, 1970: 263. Trimble attributes the pickoff to Reuss, but Retrosheet's account states that the play was catcher to second. https://retrosheet.org/boxesetc/1970/B07060NYN1970.htm.
2 Maury Allen, "Mets Give Cards the Rough Deal," New York Post, July 7, 1970: 92.
3 Bill Nowlin, "Chuck Hartenstein," SABR Biography Project, https://sabr.org/bioproj/person/70db748d.
4 Milton Gross: "Speaking Out: Agee: Man in the Middle," New York Post, July 7, 1970: 88.
5 David Ferry, Total Mets: The Definitive Encyclopedia of the New York Mets' First Half-Century (New York: Triumph Books, 2012), 141.
Additional Stats
New York Mets 10
St. Louis Cardinals 3
---
Shea Stadium
New York, NY
Box Score + PBP:
Corrections? Additions?
If you can help us improve this game story, contact us.
Tags
http://bioproj.sabr.org/bp_ftp/images4/AgeeTommie.jpg
600
800
sabr
/wp-content/uploads/2020/02/sabr_logo.png
sabr
2020-04-12 21:05:49
2020-06-22 16:42:16
July 6, 1970: Tommie Agee hits for the cycle; Mets pound Cardinals for 10 runs, 17 hits