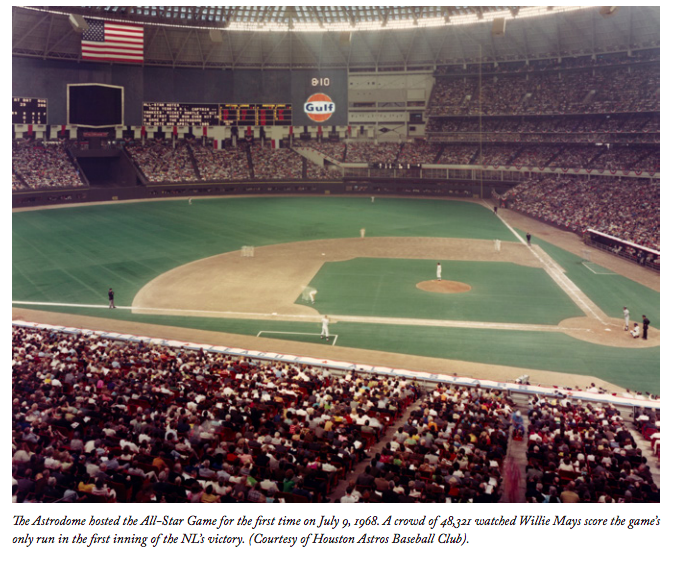 July 9, 1968: All-Star parade of pitchers in the 'Year of the Pitcher'
---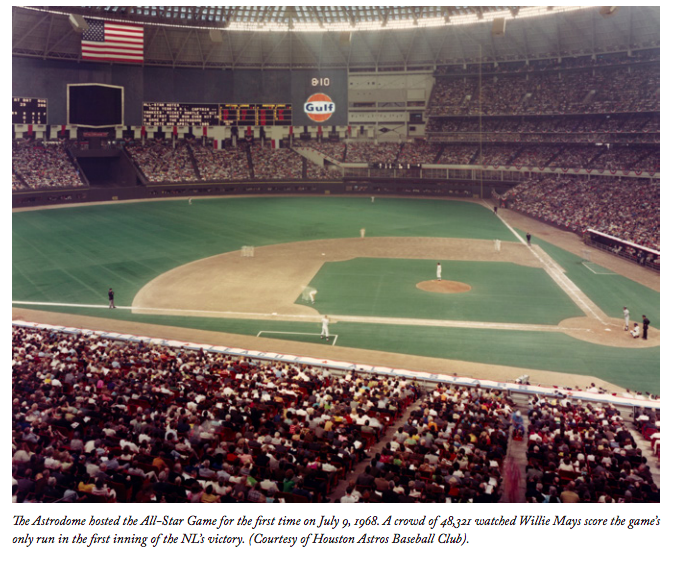 It was expected to be a glittering night of firsts.
The 1968 All-Star Game was to be the first played on artificial turf, the first played indoors, and, if not the first played at night (the wartime games of 1943 and 1944 had been played under the lights), it was to be the first played entirely in prime time before an international television audience — the final few innings of 1967's 15-inning marathon, which strayed into prime time for audiences in some time zones, notwithstanding
"This is going to be an All-Star Game they won't forget for a long time," boasted Bill Giles, the Houston Astros' vice president of publicity. "The Judge [Astros owner Roy Hofheinz] is going all-out on this one."1
All out, indeed. There were a host of special functions, including a banquet the night before the game and a dinner on the afternoon of the game at AstroWorld's Crystal Palace. Each member of the press corps was given an attaché case, an Astrodome tie clasp, and an All-Star button. Brass bands were hired to provide entertainment at the game, and popular singer Teresa Brewer was lined up to sing the National Anthem.
NBC equipped the Astrodome with nine color cameras, at the time the most ever used to broadcast a sporting event, including one attached to a gondola some 18 stories above second base.
At 7:15 P.M. (Houston time) on Tuesday, July 9, 1968, a sellout crowd of 48,321 packed the Dome — joined by an estimated audience of 60 million2 watching on television in the United States and perhaps 100 million more3 watching the Spanish-language broadcast in South and Central America and in the Caribbean — to witness the 39th annual All-Star Game.
All-Star managers Red Schoendienst and Dick Williams both predicted a low-scoring contest. "I lean toward a pitcher's game," said St. Louis Cardinals skipper Schoendienst in a pregame press conference. "This has been the year of big zero."4 Williams of the Boston Red Sox agreed. "I would say it will be a pitcher's battle," he said. "The pitchers should predominate."5
Depressed batting averages on both rosters reflected a season that was lopsided in favor of pitching. The AL team batting average was .263, the NL's .279, with Boston's Carl Yastrzemski (.300), St. Louis outfielder Curt Flood (.316), and Cincinnati second baseman Tommy Helms (.302) the only starters hitting at or above .300. A handful of reserves with respectable averages aside, both teams were stocked with stars having less than stellar seasons at the plate, including the likes of Willie Mays (.271), Hank Aaron (.247), Mickey Mantle (.233), and Harmon Killebrew (.204).
Cincinnati's Pete Rose, hitting .329, had been the top vote-getter among his NL peers to start in the outfield, but was relegated to the bench with a fractured thumb.
Many expected Schoendienst to start his own star pitcher, Bob Gibson (11-5, 1.06). Citing tightness in Gibson's arm, the manager gave the ball instead to the Dodgers' Don Drysdale (10-5, 1.37), who earlier in the season had tossed six straight shutouts on the way to a major-league record 58⅔ consecutive scoreless innings.6 For Drysdale, it was to be his fifth career All-Star start, tying the mark held by Lefty Gomez and Robin Roberts.
Williams selected Cleveland's Luis Tiant (14-5, 1.24), a first-time All-Star, to start for the AL. Tiant would be pitching on very short rest, having hurled 6⅓ innings against the California Angels only two days before. Williams defended his decision, saying he had planned on starting Tiant before he saw the weekend box scores. "I decided on Tiant when I named him to the team," he explained. "He's a darn fine pitcher."7 He might have added that, of the squad's seven pitchers, five had worked that Sunday, the other two on Saturday.
"I was surprised when Williams told me I would start," Tiant told reporters. He admitted his arm was tired. "I'll try to pitch two innings," he added, "maybe they're easy ones."8
Denny McLain, with a 16-2 record on his way to the majors' first 30-win season since 1931, had pitched nine innings on Sunday, and made it clear there was no way he was able to pitch. "I know that being named to the squad is a great honor but I just do not see how I can work Sunday and pitch again Tuesday," said McLain. Asked if he would be available for an inning or two of relief, McLain was quite firm. "No, I don't see how I can do it. My first obligation is to the Tigers and their pennant chances."9
Newly elected Hall of Famer Joe Medwick10 tossed out the first ball, and team captains Mantle and Mays, named to their 20th and 19th All-Star squads respectively, exchanged lineup cards at home plate.
The Angels' Jim Fregosi doubled to deep left to lead off the game, but Drysdale set down Rod Carew, Yastrzemski, and Senators slugger Frank Howard, who was leading the majors with 25 home runs, to leave Fregosi stranded.
Mays, tying Stan Musial's record of 63 All-Star at-bats, opened the bottom of the first with a single between third and short. Leading off first, Mays drew a throw from Tiant but stepped back safely. When Mays took another long lead, Tiant threw again to first. This time, though, the toss went wide of Killebrew.
"He said the ball moved," said Tiant, quoting Killebrew. "I guess it curved."11
Mays thought it glanced off his back. Either way, Mays took second on the play.
Tiant fell behind to the next batter, Curt Flood. On the fourth ball he uncorked a wild pitch that flew over catcher Bill Freehan's head. Mays scampered to third as Flood jogged down to first.
With runners on first and third, the American League infield played back, hoping for a double play. Willie McCovey slashed a sharp grounder that bounced off the artificial turf into second baseman Carew's glove. Carew hesitated for a moment, but with Mays already nearing the plate, he tossed the ball to shortstop Fregosi covering second, who relayed to Killebrew for the double play. Despite the record number of television cameras, NBC's attention was fixed on the double play, so television viewers across the Western Hemisphere didn't get to see Mays score on the play.
Aaron, who had hit his 498th and 499th career home runs on Sunday, drew a walk before Tiant induced Ron Santo to ground into a force at second to end the inning.
As the game progressed, the NL threatened but failed to deliver on any further scoring opportunities. With Tiant still on the mound, Tommy Helms led off the second inning with a double to right field, but two strikeouts and a fly ball left Helms stranded. Oakland's John "Blue Moon" Odom walked Santo and Helms in the fourth, but allowed no hits or runs. A sixth-inning single and stolen base by Aaron followed by a walk to Santo stirred some excitement, but McLain, in the game despite his gloomy forecast, was able to work out of that jam without any damage.
The American League, for its part, never mounted a threat. After Fregosi's leadoff double the AL failed to put another runner on base until Tony Oliva doubled off Tom Seaver with two outs in the seventh. In between, Drysdale, Juan Marichal, Steve Carlton, and Seaver set down 20 straight batters.
Seaver struck out five in two innings of work and, over the last three innings, seven of nine AL batters retired went down on strikes. The Braves' Ron Reed and Seaver's Mets teammate Jerry Koosman shared the ninth inning, with Koosman fanning Carl Yastrzemski for the final out.
Added to the list of All-Star firsts was the first 1-0 game.
The American League was limited to just three hits. Its biggest threat, some waggish commentators said, came from Oliva, who before his seventh-inning double lost his grip on a swing, sending his bat flying into the National League dugout.
"I flattened out," Schoendienst said. "I got a strawberry on my left knee from hitting the dugout floor. The bat hit Felipe Alou on the bounce."12
The game's most consequential play, measured by impact on the pennant race, occurred in the bottom of the third, when Killebrew went into a full split stretching for an errant throw by Fregosi on a grounder by Flood. The muscular first baseman snagged the throw for the out but collapsed from a ruptured hamstring that would keep him sidelined until September. Without Killebrew's powerful bat, the Twins, who had come within a game of the pennant in 1967, tumbled to seventh place in 1968.
Mays was voted the game's Most Valuable Player for scoring the lone run, but the award could easily have gone to second baseman Helms, who not only collected the NL's only extra-base hit but also made several sparkling defensive plays, including going deep into the hole in the fourth to rob Yastrzemski of a base hit, and charging in to scoop up a fifth-inning grounder by Willie Horton and nip him at the bag.
The most enthusiastic receptions of the evening from the Houston fans were reserved for home- team hero Rusty Staub, who popped out to third pinch-hitting against McLain — whom Dick Williams must have persuaded to pitch — in the sixth, and for Mickey Mantle, making what would be his final All-Star Game appearance. With the cheering crowd on its feet as Mantle strode to the plate to pinch-hit in the eighth, third baseman Santo visited the mound and smiled at second-year man Seaver. "Did you ever think," he asked, "you'd pitch to Mickey Mantle in an All-Star Game?" Seaver smiled back. "I never did," he said.13
In a microcosm of the game and of the season, Seaver struck out Mantle swinging.
This article appears in "Dome Sweet Dome: History and Highlights from 35 Years of the Houston Astrodome" (SABR, 2017), edited by Gregory H. Wolf. To read more articles from this book at the SABR Games Project, click here.
Sources

In addition to the sources cited in the Notes, the author also consulted:
Lenburg, Jeff. Baseball's All-Star Game: A Game-by-Game Guide (Jefferson, North Carolina: McFarland and Company, 1986).
Dallas Morning News.
Galveston Daily News.
New York Times.
https://fleersticker.blogspot.com/2011/07/1968-all-star-game-broadcast.html.
Notes
1 Wells Twombley, "Show Time! All-Star Game in Astrodome," The Sporting News, July 13, 1968: 7.
2 David Vincent et al., The Midsummer Classic: The Complete History of Baseball's All-Star Game. (Lincoln: University of Nebraska Press, 2001), 243.
3 Twombley.
4 "Low-Scoring Pitching Duel Seen by Managers of All-Star Teams," Houston Chronicle, July 9, 1968: 14.
5 Ibid.
6 Drysdale's record was topped in 1988 by another Dodgers pitcher, Orel Hershiser, who pitched 59 straight scoreless innings.
7 "American League Ready; Nationals Have the Rest," Newsday, July 9, 1968: 29.
8 "Luis Tiant Likes Idea of Starting," Houston Chronicle, July 9, 1968: 14.
9 "McLain Unavailable for All-Star Work," Corpus Christi Caller-Times, July 4, 1968: 29.
10 Medwick had a Houston connection, having played the 1931 and 1932 seasons for the Texas League's Houston Buffalos before beginning his Hall of Fame career with the Cardinals)
11 "Willie Makes the Difference," Abilene Reporter-News, July 10, 1968: 8A.
12 "Flying Bat Was Biggest 'Threat,' " El Paso Herald-Post, July 10, 1968: B5.
13 "Thrill for Seaver Means Whiff for Mantle," Newsday, July 10, 1968: 34.
Additional Stats
National League 1
American League 0
---
Astrodome
Houston, TX
Box Score + PBP:
Corrections? Additions?
If you can help us improve this game story, contact us.
Tags
https://sabr.org/sites/default/files/1968AllStarGame.png
600
800
admin
/wp-content/uploads/2020/02/sabr_logo.png
admin
2018-09-12 12:22:04
2020-04-17 10:24:40
July 9, 1968: All-Star parade of pitchers in the 'Year of the Pitcher'