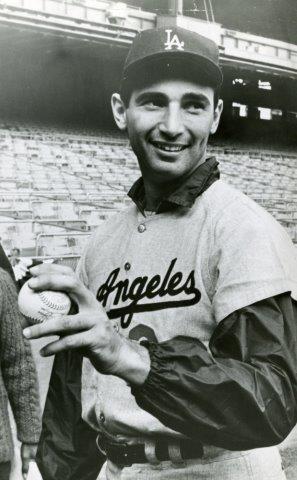 June 12, 1965: Sandy Koufax remains undefeated against the Mets in 12th start
---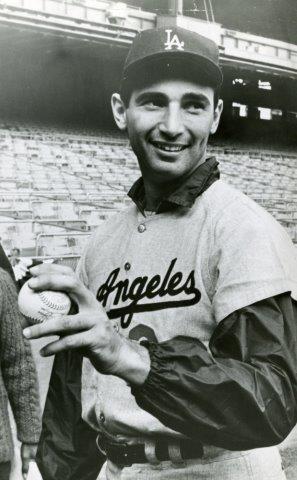 The ever-dominant Sandy Koufax owned a 10-0 career record in 11 starts against the New York Mets when he faced them on June 12, 1965. The expansion team — in its fourth season under future Hall of Fame manager Casey Stengel — had scored just 11 earned runs off the Los Angeles lefthander, whose domination included a 2-1 victory in April at Dodger Stadium on John Roseboro's walk-off single against Jack Fisher.
On this sunny Saturday afternoon with temperatures in the mid-70s, a crowd of 38,915 showed up at Shea Stadium to see if the Mets might finally beat their nemesis.[fn]Weather information from wunderground.com. wunderground.com/history/airport/KJFK/1965/6/12/DailyHistory.html?req_city=&reqstate=&req_statename=&reqdb.zip=&reqdb.magic=&reqdb.wmo.[/fn] Al Jackson — at 2-7 — took the mound for New York, which at 20-36 was en route to its fourth consecutive 100-loss season. Koufax was 8-3 after a complete-game victory against Philadelphia five days earlier for the Dodgers, who led the National League at 35-22 and would win their second World Series in three years in October.
Through three innings, the pitchers battled each other. The Dodgers left men in scoring position in all three at-bats but Jackson held firm. Koufax was equal to the challenge as he struck out the final two batters in both the second and third innings with runners on base.
The Dodgers finally scored in the top of the fourth with help from three errors. Lou Johnson reached on a miscue by Mets shortstop Roy McMillan, then scored on Jim Lefebvre's double. Al Ferrara singled Lefebvre to third to set up Jeff Torborg's RBI bunt base hit. Third baseman Charley Smith then booted Koufax's grounder that loaded the bases ahead of Maury Wills, who bounced to third only to have Mets catcher Hawk Taylor mishandle Smith's throw for another error as Ferrara scored. Although Jackson struck out the next two batters, the Dodgers led 3-0.
The afternoon became painful for Johnson in the fifth when Jackson hit him with a pitch on the right thumb, keeping the outfielder out of the starting lineup for almost two weeks.[fn]Johnson did not play for 10 days, and then only as a pinch-runner, before returning to the starting lineup on June 25.(retrosheet.org/boxesetc/1965/B06120NYN1965.htm) and (baseball-reference.com/players/gl.fcgi?id=johnslo01&t=b&year=1965).[/fn] The Dodgers made it 5-0 in the sixth on Willie Davis's two-run single, also off Jackson. Not that Koufax needed the insurance as he continued to paralyze the Mets, who managed five singles and one walk for the afternoon. Koufax retired the last seven batters and finished with eight strikeouts as his career mark against New York improved to 11-0 with a 1.00 ERA. It was a performance that impressed those in attendance.
The Mets would lose twice more to Koufax that year and lower their record against him to 0-13 over four years before finally winning 5-2 on August 26 before nearly 45,950 at Shea. The Hall of Famer played one more season and retired with a 17-2 record and a 1.44 ERA against the Mets. And no club did worse than New York's .170 batting average, .226 OBP, and .461 OPS in 20 games versus the Brooklyn native.[fn]Koufax also did well against the Mets' 1962 expansion partner, the Houston Astros, going 14-2 with a 1.90 ERA.in 22 appearances. Only the Cincinnati Reds (20-19 in 57 games) had a winning record against Koufax. (baseball-reference.com/players/split.fcgi?id=koufasa01&year=Career&t=p).[/fn]
New York's team fortunes continued with losing seasons the norm until the Amazin' Mets captured the 1969 World Series. Stengel's dugout career would end exactly six weeks after the June 12 game when he busted his hip following Old-Timers' Day.[fn]Accounts differ slightly on details of Stengel's broken hip. His SABR profile (Bill Bishop, sabr.org/bioproj/person/bd6a83d8, SABR BioProject) says he suffered the injury when he slipped at the New York pub Toots Shor's. The New York Times obituary from October 1 1975, added that he also fell later that night getting out of a car. (Joseph Durso, "Stengel's Death at 85 Widely Mourned").[/fn] He was less than a week shy of his 75th birthday and had finished last every year with the Mets after 10 American League pennants in 12 seasons with the crosstown Yankees.
But while the Dodgers handled the Mets that year (12-6 vs. the New Yorkers), the Mets cashed in when the Los Angeles club visited Flushing. The Mets were doing well at the gate anyway, with overall ticket sales up more than 60 percent since their first two seasons at the Polo Grounds. In '65, an average of 42,238 fans watched LA play its nine games in eight dates at Shea. That accounted for just over 19 percent of New York's attendance of 1,768,389 in the 10-team NL.[fn]Despite leaving Brooklyn for Los Angeles after the 1957 season, the Dodgers remained popular in New York. Brooklyn holdovers in the dugout on June 12, 1965, included Koufax, pitcher Don Drysdale, third baseman Jim Gilliam and manager Walter Alston.[/fn]
As the Mets struggled on the field, the good times continued for the Dodgers, who won 15 of their final 16 games to erase a 4½-game deficit and capture the NL flag by two games over their archrivals, the San Francisco Giants. Koufax had three shutouts and a save during the late surge and would finish that '65 season with the pitching Triple Crown (26-8, 2.04 ERA, career-high 382 strikeouts, plus a career-low WHIP of 0.855). The effort earned him his second of three Cy Young Awards. After shutting out the Minnesota Twins in Game Five of the Series, Koufax put a bow on the season as Series MVP with another shutout in Game Seven on two days' rest.[fn]Koufax was in the midst of a fantastic career-ending four-year run in which he went 97-27 (.782) with a 1.86 ERA, four ERA titles, three strikeout crowns, 31 shutouts, one MVP and two other second-place finishes for NL MVP.[/fn]
Exactly five weeks before that season-ending victory, Koufax had thrown a perfect game against the Chicago Cubs as umpires Bill Jackowski, Chris Pelekoudas, Ed Vargo, and Paul Pryor called the action. Interestingly, those same men in blue were in New York that Saturday in June to watch Koufax dominate the Mets again.
Author's note
This was the first major-league game attended by the author.
Sources
The author accessed baseball-reference.com, retrosheet.org and baseball-almanac.com for play-by-play, box-score, umpire assignments, attendance, standings, and player and manager career data.
baseball-reference.com/boxes/NYN/NYN196506120.shtml
retrosheet.org/boxesetc/1965/B06120NYN1965.htm
baseball-almanac.com/box-scores/boxscore.php?boxid=196506120NYN
Additional Stats
Los Angeles Dodgers 5
New York Mets 0
---
Shea Stadium
New York, NY
Box Score + PBP:
Corrections? Additions?
If you can help us improve this game story, contact us.
Tags
http://sabr.org/sites/default/files/images/Koufax-Sandy-NBHOF.jpg
600
800
admin
/wp-content/uploads/2020/02/sabr_logo.png
admin
2017-09-11 17:40:22
2020-04-17 10:25:44
June 12, 1965: Sandy Koufax remains undefeated against the Mets in 12th start