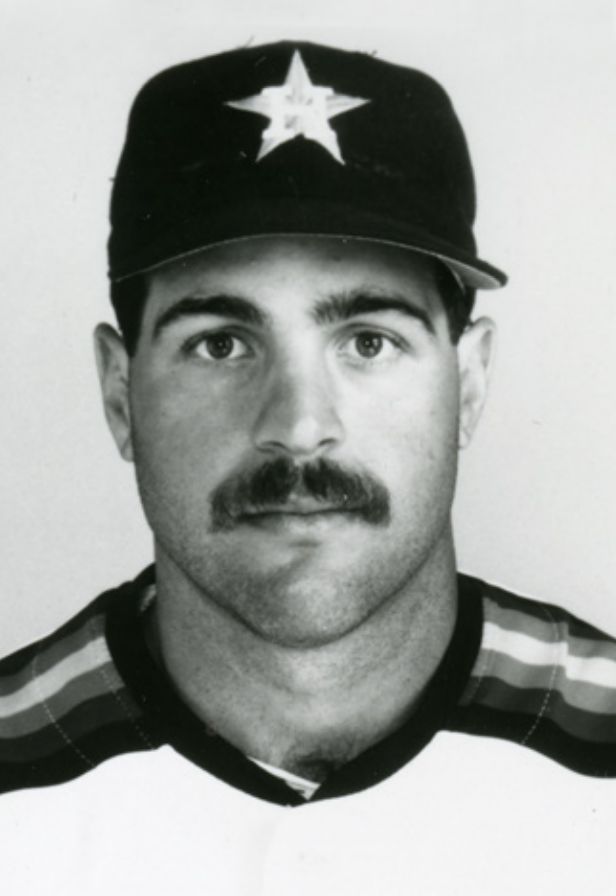 June 14, 1992: Pete Incaviglia wallops two homers, seven RBIs in Astros' 15-7 rout of Giants
---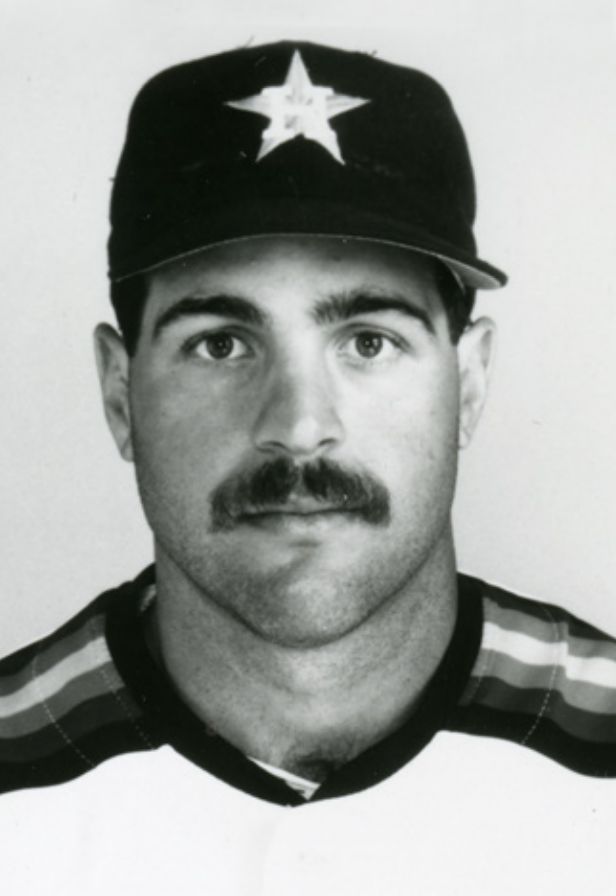 For fans of the Houston Astros, the month of June 1992 hadn't yet delivered much excitement. In what had been so far a poor season, the Astros began their campaign with a promising 9-6 start, but after that had achieved a dismal record of just 17-29. For a team that hadn't finished higher than third place in the past five years, it was shaping up to be yet another forgettable season.
On this Sunday afternoon at the Astrodome, though, the fans were about to be treated to a spectacular, record-tying individual performance. The Astros' opponent was the San Francisco Giants. So far in the season, they had fared better than Houston had. Despite their loss to the Astros the previous night, the Giants stood three games over .500 and were lodged in a three-way tie for second place in the National League's Western division, six games ahead of last-place Houston. Five days earlier, San Francisco's left-handed relief pitcher Dave Righetti had come out of the bullpen to make his first start since 1983, when he was with the New York Yankees. Tonight, Righetti made his second start for San Francisco. It didn't last very long.
For that matter, neither would the game last long for the Astros' starter, Jimmy Jones. From their opening at-bat, the Giants had no trouble solving the offerings of the Houston right-hander. Behind a single, a sacrifice bunt, a walk, and a double, San Francisco put two runs on the board in the first inning, then added another in the second. Meanwhile, Righetti got off to an effective start, shutting out the Astros over the first two innings while limiting them to two walks and no hits. When the Astros came to the plate in the bottom of the third, they trailed 3-0.
Now Houston quickly solved Righetti and set the stage for what was one of the Astrodome's most impressive batting performances. Rafael Ramirez's leadoff double to left began the inning and commenced Righetti's unraveling. After pinch-hitter Juan Guerrero, batting for Jones, flied out, Houston produced in succession a walk, another fly out, a two-run double (by Ken Caminiti), an intentional walk, and another double (by Eric Anthony), which drove home the tying run. That brought to the plate 28-year-old slugger Pete Incaviglia. He was about to have one of the best offensive showings of his major-league career.
For a former first-round draft pick, Peter Joseph Incaviglia's career undoubtedly hadn't gone the way he had once envisioned. At Monterey (California) High School, Incaviglia had three times been named the state's high-school baseball player of the year. A corner infielder with immense power, the right-handed slugger drew enough notice from major-league scouts that he was drafted by the San Francisco Giants in the 10th round of the June 1982 amateur draft, the 247th player selected. (With the 39th pick of that draft, the Giants also chose another high-school player from California, Barry Bonds.) Despite being selected, Incaviglia opted to play college baseball. "I thought school was more important at that time," he remembered years later.1
As it turned out, if Incaviglia was going to play college baseball, it wasn't going to be at a California university. Despite his schoolboy success and subsequent interest from the major leagues, he was overlooked in his home state. "We were a small town," he later related, "so most of the colleges just didn't know much about me or our team. The only in-state offer I got was to play option quarterback for [the University of] California and Coach Joe Kapp."2 Fortunately for Pete, one out-of-state school had heard of Incaviglia, and it made him an offer.
One day, as Incaviglia took his swings during high-school batting practice, a former member of the Oklahoma State University Cowboys baseball team, who was playing minor-league ball in the area, saw him and was duly impressed. OSU offered Incaviglia a scholarship, so he packed his bags and headed for Stillwater, Oklahoma. What happened over the next three years was nothing short of sensational, and it earned Incaviglia a first-round ticket to the major leagues.
In 1999, the year after his final major-league season, Incaviglia was enshrined in the OSU Athletics Hall of Honor. His biography on the Hall's website is a testimony to the greatness of the slugger's college career: "Pete Incaviglia," it reads, "is the most recognized power hitter in Oklahoma State and NCAA baseball history."3 Indeed, consider these accomplishments:
In the most impressive season in NCAA history, as a junior in 1985, Incaviglia set season records for home runs (48), RBIs (143), total bases (285), and slugging percentage (1.140).
He set the NCAA career record for home runs (100) and slugging percentage (.915) and as of 2016 held the Big Eight career records for RBIs (324) and total bases (635).
Incaviglia was named first-team All-America in 1984 and 1985 by the American Baseball Coaches Association, The Sporting News, and Baseball America
It took eight picks before Incaviglia, who many teams felt had no natural defensive position, was selected in the June 1985 amateur draft; he was chosen by the Montreal Expos. Incaviglia had no desire to play in Montreal, refused to play for the Expos, and was traded to the Texas Rangers in November. "I really didn't have any negative feelings toward Montreal," Incaviglia explained. "I just really didn't want to play in Canada. I'm tickled to death to be playing baseball close to where I played college ball. I'm glad to be in the Southwest, because I wanted to play in warm weather."4 By the following spring, without any minor-league seasoning, Incaviglia was the Rangers' starting left fielder; however, the relationship soon soured.
Over the next five years, Incaviglia slugged 124 home runs for the Rangers. Yet he also struck out 788 times, twice leading the league. Moreover, he proved to be "less than a one-dimensional player … a home-run threat [who didn't hit for average] … who struck out," but "was [also] a liability in the outfield [and didn't] run well."5 For two years the Rangers tried to trade him but found no takers. Finally, feeling Incaviglia wasn't worth his $1.675 million salary, Texas released him during spring training in 1991. In April Incaviglia signed with the Detroit Tigers, but that season he spent two months on the disabled list, batted just .214, and hit only 11 home runs in 97 games. Additionally, by the fall, his weight ballooned to 250 pounds. In October, the Tigers allowed Incaviglia to become a free agent.
Enter the Astros. Needing an outfielder, Houston took a flyer on Incaviglia, signing the "relatively cheap"6 veteran in January 1992 to an incentive-laden $1.1 million contract. Incaviglia was thankful for a shot to redeem himself and salvage his career.
Now, with the score 3-3 and two men on, Incaviglia, who had entered the game with just two home runs and had struck out in his first at-bat this day, blasted Dave Righetti's offering for a three-run homer, making it 6-3 in favor of the Astros. After the Giants failed to score in the fourth against reliever and eventual winner Rob Murphy, Houston added three more in its half of that inning on a two-run triple by Steve Finley and a sacrifice fly by Caminiti.
Dave Burba, who had relieved Righetti with one out in the fourth inning, issued a leadoff walk to Eric Anthony in the fifth, bringing up Incaviglia, who drove Burba's offering deep over the wall in left field, his second homer of the game as well as fourth and fifth RBIs, giving the Astros an 11-3 lead.
After Jones's departure in the third inning, the Astros bullpen shut down the Giants over the next three innings. So in the Houston sixth, with two outs and a runner at third, Incaviglia came up again with the score still 11-3. This time he struck out.
In the eighth, with the score 12-3, the Astros came up for what would be their final at-bats. With one out, Houston produced a single by Benny Distefano and a double by Anthony. Again, Incaviglia strode to the plate. With Burba still on the mound, Incaviglia lined the ball deep to center, it dropped for a hit, and both runners scored as Incaviglia stopped at second with a double. Two batters later, a single by Rafael Ramirez scored Incaviglia, who trotted home with the Astros 15th run. In the top of the ninth, the Giants scored four runs, highlighted by Kevin Bass's three-run homer, to make the final score 15-7.
In the slugfest, Incaviglia had amassed 10 total bases and had driven home seven runs to tie an Astros record. It was the eighth time in his career that the slugger had hit two home runs in one game.
This article appears in "Dome Sweet Dome: History and Highlights from 35 Years of the Houston Astrodome" (SABR, 2017), edited by Gregory H. Wolf. To read more articles from this book at the SABR Games Project, click here.
Photo caption
Pete Incaviglia spent only two seasons as an Astro, in which he hit 11 of his 206 career home runs. A prototypical all-or-nothing slugger, Incaviglia struck out 1,277 times in 4,233 career at-bats. (National Baseball Hall of Fame, Cooperstown, New York).
Notes
1 ncaa.com/news/baseball/article/2012-04-20/incaviglia-sets-single-season-standard.
2 Ibid.
3 okstate.com/sports/2015/3/17/GEN_2014010114.aspx.
4 The Sporting News, November 18, 1985: 49.
5 The Sporting News, April 15, 1991: 18.
6 The Sporting News, February 3, 1992: 30.
Additional Stats
Houston Astros 15
San Francisco Giants 7
---
Astrodome
Houston, TX
Box Score + PBP:
Corrections? Additions?
If you can help us improve this game story, contact us.
Tags
https://sabr.org/sites/default/files/Screen%20Shot%202018-09-25%20at%2012.18.00%20PM.png
600
800
admin
/wp-content/uploads/2020/02/sabr_logo.png
admin
2018-09-25 12:15:47
2020-04-17 10:23:55
June 14, 1992: Pete Incaviglia wallops two homers, seven RBIs in Astros' 15-7 rout of Giants