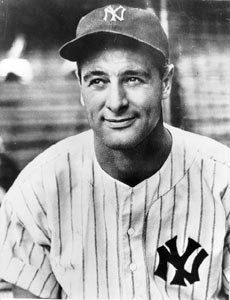 June 15, 1923: Lou Gehrig plays first game in Yankee pinstripes
---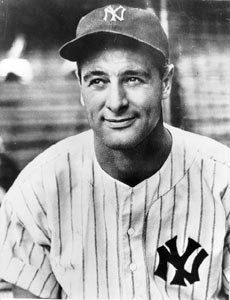 The year 1923 was a special one for fans of the New York Yankees and baseball. The team's majestic new baseball cathedral, Yankee Stadium, opened on April 18, as the Yankees defeated the Boston Red Sox 4-1, with Babe Ruth hitting the ballpark's first home run. Ruth would go on to bat .393, hit 41 home runs, drive in 130 runs, and win the league Most Valuable Player award. In October the Yankees won the first of their 27 World Series titles, defeating the New York Giants. An event that season that did not seem noteworthy but turned out to be of great significance was the major-league debut of a New York City native, Henry Louis Gehrig.
Gehrig had played in Hartford in 1921 and for part of the 1923 season as well as for Columbia University in 1922 before being called up to the Yankees. The Yankees were not the first team to take a look at Gehrig; the Giants gave him a tryout in 1921 and while his slugging was prodigious in batting practice, his fielding left a lot to be desired. After the first groundball to Gehrig rolled through his legs, Giants manager John McGraw said, "Get this fellow out of here!" He told his coaches, "I've got enough lousy players without another one showing up."1
A Yankees scout, Paul Krichell, heard about Gehrig and took the train to New Brunswick, New Jersey, to see him play for Columbia University against Rutgers. Gehrig hit two home runs, and Krichell told Yankees general manager Ed Barrow that he had just watched "another Babe Ruth." The team signed Gehrig to a $400-a-month contract with a $1,500 bonus. Gehrig played in a few games with the Yankees, then was sent back to Hartford for more seasoning.
(Getting sent down was not a setback for Gehrig or the Yankees; Wally Pipp, their first baseman, was a good player who had come to the team from Detroit in 1915 and had led the American League in home runs in 1916 and 1917. As for Gehrig, the Yankees felt he needed work on his fielding. He played for Hartford in 1924 season and rejoined the Yankees in 1925.)
As the Yankees prepared to face the St. Louis Browns on June 15, 1923, they were in first place in the American League, two games ahead of the Philadelphia Athletics. The Browns were in fifth place, eight games behind the Yankees.
New York's roster in 1923 had Bob Meusel and Babe Ruth to lead the offense, while the pitching stalwarts were Bullet Joe Bush, Sad Sam Jones, Waite Hoyt, Bob Shawkey, and Herb Pennock. Ruth was coming off a rather benign 1922 season in which he played in 110 games (he had spent some time under suspension) and batted .315 with 35 home runs. Ruth came back strong in 1923, with a league-leading 151 runs scored, 41 home runs, 130 RBIs, 170 walks, and a .393 batting average, second in the league to Harry Heilmann's .403, all enough to earn him the league's MVP Award. (It was the Babe's only MVP; until 1928 players who had won the award were ineligible to get it again.)
For the June 15 game manager Miller Huggins chose left-hander Herb Pennock as the starting pitcher, while St. Louis manager Lee Fohl picked Elam Vangilder to face the Yankees.2 The Yankees offense was on fire in the first two innings and they got to Vangilder for nine runs in the first two innings. In the first, leadoff batter Whitey Witt singled and went to second base when the throw from shortstop Marty McManus to shortstop Wally Gerber was high. Ruth walked, Pipp popped to McManus, and Meusel flied out. Aaron Ward tripled to clear the bases but was thrown out trying for an inside-the-park home run.3 His slide cut Browns catcher Pat Collins above the eye, and Collins was replaced by Hank Billings.4
In the Yankees half of the second inning the New York offense came alive, assisted by some errors by the Browns. To begin Eddie Foster fumbled Everett Scott's grounder and then Vangilder fumbled Fred Hoffman grounders with both runners safe. Pennock walked to fill the bases and then Whitey Witt walked which forced in a run. Joe Dugan singled to score Hoffman and keep the bases full of Yankees with Ruth then fouling out for the first out of the inning. Wally Pipp singled to score both Pennock and Witt. Jack Tobin made a throwing error by tossing the ball in the Yankee dugout which allowed Dugan to score with Pipp ending up on third base. Bob Meusel's sacrifice fly scored Pipp easily with the sixth run of the inning. Neither team scored until the bottom of the fifth, when a single by Pennock drove Ward in from third.5
Ten runs were a nice lead and Pennock scattered seven hits. The Browns had some scoring opportunities but couldn't cash in. In the sixth inning they had runners at first and third with one out, but Pennock struck out Billings and Gerber flied out. In the seventh they had two runners on again but Eddie Foster popped out and Baby Doll Jacobson grounded into a force out.
With the game seemingly under control, Miller Huggins sent the 19-year-old Gehrig (he would turn 20 in four days) into the game in the top of the ninth to replace Pipp. An easy grounder to him at first base was the final out of the game.6
Gehrig got his first at-bat came three days later, on June 18, against the Tigers. Pinch-hitting for Aaron Ward in the ninth inning of a game the Yankees lost 11-3, he struck out. Gehrig played in 13 games for New York in 1923 and had 11 hits, including a home run, for a .423 batting average. He played for Hartford and the Yankees in 1924 before becoming a regular part of the Yankees lineup in June of 1925.
Sources
In addition to the game story and box-score sources cited in the Notes, the author consulted the Baseball-Reference.com and Retrosheet.org websites, Ray Robinson's Iron Horse: Lou Gehrig in His Time (New York: W.W. Norton & Company Inc., 1990), and Jonathan Eig's Luckiest Man: The Life and Death of Lou Gehrig (New York: Simon and Schuster, 2005).
http://www.baseball-reference.com/boxes/NYA/NYA192306150.shtml
http://www.retrosheet.org/boxesetc/1923/B06150NYA1923.htm
Notes
Additional Stats
New York Yankees 10
St. Louis Browns 0
---
Yankee Stadium
New York, NY
Box Score + PBP:
Corrections? Additions?
If you can help us improve this game story, contact us.
Tags
http://bioproj.sabr.org/bp_ftp/images3/GehrigLou.jpg
600
800
admin
/wp-content/uploads/2020/02/sabr_logo.png
admin
2017-02-28 00:13:49
2020-04-17 10:25:55
June 15, 1923: Lou Gehrig plays first game in Yankee pinstripes