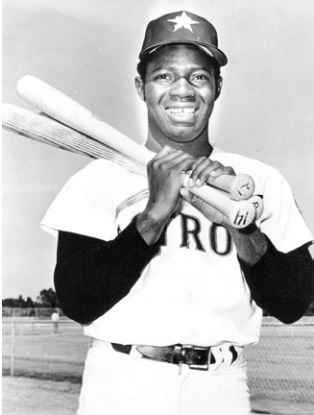 June 15, 1967: 'Toy Cannon' blasts three home runs in the Astrodome
---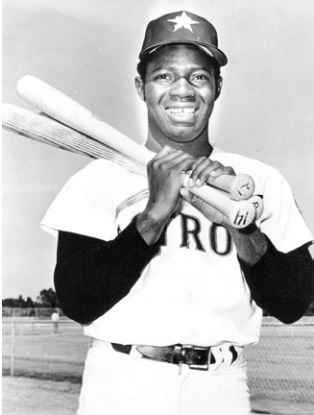 June 15, 1967, seemed like an unlikely day for the Houston Astros' 25-year-old slugger Jimmy Wynn to make history. He wasn't feeling very well, and consequently took only two turns in the batting cage in the mammoth Astrodome. "I've been feeling tired for three or four days," he said.1 While his teammates finished BP and concluded their warm-ups, Wynn retired to the clubhouse to rest.
Manager Grady Hatton's Astros were tied with the Los Angeles Dodgers for eighth place (23-36), but had surprisingly taken two of the first three games of a four-game set from the San Francisco Giants to inaugurate an 11-game homestand. San Francisco sportswriter Bob Stevens described the Astros as "audacious" and suggested that they "shouldn't beat the Giants three times in a season," let alone in one series.2 The Giants, skippered by Herman Franks, were in third place (32-25), 4½ games behind the NL-leading Cincinnati Reds, but had struggled recently, winning just four of nine games on a road trip that concluded on this day.
Toeing the rubber for the Astros was one of the bright spots for club, Mike Cuellar, who had emerged the previous season with a 12-10 record and 2.22 ERA. The 30-year-old Cuban southpaw, en route to the first of his four All-Star selections, had won his last five starts, yielding just five earned runs in 44⅓ innings and striking out 45 to push his career record to 25-21 over parts of five seasons, including a 7-2 mark to this point in the season. His opponent was 28-year-old Bobby Bolin, a sturdy right-hander who had carved out ERAs of 2.76 and 2.89 the previous two seasons. San Francisco's ace, Juan Marichal, was scheduled to start, but he was a late scratch. Bolin had struggled thus far in 1967, posting a miserable 4.96 ERA and winning just three of eight decisions to drop his career record to 53-41 over parts of seven seasons.
The Astrodome was not necessarily the biggest field in baseball, but it might have been the most intimidating to batters who were playing indoors for the first time in their career. "Some hitters have complained that the fences are so far back you need a connecting flight to reach them," wrote Mickey Herskowitz of the Houston Post.3 The outfield was symmetrical – 340 feet down the foul lines, 375 in the power alleys, and 406 in center. Forbes Field in Pittsburgh, for example, measured 457 feet at its deepest point in left-center, 406 in left field and 408 tapering to 375 in right field, but had a forgiving 300-foot right-field foul line. "There is no wind to push the ball," continued Herskowitz about the uniqueness of the Astrodome, "and it comes down to brute strength."4 Only 57 homers (25 by the Astros) were hit in the inaugural season of the Astrodome in 1965; that number rose to 96 (48 by Houston) in 1966, and then dropped to 63 (31 by the Astros) in 1967.
After two scoreless innings, the Giants struck first when Hal Lanier led off the third with a single and scored on Jesus Alou's two-out single to left field; Alou advanced to second on the throw home. Jim Davenport followed with a single that moved Alou to third, but Cuellar escaped trouble by punching out Willie Mays.
After the Giants scored their first run, "things just went lousy," wrote the San Francisco Chronicle's Stevens. Jimmy Wynn led off the fourth with a monstrous, high-flying home run into the mezzanine section in left field to tie the game. The ball "took off like a Cape Kennedy launch," wrote John Wilson of the Houston Chronicle, paying homage to Houston's aeronautical and space history.5 Wynn's size belied his power. Standing only about 5-feet-10 and weighing 160 pounds, Wynn was built like a boxer, and was affectionately nicknamed the Toy Cannon for his explosiveness. Mickey Herskowitz opined that Wynn "consists of entirely of coil springs and muscle."6 Despite Wynn's claims of fatigue, he had been on a tear in his last 10 games, walloping four homers, driving in 13 runs, and scoring 10. Hot-hitting 23-year-old Rusty Staub, who had collected eight hits in his last 18 at-bats, and an aging Eddie Mathews both followed Wynn's blast with singles. When it seemed as if the Astros would break the game open, Norm Miller hit into a 4-6-3 double play, though Staub scored from third to give the Astros a 2-1 lead. Bob Aspromonte popped up to end the frame.
Tito Fuentes led off the Giants' fifth with a double and subsequently scored on Davenport's two-out single to tie the game. Mays followed with a hard-hit bouncer off the Astroturf to Wynn in center field. Blessed with a strong right arm, Wynn fired a rocket to third baseman Bob Aspromonte to nail Davenport, whose attempt to go from first to third Bob Stevens described as inexplicable.7
The score remained tied until Wynn stepped to the plate with one out in the bottom of the sixth. The five-year veteran connected with a Bolin fastball and sent the sphere flying into the pavilion in the left-field power alley to become the first Houston player to hit home runs in consecutive plate appearances.8 Staub, who had thus far blistered opposition for a .341 average in 1967 and this season would earn the first of five consecutive and six career All-Star berths, followed with a double to send Bolin to the showers. Bolin pitched with "studied caution rather than in his old style of gay abandon," opined Bob Stevens.9 Mike McCormick, normally a starter who eventually led the NL with 22 victories and won the Cy Young award in 1967, retired the next two batters to keep the Giants in the game.
The Astros were yet not finished battering Giants hurlers. A career .115-hitter, Cuellar helped his own cause by smacking a one-out single to center field off Ron Herbel in the seventh to drive in Aspromonte, giving the Astros a 4-2 lead.
When Wynn stepped to the plate to lead off the eighth inning, the crowd of 21,264 enjoying a Thursday evening of baseball in Houston's architectural wonder probably had one thing on their mind. Could Wynn do it again? Facing 39-year-old veteran lefty reliever Bill Henry, Wynn took a strike and then planned the unimaginable. "On the second strike, I was thinking about bunting, but the ball was inside," said Wynn after the game.10 Discarding the idea of bunting, Wynn subsequently belted a line drive over the left-field fence for his third consecutive homer and 14th of the season. "I didn't think either of the last two would be home runs," said Wynn after the game. "I thought they'd be hits off the wall."11 The Astros concluded their scoring when light-hitting catcher Ron Brand hit a two-out single to drive in Jim Landis and increase Houston's lead to 6-2.
Cuellar took the mound in the ninth and continued to frustrate Giants hitters with what Herskowitz called a "skitterish screwball."12 He retired the side in order, including striking out Dick Dietz to register his 10th punchout. Cuellar's "outstanding job was somewhat overshadowed" by Wynn's feat, suggested John Wilson.13
As expected, reporters focused their attention on Wynn in the clubhouse after the game. "I'm hot now, I know it," he said confidently. "Hitters have their moments. My time is coming now."14 But he also mentioned that he had trouble with left-handers (he batted just .216 with 10 homers against lefties compared to .270 and 27 against righties in 1967) and suggested that with Atlanta's Denny Lemaster scheduled to start against Houston the following day, things could sour quickly.
Mathews, Houston 35-year-old first baseman and once one of the most feared sluggers in baseball, paid perhaps the highest compliment to Wynn. "I saw Joe Adcock hit four in Ebbets Field and I hit three, but I'd say this overshadows either of those, coming in this big park."15
Wynn continued bashing the ball and finished the 1967 season with a career-high 37 home runs. After hitting 223 round-trippers (including two in one game on 14 occasions) in 11 campaigns with the Astros, Wynn was traded to the Los Angeles Dodgers in December 1973. In a renaissance season (32 homers and a career-best 108 RBIs) for the pennant winners in 1974, he hit three home runs against the San Diego Padres at San Diego Stadium on May 11.
This article appears in "Dome Sweet Dome: History and Highlights from 35 Years of the Houston Astrodome" (SABR, 2017), edited by Gregory H. Wolf. To read more articles from this book at the SABR Games Project, click here.
Sources
In addition to the sources cited in the Notes, the author also accessed Retrosheet.org, Baseball-Reference.com, the SABR Minor Leagues Database, accessed online at Baseball-Reference.com, SABR.org, and The Sporting News archive via Paper of Record.
Notes
1 John Wilson, "Wynn's 3 Homers Jar Giants, 6-2," Houston Chronicle, June 16, 1962: section 8, 1.
2 Bob Stevens, "Wynn 3 HRs Shell Giants, 6-2," San Francisco Chronicle, June 16, 1967: 51.
3 Mickey Herskowitz, "A Jim Dandy: Wynn's 3 Homers Stun Giants," Houston Post, June 16, 1967: section 4, 1.
4 Herskowitz.
5 Wilson.
6 Herskowitz.
7 Stevens.
8 Herskowitz.
9 Stevens.
10 Joe Heiling, "Ed Changes Tune to Fit Jim's Beat," Houston Post, June 16, 1967: section 4, 7.
11 Wilson.
12 Herskowitz.
13 Wilson.
14 Wilson.
15 Heiling.
Additional Stats
Houston Astros 6
San Francisco Giants 2
---
Astrodome
Houston, TX
Box Score + PBP:
Corrections? Additions?
If you can help us improve this game story, contact us.
Tags
https://sabr.org/sites/default/files/Wynn_0.jpg
600
800
admin
/wp-content/uploads/2020/02/sabr_logo.png
admin
2018-09-11 11:39:28
2020-04-17 10:24:41
June 15, 1967: 'Toy Cannon' blasts three home runs in the Astrodome