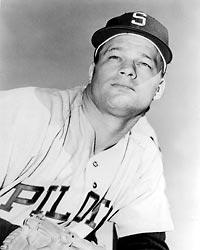 June 16, 1969: Chicago White Sox defeat Seattle Pilots in Milwaukee
---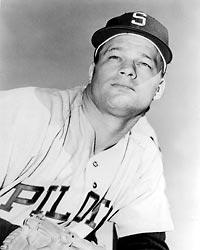 A seldom remembered and mostly unknown era for Milwaukee County Stadium spans the 20 games the Chicago White Sox played there in 1968 and '69. After the Braves went to Atlanta at the end of the 1965 season, many efforts were made to bring baseball back to Milwaukee. The Milwaukee Brewers Baseball Club was incorporated in July 1965 by a group of business leaders, including Bud Selig. They hosted an extremely successful exhibition game between the Minnesota Twins and the Chicago White Sox in July 1967 in an effort to prove that the city was still a great baseball town. Based on the record-setting attendance, the Brewers organization persuaded Arthur Allyn, the Chicago White Sox owner, to host one regular-season game against each American League opponent in Milwaukee in 1968 and again in 1969. For Allyn, faced with falling attendance and a deteriorating neighborhood around Comiskey Park, this was an opportunity for a nice day at the box office.
On June 16, 1969, the White Sox hosted the Seattle Pilots, one of the new American League expansion teams playing in their inaugural season. This would be the 14th game the White Sox played in Milwaukee over two seasons. County Stadium had been good to the White Sox in 1969; they were going for their fifth consecutive win there. The team had not fared as well at Comiskey Park or anywhere else; the White Sox entered the day nine games under .500 with a 23-32 won-lost record. The White Sox were desperate for a victory after losing four in a row to Baltimore over the previous weekend and nine of its last 11 games. The newer County Stadium was also very good for the White Sox owner's wallet as his club averaged over 14,200 for the first four games, compared with 8,008 in Chicago.
Seattle was making its second trip to the Midwest for the three-game series. The Pilots were a surprise team early in the season. Most experts thought the Kansas City Royals had fared much better in the expansion draft, but through their first 50-plus games they found themselves in third place in the West Division, passing the White Sox over the previous weekend.
The starting pitchers were both relatively unknown. On the mound for Chicago was Billy Wynne, making only his second major-league start after pitching in seven games in the previous two seasons with the White Sox and New York Mets. It was not an easy appearance; Wynne walked six and allowed eight hits, and had to wiggle out of jams in the sixth and ninth innings. Nonetheless, he pitched one of the best games of what would be a five-year career and earned his first major-league win while pitching his first complete game. Wynne helped himself by driving in two runs with a single in the third inning, the only RBIs of his major-league career.
The Pilots started Mike Marshall, whom the Milwaukee Sentinel called "a Michigan State graduate who has a more impressive scholastic record than as a pitcher so far."1 With three wins and seven losses, his record at that point, the Sentinel's comment was understandable. But Marshall went on to have a successful 14-year career mostly as a reliever. He is best known for pitching in 106 games in relief for the 1974 Los Angeles Dodgers. On this night, however, Marshall lasted only 2⅓ innings, gave up five earned runs and absorbed his eighth loss.
In addition to starting the rookie pitcher Wynne, the White Sox had four other rookies in the starting lineup, first baseman Gail Hopkins, who drove in two runs with two doubles in five at-bats. Right fielder Carlos May scored twice in four at-bats, reaching base on a single and a fielder's choice. The brother of Cincinnati's star first baseman Lee May, Carlos played in the 1969 All-Star game and finish third in the 1969 Rookie of the Year balloting. The third neophyte was left fielder Bob Christian, who was hitless in his three plate appearances with two strikeouts. The Milwaukee Journal reported that Christian extended his hitless streak to 13 at-bats after hitting a home run in his first major-league at-bat the previous Saturday.2 That was untrue. Christian had three at-bats with one hit playing for the Detroit Tigers in 1968. The fourth rookie was third baseman Bill Melton, who went 0-for-3 with a run scored.
Shortstop Luis Aparicio, the future Hall of Famer, continued his hot hitting at County Stadium, going 2-for-4 with a run scored and raising his average to .400 in Milwaukee.
Seattle had two representatives in the 1969 All-Star Game, right fielder Mike Hegan and first baseman Don Mincher. Hegan, son of Cleveland Indians catching great Jim Hegan, entered the game leading his team in hitting at .307, sixth in the American League. He and Mincher each had two hits and a walk that evening. Hegan scored a run in the third inning on a double-play groundball by Mincher, who in the fifth inning drove in Seattle's third and final run.
The Pilots also had two former White Sox in their starting lineup. Left fielder Tommy Davis, a two-time batting champion with the Dodgers, was selected by the Pilots in the 16th round of the expansion draft after one season in Chicago. Batting third, he finished the night with a single in four at-bats and drove in a run with a groundout. The other was catcher Jerry McNertney, drafted from the White Sox after four years in Chicago. He hit seventh and ended up with a single and a strikeout in four at-bats.
Seattle's leadoff hitter, second baseman Tommy Harper, had a miserable game. For consistency's sake he did things in threes — strikeouts and errors. The Chicago Tribune wrote that "when he threw out a Sox runner to end the sixth inning, he raised his hands high in jubilance as he ran to the dugout." 3 Harper decided this had been his worst game as a major leaguer; even second-base umpire Bill Kinnamon was concerned; Harper told reporters that Kinnamon asked him, "What are you 1-for-4? I said, No, 0-for-3. He said, No, I mean in the field."4 Harper was the American League's leading basestealer, with 32, but couldn't show off his speed. He did score a run, walking in the fifth and scoring on Mincher's RBI single.
Another former White Sox player, pitcher Bob Locker, entered the game for the Pilots in the third inning. He fared worse than the ineffective Marshall, walking the three batters he faced and forcing in a run. All three of the runners eventually scored. Locker, who was a standout in the White Sox bullpen the previous four years, had been obtained in a trade just eight days earlier after a slow start in Chicago.
Also appearing in the game was Jim Bouton, who became a center of controversy for his tell-all book about the 1969 season, Ball Four. Bouton pitched 1⅔ innings, giving up one hit — Wynne's two run single — and striking out one. Diego Segui relieved him in the fifth and held the White Sox scoreless over two innings, allowing a hit and three bases on balls with two strikeouts. Segui returned for another Seattle inaugural season, finishing his career in 1977 with the expansion Mariners.
The 13,133 fans, including 2,950 Knotholers,5 saw the White Sox put the game away early, scoring eight runs by the third inning and earning their fifth consecutive win in Milwaukee, 8-3.
It was a good ballgame, with a young pitcher getting his first win, other rookies contributing, All-Stars smashing base hits, and a future Hall of Famer recording a couple of hits.
The game took on a layer of irony 288 days later. On March 31, 1970, a federal bankruptcy judge accepted the Milwaukee Brewers' $10.5 million bid to purchase the Pilots after a buyer could not be found in the Northwest. The city of Milwaukee had a major-league baseball team again, these very same Seattle Pilots. And their first game, in a new home, was only seven days away, on April 7, 1970.
This article appears in "From the Braves to the Brewers: Great Games and Exciting History at Milwaukee's County Stadium" (SABR, 2016), edited by Gregory H. Wolf. To read more stories from this book at the SABR Games Project, click here.
Sources

Hogan, Kenneth. The 1969 Seattle Pilots: Major League Baseball's One-Year Team (Jefferson, North Carolina: McFarland & Company, Inc., 2007).
Seattle Times.
Notes
1 Milwaukee Sentinel, June 16, 1969.
2 Milwaukee Journal, June 17, 1969.
3 Chicago Tribune, June 17, 1969.
4 Milwaukee Journal, June 17, 1969.
5 Milwaukee Sentinel, June 17, 1969.
Additional Stats
Chicago White Sox 8
Seattle Pilots 3
---
County Stadium
Milwaukee, WI
Box Score + PBP:
Corrections? Additions?
If you can help us improve this game story, contact us.
Tags
http://bioproj.sabr.org/bp_ftp/images4/BoutonJim2.jpg
600
800
admin
/wp-content/uploads/2020/02/sabr_logo.png
admin
2018-04-03 12:16:41
2020-04-17 10:24:51
June 16, 1969: Chicago White Sox defeat Seattle Pilots in Milwaukee