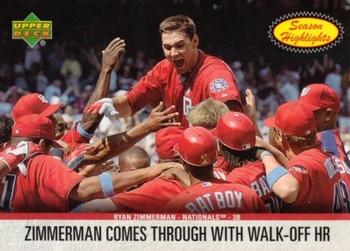 June 18, 2006: Ryan Zimmerman hits his first walk-off home run
---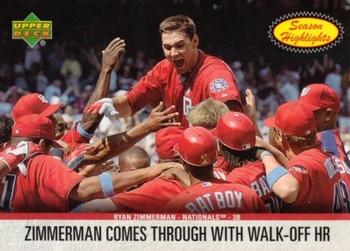 A crowd of 45,157, the largest in the history of the young Washington Nationals franchise1, gathered at RFK Stadium on a warm, breezy Father's Day. The Nationals (31-39, on their way to another last-place finish in the NL East) were facing the Yankees (38-28, on their way to winning the AL East). After the Yankees won the first game of the series Friday night, getting their winning runs against Nationals closer Chad Cordero, the Nationals returned the favor the following night, rallying from a seven-run deficit to score their winning runs against Yankees closer Mariano Rivera.
Rookie Mike O'Connor (3-4, 3.70 ERA) took the mound for the Nationals. After striking out Johnny Damon, he got Melky Cabrera to fly out to center. Derek Jeter singled, setting off an adventure on the basepaths. With Jason Giambi batting, O'Connor tried to pick off Jeter but missed, so Jeter headed for second. One pitch later Jeter stole third. But he was left there when Giambi struck out.
Chien-Ming Wang (7-2, 4.15 ERA) took the hill for the Yankees. He started by allowing a single to Alfonso Soriano, who was erased when José Vidro grounded into a double play. José Guillén singled but Daryle Ward grounded out to end the inning.
Álex Rodríguez opened the second inning by walking after an eight-pitch battle with O'Connor. But that was all the Yankees got: Jorge Posada struck out, Robinson Canó popped out, and Bernie Williams flied out. Wang worked a 1-2-3 bottom of the second on only 13 pitches, making his total 25 to O'Connor's 44.
Wang came to bat in the top of the third. This was the second plate appearance of his career: He struck out looking on three pitches.2 Flyball outs for Damon and Cabrera completed an efficient 10-pitch inning for O'Connor. In the bottom of the frame, Wang worked another 1-2-3 inning, including striking out his counterpart: At least O'Connor swung at the pitch.3
The Yankees made O'Connor work a bit in the top of the fourth. After Jeter and Giambi grounded out, A-Rod singled. O'Connor then walked Posada on four pitches. That brought up Canó (.332 BA and four hits already in the series). But O'Connor got him to pop up to the catcher behind home plate, ending the threat. In the bottom of the fourth, Wang got three quick groundouts. His pitch count was only 50.
Williams opened the fifth with a single. Wang attempted to bunt him over but was out on a foul bunt. Damon's lineout did advance Williams to second, but he was left there when Cabrera lined out.
The scoring finally started in the bottom of the fifth. Ryan Zimmerman singled; then Robert Fick flied out. With Brendan Harris batting, Zimmerman stole second. That allowed him to score on Harris's single to left. Marlon Byrd grounded to second, so Harris was forced out. O'Connor looked at three pitches for the last out of the inning.
The Nationals' 1-0 lead did not last long: The Yankees tied it in the sixth. Jeter doubled, then held at second when Giambi popped up to third. But Jeter advanced to third on a wild pitch to A-Rod, who eventually walked. That enabled Jeter to score on a Posada sacrifice fly to right. But the game stayed tied: Canó grounded out. Wang continued his efficient outing: He needed only six pitches for three outs in the home half of the sixth.
Both pitchers had quick 1-2-3 seventh innings.
Nationals manager Frank Robinson decided that O'Connor, at 93 pitches, had done enough and summoned Gary Majewski from the pen. He had been tagged with a blown save in the Friday night game, giving up four hits and two runs in the eighth while getting only one out. This outing wasn't quite as disastrous: Although he walked Cabrera, he struck out Jeter and Giambi. Then he ran into trouble again. A-Rod doubled into deep left field, allowing Cabrera to score from first. With Posada batting, Majewski threw a wild pitch, allowing A-Rod to move to third. Although he walked Posada, he got Canó to ground out to end the inning with only the one run scoring: 2-1, Yankees.
Wang started the bottom of the eighth by walking Harris on five pitches. Byrd sacrificed him to second. Brian Schneider flied out but then Wang walked Soriano. Vidro hit Wang's second pitch well, but Cabrera ran it down for the third out. Wang's pitch count was now at 96 but there was no activity in the Yankees bullpen. Rivera had pitched in both previous games and Yankees manager Joe Torre rarely asked him to pitch three days in a row.4 Wang had several outings of over 100 pitches but this would be the first complete game of his career.
Majewski faced the bottom of the Yankees' order in the top of the ninth. Williams grounded out on the first pitch. Wang battled to a full count but ultimately struck out swinging. Damon, the leadoff hitter, flied out to right. Zimmerman's father, sitting with his family in the stands, said, "Good, that just sets up Ryan for the walk-off."5
When the Nationals realized they would be facing Wang, not Rivera, in the ninth, they felt they had a chance: By the eighth inning Wang had been leaving some balls up in the zone. Guillén battled but grounded out on the seventh pitch. Pinch-hitter Marlon Anderson6 singled to right, bringing up Zimmerman. Knowing that Wang was tiring, Zimmerman was hoping for the same pitch he got in the seventh inning — but up in the zone. Wang's first pitch was the one he wanted and he hit it over the left-field fence into the bullpen for his first-ever walk-off hit. The usually reserved Zimmerman smiled and raised his arm in triumph as he circled the bases, throwing away his batting helmet as he approached his teammates ready to mob him at home plate. The Nationals fans demanded a curtain call, the first since baseball returned to Washington the previous year.
Yes, this was really his first walk-off hit: He had never hit one before, not even in Little League.7 No one knew it at the time, of course, but less than a decade later Zimmerman had the nickname "Mr. Walk-Off." By then he had more walk-off home runs than all but two players: and they had played more than twice as many games as he had.8 But on this night, he provided a bright spot in an otherwise frustrating season for Nationals fans: they won a series against the Yankees in dramatic fashion, and got a glimpse of the Ryan Zimmerman who would become "the Face of the Franchise."9
Sources
baseball-reference.com/boxes/WAS/WAS200606180.shtml
retrosheet.org/boxesetc/2006/B06180WAS2006.htm
youtube.com/watch?v=R7d4U09WRrk
Notes
1 Barry Svrluga, "Zimmerman's Homer Lifts Nationals over Yankees," Washington Post, June 19, 2006, washingtonpost.com/wp-dyn/content/article/2006/06/18/AR2006061800456.html. Accessed November 8, 2018.
2 His first hit did not come until 2011, when, ironically, he was pitching for the Nationals. His second (and final) hit was a double in 2012, also with the Nationals. I was at the 2012 game: The fans were stunned.
3 O'Connor had one hit before this game. Like Wang, he ended his career with two hits, both while pitching for the Nationals.
4 Svrluga.
5 Svrluga.
6 Trivia: As of 2018, there have been only two major leaguers with the name Marlon. Both (Byrd and Anderson) appeared in this game.
7 Svrluga.
8 "Zimmerman Has a Knack for the Walk-Off Home Run," ESPN, May 20, 2015, espn.com/blog/statsinfo/post/_/id/105756/zimmerman-has-a-knack-for-the-walk-off-home-run. Accessed November 8, 2018. The two players with more walk-off home runs are Hall of Famers Stan Musial and Tony Perez.
9 Fox Sports, Washington Nationals: Ryan Zimmerman Still Face of Franchise, FoxSports, June 30, 2017, foxsports.com/mlb/story/washington-nationals-ryan-zimmerman-still-face-of-franchise-091016. Accessed November 9, 2018.
Additional Stats
Washington Nationals 3
New York Yankees 2
---
RFK Stadium
Washington, DC
Box Score + PBP:
Corrections? Additions?
If you can help us improve this game story, contact us.
Tags
https://sabr.org/sites/default/files/ZimmermanRyan-2006.jpg
600
800
admin
/wp-content/uploads/2020/02/sabr_logo.png
admin
2018-12-27 14:52:48
2020-04-17 10:23:42
June 18, 2006: Ryan Zimmerman hits his first walk-off home run